Hello gang! Reporting in about 12 hours after purchasing a 2009, because that seemed like a way more fun Tuesday than work. Cough cough, I think I've fallen ill boss, gotta run...
Anyway, this is my second bike after owning my SV650 for the last 10 ish years. I love the SV but I also realized that the most fun I ever had on her was on our road trips, and while she is capable, it was never ideal. I've always wished the SV was a little roomier, so in steps the Versys. Still have the SV, hopefully keeping it that way.
What a great bike, seriously, and I can't wait to start putting big miles underneath us. It feels super weird being so tall after a decade on an SV, but I'm digging it. Still a little pokey around corners, and haven't quite figured out where to run the motor, but it's fun learning a new bike. It makes me want to just point at the horizon and go, which is more or less the plan.
It has heated grips already, which is a first for me. Holy crap. Where has this been all my life? And on 100% I'm fairly confident I could cook strips of bacon on them in a pinch, they are not screwing around! It may or may not have an aftermarket windscreen, but I honestly am not sure so let me know. Gives good protection, although my visor keeps fogging, so I gotta find a fix for that until it gets a bit warmer.
Uh, sorry, I like to write sometimes. TLDR summary: LOOK I BOUGHTS A MOTORCICLE!!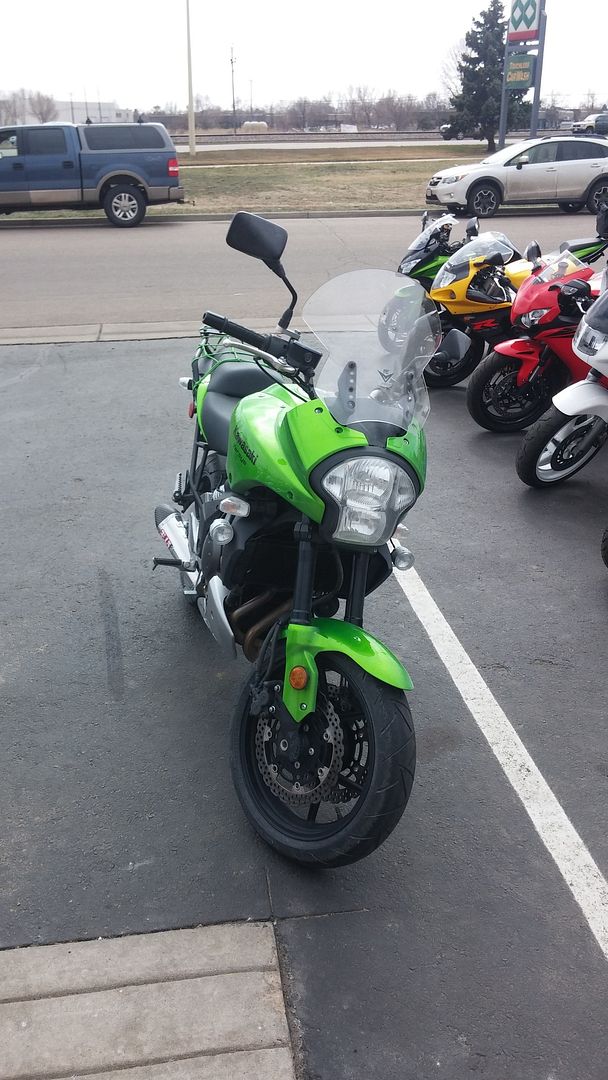 Oh, and sadly the Yoshi didn't stay on it. A guy that bought a different Versys also bought that exhaust. Honestly, if you are here too man, thanks! It sounds great, you'll love it, but I needed the price break so it's a freaking win win!