Discussion Starter
•
#1
•
The Laconia Bike Rally is about an hour or so from my doorstep so every now and then I take a ride up to check it out.* The demo rides, which are the main draw for me, were quite sparse this year with only three vendors showing up, Harley Davidson, Indian and Yamaha.* In the past Suzuki, Moto Guzzi and Ducati participated.* It is a VERY cruiser centric rally so I can see why the likes of Suzuki and Ducati decided not to show, plus it seems the crowds have gotten smaller.* Nonetheless, I took a few of those Hawgs for a ride as well as two choice Yamaha's.* Also, the ride route has been shortened noticeably since last time.* Used to be close to thirty minutes now its about twenty with everyone following the same course.* Finally, both Indian and HD allowed the riders to go by themselves while Yamaha had the herd or group ride.* There was one exception with a particular Indian bike I will detail below.
My main reason for heading to the test ride was to try the new Tracer GT... I got there on the first day of demo rides and Yamaha was still setting up it's booth and told me to come back tomorrow.* Uggh.* So I wandered over to the Indian booth to give the new FTR a try.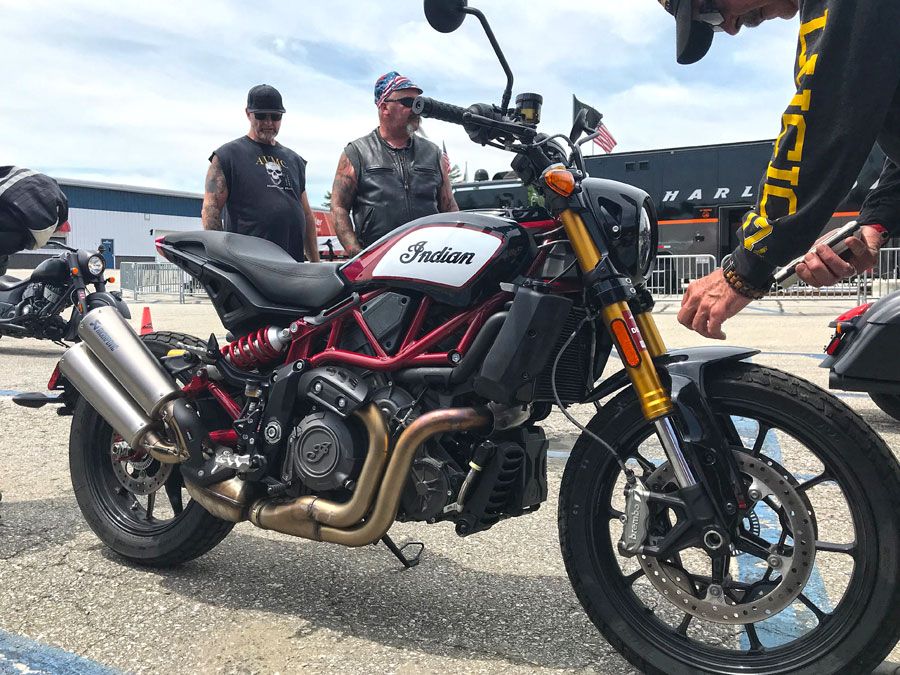 The FTR 1200.* This was the exception to the ride alone rule.* Turns out earlier in the day that some knucklehead ran into his buddy on another FTR in front of him and took two of the bikes out as well as causing some relatively serious injuries.* Because of that, the Indian management decided no individual rides, the FTR's went out with an escort that kept the pace down.* Sadly, it was a rather sedate test ride for me, I'm not a hooligan but I was hoping to let it rip a bit just to see what Indian has done with the bike.* It's really nice looking and would be a great weekend toy to rip around on.* It reminded me most of a Ducati Hypermotard and maybe a little of a KLR from a seating position, you sit high, on top of the bike.* The front wheel rake is shallow so it looks quite blunted.* The tank is small.* The bike is real tight and punchy with good feedback and it definitely has a vtwin character.* I left the ride wanting to have more time with it but I have to say it wasn't very memorable.* I like it but did not love it.
Sorry about my fat finger in the frame of the photo.* The HD ride lot was hopping and I hardly had time to snap a photo.* I really liked the looks of this FXDR, nice fresh and modern styling.* What I remember most is that the drag bars coupled with the feet forward made for an awkward riding position.* The bike itself is nice enough but I couldn't see myself riding it more than an hour without wanting to get away.* Low revs and a less than typical clunky HD gearbox made the interaction nicer than previous Harley's I've tried.
I only did two test rides that day and decided to come back a few days later for a few more.
They weren't offering test rides but they did have a LiveWire on a dyno set-up and allowed attendees to sit on it and give the throttle a twist.* So I did.* I love the look and feel of this bike, I'm more used to standard type bikes than cruisers so this felt natural to me.* Hard to say if the bike is fun to ride.* Aside from the astronomical price and short range it's a really well put together and quite striking.* There is no way this will ever be a mainstream product but hopefully it pushes the electric tech forward.* HD needs to make this bike with a gas engine.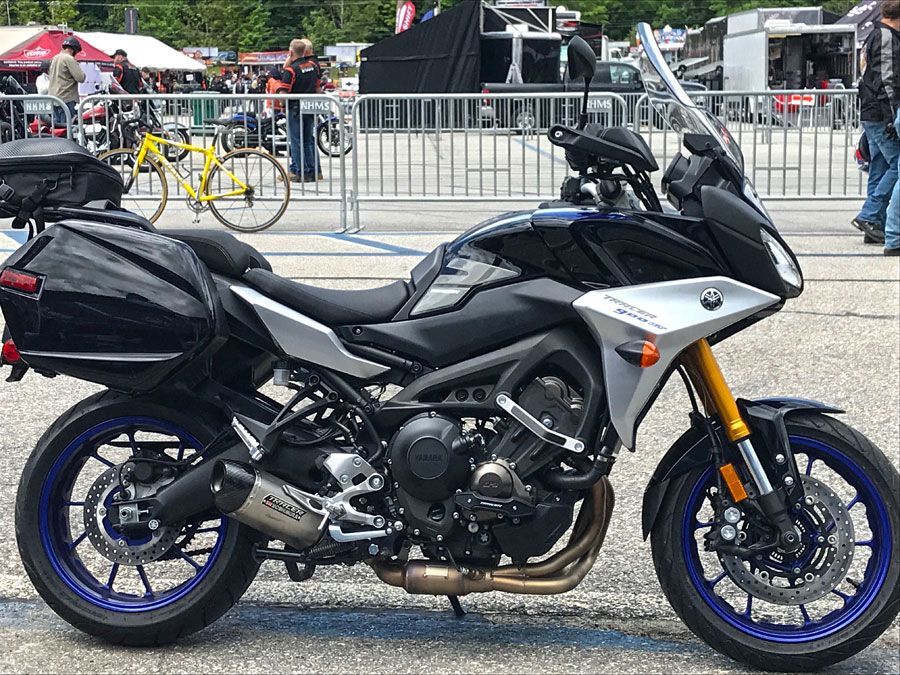 Hooray, Yamaha booth was up and running.* I finally got to ride the Tracer GT.* I've been on three previous test rides of the FJ09 and it never felt quite right for me, love it's specs but the look and ride quality didn't win me over.* Especially the look, not a big fan of the current Yamaha design ethos but they are definitely distinctive.* Anyway, the new Tracer is a bit better looking than the old FJ09 but it still feels cheap in places and unfinished in others.* The bike has a very nice but small TFT display and has great features like centerstand, heated grips, ride modes, cruise, traction control, abs, really the whole shebang or what's hot on touring bikes.* This one had quite a few accessory upgrades, exhaust, comfort seat, slider/bumpers are what I remember.* The ride itself is nice, comfortable but not a lot of character for a triple motor.* It felt my light and flighty like an inline four to me.* The bike is quite quick but the feedback on twisting the throttle feels/sounds like you are riding a super-smooth 250cc bike... I don't know how else to describe it.* One of the best things Yamaha did was make the bars a bit narrower from the FJ09 and boy do I like it better for that.* Really nice bike, specced out well and I really liked it but didn't walk away wanting one over my current Versys 650 LT which is a similar machine in mission and design and it certainly doesn't have more character than my VFR.
Next I walked over to HD to try the Fat Bob.* Not much to say, I think it looks great, handling was pretty good and it was very comfortable to ride.* Typical cruiser low redline, which always takes me a bit to get used to.* I guess I like it quite a bit but it's all aesthetics not ride quality.
I wanted to test ride the new three wheeled Nikken from Yamaha but the only opening was late in the day and I wasn't planning on hanging around that long so I took out the MT10.* Now I've had a lot of experience with the former FZ1 which is fabulous so I didn't think I would be surprised.* Was I wrong... this bike is amazing.* Of course it's powerful but it has this neat trick of making me feel like I'm a better rider than I actually am.* I was completely comfortable pushing this bike and rarely did I feel it was too much for me to handle.* The only other bike I ever rode that gave me the same sensation was the BMW S 1000XR.* It's biggest negative is it's very thirsty motor and smallish gas tank, maybe 140 miles to fill-up according to one of the Yamaha guys that owns one.* The cockpit is also very comfortable with a great rider triangle, shame this would be an amazing touring bike if it had more range.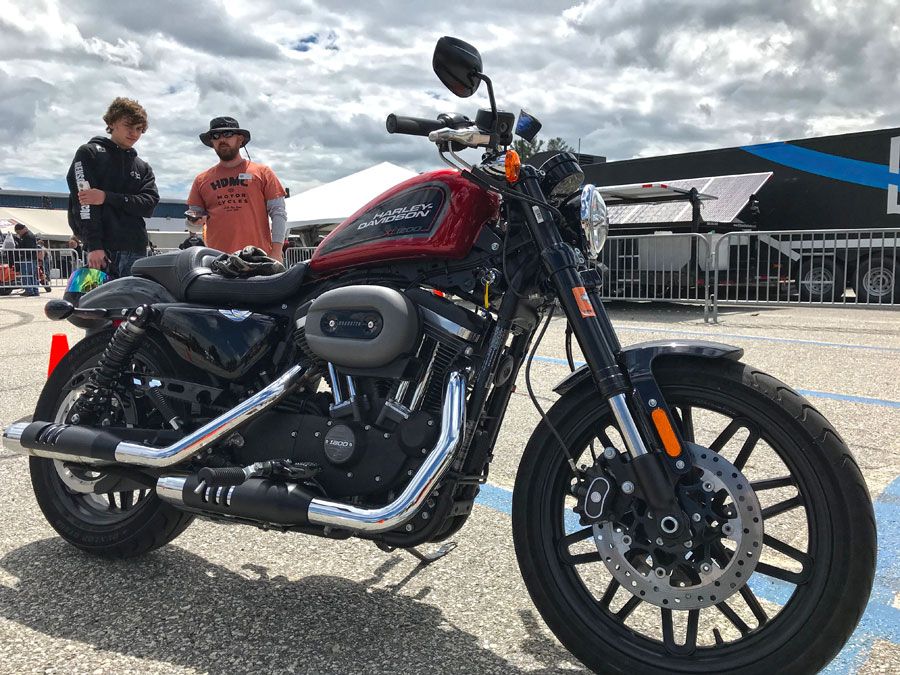 This may be the strangest bike to ride after the MT10 but I had more fun riding this Harley than any of their others.* It's the Sportster Roadster.* It's not comfortable, cafe style seating and bars, motor shakes a whole bunch, the transmission is chunky and the tank is stupid narrow so I have no place to lock my knees down.* I wouldn't call it a great handling bike but it is so much fun to throw into a corner and it's so willing to do so.* You may not be going fast but it feels fast because of all the shaking and noise from the motor.* I would love to own one of these just for a weekend romping around.* It's by far my favorite Harley and if I'm honest one of my favorite bikes period.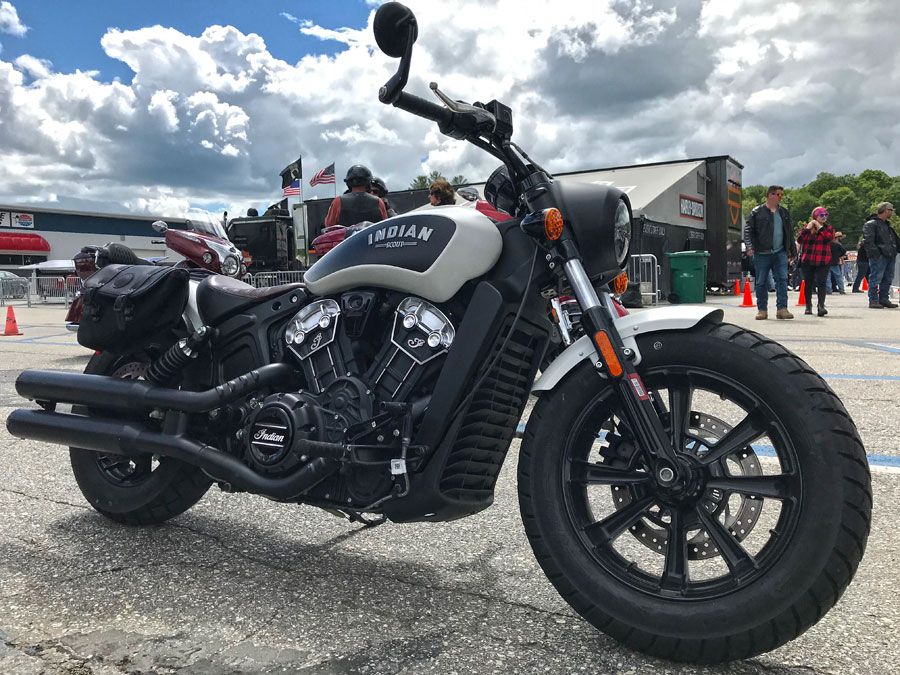 Finally I took a spin on a Scout Bobber.* I've ridden these before but I thought it would be a good way to end the day and a great comparison to the Roadster I just finished riding.* Quick comparison, the Scout's motor is so much smoother and more powerful, it's more comfortable, the tires are fatter and the transmission is better.* Looks-wise I would say it's nicer than the Roadster too.* But, it's not as much fun to ride for me and I really like the Scout.* One thing, I didn't have as much confidence putting the Scout through turns, I felt the back wheel slipping on more than one occasion, I don't know if it's the tires or if it's just a quality of the Scout's geometry.* It would be a tough call between the two but in the end the Roadster gave me a bigger smile.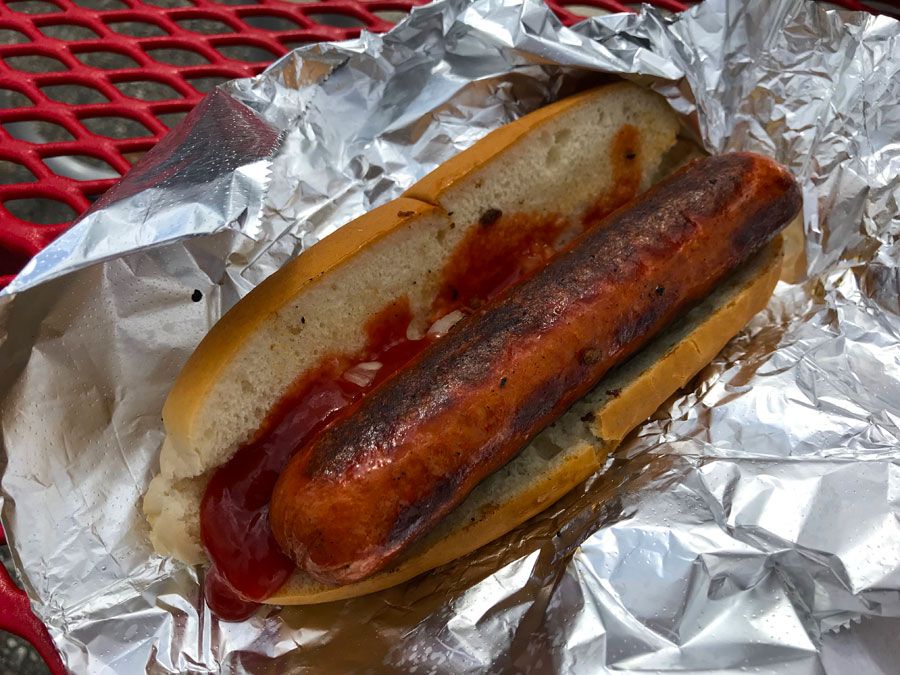 Can't leave the rally/demo area without some local food.* This red hot was fantastic and it came from a little food truck on the demo grounds.* Can't say enough*how good all the food looked and if it tasted as good as my red hot then I will come back.
Hope you enjoyed or found some of this report interesting.* If you have specific comments on any of the bikes just ask, I will try to remember and give a good as reply as I can.* Ride on!