To The Summit (part 2)
Part one is located here:
http://www.kawasakiversys.com/forums/showthread.php?t=20925
Day 4 - Durango, CO:
My plan for today is to meet a co-worker that lives in Durango and go mountain biking. Travis is a professional mountain bike tester. He sets me up with a nice full suspension bike and I head out for 3 hours on some truly awesome, technical, single track.
After, I head back to the cabin for a shower, and load up the bike, I'm back heading through Durango by 1pm and a much anticipated ride up Hwy 550/ The Million Dollar Hwy. I think I hammered a few dollars out of that Highway. I loved the double sets of switchbacks.
Hwy 550:
I made it into Silverton, found a nice stout at a bar with an old timey piano player.
Back on the road I continue hammering 550 north through Ouray, to Ridgeway, I get on 62 West and Hwy 145 south into Telluride.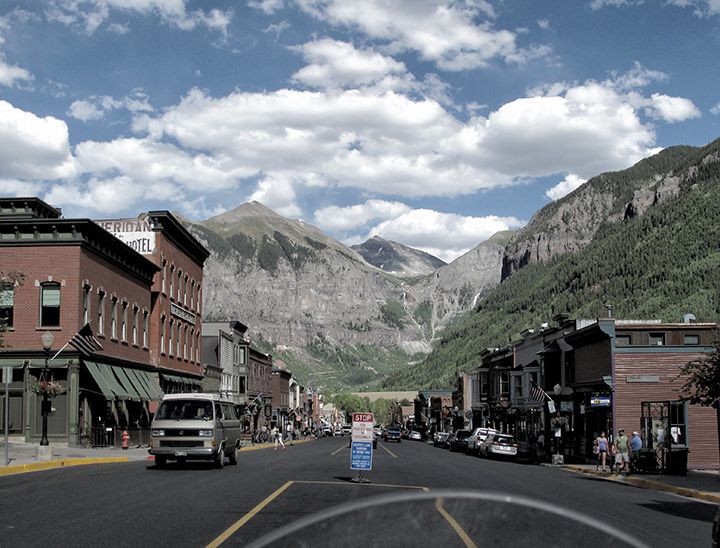 I rode most of the way up to Bridal Veil Falls.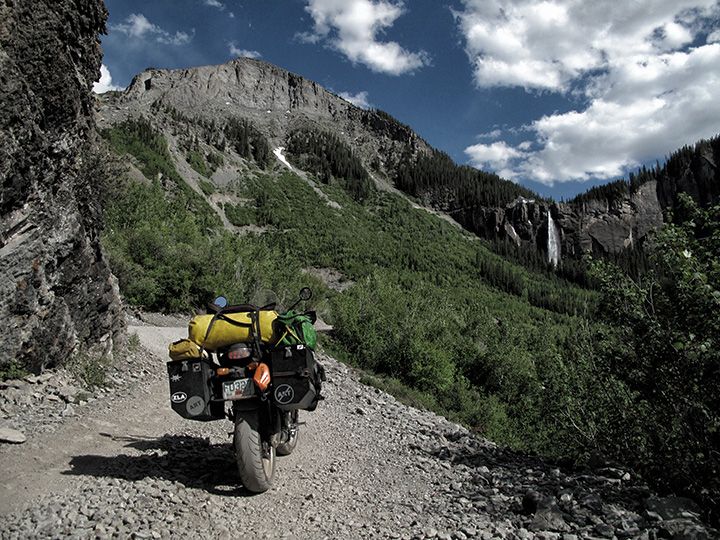 After another beer, and a call to my wife I'm off to find a camping spot. I head south on 145 through some more great mountain scenery, and end up heading up Co rd. 38 along the West Delores river to NF campground Mevreeso. A nice dinner of camp made tacos El Pastor. the neighbors invited me over for cheesecake, Mmmmmmm. it cost me a little red wine.
Day 5 - Delores, Co
Cold morning, I'm really glad I didn't camp up at the pass coming over from Telluride. I though about it, but missed the turn.
I made a nice warm egg b'fast.
15 miles into Delores for gas, then south to Cortez. Travis in Durango said he always wanted to take G west into the Navajo nation, I did.
G heads between Black Mtn and The Land Of The Ancients, this gets to be quite desolate out here.
A cool old adobe trading post
There were these huge aromatic flowers along the road, not in the desert, just along the road.
I got a little lost heading into Utah, I found a gas station in Aneth, UT and bought a map, I needed to back track about 8 miles to a turn off, At the border the Co rd. G turn into Indian Route 5066, I decided I was heading to Hovenweep.
The long flat roads of the mesa tops, the Monte La Sal mtns. are in the background.

Hovenweep is a set of stone towers built by the Ancients, or Anasazi. I'm not sure if they were for storage, signal or lookout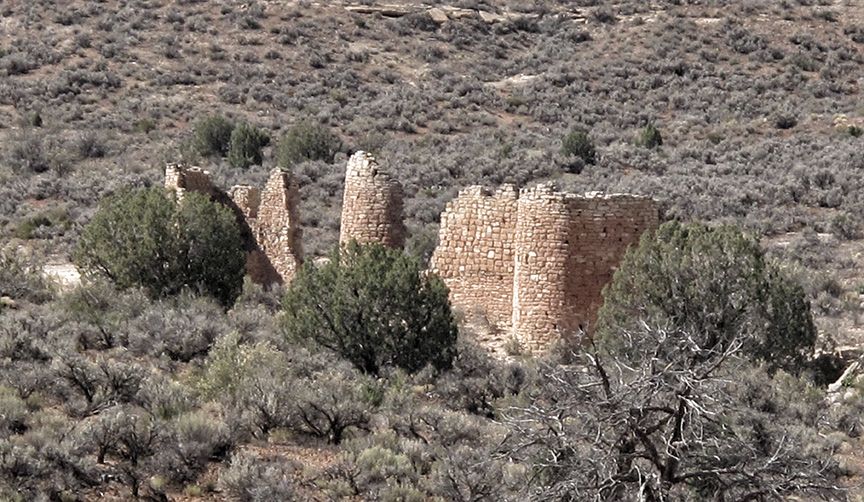 From Hovenweep I headed straight west on some of the very desolate Navajo gravel roads which were quite nice.
I had been on this road for an hour or so, and had to stop and take my insulation layer off. It was getting hot at 10 am. I looked and noticed my phone was completely lit up. 5 bars and 3G. What the hell? better than I have at home, and I'n in the middle of BFE.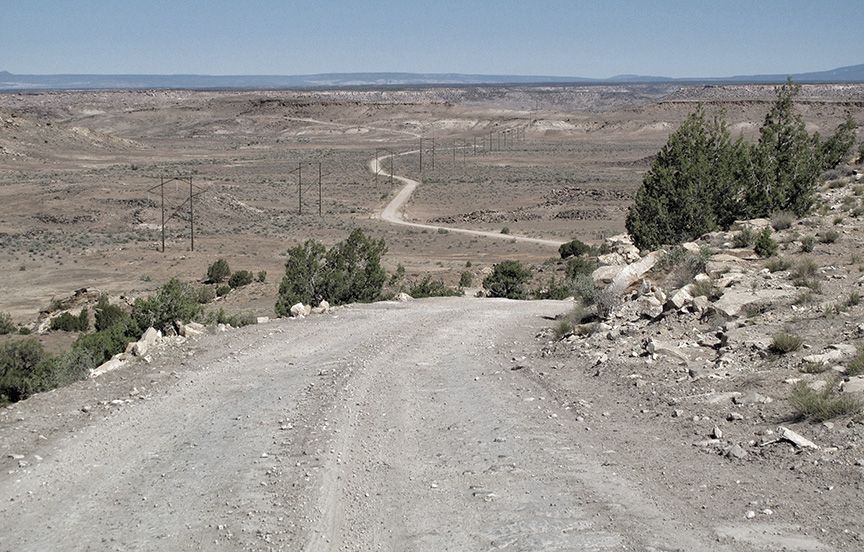 In the middle of friggin' nowhere.
The road I was on finally turned back to pavement and I could see Monument Valley probably 50 - 70 miles away. my little camera zoomed, digitally zoomed & cropped. It was a long ways off.
I get on Hwy 191 north through Blanding to Monticello and gas up. Now I was getting close to the "real" reason for the trip adobe milling.
Dove Creek CO. The Pinto capitol of America.
I load up my 10 lb. bag of anasazi beans & two big bottles of hot sauce and head north on Hwy 141 into more nowheresville.
Yes!
141 brings me to Naturita, Co. Now I have a decision, head about 90 miles east on pavement before heading north on more pavement to Delta, or head over Columbine pass which is mostly gravel, but more direct. I wonder which I picked?
This ended up being a great gravel road, was like concrete when I got closer to Delta.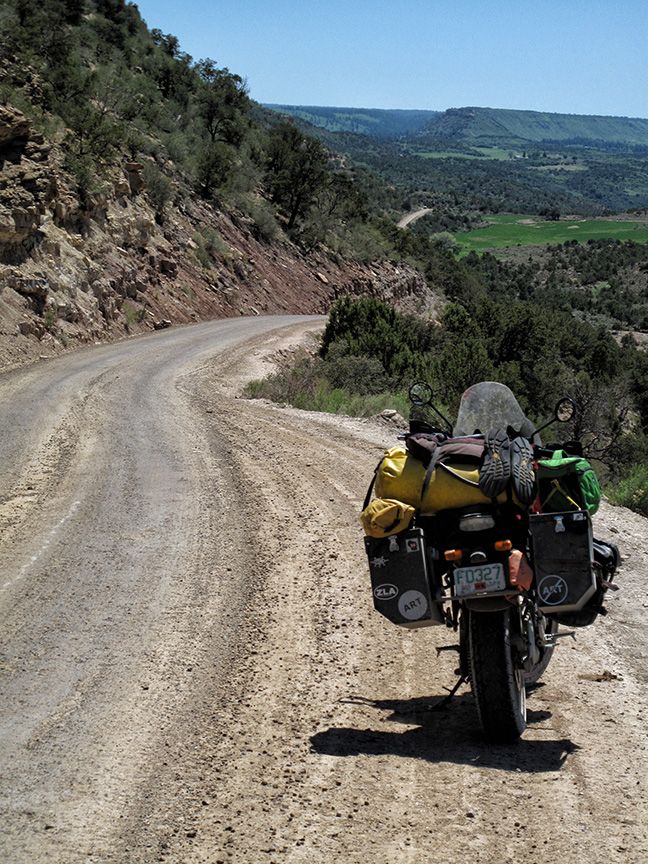 No photo's the rest of this day, it was an, all out, haul to the rally now at Copper Mountain.
Out of Delta I take 92 to Hotchkiss, 133 through Paonia over a pass I don't remember to Carbondale, gas up , on 82 north to I-70, I haul ass on 70 non stop to Copper Mtn.. I was holding 1200 GS's at bay over Vail pass doing 90 most of the way. Fun Fun.
I make it into Copper before dark. Man was that an epic riding day. about 600 mile.
Day 6 - Time to find a rear tire
My BT023 is toast, After finding out there isn't a tire supplier at the rally (which there usually is) I start asking the locals at the rally, I kept getting "you'll have to go to Denver" but someone told me to check Frisco 8 miles away. There is a KTM dealer there.
I do, and he has 2 tires that will fit my bike. A super moto tire, and seeing how this will be the 4th rear tire for the one front BT023 I don't want a soft tire.
He has something i've never heard of, a Heidenau Scout, and it will be high milage. It looks kinda like a WW2 jeep tire. "put it on".
He let me use his shop to chang oil while they did the tire, after I took it off.
I spent the rest of the day at the rally drinking wine and pursuing the vendors.
This rally was way too spread out, no beer tent, no food vendors. Well we were at a resort, Copper Mountain is not a town, so it was all expensive restaurants. Luckily I brought all my cooking gear, including cast iron, and was able to feed a small crew every night.
And on to - To The Summit (part 3):
http://kawasakiversys.com/forums/showthread.php?p=215703#post215703