To The Summit (part 1)
When I first heard that the BMW RA National was going to be at Copper Mountain in CO. I knew I couldn't miss it.
It was time to go to southwest CO to get 10 lbs. of Anasazi beans from Adobe Milling in Dove Creek. (good excuse eh?)
Betty said she wanted to go to the MOA National in MO., so I was on my own.
My Ride - A 2008 Kawasaki Versys with Happy Trail panniers, Famsa Tankbag/Pannier set and Ortlieb duffle.
Day 1 - Cross Plains, WI:
After a month of planning I set out at 1 AM on June 9th from Cross Plains, WI. No cars on my side of the freeway all the way to Dubuque, Gas up and get an Iowa map.
By the time I got to Cedar Rapids my eye's were going all googly. I found a nice piece of grass behind a closed gas station in Fairfax IA on why 151, and zonked for an hour and a half.
I woke up around 5:30AM and headed through the Amana colonies, jumped on I-80 for about 10 miles, then south on Hwy 21. to Hwy 85 West into Montezuma (Which for some reason sounded really familiar to me, because it is where Sig Mfg. is, the producer of Balsa airplane kits) too early for a tour:-(
South on Hwy 63 through Askaloosa and Otutumwa, West on Hwy 34, I've have never been through southern IA before, great rolling landscapes like WI.
In Albia I head south on Hwy 5 to Hwy 2 West through Corydon, Leon & Mt. Ayr. South on Hwy 148 into MO.
Just across the border I head west on Hwy J to Hwy D, Hwy C south on Hwy O into Tarkio then West on 136 to Rock Port, MO on the Missouri River.
Time for lunch and a beer, it's getting hot out, I find the Black Iron Steakhouse and Saloon….Good food.
Back on the road, after lunch, I head across the river into Nebraska on 136 West through Auburn, Techumseh & Beatrice, after this I got lost on a bunch of "b" roads crossing into Kansas, I roll into Salina, KS around 4:30, it's 95 out, time to find an air conditioned room. Found one, road to a Mexican joint for dinner, lights out by 8, after a beer or 2.
About 730 miles
Day 2 - Salina, KS:
I woke up at 3:30 to a full moon, loaded the bike and was on the road at 4. It's really dark out there even with a full moon, I take Hwy 140 West to Ellsworth, I really should have file up before leaving Salina, it's dark out, I'm in the middle of nowhere and my fuel light starts flashing. I make to Ellsworth on fumes. (time to start carrying an extra fuel bottle.) I head SW on Hwy 156 to Hwy 4 West. It's starting to get light out, and it's getting really flat. I stop for breakfast in LaCrosse, KS. More ggod food.
I filled my water bladder in Salina and it tastes like crap, I refill it in LaCrosse.
Before loading up I noticed my chain all floppy, I go to tighten it, and hit the stops, and it's still all floppy….crap! Yes Toto, it's Sunday in western Kansas and we are here.
Gratuitous Kansas Photo: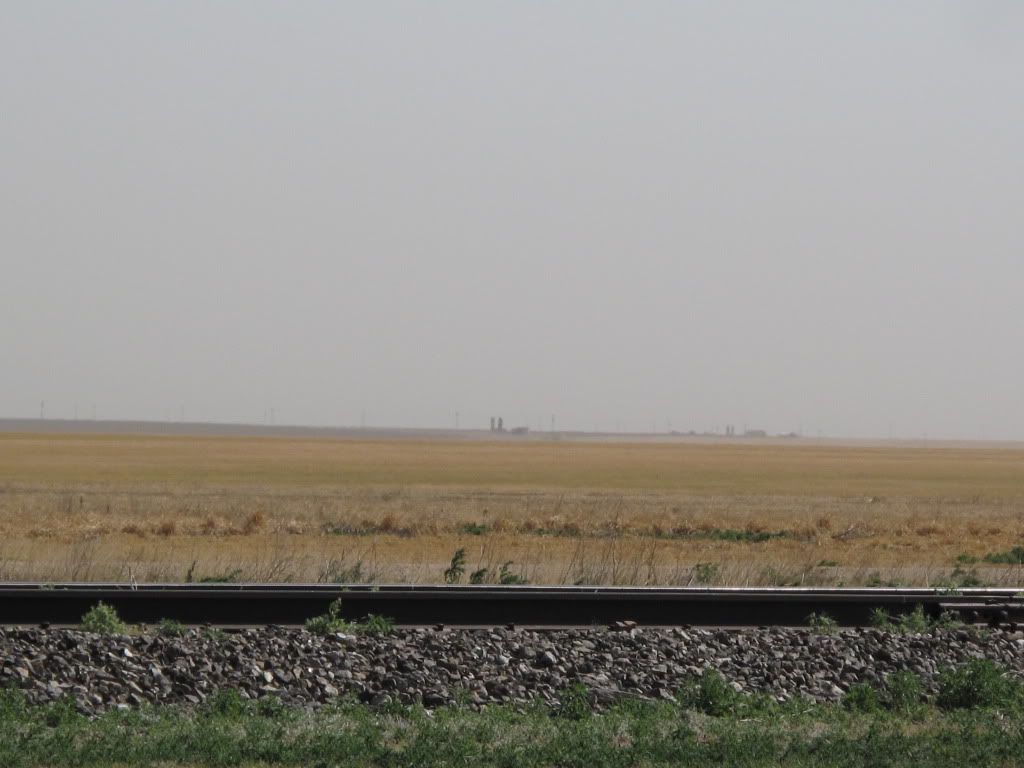 I decide about the only thing to do is "Go west, young man, Go west". Still on Hwy 4 for another 20 or 30 miles then grab a gravel road south to Hwy 96.
Hwy 96 is a route for cross country bicyclists. Through Ness, Dighton, Scott City,Leoti &Tribune, KS. I cross the border Hwy 96 heads west into Colorado's flat, dry, hot southern plains…..get gas when you can! Off Hwy 96 I get on County Hwy 31, a nice gravel road to La Junta, CO, It's getting hot again, my chain is floppier than ever, and I can't see the mountains yet.
I gas up and head west on Hwy 10 to Walsenburg, CO about 70 miles….. I still can't see the mountains…..WTF, they have to be, like, right there. My plan is to make it to Great Sand Dunes NP to camp for the night. I stop and get a 6 pack for my cooler. And head out of Walsenburg west on 160, and yes the mountains were right there, hiding in the smoke from the New Mexico fires. Once I climb up into the mountains, the smoke is gone for the rest of the trip. The rest of the rid to the Dunes was un-eventful.
Great Sand Dunes:
If you've never been here before, take the time to overnight here, and hike the dunes, they are incredible. It's $3 to get in for 7 days and $20/night to camp.
The camp sites are ok, but the view is not to be missed.
The Dunes are about 1500 ft. tall, an are quite hard to walk up. 1 step up, a half slide back….over and over.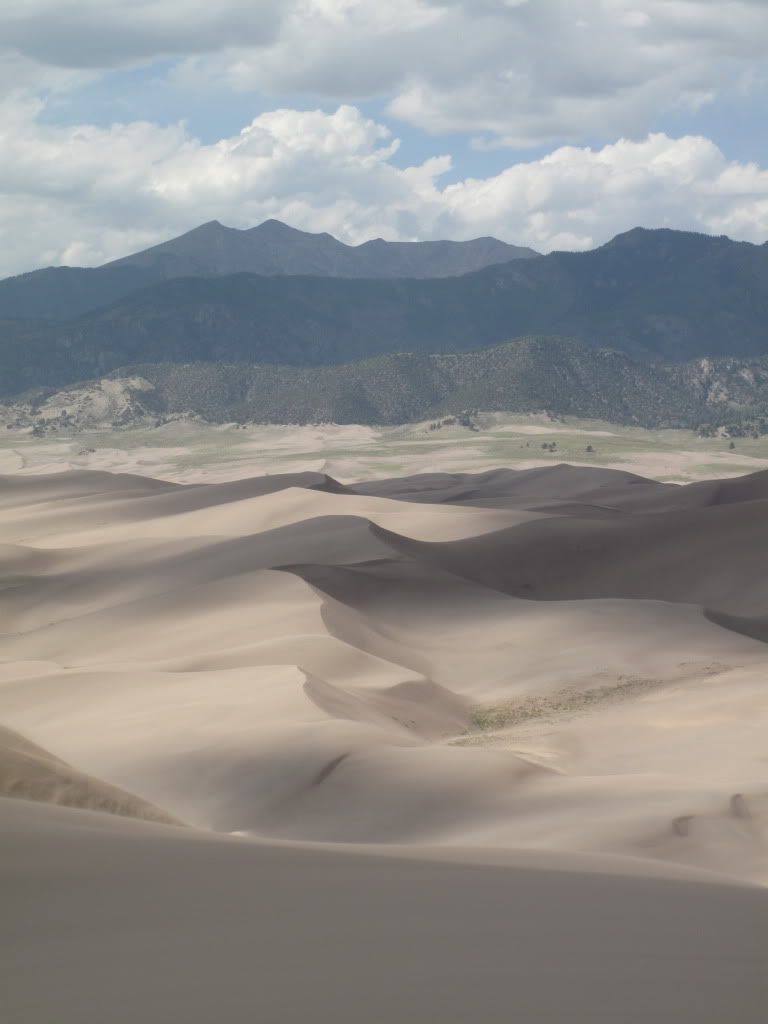 The winds blow about 40-50 mph every afternoon here, It's why the dunes are here.
I have a video of the dunes here:
http://www.youtube.com/watch?v=8SE9AeUSp7I&feature=youtu.be
There were people up on the dunes even after the sun went down, I bet it would be cool on a full moon, When I awoke the next morning, just as it was getting light out, there were people already all the way up on the top waiting for the sun to come up.
Day 3 - Great Sand Dunes,CO:
All loaded up and ready to roll…..floppy chain and all.

Good thing it's Monday. I can get a new chain.
This is my first road bike with a chain, so I didn't even think about it before leaving home with over 18k on it.
I'm now just under 20k.
@ 9am I find 3G service and start looking for cycle shops in Anamosa, there is one…..closed Mondays, so I check Durango (where I'm headed next to go mountain biking) There is one there, also……closed on Mondays, Double Crap! It seems, with more research, all bike shops in southern CO are closed on Mondays.
Well I guess I head to Durango, gingerly, and don't let the chain load up on the top side. This takes a lot of forethought , especially in the mountains.
I'm back on Hwy 160 heading west, the chain is making awful noise as it is slapping my exhaust. I roll on.
Just as I'm heading into South Fork, CO (A crossroad town…..no settlement….small) I see a Kawasaki sign in the distance, my heart jumps. HOLY CRAP there is an open sign in the window. There is one used dirt bike out front, everything else has 4 wheels.
I go in, no chains in stock:-(….(Hey what chain is on the bike out front ?" a lightly used Yamaha 450 single. He looks it up. A 520 with 114 links, he looks up my bike……520 with 114 links. BINGO!
We roll it in the shop, and an hour and a half later I have a lightly used chain on my bike ( Oh, I didn't mention he had a 520 master link in stock).
I got out of there for under a hundred bucks. Coolio Julio.
Now I can hit these mountains how I had imagined….hard and fast.
Still on Hwy 160 I go up and over Wolf Creek Pass, run into a big group heading to the front range to ride, before going to Copper Mtn.
West of Pagosa Springs I head south on 151just north of the NM border, just as I'm about to turn back north, and I see a gravel road heading straight south, I turn around and take it into NM. Add that one to my map.
Gratuitous New Mexico shot:
This was just a short foray, I turn around and head back north to Durango.
I roll into town in the early afternoon, it's hot, I need a beer or a margarita. I find one. I'm to meet Rob K. A friend of someone I work with that has a cabin 10 miles out of town. at the bottom of Plata canyon. I meet him at the Mexican restaurant I'm in. He gives me the low down, and sends me out to the cabin.
But before I leave he says I need to unload my gear at the cabin and ride up Plata canyon. "It's a little rough, but you can make it on your bike". Sounds fun.
I get to the cabin, a restored school house in Mayday, CO. Cute and small.
My home for the night:
I unload my bike and get ready to head up La Plata canyon.
The La Plata Canyon story is located here.
http://www.kawasakiversys.com/forums/showthread.php?t=20782
Part 2 is located here:
http://www.kawasakiversys.com/forums/showthread.php?t=20926