Discussion Starter
·
#1
·
My solution appears to be similar to Chris's posted here a few days ago, but the only additional parts I used were longer mounting bolts. The hardest part was removing the oem tag light wire.
Here's the pics: (click to enlarge)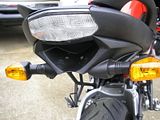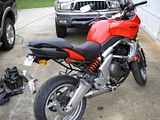 After removing the tag light I removed the lower fender with a coping saw. Using a hobby rasp (file) and sandpaper I smoothed the cut. Then, I held the oem tag bracket upside down where I wanted it and used an awl to mark where the mounting holes were to be drilled in the remaining fender. You can change the angle of the tag depending on what angle you mount the bracket. A quick trip to Ace Hardware secured the longer stainless button (allen head) screws and washers I needed to mount the bracket. (I believe they were 6m x 20.) I also picked a couple of shorter 5m stainless button head screws and acorn nuts to mount the tag. I used blue Locktight with the bracket screws as there is no way to torque them down tight against the bracket without some sort of spacer. From start to finish it took me about an hour and a half and it's really a very clean look once you're finished. The scratches I made when marking the bracket mounting holes are covered with the tag as is the entire area where the cut is made.
Like Chris, I'll replace it with something aftermarket if something that looks better comes along.