Discussion Starter
•
#1
•
This may have already been done, but I feel I need to share so here goes.....
So this story started about a month ago when I decided I wanted the Versys. I had just sold my 2007 Ninja 250 because I wanted a more upright riding position and the offer was good. The dealer here didn't have the bikes set up to test ride, so I went in and sat on it a few times, loved the positioning, and decided that this was the machine for me.
The day I got "Verbal" (my wife named him...don't mess with her), I rode him for 55 miles and realized that I had just sunk $7000 into a machine that had a horrible seat! 55 miles and my tailbone felt like it's about to explode? The horrid frontal wedgie? Sliding forward whenever braking?? What is this??!!! This couldn't be happening! This must be changed asap or my wife is gonna kick my respective backside for spending our money on a bike that is too uncomfortable to ride. I thought "I'm gonna change this without buying a custom seat and without spending more than 25 bucks."
After pouring through all the posts about seat modification, I built my courage up and decided to take a stab at modifying the seat. I gathered my tools, removed the staples and pulled the seat cover back and then I froze. Was I about to mutilate my seat? What if I mess it up? Is this going to be worse?...ad infinitum...
I balked...
I DIDN'T want to start cutting with my electric knife OR start sanding with my orbital sander. My guts went out the door with the morning trash....so I sat...
and I pondered...
and I waited for the epiphany that often comes when I sit still and concentrate on something hard enough...(no punch line needed)
As I sat there and looked the seat over, i thought about how I could do this without sanding, cutting, or using the cool "nose raising with a bracket" technique....
And then it hit me! If I could peel the seat cushion away from the plastic seat base, then I could build the seat up from the underside of the cushion on the plastic seat base without destroying my seat. SURE ENOUGH, the seat cushion was just glued at the edges that folded over the plastic and nowhere else. With a little gentle prying, my seat cushion came off nearly clean!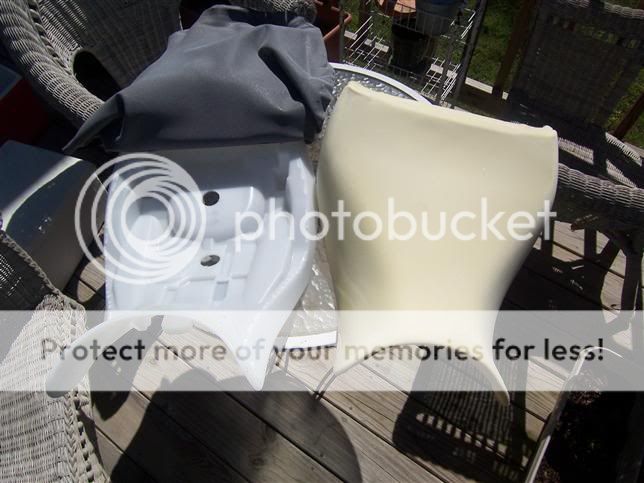 I set the cushion aside and rolled out an old $14.00 yoga mat to use as my underpadding.
This is the only material I used in the seat. I cut pieces from the mat with a set of scissors, shaped them around the nose and center of the seat in the areas that needed to be raised, and glued them to the plastic base with a can of $4.50 spray adhesive.
Notice I didn't take any special care in grinding the yoga mat, and I just applied the glue to one side of each layer so I could peel off cleanly if any modifications are needed.. The seat cushion covers most of it.
Then I placed the seat cushion back on top and stapled the seat cover back down with SHORT staples ($3.00) The long ones stick through and poke the nether regions!
It has a couple of wrinkles, but they are barely noticeable!
The ultimate test was a ride, so I took it out last night and rode for about 15 miles, and they were the best 15 miles ever! I broke hard to test the slide and frontal wedgie factor, I hit some twisties to ensure I could move around on the seat easily, and I hit some bumpy roads to see how well it stood up to the "giblet jostling" test! IT WORKED! IT WORKED WELL! Of course, I need to put some real miles on it to test the endurance level, but I can tell you that even short trips into town were turning uncomfortable. After last nights mod, I want to live on my Versys! WOOOHOOO!
Total Cost: $21.50
$14.00 for the yoga mat
$ 4.50 for the spray adhesive
$ 3.00 for the staples
Arrow Heavy Duty Stapler (in garage)
Small flathead screwdriver (to pry staples out)
Hammer (to ensure the staples are secure)
Kitchen scissors (don't tell my wife)
The cost is actually quite a bit less less considering I still have half of a yoga mat, 90% of the staples, and over 1/2 a can of spray glue left!
On another note....I put the spray adhesive in the closet next to the spray starch. This morning whilst ironing, I grabbed the wrong can and glued the iron to my shirt. I don't have a picture.....