This is my first convoy ride ever and I am glad to have done it with the Versys and with my wife as pillion. The ride takes us from Penang, Malaysia and cross into Thailand, pass Hat Yai city and towards the beach town of Krabi. Distance one way is 500km. See the purple route from George Town in the South to up North.
We started off in Penang, where most of the 40 something bikes gathered and roll on at 7:30am. We had a group of Marshalls in their cruiser to help us smoothen our journey. Most of the red lights, they managed to get us moving. There were 4 other vehicles, 3 from the bike shop owners families and mechanics, and 1 SUV with a trailer for loading up down bikes. We're sure glad we had the trailer.
We arrived at Changloon, 150km away from our start point, a border town in Malaysia for buying insurance and the final fuel up at low prices. Fuel prices are twice cheaper in Malaysia.
Entering Thailand via Danok was time consuming. First, we got to buy the insurance in Changloon (Malaysia) and then go through immigration for passports and have the vehicle registered. It was tiring from the waiting and the heat. I think it took us 3 hours to get through the border.
The long wait and heat probably took the toll on one biker on a Kawa VN250. Being a 250cc, he was supposed to be at the front but he got to be the last after sometime we have passed Hat Yai. His bike is 3 months new and his riding skills is probably that long as well. We made a stop soon after this poor bloke crashed his bike while negotiating a bend, apparently he hesistated and panic braked and crashed. Rider had no gear except for a open faced helmet and sustained injuries to his knees, palm, right foot (swollen and a cut). His sneakers came right off. Riding was over but his holiday wasn't as he sat in one of the cars to journey on.
Bike towed. Bike injury is dent on the right side of the tank, bend handle bar, and scratched exhaust muffler.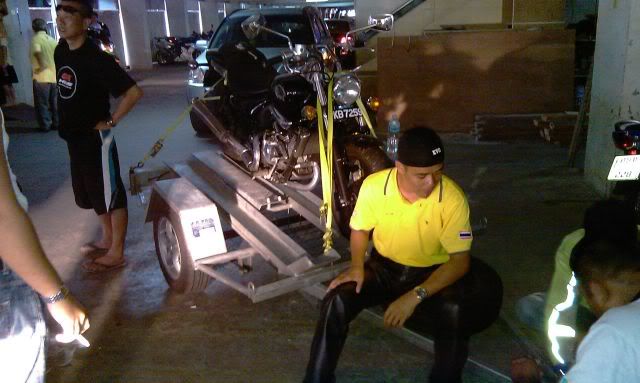 I nearly crashed myself onto a stationary Marshal who was manning a junction. I learned not to rely on the front bike and need to see further ahead. The front bike made a sudden swerved to the left to avoid the marshal and it caught be by surprise and I was heading directly onto him. Can't brake and stop, so at the last seconds, I managed to evade to the right and missed the marshal by an inch.
Our first fuel up in Thailand.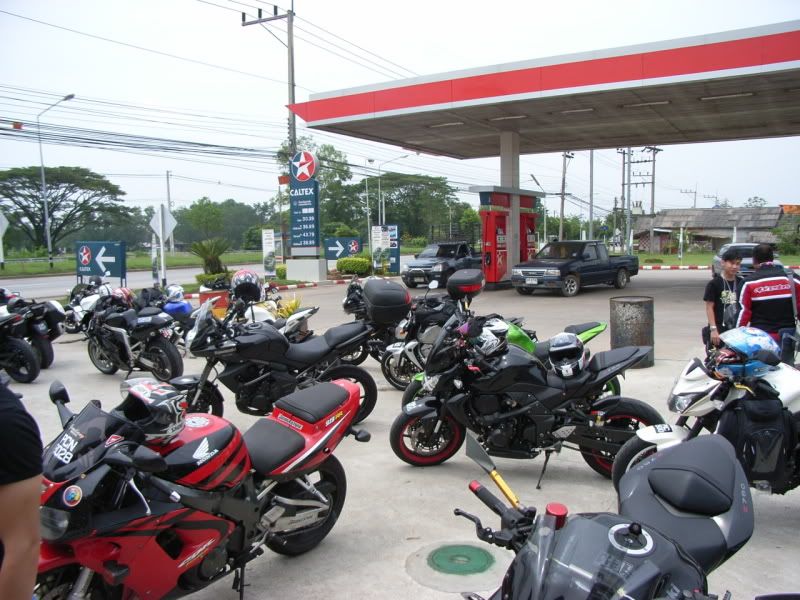 Arriving in Krabi (Au Nang to be specific) and we rested here while the Marshals sorted out how to get to the hotel. yeap, we were quite lost. Fortunately, a Krabi Tourist Police car came by and escorted us to the right place.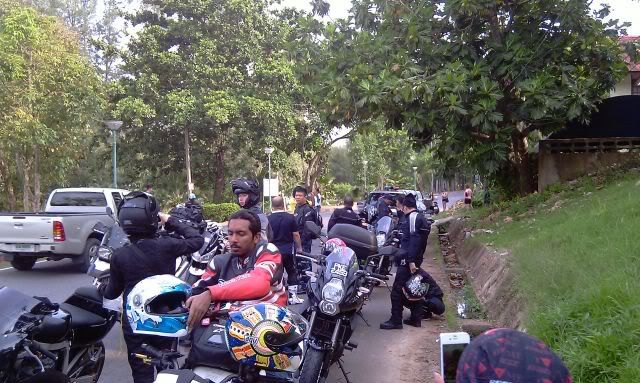 Sunset in Au Nang.