Discussion Starter
•
#1
•
The rest of the ride to Durango was pleasant, and uneventful. Once in town I navigated to the downtown area and looked for a hotel. Unlike in the US, Mexican hotels don't always have bright marquees announcing their presence. As such I had to tool around a bit before I spied one. Durango is a beautiful town, although fairly large. I spent most of my town in el centro, (the center of town). There were some very picturesque moments here which I didn't catch on film. The street sweeper walking down the street in front of the hotel with his cart, and his pet dog dutifully trailing him comes to mind, as does an evening spent in an open air pool hall on the alameda. The pool hall reminded me of National Geographic pictorials I'd seen as a child about Mexico and the American Southwest. Before leaving Durango, I got an oil change from a local Kawasaki dealer. Mine was the first Versys he'd seen, and he changed my oil and filter for the cost of the oil and filter, (about $22).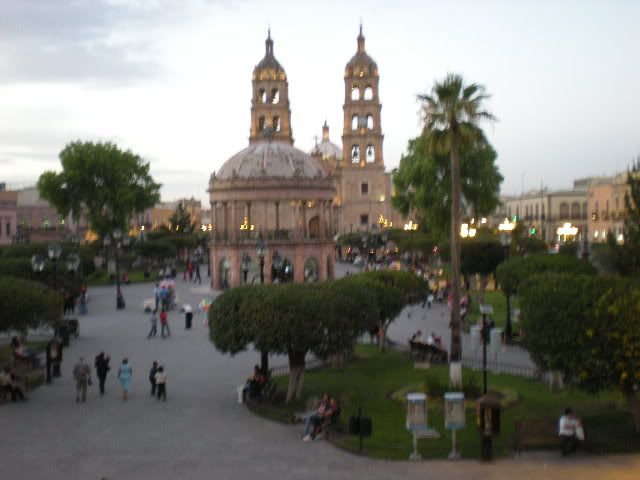 Eventually I left Durango and headed toward Zacatecas. The ride was beautiful with some nice sweeping turns and little traffic.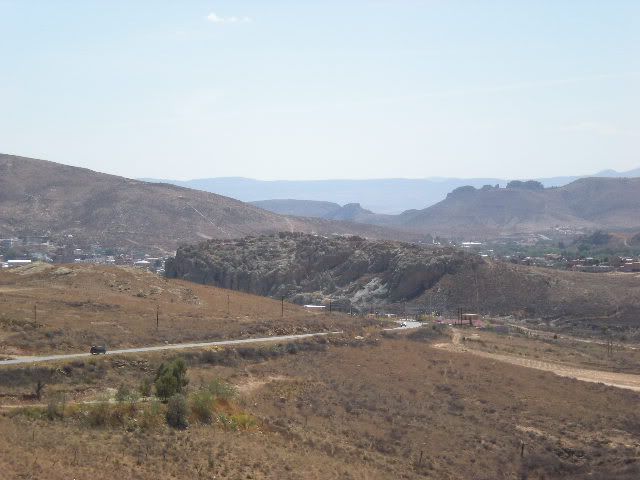 Upon entering this town of narrow, winding, one way streets of Zacatecas, I quickly parked the bike and sought a hotel on foot. I was lucky to find one right in the center of the old town for about $24/night. When I enquired as to whether they had parking for my bike, they replied that they did not, but the manager/owner happened to be passing through the lobby at that moment, and invited me to bring my bike into the lobby and park it by the nonfunctioning water fountain. Astounded at his generosity and my good luck, I thanked him and brought the bike inside for a rest of its' own.
The beauty of taking a trip like this, (largely unplanned, and un-researched), is that your days will be filled with surprises. Zacatecas was one of those surprises. This beautiful colonial hill/mining town took my breath away. Every street corner I turned brought some new visual delight. People here as everywhere I travelled in Mexico were generous and interested in this gringo's life and what he was doing in some rather un-touristy parts of Mexico.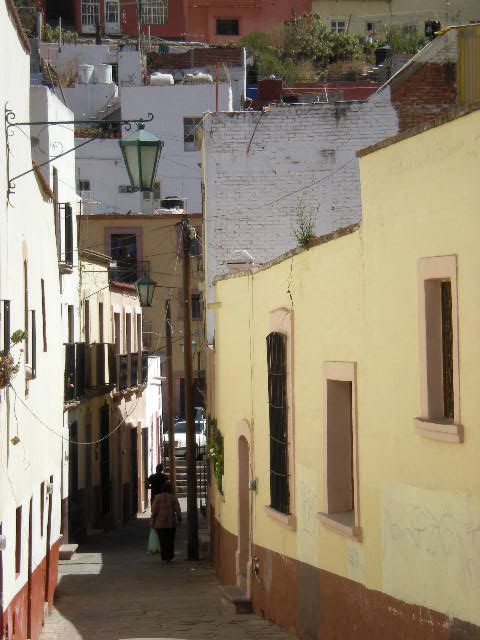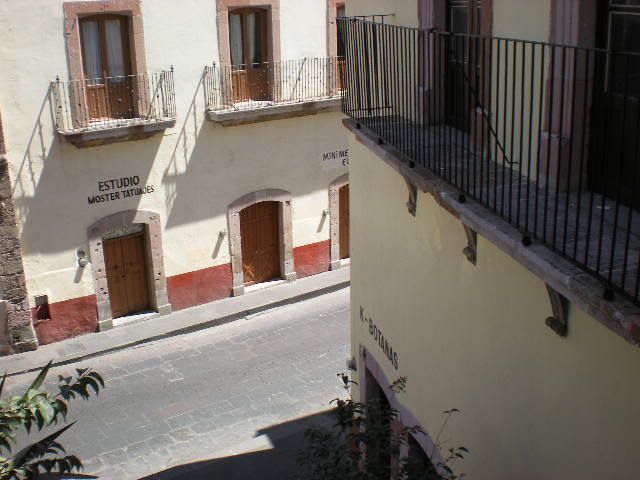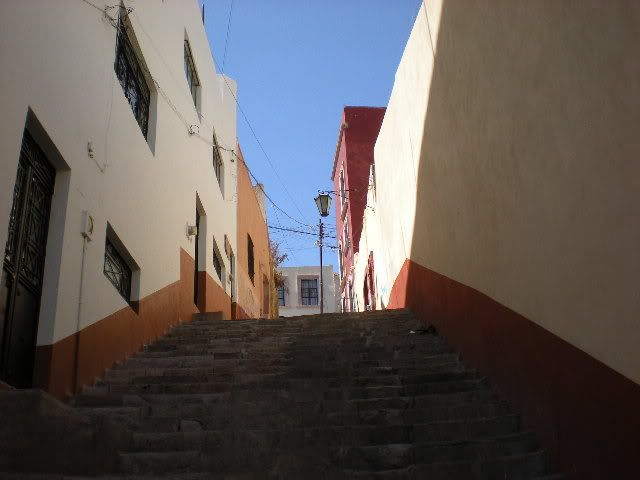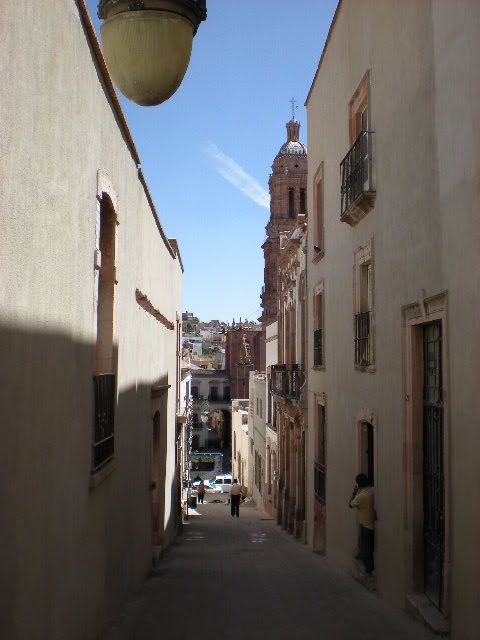 I turned north from Zacatecas toward home. I made a dash toward Palacio Gomez, a unremarkable town in the plains of the Chihuahuan Desert. Even so, the locals were friendly when I stopped into a small cervezeria upon my arrival, and the locals began buying me drinks. Eventually I left to find a hotel, they had directed me to and checked in. That night I was treated to some elders of the town, taking turns getting up from their tables at the seafood restaurant I'd chosen to sing along with the keyboard player and his drum machine in a Mexican version of karaoke night. Most of the singers took the time to thank their audience, and graciously acknowledged the Americano in their midst this evening.
The following day I left on secondary roads tor Hidalgo del Parral, the Chihuahuan desert town which is home to the Mexican revolution, and its man of the people hero, Pancho Villa. Pancho Villa was a commoner, who killed the son of a wealthy landowner who had tried to rape Pancho's sister. Wanted for the murder, Villa fled, first turning to robbery and eventually to revolution. He was the first General in the Mexican revolution, and became governor of Chihuahua. He lived and was assassinated in the town I'm in right now. I met one of his followers here, who at first told me he didn't care for gringos, but we ended a remarkable cross-cultural evening claiming each other as brothers. This was the common thread which bound most of my adventures on this trip through Mexico; a desire on both the Mexicans and my part to understand each other, (sometimes literally), and a consequent friendliness that I couldn't have predicted prior to making my journey.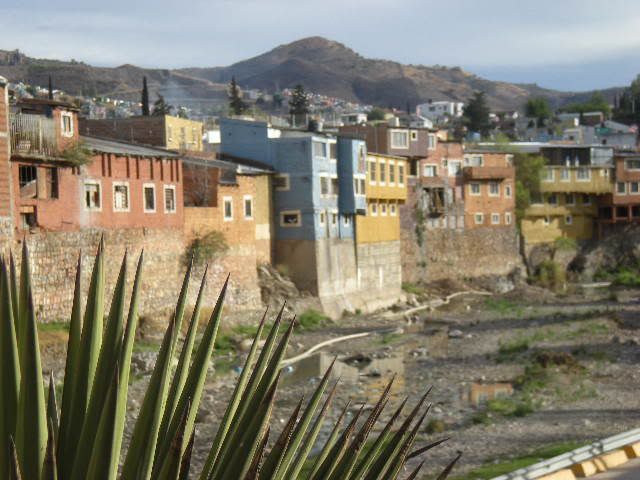 http://i334.photobucket.com/albums/m408/miguelitoh2o/MEXICO2-2009365HIDALGODELPARRAL.jpg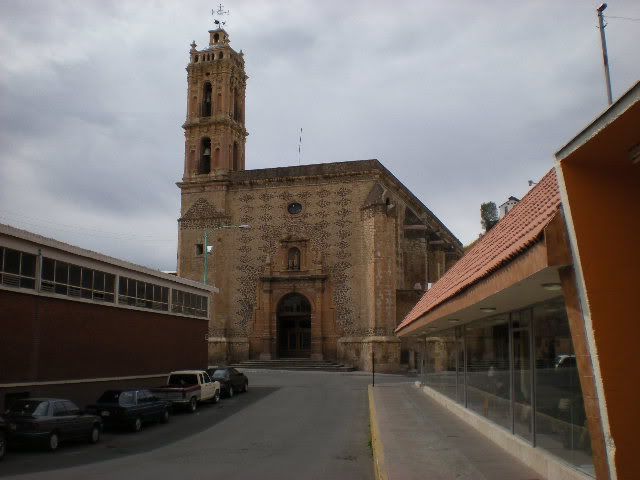 Eventually I left town and headed north along a desolate stretch of two lane road, which again instilled an anxiety as to when the next gas station would appear. I made it with about ½ gallon to spare. After a relatively quick wait in line to cross the border, I crossed back into the US at Presidio, TX.
I road east towards Big Bend National Park along what has to be one of the most dramatically scenic roads in the US. There was a sign just out of Presidio, stating that the road was closed 6 miles ahead, 'local traffic only). I decided to investigate, and found that there was an unpaved detour road of about 6 miles which eventually brought me back to the pavement. I was able to take a couple of pictures here before my camera battery finally gave up after 5+ weeks of documenting my travels.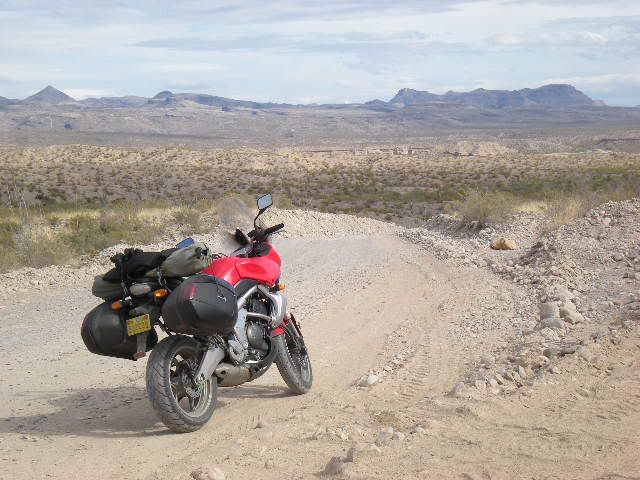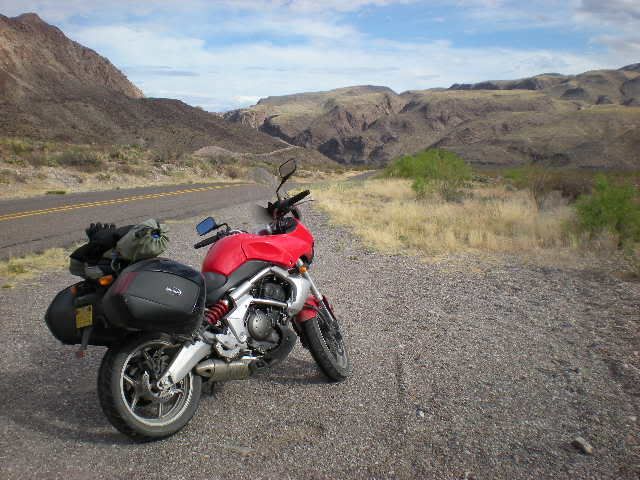 I spent the night in Terlingua, TX, where it drizzled rain all night. Had a nice evening with the locals in a restaurant in the old mining town. Left the next day in drizzle, which became cold fog. I stopped after about 80 miles of this and checked into a motel in Alpine, TX. Waking up the next morning I found my bike and the surrounding grasslands coated in about 1/8 inch of ice. Although it hadn't rained all evening, apparently water molecules were coalescing on the bike nonetheless. I chipped away what I could, Started the engine once the locks were de-iced, and eventually set out on a cold morning's ride. It was hard to believe that I'd been in a tropical climate just a few days before. As the day progressed, the sun eventually broke through, and I was back in New Mexico before the day was done.
The trip was a great adventure for me. I think traveling by myself allowed me to have many experiences which wouldn't have happened or would have been quite different had I had a traveling companion. I took away with me a genuine fondness for the Mexican people, and a reinforced admiration of their cooking. I can recommend this trip to anyone with a modicum of familiarity with the Spanish language, a sense of adventure, and an enjoyment of other cultures.