Discussion Starter
•
#1
•
This weekend 4 of us (3 from Coffs Harbour 1 from Grafton) went for a little ride to Long Flat so we could ride between Long Flat and Gingers Creek several times. We booked into the Travelers Rest Hotel at Long Flat for $35 per person which was a bargain. Karl on his Honda Deauville, Sunny on his Triumph Speed Triple 675, Keith on his Ninja 14 and myself on my Versys 650.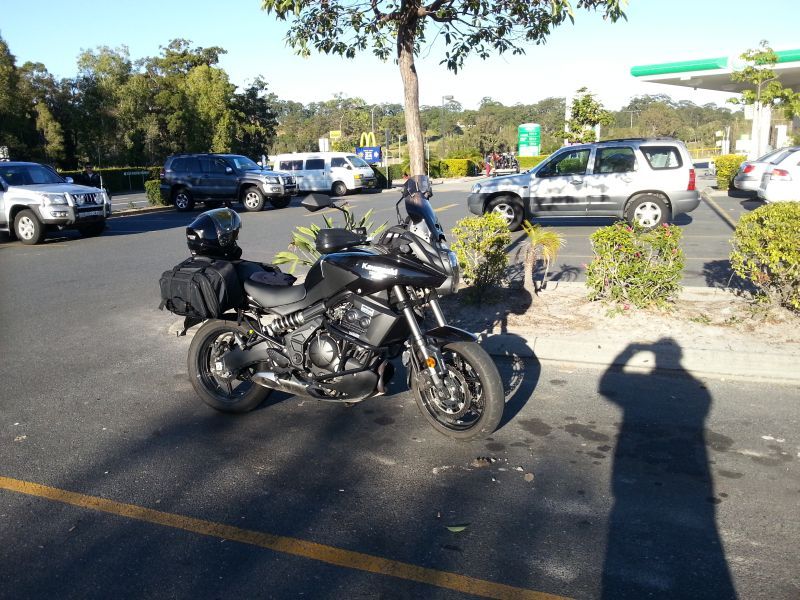 I got to our meeting place and waited a few minutes for Karl to turn up, Keith from Grafton turned up next and a few minutes later Sunny on the Trumpy.
We got under way at 8:30 and headed to Wauchope for fuel as some needed 98 octane and that was the last place to get it before reaching our accommodation at Long Flat. After leaving Wauchope we arrived at the Travelers Inn Hotel at Long Flat around 11ish to drop our gear off and head up the mountain for lunch at Gingers Creek.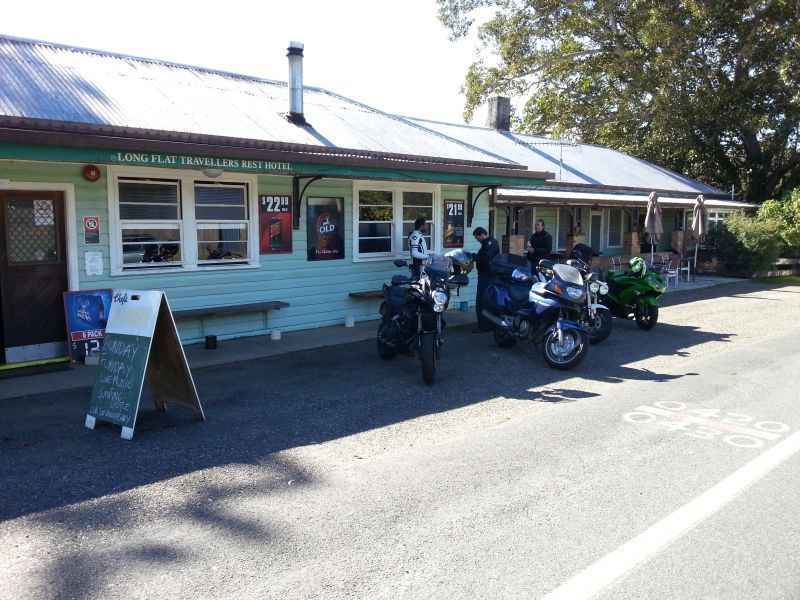 The road between Long Flat and Gingers Creek is being worked on and there are 3 sets of stop lights on the way, the surface is pretty rough in spots so it pays to watch out. Semis use the road also as well as holiday makers however we didn't get much traffic so were pretty lucky. Anyway we had a steady ride to Gingers Creek with no incidents and had burgers for lunch.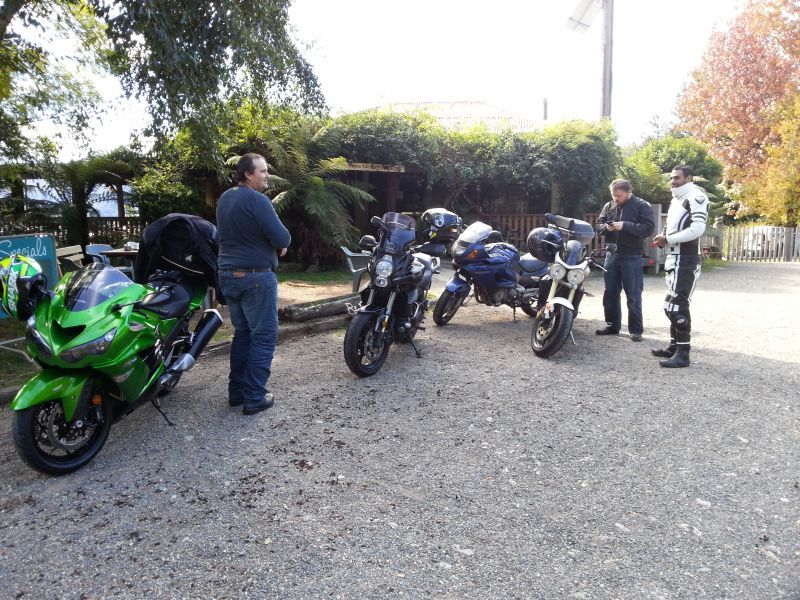 After lunch we went about another 10 km up the road before turning back and heading down the mountain. Back up to Gingers a couple of times and down again and back to Long Flat for dinner and drinks. Oh yeah Sunny's rear tyre was knackered so he was out for Sundays ride back up the mountain.
I love country pubs, I was wearing my uggs all night in the bar and restaurant, we had a great feed and plenty of company with locals and another 11 riders from Sydney staying the night.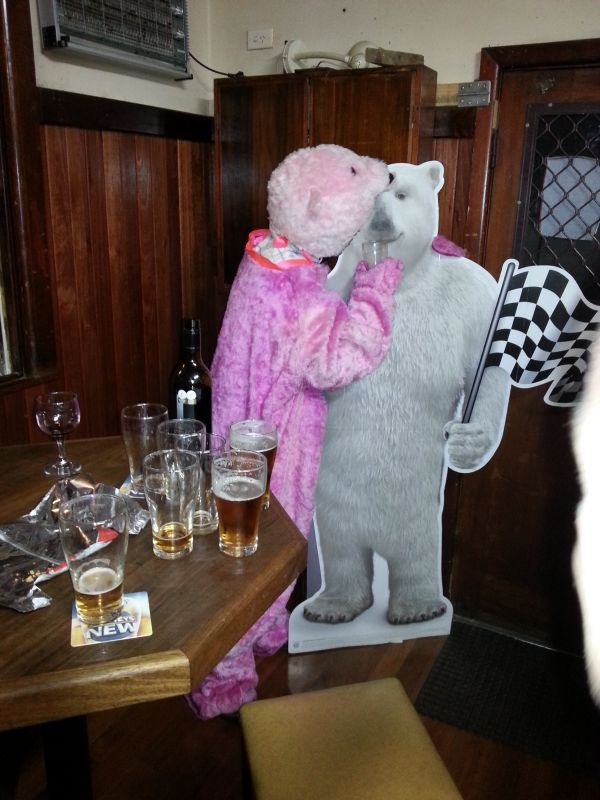 Sunday morning we were up and showered before grabbing some brekfast in the kitchen (included in the $35 per head accommodation fee) amazing value. At 8:30 Karl and I headed back up the mountain for some morning fun while Sunny rode back to Port Macquarie to try to get a tyre and Keith rode back to Wauchope to get some 98 octane. We were having fun and instead of stopping at Gingers Creek I went on a bit further so I could grab this photo.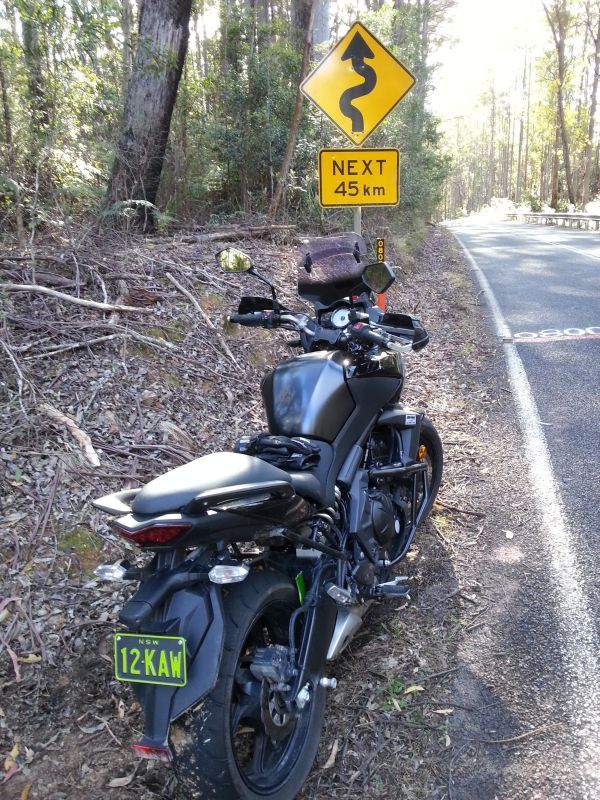 Karl had stopped at Gingers so I headed back and had a hot chocolate while Karl told me how cold his fingers were. The BarkBusters I have fitted seem to help with more than just crash protection. So we rode back down to meet Keith and decided not to go back up we would go to Port and meet up with Sunny for lunch. We were getting back on the bikes when Keith said have a look at this. Seems I was having a good time
Off we went to Finnegan's Irish Tavern Port Macquarie for a great lunch highly recommended if your in Port or nearby. After lunch Karl and Keith went of to Laurieton I stayed with Sunny and we went for a short ride to check out some local scenery. Tacking Point lighthouse looked pretty good so we pulled up and had a look.
Sunny stayed the night to get new tyres fitted and the rest of us rode home getting back to Coffs at 5 pm. All in all a great weekend with many thanks to the Long Flat Travelers Rest Hotel, cheers to Craig Sonter and the crew for making us welcome.