So i got my 2008 versys a few months ago. I have loved riding it, but I always miss listening to music like i can in my car. I dont really like having speakers in my helmet, since i like to hear the bustle around town. Also, since i park outside at an apartment complex, I didnt want permanent speakers that might get messed with by kids. So here is my $25 motorcycle portable boombox.
Sorry for the bad quality pics, my phone camera lens is all scratched up.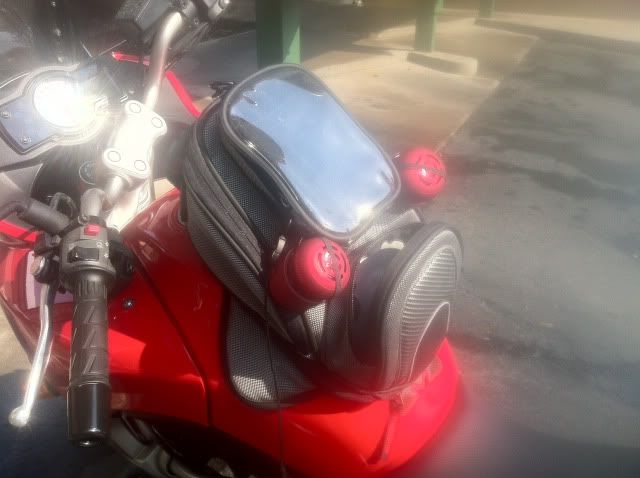 I ordered a set of these portable speakers from amazon. $20.
http://www.amazon.com/Diamond-MSP100B-Rockers-Mobile-Speakers/dp/B002JM1V78
I already had a tank bag and a ipod, so all i needed was a way to attach them and wire it all up.
I had a loop of inch wide elastic put together with a seatbelt buckle to attack the whole thing around that top pocket. then I had two more peices of elastic sewed on to make a cage for each speaker. Put it it, connect the wires (these speakers have great cord management)
The speakers could use to be clearer at full volume, but they are loud enough to hear well while riding.
If you guys are interested I can post some more in depth pictures so you guys can repeat it.
The entire strap assembly can come off easily for using it just as a normal tank bag, or for charging the speakers.