Ok a little history, I lived at
Narrabri
between 1973 and 1990. For 17 years I grew up in this small north western town in NSW Australia. I went to high school, learnt to ride motorcycles, shoot, fly gliders, parachute, fly remote control planes and all those things that young guys do.
I got married and had 2 children then in 1990 moved to the south coast of NSW where we had another child. I returned quite a few times as we had family and friends there. After my family (mother, father and sister) moved from Narrabri and my wife and I divorced my last visit was around 16 years ago.
Fast forward to 2013 one of the facebook motorcycle groups was having a ride to Inverell and a friend suggested an overnight ride to Narrabri, I was hooked I took Saturday off work and rang friends in Narrabri to let them know I was coming for the weekend.
Saturday morning I rode to Grafton to meet up with some of the riders and we waited for the others to show.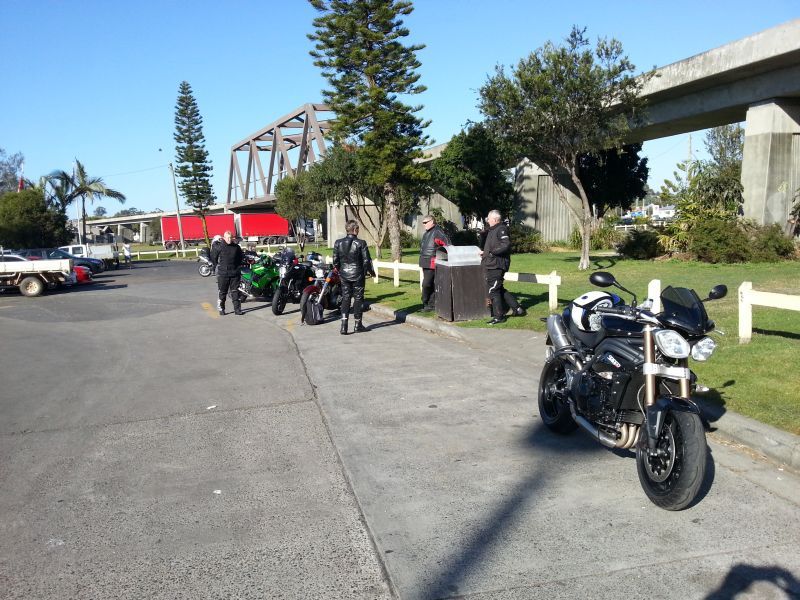 Headed west out of Grafton up the Gibraltar Range heading for
Glen Innes
(land of the beardies). Well about 5 km short of town is a little picnic spot where approx 30 years ago I took a picture of my XS250 Yamaha on a trip to the coast so I pulled up and took a pic of the V in the same spot.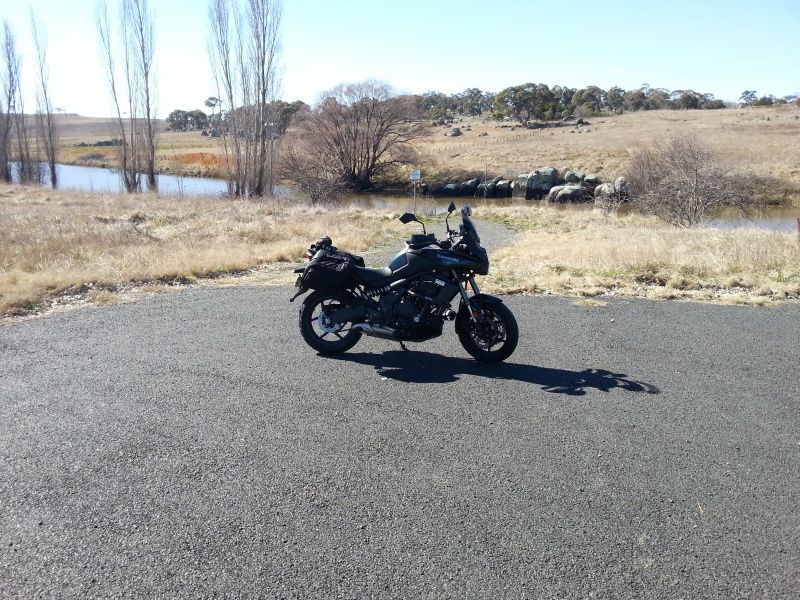 Pulled into town where some of the boys had to fuel up. Of course the V didn't need fuel so I waited till they were ready and the 10 of us headed for Inverell where we were having lunch. After lunch the 4 day trippers headed for home and the real ride started, just out of Inverell we turned off the highway and headed for
Copeton Dam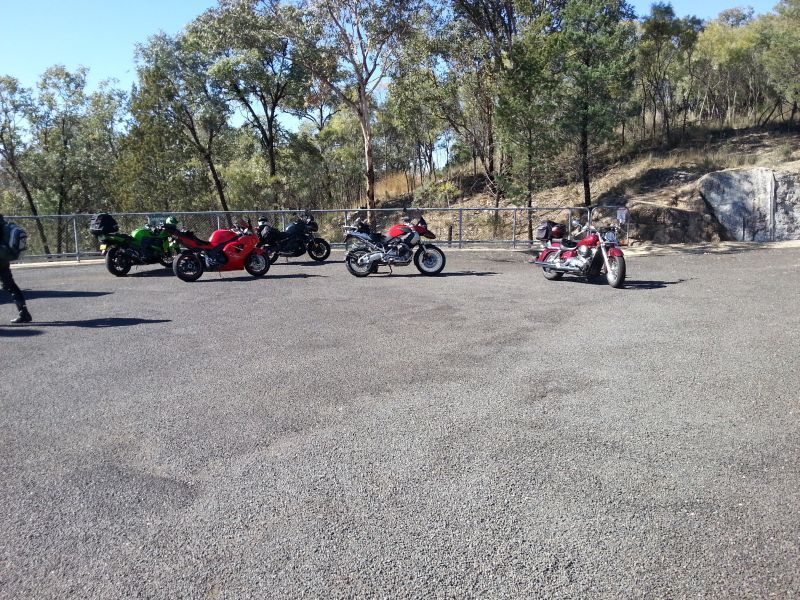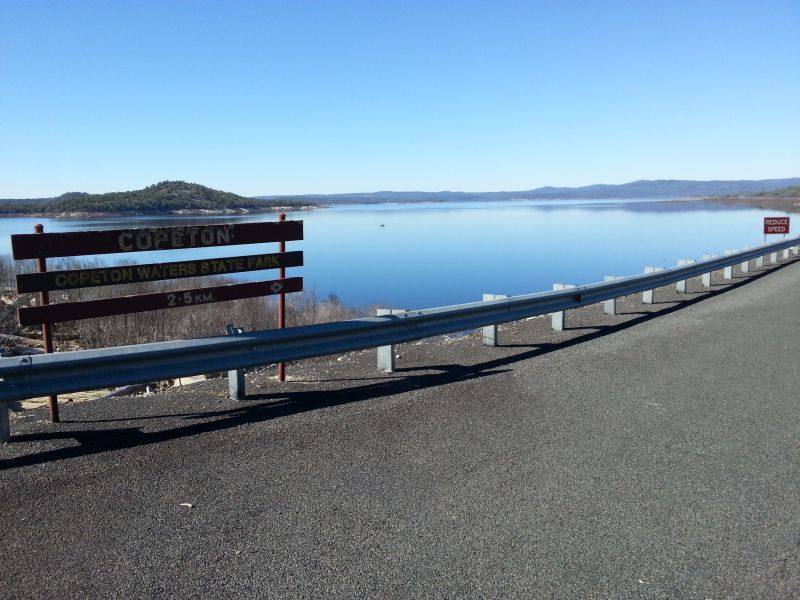 While we were there we came across a couple on a Kawasaki Zepher 550 out for a day ride from Inverell, this has a similar motor to my old Gpz550 which was for it's day a rocket ship and a great handling bike.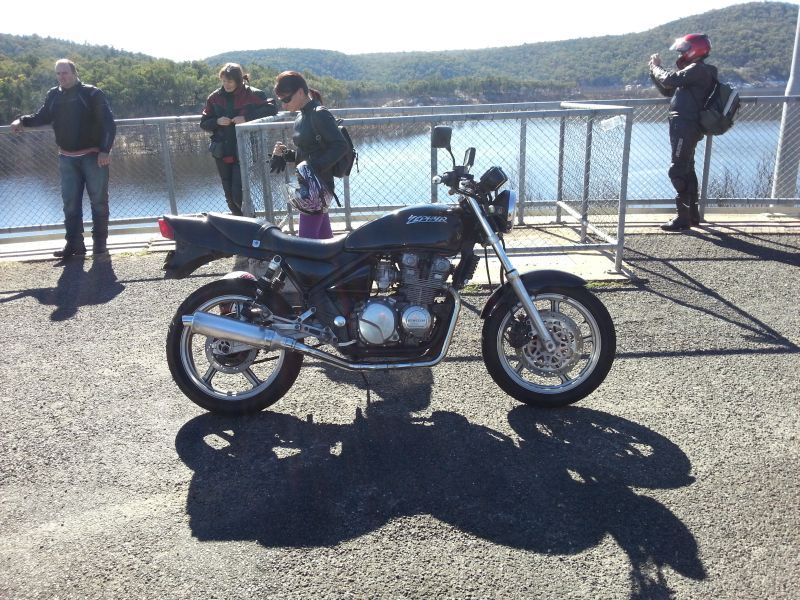 Heading for Bingara for a fuel stop some cow poo on the road gave us a good indication of what was ahead, yes that's right you guessed it up ahead a few cows wandering around on the side of the road, something to avoid particularly on a motorcycle. Stopped at
Bingara
for fuel
and then set off for Killarney Gap which crosses the
Nandewar Ranges
Lots of dead roo's meant watching the road carefully with one of them almost catching me out and another sent Trevor off roading, fortunately we all made it which is more than can be said for the roo's. (For the non aussies I mean Kangaroo's).
Got into Narrabri ok and headed for our accommodation the
Centre of Town B&B
friendly, clean and comfortable and highly recommended. After parking our bikes under shelter and getting changed I called Bill (mate from Narrabri) and we headed for the Tattersalls pub for some refreshment. Bill and Sue turned up and we had a few beers and dinner at the On Lee Chinese which was excellent and highly reccomended.
Back to the Tatts for a nightcap and then off to the land of slumber.
Next morning up early for breakfast and the others set off home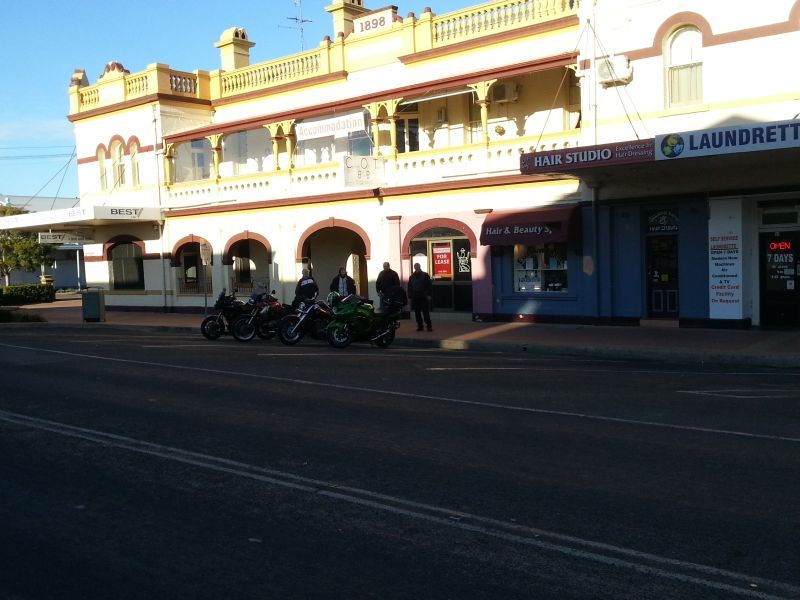 so I went for a ride round the old home town checking out what was different and what was the same. Lots of memories came flooding back and lots of questions, what happened to people that I used to hang out with etc. I soon found out when I dropped around see Sue she filled me in with the goings on since I'd left. I spent a very pleasent day just chatting and sitting on the verandah in the sunshine. Narrabri turned on a beautiful sunny warm winters day for us, so after Bill turned up on his hotel California (Moto Guzzi) we had a BBQ lunch complete with garlic bread. Bill you are a good cook! Anyway the afternoon was getting away so around 4pm I said goodbye to Sue and Bill and I went for a ride to the foothills of the Nandewar ranges.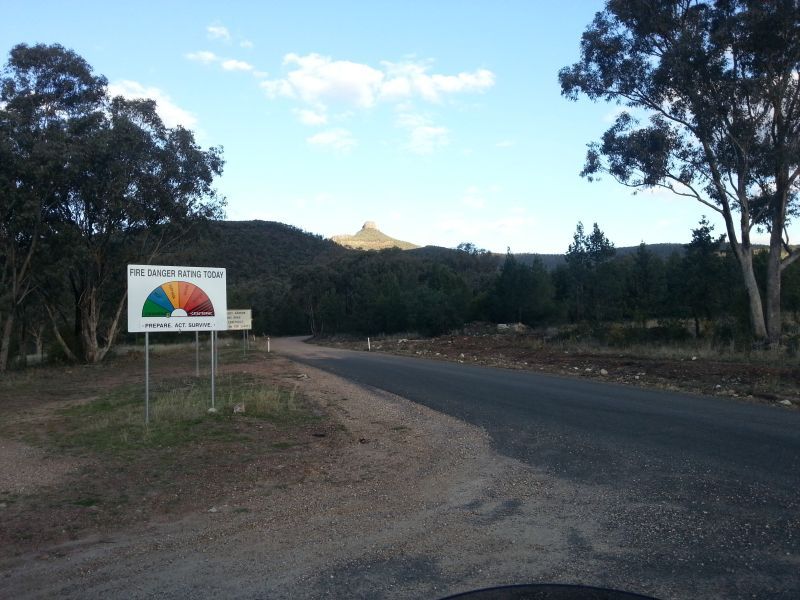 Bill had to get ready for work so he took of and I had a nice ride checking out the old stomping grounds. I stopped a few times for photos

and then rode up to Eulah Creek where I had spent a lot of my youth at another mates place.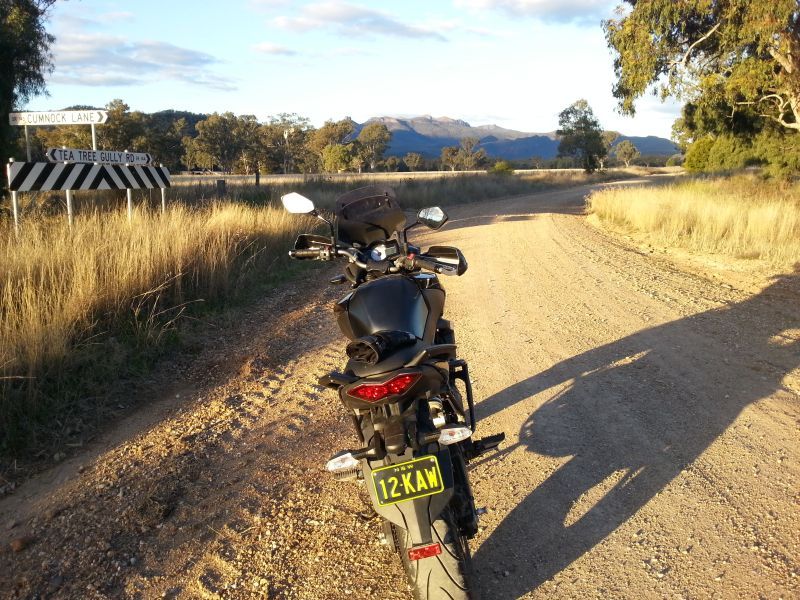 It was gravel roads but of course that doesn't stop the V it is happy on tar or gravel. Took some photos and got back to town just before dark (still had the tinted visor on). Walked the main street checking out the old and new shops on my way to Woolies for some food and back to the B&B for dinner and bed. Perfect day!
Monday dawned and after shower and breakie it was time to say goodbye to our host Les and pack the bike and be on my way. Heading back through Baan Baa, Boggabri, Gunnedah and on towards Australia's Country Music Capital, Tamworth memories were flooding back all the way. I was in 2 minds weather to turn off at Bendemeer (Great biking pub and feed make sure you call in when riding the New England Highway) and head down the Oxley for Port Macquarie and up the Pacific Highway or go to Armidale and head through Dorrigo and Bellingen and rejoin the Pacific for the run home. I was leaning towards the latter however over a sausage roll with sauce I rang
Protech Cycles
at Port Mac to see if they had a Michelin PR2 for the front tyre. I had heard nothing but good reports about Protech and when they said they had the tyre and could fit it straight away I decided to do the Oxley.
Slow traffic out of Tamworth however once I turned off at Beendemeer I just about had the road to myself so opened the taps and cruised quickley to Gingers Creek where I had a break and a hot chocolate was very welcome. As I was trying to get home before dark I pushed on towards Port Mac however about around 20km outside of Wauchoppe a bird flew into my mirror and then hit my chest. I didn't have time to react it was so quick but I think I swore a bit the result? the clutch perch had rotated up so now to use the clutch I had to reach up instead of down, grumble mumble bloody bird. Seeing as I was going to the bike shop anyway it wasn't so bad, well for me anyway, dunno what happened to the bird!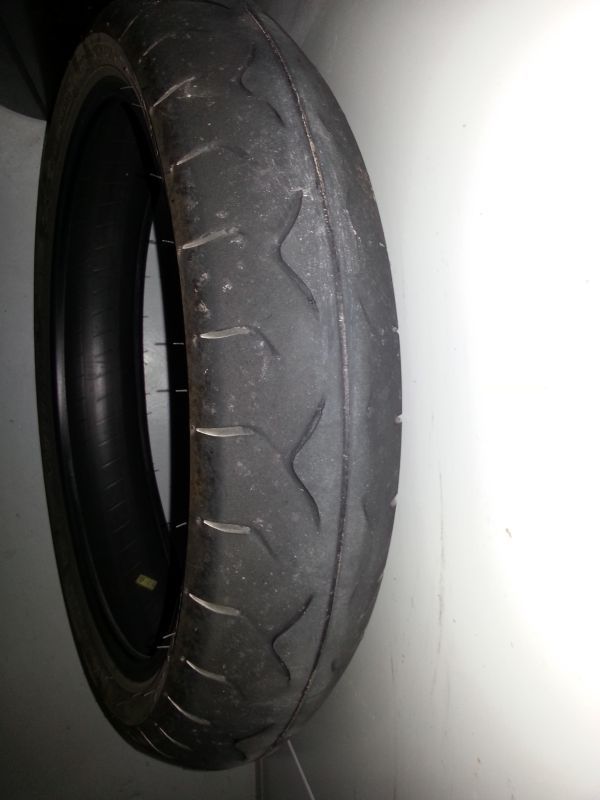 Got to the bike shop and they couldn't have been more helpful, They changed the tyre, checked my tyre pressure, lubed the chain and adjusted the clutch perch for me all for $200 result 1 happy camper. Off to the servo for the V's last drink before home and with my last $6 a streetwise burger meal at KFC for me. Changed the tined visor for the clear and set off home. Just under 2 hours later it was good to be home and rest my weary bones. 1200 km and a new tyre later, great weather and a good ride with friends and meeting old friends I was a happy boy.
End of line.