My Victorian trip Feb / March 2015 on my 2012 Kawasaki Versys 650L
I'll break this up into sections to make it easier to follow.
Friends of mine moved to
Melbourne
late 2014.They had asked me to visit for the
Super Bikes
in February 2015 and seeing as this was the weekend before the
biggest airshow in the Southern Hemisphere
I figured I'd combine a few things. I'd also previously failed an attempt at the
Aussie Hard Arse Challenge
so I thought it was as good a time as any to complete it. I also wanted to ride the
Great Ocean Road
and the
Grampians
and see some of country Victoria and the
Victorian and NSW High country
.
The Aussie Hard Arse Challenge is 1600 km in 48 hours and seeing as the direct route to Melbourne is only around 1400 km I had to add a couple hundred km. I decided to go through my old home town of
Narrabri
and stay the night somewhere around
Parkes
NSW 948 km according to Google Maps. As February is still summer here I had plenty of daylight hours so I decided as long as everything went well I'd do the bigger day on day 1.
Day 1 18/02/2015
Aussie Hard Arse Challenge.
http://www.google.com.au/maps/dir/Coffs+Harbour+NSW/Moree+NSW/Dubbo+NSW/-33.1463109,148.1700388/@-31.2678919,148.3122429,7z/data=!3m1!4b1!4m21!4m20!1m5!1m1!1s0x6b9c0e098bd8a41d:0x50609b490442d10!2m2!1d153.1156722!2d-30.2963121!1m5!1m1!1s0x6ba77298183224e9:0x40609b49043bad0!2m2!1d149.8415113!2d-29.4643519!1m5!1m1!1s0x6b0f71b04ca4913b:0x50609b490442530!2m2!1d148.6094976!2d-32.2438146!1m0!3e0
Left home at 06:30 (You need a receipt and your odo for the purposes of claiming Hard Arse Challenge)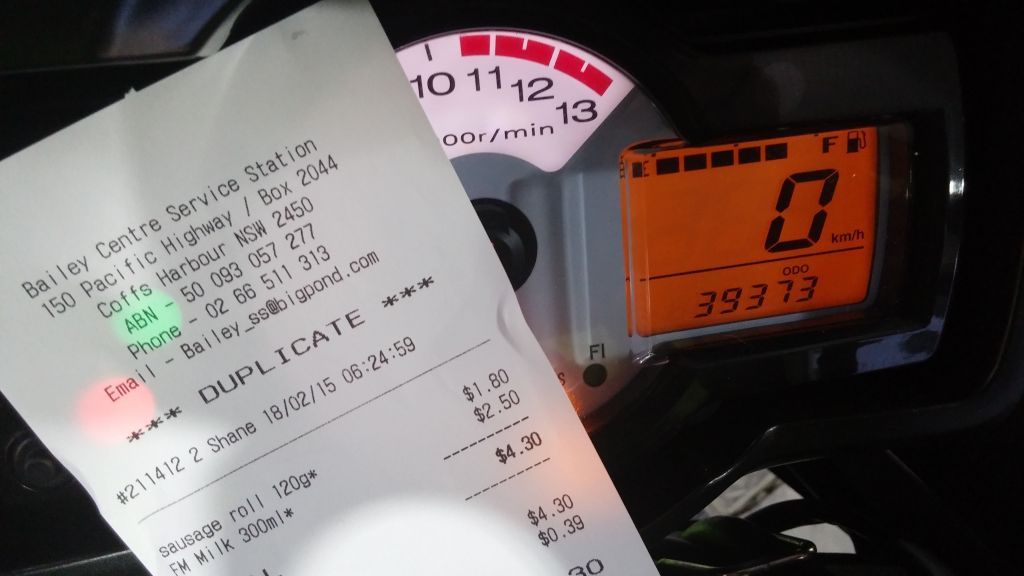 Up to
Grafton
then head west to the lovely
Gibraltar Ranges
where it started to get cool and a bit misty so I pulled up and put my wet weather gear on. On to
Glen Innes
for fuel for the bike and a hot chocie and breakfast for me.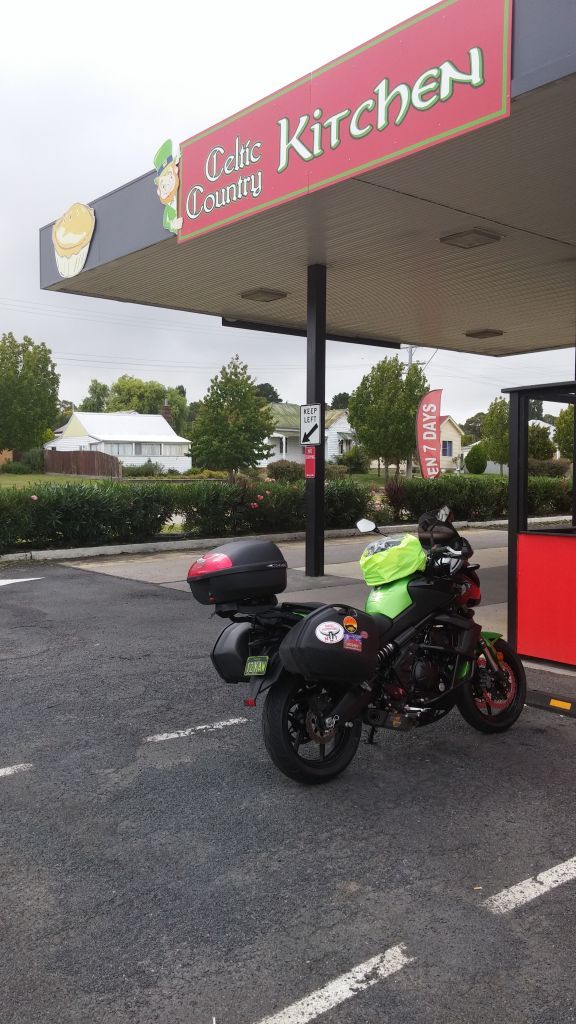 Of course as soon as I left Glen Innes it became sunny and so I took off the wets. Short stop in the shade at
Warialda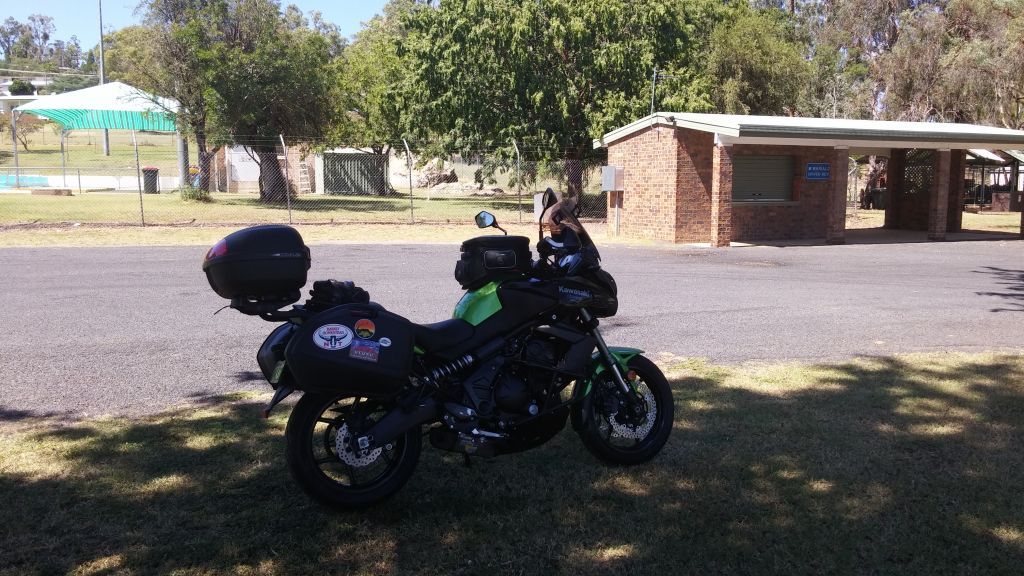 Then on to
Moree
with lunch and fuel at Narrabri.
A quick run down to
Coonabarbran
and
Dubbo
for the next fuel and cold water stop at 17:20 786 km so far according to my odo (825 according to Google Maps) It had been a good run so far and despite the heat I was feeling ok. I had booked a motel at
Parkes
and with it only being another 120 km and sunset being around 20:00 I did think about cancelling and going on to Forbes or West Wyalong (257 km). Glad I didn't when I got to Parkes and pulled up across the road from the motel (exactlly 900 km on the trip meter) I suddenly felt very tired (Approx 19:30 thirteen hours after I left home). So I checked in, lubed the chain, had a shower and some dinner and had a good sleep.
Day 2 19/02/2015
https://www.google.com.au/maps/dir/Parkview+Motor+Inn+Parkes,+Forbes+Road,+Parkes+NSW/West+Wyalong,+New+South+Wales/Fitzroy,+Victoria/@-35.4326802,144.2243756,7.25z/data=!4m20!4m19!1m5!1m1!1s0x6b1abb43395c3a2b:0x8af8b0cf99aa1b62!2m2!1d148.1694639!2d-33.1461394!1m5!1m1!1s0x6b1be62bcdc81079:0x40609b490437650!2m2!1d147.2052839!2d-.9235028!1m5!1m1!1s0x6ad642c0f56a65c1:0x5045675218ce790!2m2!1d144.9786869!2d-37.7987007!3e0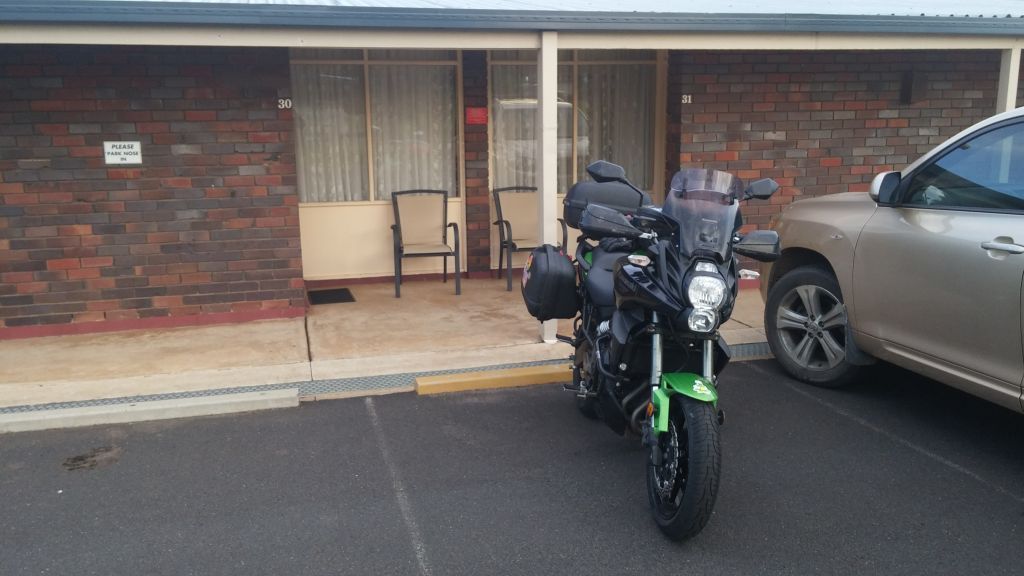 On the bike around 07:15 the next morning and off to Melbourne with 700 km to go (with the odo being so far out probably did about 740). Pulled up for fuel at
West Wyalong
and a break in the shade at
Narrandera
Onto
Finley
for lunch and then to the border crossing at
Tocumwal
for the obligatory photo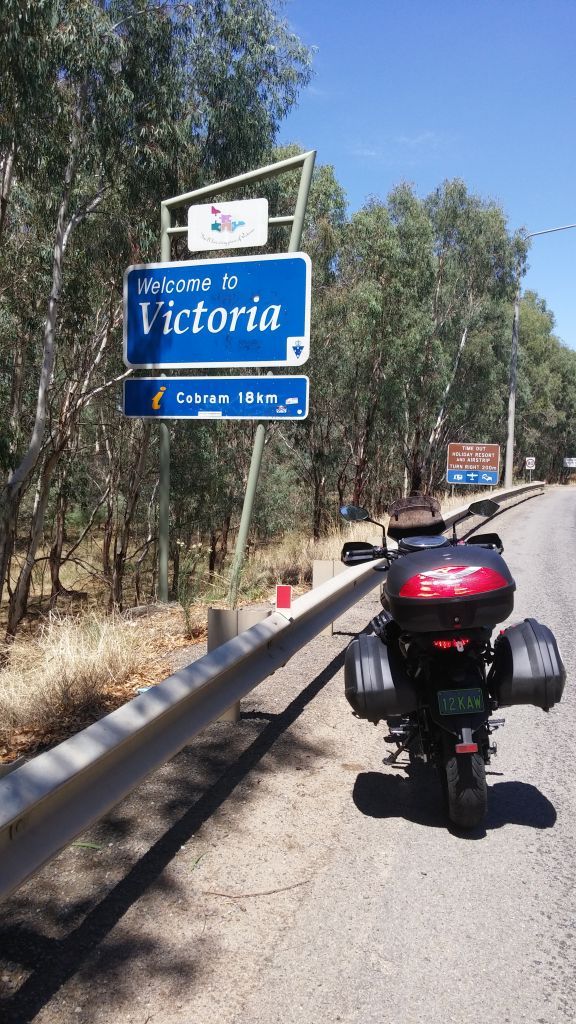 While having a break I decided I wouldn't do enough km on my odo to complete the challenge so I headed west for a while and used the GPS in my phone (bluetoothed to my helmet) to guide me, which makes the map above not quite accurate but that was my planned route and I'm not quite sure where I went so tough lol.
I arrived at
Glenroy
around 16:30 and rode around to make up the required distance and then fuelled up to make the distance official. 1601 km (odo) real distance closer to 1700 km.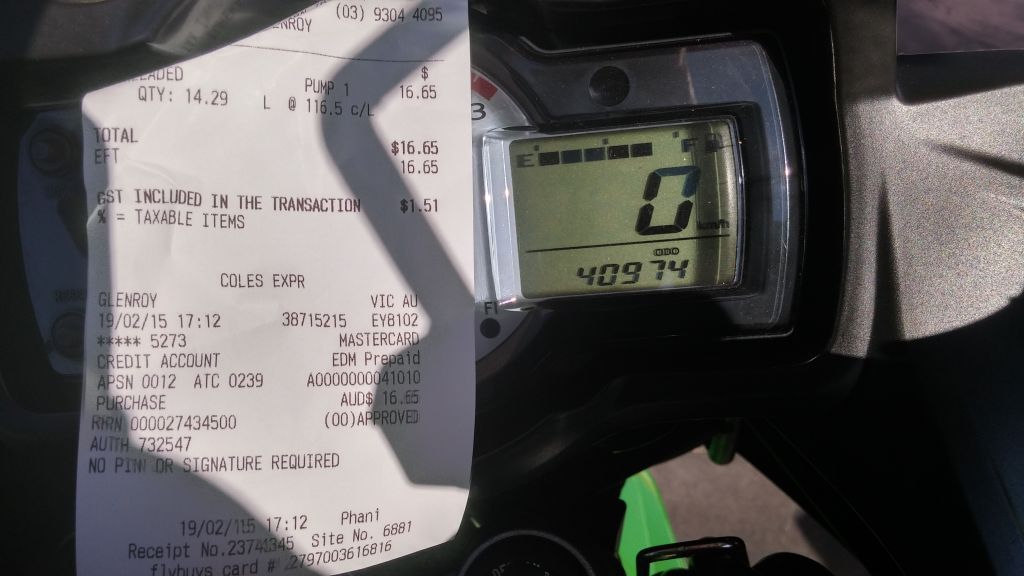 Found Kev and Leanne's house and settled in with a couple of cold ones with 6 bikes squeezed in the single car garage.