Discussion Starter
•
#1
•
Thanks to a gracious offer from different forum member I took a rip up to Merritt BC today in the family truckster and made a deal for his 1966 Kawasaki. Rotary two stroke with rotary shift. Missing only a couple parts (side stand, chain idler, center stand) but for the most part everything is there. I will be the third official owner as I received with the bike a bill of sale and transfer from 1967 where the p.o. purchased the bike in East Vancouver from the original owner. Kind of cool I thought.
From the looks of things (and what the google machine says) the bike should be a 1966 Kawasaki J1tr. It has two rear sprockets and from what I can gather the chain had two master links. One for highway and one for the dirt. 7700 miles on the clock but who knows.
Red was the original colour and that's just fine with the wife, she likes red. Hope to work on this for a while with the family and to download some experience to my son. I know nothing about these but the family said get it so they could ride. I'm sure there are some around here though that might be able to shine some light on strange parts for me.
Just a few pics as she sits now coming home. This should take a while as I'm in no hurry and depending on how well we restore this little 85cc it will either go up for sale or become my wife's new dirt bike.
From the family interest though I doubt it will hit ebay.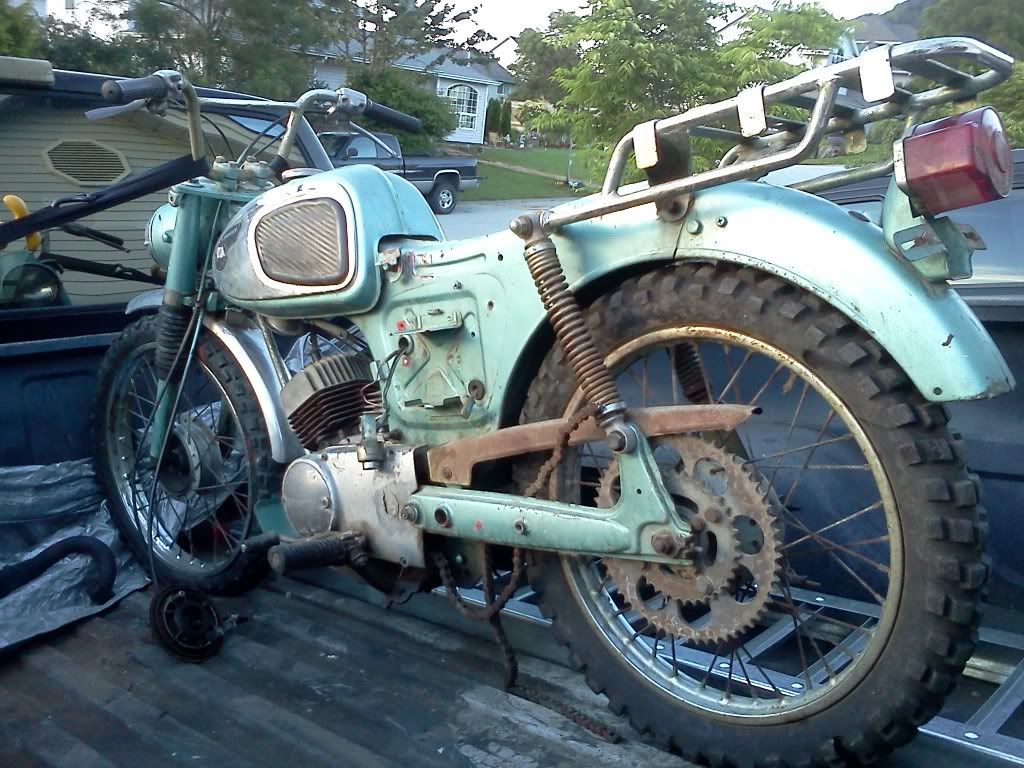 Here's a link to a site that pointed me in the direction of identifying the little 85cc as well as an old Australian sales poster from way back when.
http://www.cyclechaos.com/wiki/Kawasaki_J1