Discussion Starter
·
#1
·
I'm 6'4" (195cm) and there is little to no options for screens in Australia.
For the last 3-4 months I have been riding naked
BUT... Finally my New Screen!
I been fighting buffeting with my stock Kawasaki/MRA Tall screen.
I have even built risers, which helped but because the screen is narrow I got Side buffeting.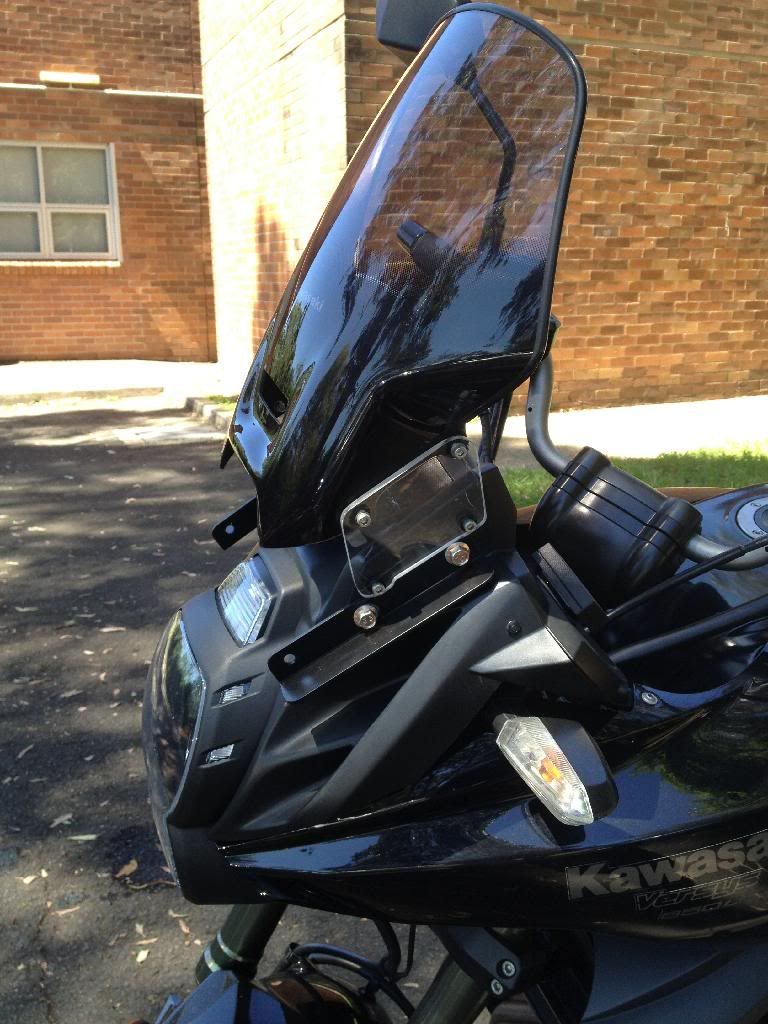 So after reading and posting in the forums and listening to what others have used, I ignored you all and went with MadStad Sports CR 20" Screen in Light Grey for my 2012 Versys.
Why?
Looked at MRA X-Creen - too expensive and no guarentee of a fix
everyone else puts on a Givi - but every one else has been less than 6'
Looked at Cali-Sci - heavy surfboard and shipping killer.
All use the stock screen mounting position - lots of options there to play with!
Basically it came down to ... Buy from USA and Ship to Australia and what if it does not fix the buffeting problem?
Well Motorrad Garage in Western Australia distributes all the SW-Motech stuff/ Bag Connections gear and where I found the MadStad screens. Basically They have most of all the Aftermarket parts you want for your Versys in Australia and Prices are decent. Well I ordered most of the Versys farkles from them as it worked out cheaper than shipping multiple parts from USA etc.
So here it is: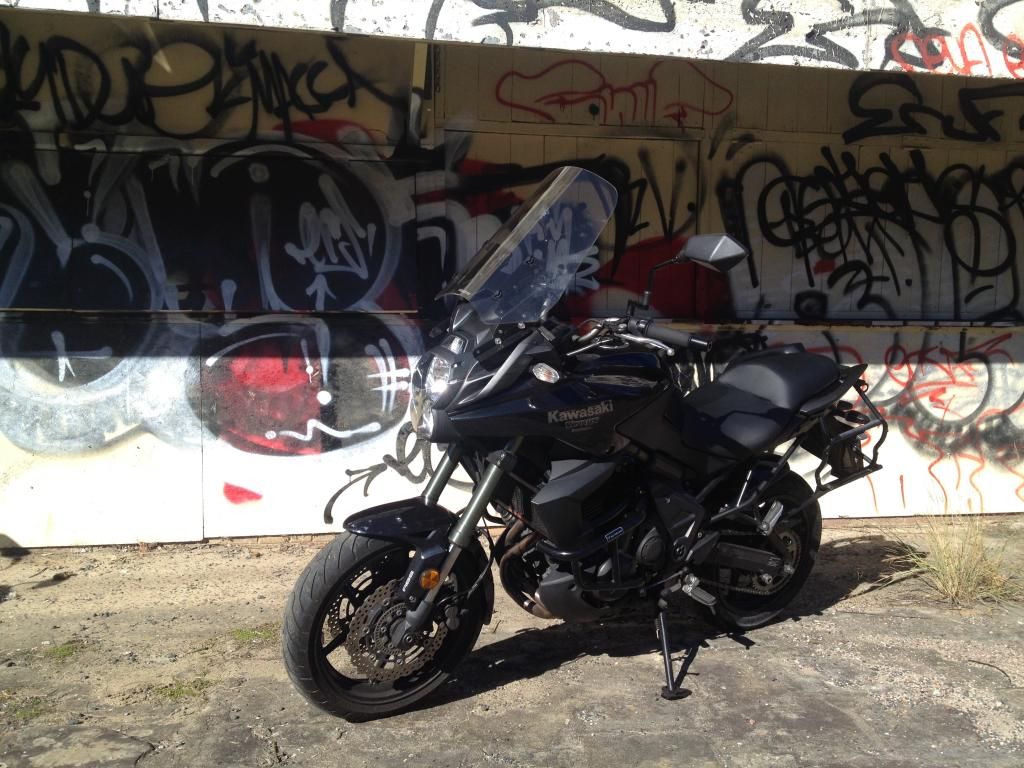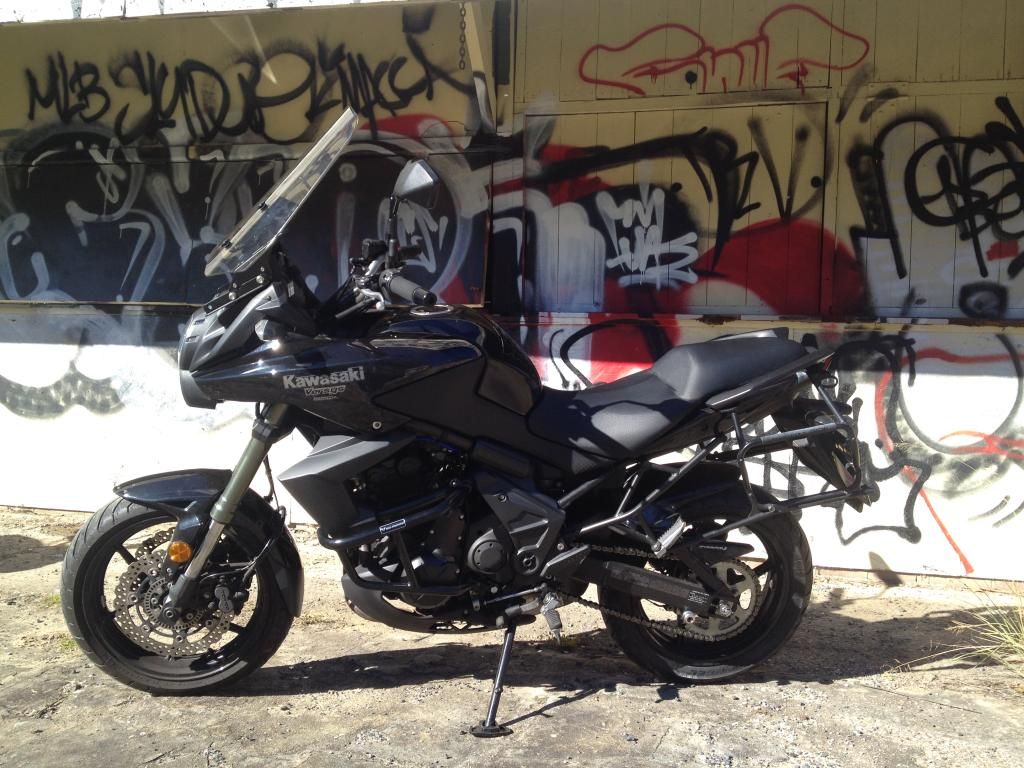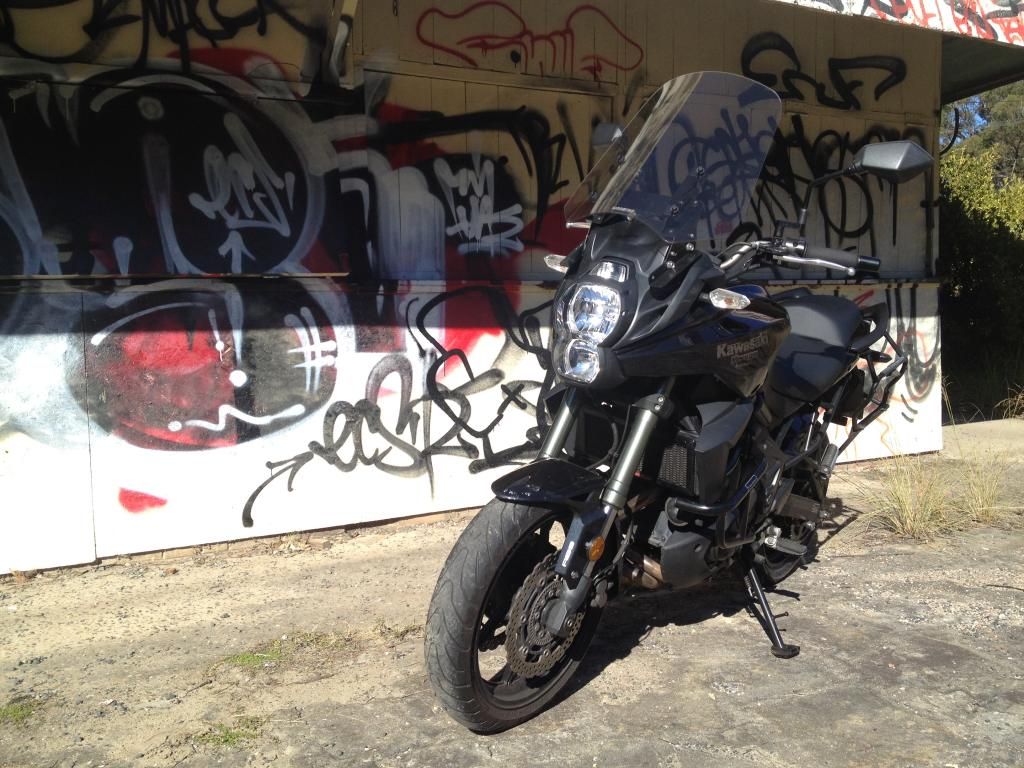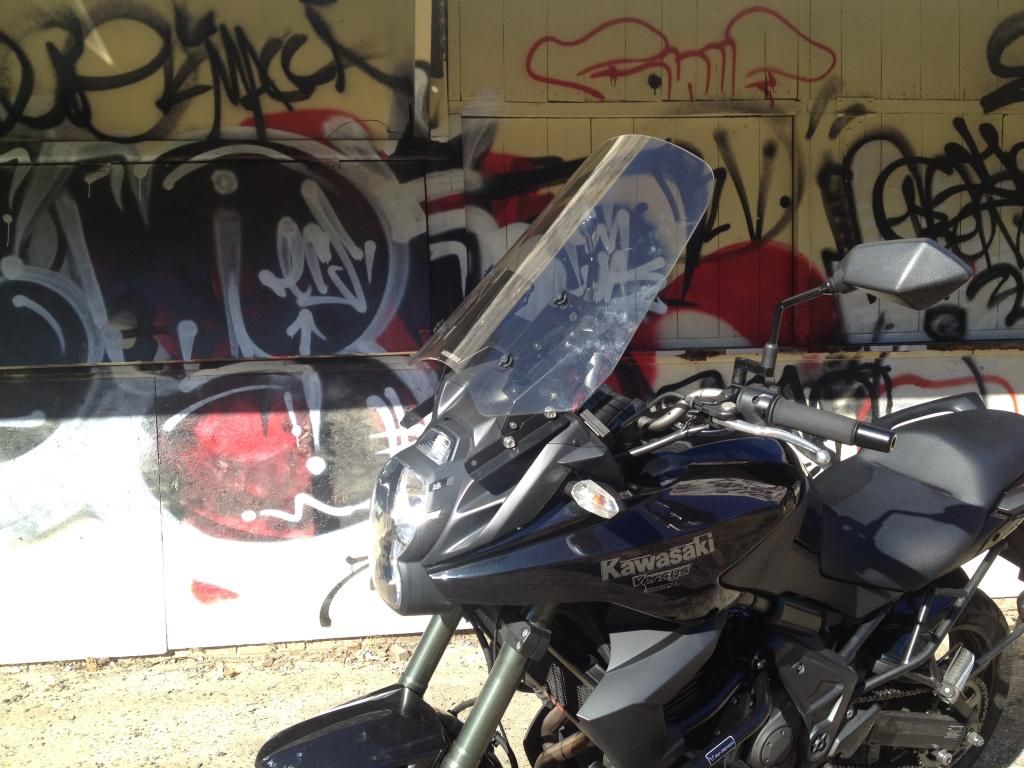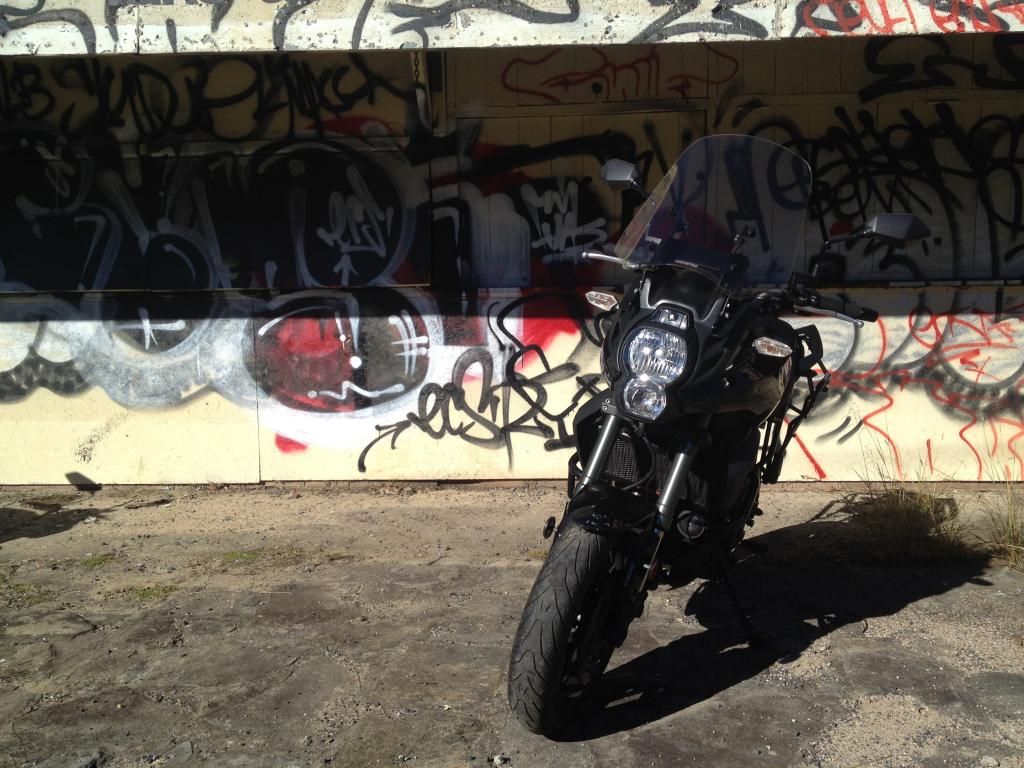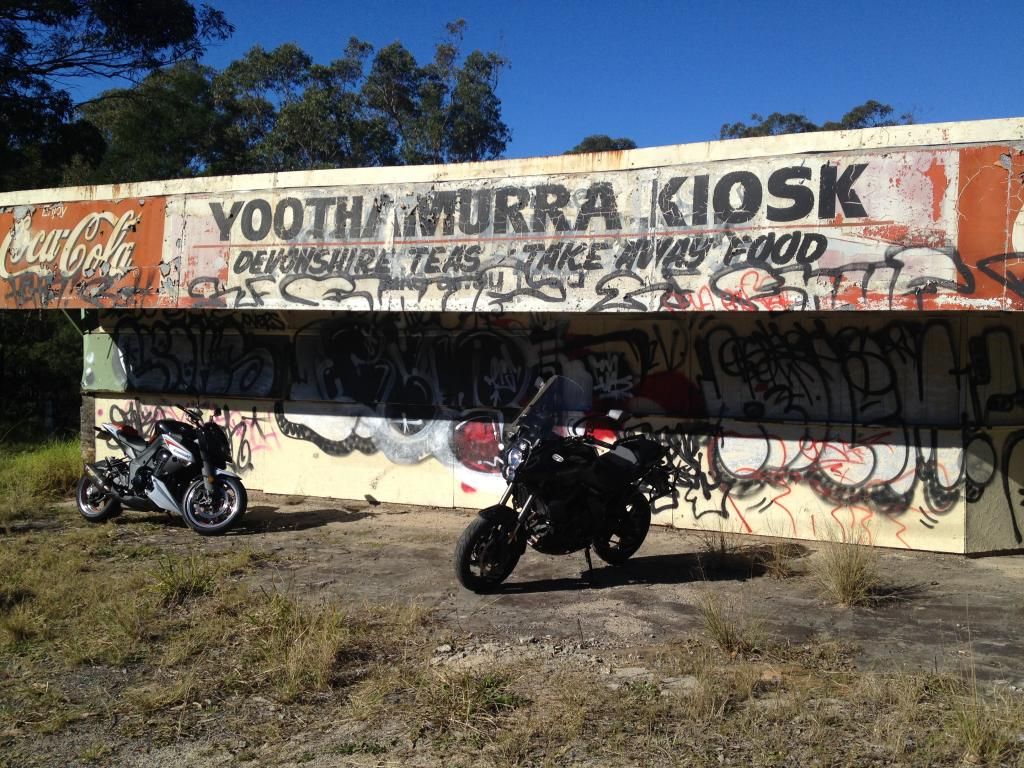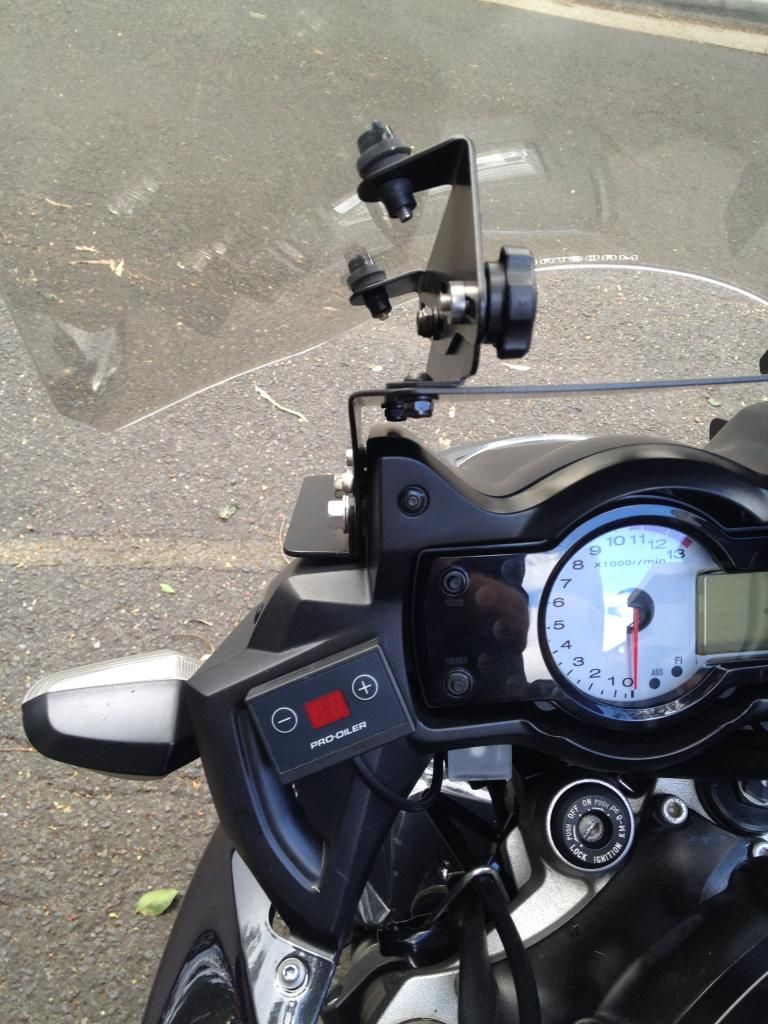 And this is my view from the pilot seat: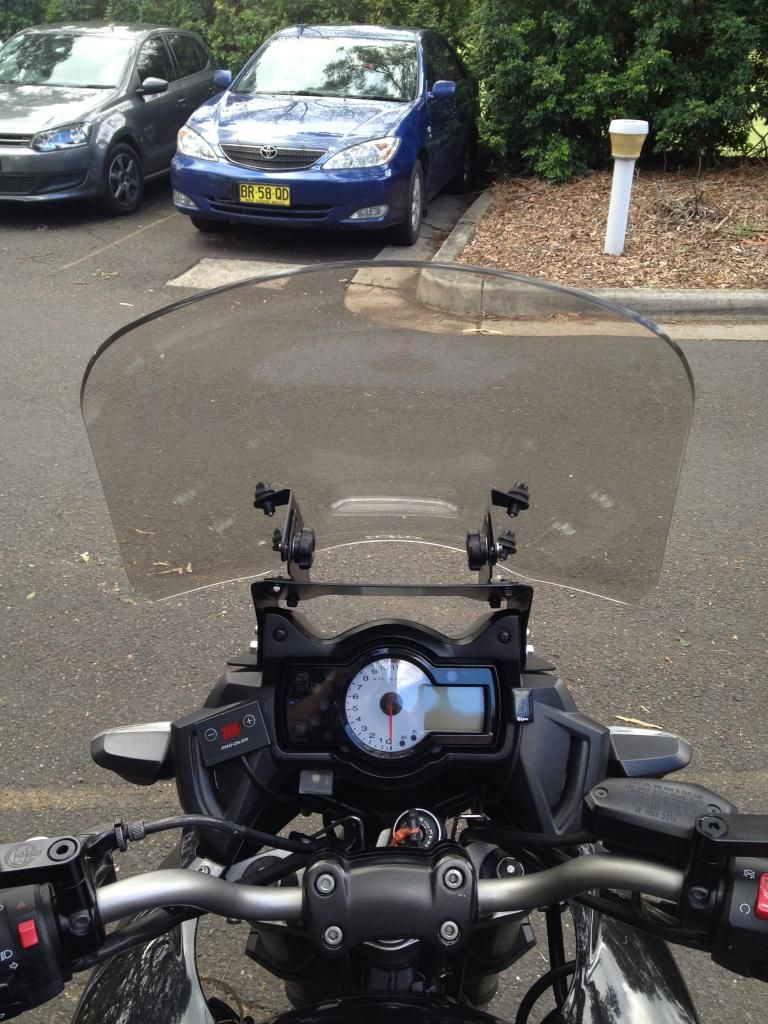 The RoboBrakets sold me... Fully customisable screen angle, depth and height range. Knobs can be undone with gloves and look at the built in GPS mounting surface the Adapter Bracket provides.
Adapter bracket mounts to the stock screen location using the stock Well Nuts (4 per side). As I have Brackets for my LED Light Bar using the lower holes with M8 Bolts and Nuts, I did have to enlarge the lower adapter bracket holes.
Today was my 2nd half day trip with it and it is great.
I chose a light Grey tinted screen as the clear does not offer any glare protection, and if you go darker then it is harder to see the road surface at night. Also the darker the screen the more top heavy the bike looks.
Current angle is not the recommended 60deg but more like 45-50 deg.
There is no buffeting at either angle, but 45-50deg there is less wind noise for me.
It is really comfortable to cruise around now on the freeways.
I can sit bolt upright and my arms are not getting tired from holding me on from the air pressure on my chest.
So riding naked was great. Wind in the hair, Clean Air in the helmet, No Buffeting, No overheating head, Jacket gets blow dried... but cannot ride with the visor cracked open as the wind whistle is 100x
So now adding the MadStad Screen...
The large gap under the screen does allow air to pass through, jackets still gets air flow so body will not overheat. I am not holding onto the bars anymore from the air pressure. In the rain... well I only rid light rain and it performed well keeping my body from getting soaked.
Is there a downside... Yes.
I do sweat. Who doesn't. With less air on the helmet the head has less cooling. That's not too bad a thing... it is winter here ATM so my head is now warm, but I do have to ride more with the visor cracked to prevent fogging, but I can do this now as there is no wind whistle deafening me. (Oh and I ride with ear plugs anyway) When Summer comes back around and heat is on... I'll adjust the screen for a bit more air.