Discussion Starter
•
#1
•
Saturday in southern New Mexico in June, and it's muy calido. Time to bustamove. Make like a bakery truck and haul buns, or a hockey player and get the puck out of here. It's already afternoon, but the days are long, so I drop the hound off at a friends' place, and fire up the motorcycle. Just putting the plan in motion begins to cool things off a bit, and once the bike and I are rolling yo estoy fresco. It looks like it's raining in the mountains, but I just don't care. It's got to be a bit cooler up there, and I've got my rain suit in the saddle bags. Within 20 minutes I've gained over 4000 feet in elevation and am into the clouds. Now it's raining and I'm a little too cool. Stop at a minute mart and don the rain gear. Five minutes later I'm on my way through a light drizzle. My temperature's good and I'm dry in my goretex cocoon. Since it's raining I decide to ride a direction I don't normally go, which will take me back down the eastern side of the mountains, and theoretically away from the rain showers. Twenty five minutes later. my decision seems sound, as the rain clouds dissipate, and the sun begins to peek through. What a beautiful corner of the world this is. Rain or shine, there's no denying that. Starting to get hot now. Stop. Doff the rain gear and keep riding. Not too far. If I keep going this direction, I'll be entering the Permian Lands. Kinda like Mordor, with it's oil and gas infrastructure everywhere, only it's sunny.
I turn North, and man, it's hotter on this side of the mountains than the one I just left. Brutal heat. But there's nothing here, and the roads are straight and long, and all I can do is just keep riding. And my ass is getting pretty sore. It's been two hours and my circulation is impaired. How far to that next town? I'm riding fast, but the miles are passing slowly in these flatlands. Finally I enter the town, and gas up the bike. Days like this you appreciate the canopy over the pumps for the shade. I need a break, and keep my eyes peeled for a cervezeria, but I'm not seeing any Budweiser™ signs anywhere. I'm starting to worry that I've wandered into one of those anachronisms here in the southeast part of the state, the dry county. I'm almost out of this ratty little town when I pass a tattoo parlor with a bunch of motorcycles parked out front, and about 15 vatos hanging out on the porch. I recognize kindred souls when I see them, and double back around the block, pulling up beside them, and ask, "Is there a place to get a drink in this town?". One of them asks, "What kind of drink?", and for a moment I'm confused, then rejoin, "A beer.". They all chime in and direct me to a local bar just a few blocks away. I thank them and we all wave goodbye. I can't help but wonder what most of middle America would decide if they needed directions, and this motley crew was the only option available. My guess is that most would keep driving and hope for the best. Damn shame.
I pull into the bar's parking lot and dismount, and as I'm taking my helmet off Goober and Gomer walk out from behind the bar and Goober says, "Hey, it's Evel Knievel!", and guffaws. And I know in my heart that there are way too many cousins marrying cousins in this great land of ours.
Inside the bar, the clientele is salt of the earth, not overly friendly, but not hostile either. This is however, not the 21st century version of a fern bar, so I select Budweiser™ as my drink of choice. It's very cold, so I have no complaints. Behind the bar are hand written signs reading, "Beer. It's better than a breakfast drink", and "In God we trust, all others pay cash". We get in a discussion of Michael Jackson's degree of freakitude, and what a great musician he was with a minor digression into how to control ants inside the home, and on the ranch. These are OK people in my opinion.
Time to hit it. It's good to be on the bike again. The road is 4 lanes through rolling hills, there's no traffic, and I'm mellow.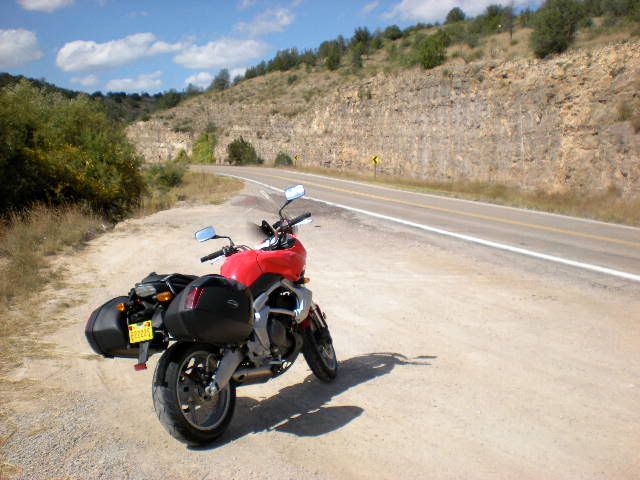 For some reason, Michael Franti's 'Yell Fire is stuck on 'repeat-play' in the mass of synapses I'll call for lack of a better term, 'my brain'.
http://www.youtube.com/watch?v=viYdHvYM6ao&eurl=http://tpmcafe.talkingpointsmemo.com/talk/blogs/miguelitoh2o/2009/06/triptychi-dont-want-a-pickle.php#comment-3511991&feature=player_embedded
Now, I'm thinking about healthcare reform. Wondering if we'll ever wake up from the corporate induced narcolepsy that has overtaken all of us. Will we ever stand up for what is rightfully ours, as did M. L. King and Mahatma Ghandi? And suddenly I'm thinking of my mother, may she rest in peace. Tears are flowing down my face as I storm down this rural byway at a speed I'd rather not admit to here. I'm coming to terms with her death as I ride a motorcycle, on a highway, eight years after she died. She suffered at the end, and I convinced myself at the time that it was a good thing she finally passed. 'Real life' sucked me back in pretty quickly following her death, as I had a national cable station coming to film me in my studio the following week. It was pretty apparent to those close to me, there was more to be said than my words at her memorial. Now. Here. On this desolate western road, I'm really missing her. Sad and beautiful, and a little scary. But like life intruding after her funeral, I'm entering the foothills, and eventually the mountains again, and the twists and turns of the road are guiding me back to the present. It's a blessing really. How much of this pathos can anyone take really? My eyes are dry as I lean into one corner after another, and I'm more focused than I've ever been on my bike, as I guide it home, again, at unmentionable speeds, with the ease with which I would pick up a book from the table.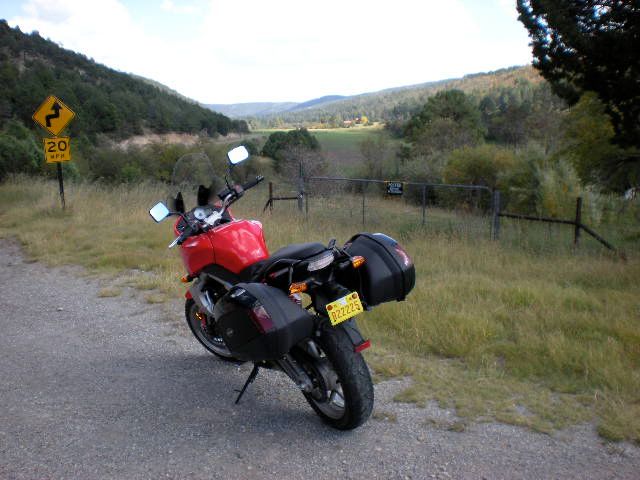 Eventually I take a second break, for dinner, this time with no significant personal contacts. There's a television on low volume near my seat and the media is tilling the soil of a pop star's legacy, rehashing what is known of Michael Jackson's life. I'm wondering what the exact role of MJ's perception of race played in his decision to have his face sculpted into a visage so foreign to his original face and the face of his family's. Meanwhile, he's still there, on the screen in front of me. Moonwalking his way backward to the future. To reality. And I'm thinking, maybe life is just messy. You pick and choose as best you can, but there's no telling where those choices will lead you, and there's no one who can really say whether you did it right or not. You just do the best you can.