I ♥ Las Sierras Gordas/Lost in the Fat Mountains
I took a ride out East of here into the beautiful Sierra Gordas two days ago. This is one of my favorite rides: about 150 miles each way of the most beautiful roads that twist and turn through Mexican high desert, alpine forest, and generally not much traffic. Then an attempted return on dirt roads. I enlisted my friends Marc, and Peter to join me.
Peter, (on the right), & I, (Marc was the only one who brought a camera on this ride).
Peter would accompany us on the ride out and then return to San Miguel. Marc and I would continue on another 76 kilometers over one of the most breath-taking sinuous mountain roads in all Mexico to the town of Jalpan, where we would spend the night, then plot a return route for the following day.
Our route would take us from San Miguel de Allende, to the Town of Dr. Mora, a pretty, but uninspiring ride. Shortly past Dr. Mora, the road to Victoria, seems to have the bottom drop out of it and begins a series of twists and turns descending a couple of thousand feet to the town of Victoria.
The road to Jalpan from Pinal de Amoles
From Victoria we continue East, and the road is in excellent condition as it snakes along the valley floor then over a ridge before dropping into the town of Santa Catarina. We stopped for a breakfast, (huevos con chorizo para mi), and continued on to the desert town of Peñamiller, where Peter headed west toward Bernal, and Marc & I turned north toward Jalpan. The temperature, to our pleasure, drops as we ascend the mountains thousands of feet to the mountain town of Pinal de Amoles.
After our arrival in Jalpan, we headed north toward the Santa Maria River, but stopped at a tiendita for a couple of beers on the way. Had a nice little soiré there with Margarito and his dad, who were fixing a flat, and drinking their own cervezas, before continuing on to the rio, (which is beautiful).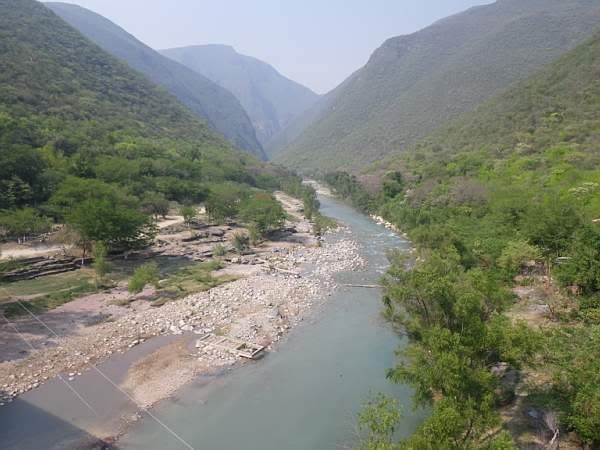 We returned to Jalpan before dark and checked into El Hotel Economico, on the south end of town, where we negotiated a lower rate for two rooms, (both with 2 queen size beds), for 220 pesos per room, or about $19 US. The rooms were clean, and pleasant. We'd asked Margarito where he liked to eat, and went there, (Karinas right by the BIG Mexican flag at the town crossroads). We both had enchiladas and a thin cut steak served with grilled onions and jalapenos, (cost = 50 pesos, or $4.35 US). Then back to the hotel for nightcaps on the balcony, and a good nights rest.
The plaza at Jalpan
That night we had decided to make our way back home via dirt roads. Using the Guia Roji, we'd spotted some roads out toward Rio Verde, which would take us in the general direction we wanted to go. The Mexican Atlas is pretty limited once you get off the state and Federally maintained roads, and we knew this before starting. So we weren't surprised when we jumped off the paved road where the map indicated, and later ascertained from the locals that we should have jumped off back the main road about 10 miles. They then told us that the farm track we were on continued on to the village where we could pick up the other dirt road we were looking for. So off we went on a pretty rugged 4-wheel drive road.
When we re-connected with the road we wanted, the quality and grading improved dramatically. There is a mining operation out this way toward the Presa Realito, and we stopped to talk to some of the parked mine truck operators for further directions, (the trucks were stopped in order to allow only one-way traffic on a narrow series of switchbacks in the road, which would have resulted in an impasse were two trucks to meet head-on in that section). They told us to take the road to the left before we arrived at the Presa, (lake).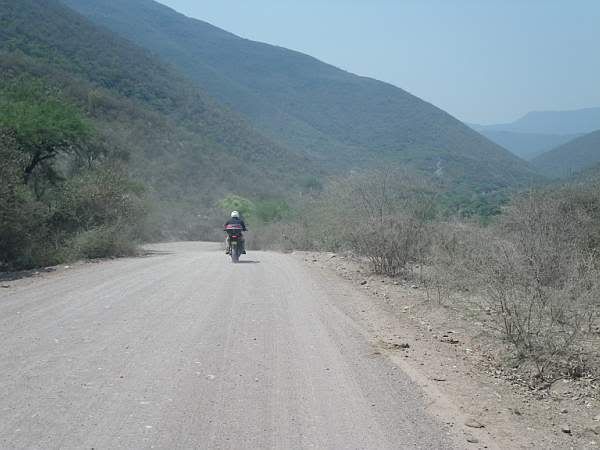 We did so and the road maintainance deteriorated almost immediately.
We continued on and made several guesses when confronted with forks in the road. We tended to choose the left fork each time. This would prove to be our undoing in terms of reaching our
intended
destination.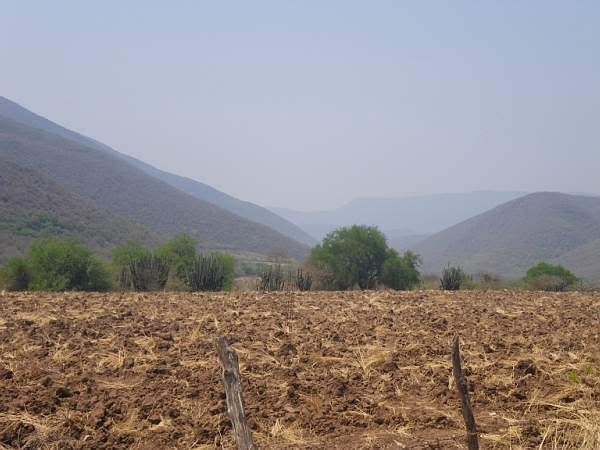 We had to cross a couple of these log bridges,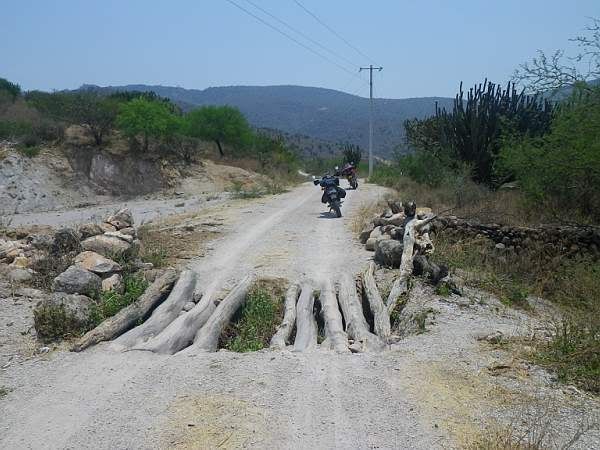 and had to get out to open and close one cattle gate along the way.
After we made the second left fork, the road quality deteriorated even more, becoming little more than a glorified cattle track. Eventually we were getting deep into the mountains, when we spied a small village, (about 5 buildings), in a valley deep below us. These are some of the most rugged mountains I've seen, so there are few signs of civilization on the mountaintops, and just a few smatterings of houses, and corrals in the valleys.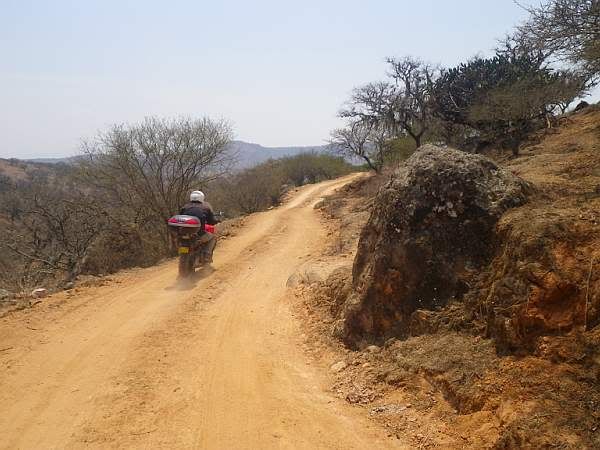 We continued on, and began a series of steep switchbacks down to the valley below. After a half hour or so we arrived in the village, (Corral Quemada or a rough translation of "burnt corral"), where I talked with an aged rancher and his son to see if this was the route to San Luis de la Paz. Marc and I were crestfallen when he told us that the town was back the way we had come, and that it was about 5 hours from us. We'd been trekking around the Sierra Gordas all ready for about 5 hours, and knew we would not likely have enough gas to make it there. I was also becoming dehydrated, as it had been a few hours since our last signs of civilization and a tienda to sell us a bottle of water or a beer. Fortunately Marc had two bottles of agua, and we were maintaining.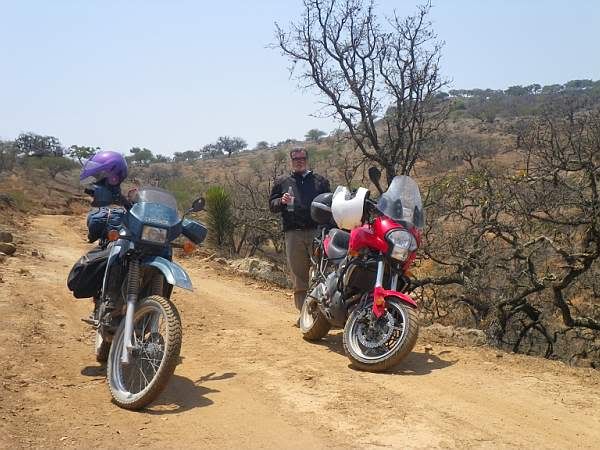 Our rancher friend told us that if we continued on an hour or so we would be in the bigger town of Acero, and the roads were paved there. Not recognizing the town's name I asked him what the next big town was called, and he told me "Jalpan". At this point I just had to laugh, and he smiled along with me. We had left Jalpan about 6 hours earlier, and in another three hours we would be grateful to be back again, and no closer to our final destination then when we'd started. If you let your mind go at moments like these you will see the humor in it, and we did just that. There was no place to buy a bottle of water, so we continued on through another series of switchbacks up the next mountain, and over the top. Along the way we started to run into signs of road work, and eventually work crews and earth-moving equipment. Then the road became graded gravel, and eventually a beautifully paved twisting and turning descent to a broader valley than we had seen since leaving the pavement that morning. It's kinda weird to think of building that road back to Corral Quebrada, since the population of the valley could not have been more than 20 persons, and there was little else between the town below and the village. Maybe it's Mexico's version of putting people back to work during the global financial crisis. Either way, it will be a beautiful ride when finished.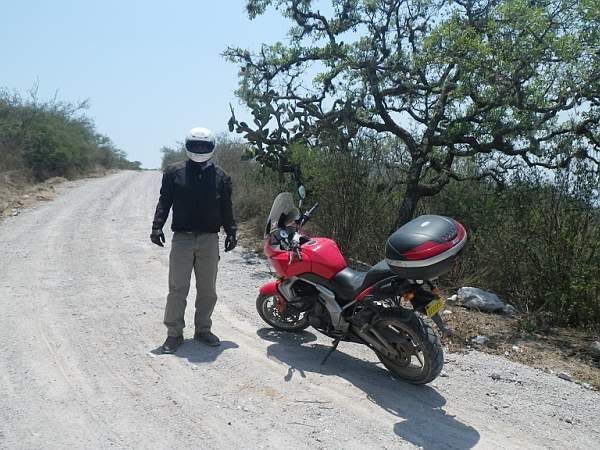 So we make our way into the town below, and upon entering recognize it's name as one we had passed through about 6-1/2 hours before, San Ciro de Acosta, (not "Acero"),on the highway toward Rio Verde. Grabbed a quick cerveza from a tienda in the town plaza, then on back to Jalpan where we gassed up, and decided to make a run for home leaving town at around 6 PM.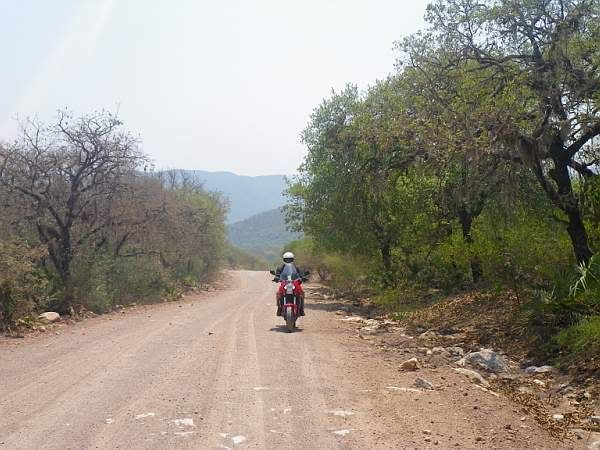 The drive over the mountain toward Penamiller and then on to Victoria was spectacularly beautiful as the sun waned, and the desert pastels came out in full bloom. By the time we reached Victoria the sun was well and truly down. It was at this point I realized my low beam was burnt out. On top of that, I had last adjusted the headlamp carriage months ago, but had not ridden after dark since doing so. Now I realized, I had adjusted it to high. I was barely illuminated the ground in front of the bike, and in turn was blinding oncoming drivers as they approached. When they flashed me I at first tried turning to my low beam, to show them I had no low beam, and then switching back to my bright. Which in turn caused them to turn on their brights, and I was guaranteed not to see anything through my dusty visor.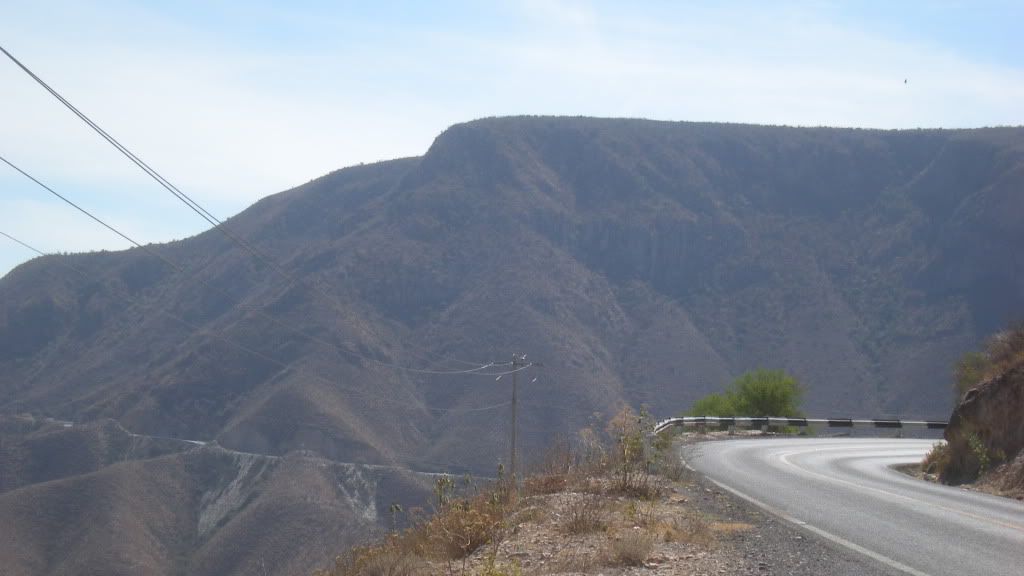 We made it home about 9 PM and I was never happier to dismount after that ending to a really great day of riding, exploring, and getting lost in the Sierra Gordas in Central Mexico. Cheers!