Got your attention now but that happens at end of day. here is the link to my journey below, not very fluid with google maps so hope link okay.
http://maps.google.com/maps?f=d&source=s_d&saddr=Town+Hall+near+Pleasant+Point,+Canterbury,+New+Zealand&daddr=twizel+to:Waihaorunga+Road,+Waihaorunga,+Canterbury,+New+Zealand&geocode=&hl=en&mra=ls&sll=-44.524969,170.979919&sspn=0.738228,2.458191&ie=UTF8&ll=-44.492587,170.804443&spn=1.477323,4.916382&z=8
Was a warm day at home and decided to go for a long ride and visit my wife who had been on a horse trek and thought if i arrived where she was about 7pm they would all be back from there trek. I live about where point 1 is and she is staying at C on map. As you can see i went the very long way around but wanted to go past all the hydro lakes as due to high lake levels a lot of water is being spilled and makes for a impressive sight.
Things did not start out that good as the first big electronic sign not far from my place warned of high winds but for some reason the camera does not pick that up.
Lake Pukaki spilling over
Quickly stopped in at twizel but decided to push on and have a bite to eat at Omarama.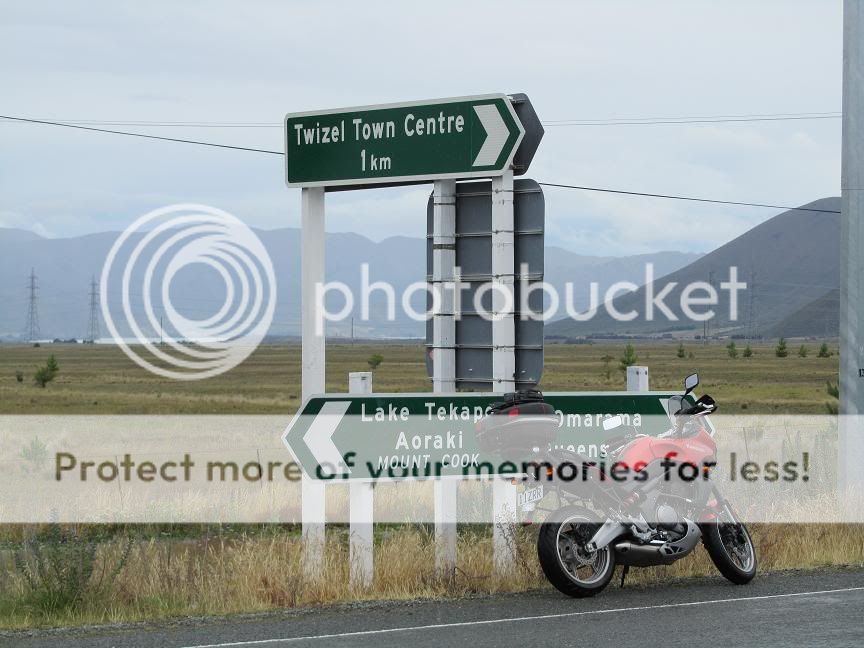 Just past Omarama at the very top end of lake benmore
http://en.wikipedia.org/wiki/Lake_Benmore
Next few pic's are of lake Benmore spilling water and me on top of dam
Now having been playing with Vid of my new camera but sorry Ivan am a very poor cameraman haha.
http://www.youtube.com/watch?v=8NWFB3zWNeA&feature=player_embedded#
!
Now found a road that goes on the opposite of the lake from the main road and went on that for a while until it comes to the Aviemore dam and then you drive back across.
The last stop was one of the oldest dams Lake Waitaki, the sign show the terrain i have just been around.
http://www.beautiful-waitaki.co.nz/index.php?option=com_content&view=article&id=69:upper-waitaki-power-scheme&catid=39:lakes-dams&Itemid=56
Now after all the photos and stops around the dams it is time to make a run to catch up with my lovely wife where she is staying on a large high country farm. The road in was brilliant, narrow and twisty only the last 3km were gravel so it was all good.
Now we finally get to the place where you can all laugh. parked the bike on the grass and put my helmet on the bars and to my shock horror over she goes, must of not put the stand down right. Everybody looks out the window and the first thing i do is get my camera out and start to say **** happens.
But do not fear my fellow versys brothers 'The mighty V" is okay, not a scratch, dint or bend. The only thing that moved slightly was the left hand barkbuster but only have to loosen screws off and reposition it, it seem to take the knock.
Now only had a couple more dramas on way home but that was from various stock wondering sides of road including some cattle and sheep, think all the farmers are still recovering from new years and the final thing was a silly rabbit that run in front of me, he had gone to one side to safety but suddenly darted back and was killed my a versys front wheel, went back to get road kill of the road as the rabbit had ended up in dangerous place for any vehicle coming around the corner especially for the two wheeled types.