Discussion Starter
•
#1
•
This Versys is fast as lightning,
In fact in the curves it was a little bit fright'ning,
but reached a 1000 miles today with expert timing!!!
Yeah, so that song was in my head all day, just figured that I would share it.
Reached a 1000 miles today and I'm so happy about it! Couple of updates.
1) Either the stock seat is getting wore in or my butt is getting used to it because it doesn't bother me that much anymore. Same goes with any vibrations coming from the bike.
2) Everywhere I go, people want to know, "What is it!?!?" -- I love that question, especially the look on their face(s). Everyone also compliments the bike which makes me feel great!
3) Was caught in a heavy downpour the other day and noticed today while filling up the tank that I had some liquid caught in the upper part overflow area. I didn't know what it was so I got it up with some towels. I then noticed that there is a large gap between the fuel tank and the cap. I'm thinking that water got in there which isn't that big of a deal because the fuel tank is sealed properly. I thought though that it would all flow out through the fuel overflow valve. It wasn't a lot of water, maybe 1/4th of a cup. Wondering if anyone else has this problem? I don't think I should seal this gap though...any ideas? Here are some pics so you can see what I am talking about.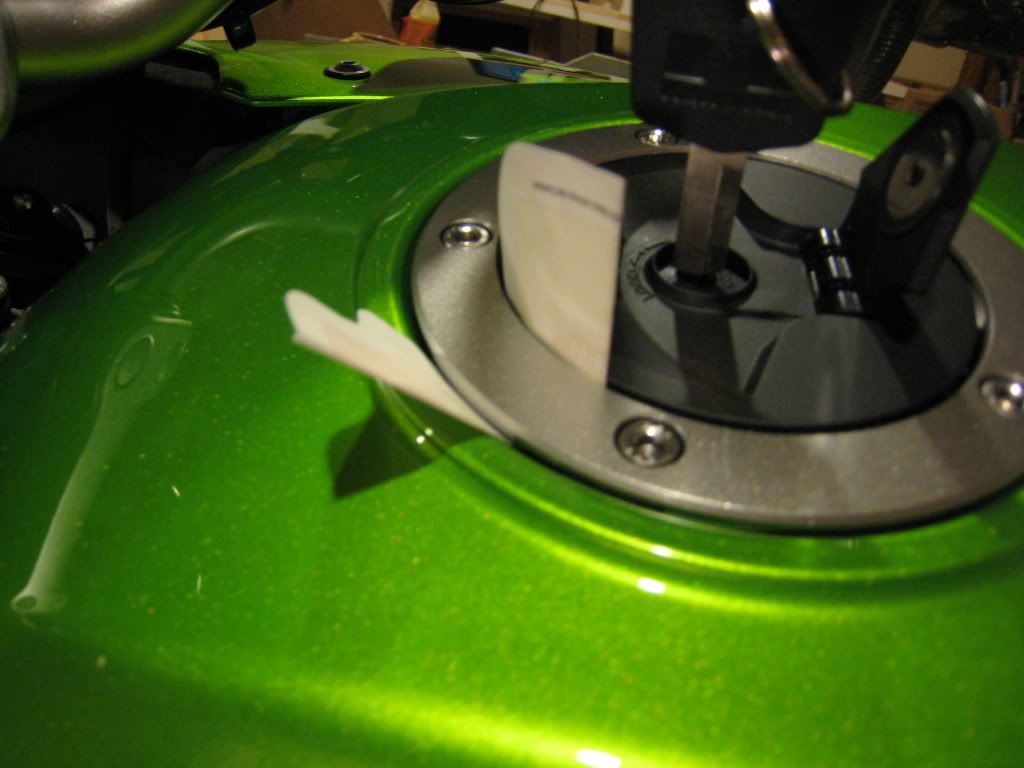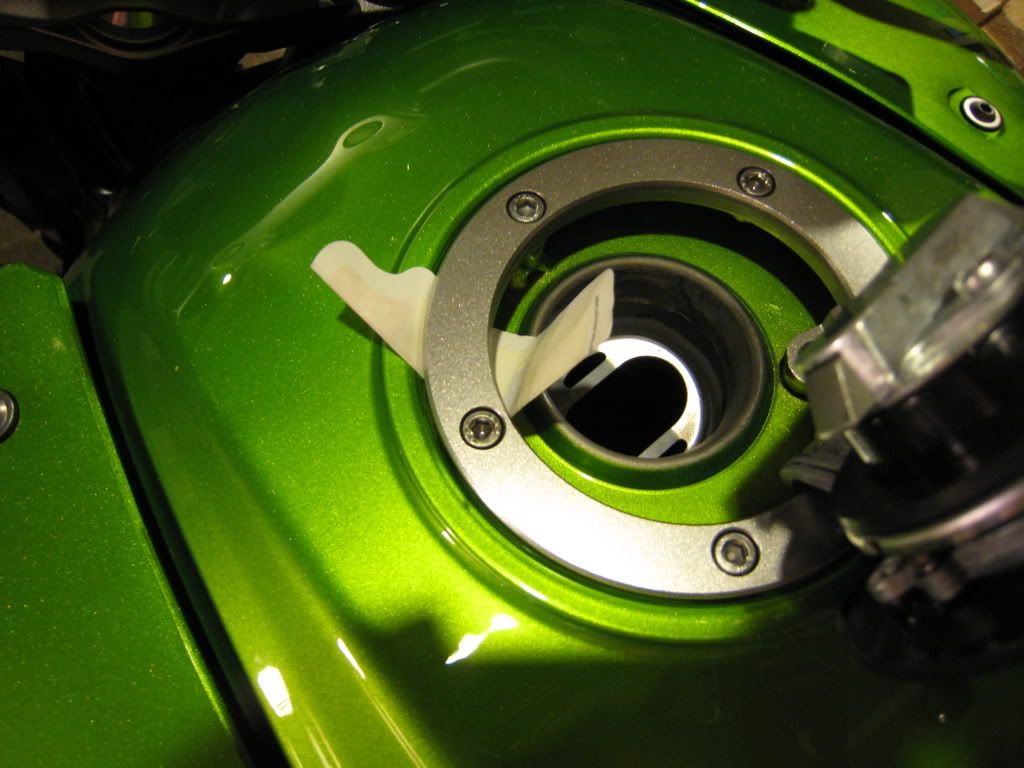 4) Getting more comfortable on the bike (newness wearing off) and taking turns better. Started to notice what everyone is talking about with the tires feeling a little slippery.
5) Noticed a very small screech coming from the front tire. Imagine your brake pads going out and the screech sound it makes. Now it is that noise but nowhere close to that amount of screeching! It also isn't coming from the brakes. I was lubing the chain using the push, spray, push, spray method and only then while pushing did I notice it. Any ideas what would be making that noise? Do I need to lube something up there?
6) For some reason or another, after I've been riding for a while I get sore and tense on the upper left side of my back. It isn't central, it isn't both sides, it is just the upper left part. I've tried sitting more upright or slouching more to remedy it but I keep forgeting to do it throughout my riding. Has anyone esle had this problem? Should I change my head position more up or down? Am I sitting wrong? I know that it still feels like the left hand grip & clutch lever should be out roughly an inch further to the left. Maybe move the handlebars, raise them, something? Any recommendations? Here is a pic to show the area that I am talking about. Any pro bono doctors of physical therapists out there. :joke:
All in all, still a great day, great bike, and I'm having a blast!
Bill