Discussion Starter
•
#1
•
There always seemed to me to be too big a gap between street boots and roadrace boots made for the track. I appreciate the protection of my Alpinestars SM-X racing boots, but on the street I don't need toe sliders and I could use something more comfy for walking. Meanwhile, my street boots were waterproof and more comfortable, but protection was limited to a couple of small coin-sized protectors over the ankles and a fairly flimsy shin guard. When the street boots were about to disintegrate, I started looking for something in between and found surprisingly little.
Where I ended up was the
Dainese TRQ-Tour Gore-Tex boots
, which a lot of my associates over at RevZilla swear by.
They have good protection with hard plastic shin guard and heel cup, and more importantly, the D-Axial system, which ties those two hard sections together with a hinged attachment, so it's less likely your ankle will be twisted the wrong direction or hyperextended. But, no toe sliders or race track flashy colors that I don't need for my street and touring boots.
Gore-Tex means they should be as breathable as anything that's waterproof. And yes, I tested the waterproofness.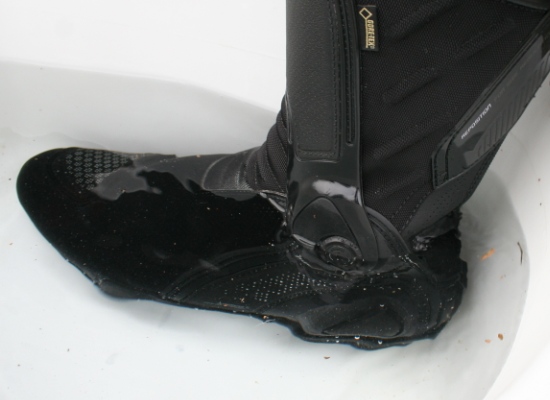 At a little under $300, they're not the cheap option, but after using them several months, I'm happy with them.
Click over to my full review
if you're interested in more details, including other features and sizing advice. They get a :thumb: from me.