At the end of last year I was having this rubbing sound that I found was coming from somewhere near the rear hub. Initially, I thought it was a transmission output shaft bearing, because I would hear it only whilst coasting. I lubed the chain and the rubbing disappeared. I also noticed that the chain mysteriously seemed to tighten. I think I figured it out.
The rear sprocket is a sun aluminium unit and the teeth are worn down. As the teeth wear, they wear predominantly at the tips, thus, changing the position that each roller (Link) sits on the chain. The rubbing is the individual links rubbing up and down on each elongated tooth. The tightening of the chain is actually the rear sprocket wearing as well. The position of where each roller sits on the sprocket is now towards the tips of each tooth, making the sprocket bigger and use more chain. Sort of makes sense.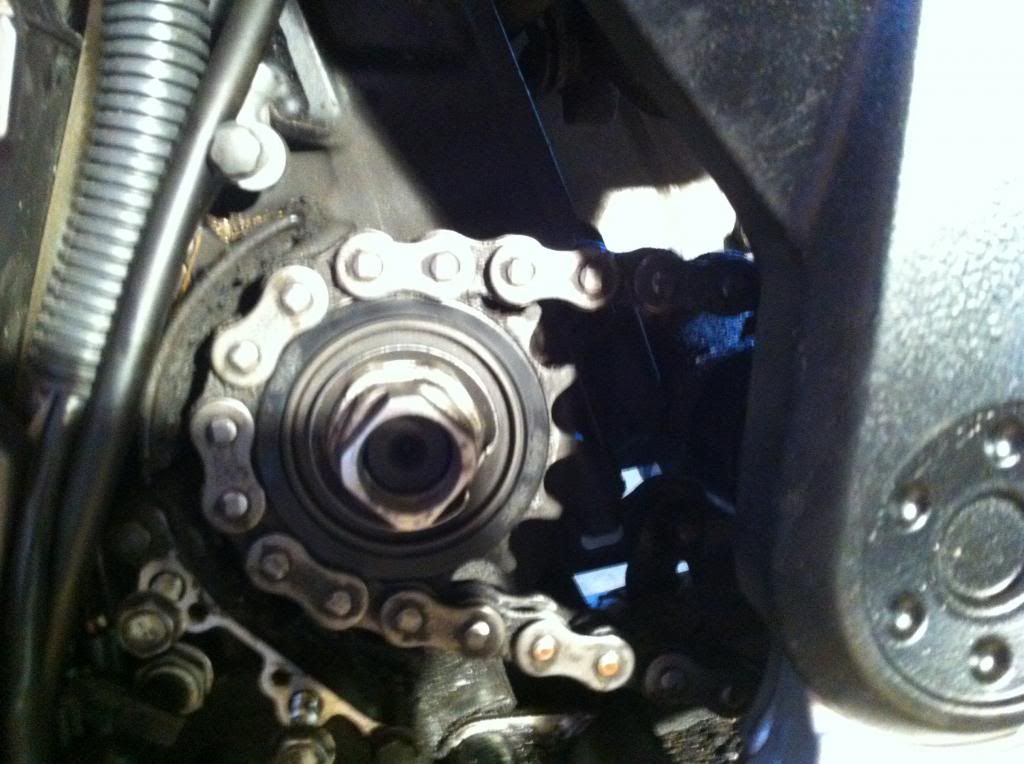 The rule of thumb that I have always lived by, including bicycling, is to replace both sprockets and chain at the same time. In other words, the worn chain causes the sprocket to prematurely wear out, and a worn sprocket causes a chain to prematurely wear out. I get it. But I replaced the original 46 tooth steel sprocket for an aluminum 44 tooth in the spring of 2012. The rear sprocket is worn, but he chain looks good, as does the original steel 15 tooth front sprocket. I like this ratio, and have just ordered a 44 Tooth Steel rear sprocket.
http://www.ebay.ca/itm/331175409042?ssPageName=STRK:MEWAX:IT&_trksid=p3984.m1423.l2649
My question is… can I get away with just changing the rear, or should I say the hell with it and throw on a new front sprocket and chain? I think I can come up with the coin, but I have trouble replacing something that appears good. Though the picture is blurry, there is absolutely no wearing on the front steel sprocket.
I won't be ordering aluminium again...