Discussion Starter
·
#1
·
Well, the title says it all. Well not quite. My girlfriend and I left for a repeat of our two-up ride through the Rockies last year. This year instead of meeting her in New Mexico, we're departing San Miguel de Allende, Mexico together, and are planning to work our way up almost to the Canadian border. As we approached Zacatecas, a major city and about a four hour ride from our home, I pull over to consult the map, and turn the bike off. When I go to restart it, there's a sickening weak sound, and the engine's not turning over. Battery appears to be dead, and I'm bummed for a couple of reasons. Besides the obvious crimp this is putting into our trip, I just replaced the battery with a new, top of the line gel battery, so I'm pretty sure there's a bug in the electrical system. Hmmmmm....
We're out in the country, but luckily there's a house nearby, and I walk over to see if anyone there has some jumper cables. When I get to the open front gate, I'm struck by the beauty of the interior and the courtyard. This place is stealth. You'd never know what treasures lie behind the outer walls until you breach them. I introduce myself to the owner, Lorenzo, and compliment him on his home's beauty. He proudly tells me that the designer of it was an American. When asked if he has jumper cables, he shakes his head in the negative, and grasping at straws, I ask if he has any old electrical wire around which we could use. He disappears into the house for a few minutes and returns with an old lamp cord.
I'm wondering if there's enough current to melt the cord in our hands as we stand, him at his truck, and myself at the Versys's battery and touch the stranded wire to the terminals. Hallelujah! The motor turns over, I shake his hand and start mounting the seat/Airhawks, and donning our gear. As I go to pull out, the motor stalls, my heart sinks, and we go back to phase one. After two more efforts to get out of Lorenzo's driveway, and the same result, I offer to pay him 500 pesos to run us and the bike into Zacatecas to a moto shop, and he agrees. He asks me if I would prefer to go to a shop that specializes in electrical problems, and I'm thinking that sounds like a pretty good idea.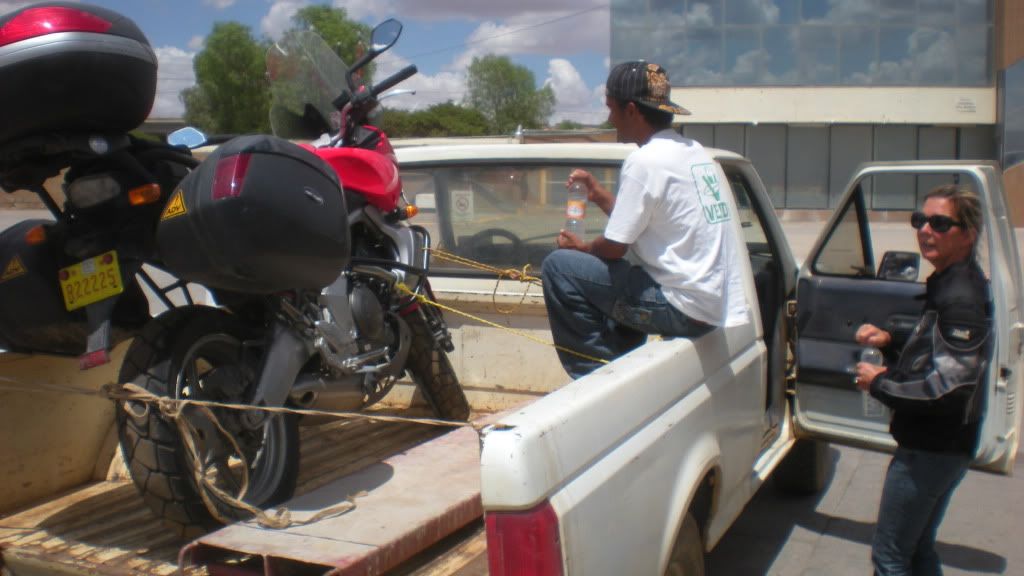 We arrive at Jose Luis's shop in Guadalupe, outside Zacatecas and unload the bike. Jose Luis get's out his ohm meter, and goes to town checking things out. He swaps out a component under the seat with another from the graveyard of bikes in his shop and when it shows no change, he informs me that it's the "estator", or stator. When I ask him if there's a Kawasaki dealer in Zacatecas where we can order the part, he shakes his head, "No". Dianna and I look crestfallen as the situation sinks into our brainpans.
Then Jose Luis's face lights up like he's just had a thought. A good thought. He tells us that there is one guy here in town who can rewind an estator, but that it will probably cost about 700 pesos, or about $60 US. Sounds like a great deal, not to mention our only option in this case, so shaking hands, we leave the V with him and flag down a cab to take us to a hotel to wait for the repair to be completed.
Fortunately, Zacatecas happens to be one of my favorite towns in Mexico. It's not a ****** town, but is peopled by what strikes me as a kind of cosmopolitan kind of Mexicano. The town has a reputation as one of the cleanest towns in Mexico, and the architecture and general feel of the place seems almost European to me.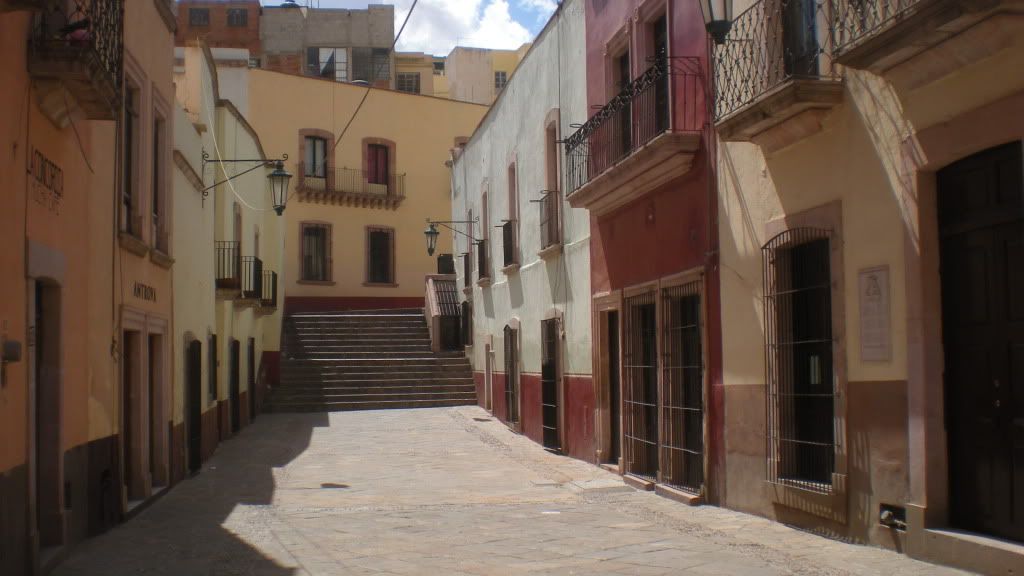 We check into the Hotel Reyna Soledad which is right downtown, and has quiet, well appointed rooms off the street which they discount to us for 500 pesos/night. We're not feeling super chipper because of the circumstances, but are cautiously optimistic that the stator will get fixed and we'll be on our way in a day or two depending on the speed of the guy who's re-wrapping the stator.
We settle into the outdoor restaurante where we've chosen to dine, , are trying not to be put off by the seemingly perennial clown show next to it and have made friends with our waiter Napoleon. We'll call Jose Luis tomorrow to check on the stator's status.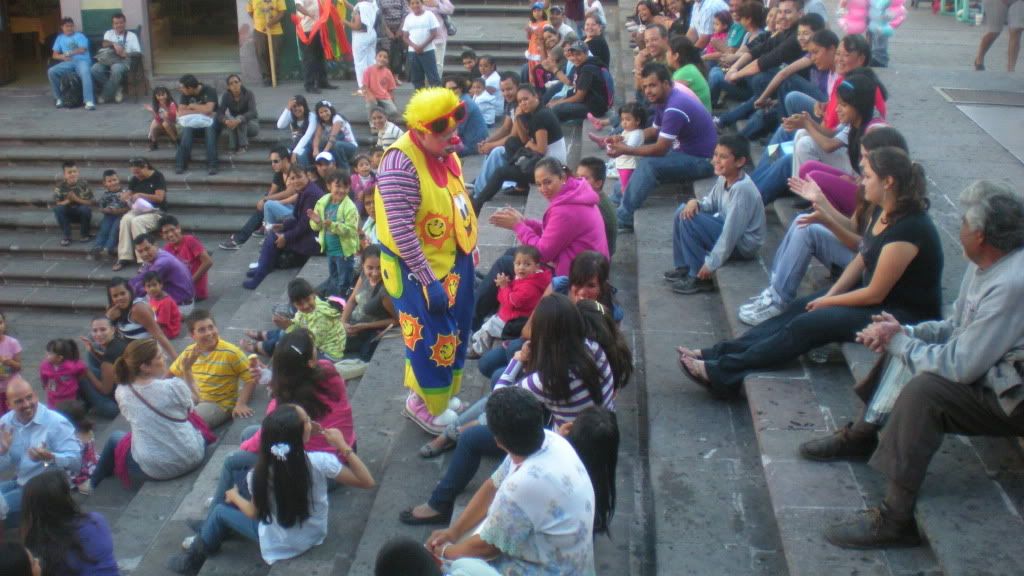 To see how this all turns out, tune in to installment #2.