Discussion Starter
•
#1
•
I got up bright and early, 4:30 am, to take a ride into downtown Boston on Sunday. *This is something I've always wanted to do, get some photos of my bike around the city but realized the only way I could accomplish that would be to wake up with the birds on a weekend. *For that part my plan worked great. *My only regret after finishing the ride is that I hustled too much and didn't take the time to think about a lot of the images I was going to take. *I had an overall plan that started with getting to Fenway and then working my way north to Bunker Hill and for the most part that worked. *Still lots of stuff I didn't include but here are few points of interest.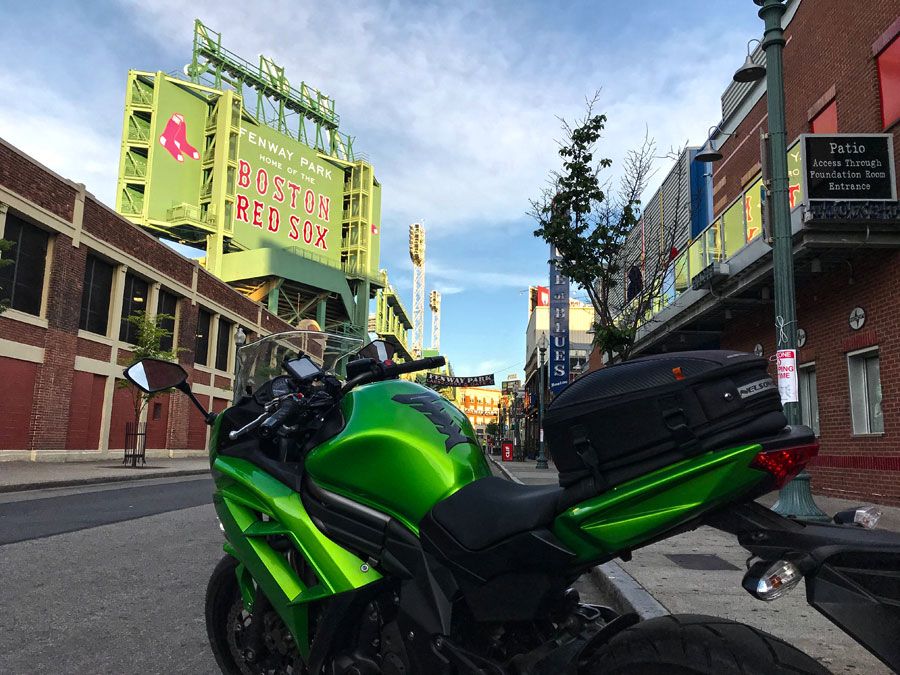 Fenway Park, now I'm not a huge fan but even I know that this ball park is historically significant to the game of baseball. *I was worried I wouldn't be able to get a decent shot as many of the roads were blocked off for delivery trucks dropping off supplies. *If you look real close in the photo there are two yellow jacketed men that were patrolling the park area and across from them were all the ball park employees. *Work starts early at Fenway on game day it seems.
edit - I just realized you can't see the workers I mentioned, that was in a different photo of the same area sorry... they are there though, behind my bike.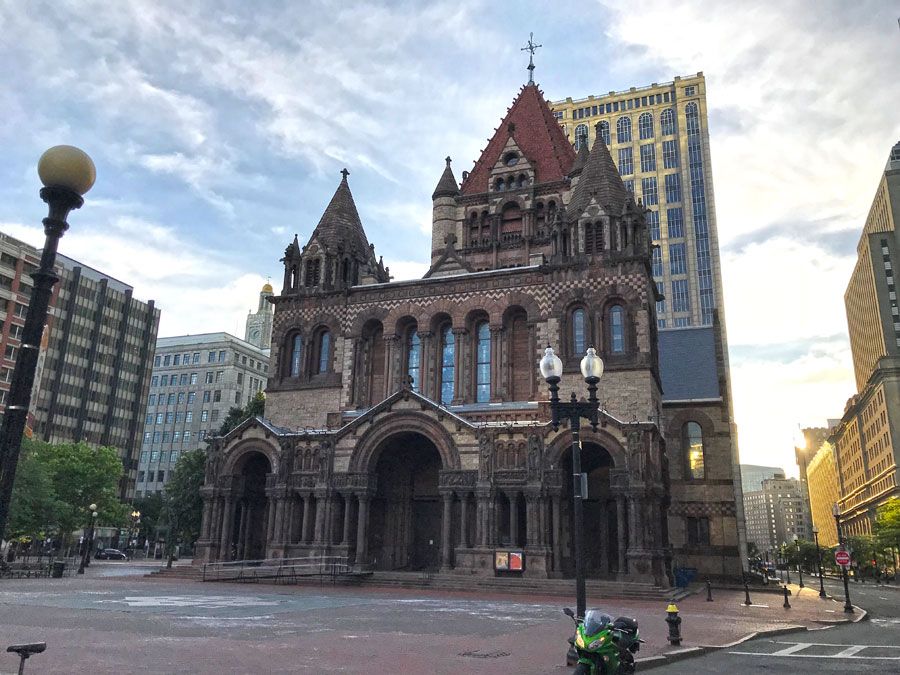 After Fenway I rumbled up to Copley Square. *This square is typically the finish line for the Boston Marathon and it's also near the location of the bombing from a few years ago. *Aside from that the Boston Public Library is directly across the Trinity Church shown here which I admittedly know very little about other than tourists seem to like taking photos of the building. *This is a hopping area of Boston one block east of the Prudential Center and two blocks east of the Newbury Street where you can watch really wealthy people spend there money in very expensive shops. *Fear not those on a budget, as you head south on Newbury Street the stores get more pedestrian, so you too can find something to buy and walk amongst the well-heeled.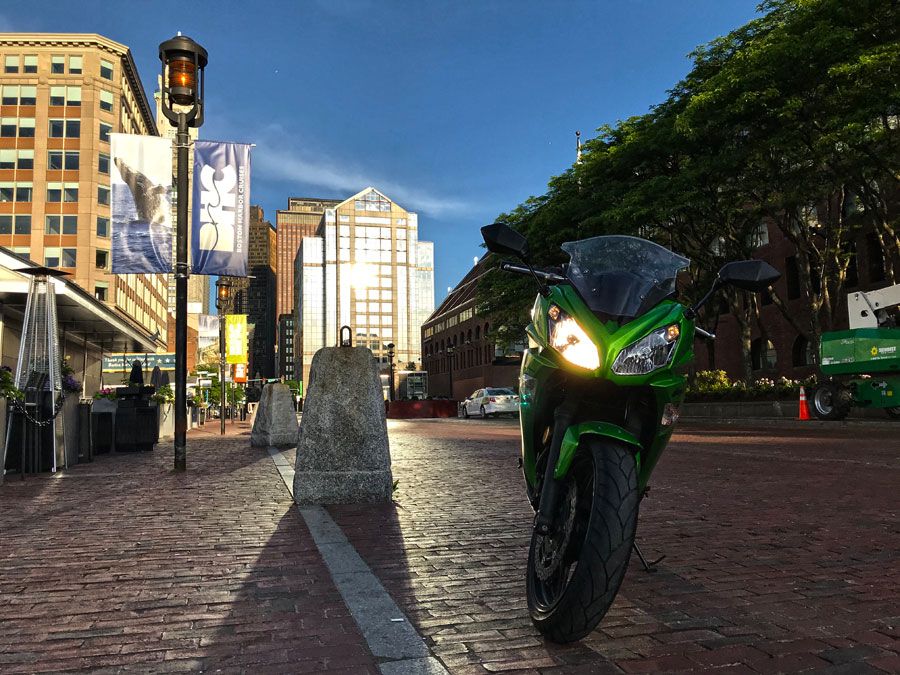 One of my favorite spots in the city, this is part of Boston Harbor and home to the New England Aquarium. *Just left of the bike is an outdoor pavilion that serves beer and other soft drinks and one of the few areas in town with a clean public restroom. *You can see the sunlight bouncing off the glass buildings as it is rising over the harbor, still pretty early in the morning.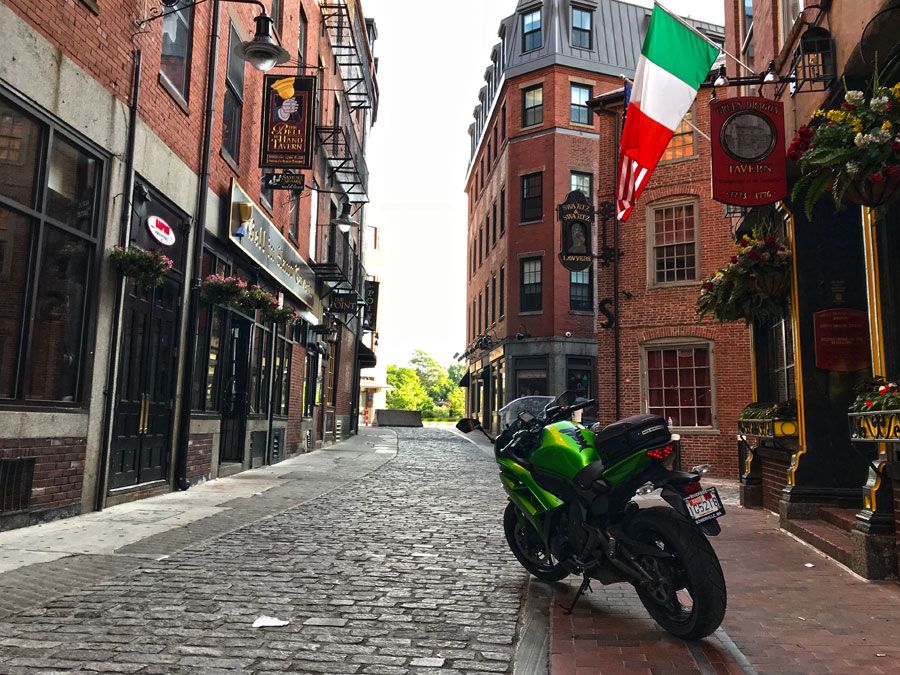 I don't know if this location has a specific name, it's surrounded by Quincy Market on one side and the North End on another. *It's near the Haymarket T stop so it probably is Haymarket. *It's a neat little block of old-timey buildings, you get a feel for colonial Boston with the old street lamps and brick roadway. *At the north end of the street there is a farmer's market every weekend, at least in the summer/fall months. *I didn't realize that this was for foot traffic only but nobody bothered me as I took my photo. *Not that there were many people roaming around in the wee hours of the morning.
Still in the Haymarket area but I selected this photo because I was wondering if you could see the red bricks that are laid opposed to the other bricks. *That's called the Freedom Trail, it's a two and a half mile trail that leads past 16 significant historical sites in Boston. *So much early American history happened in Boston and it's great that the city preserves and promotes these past events.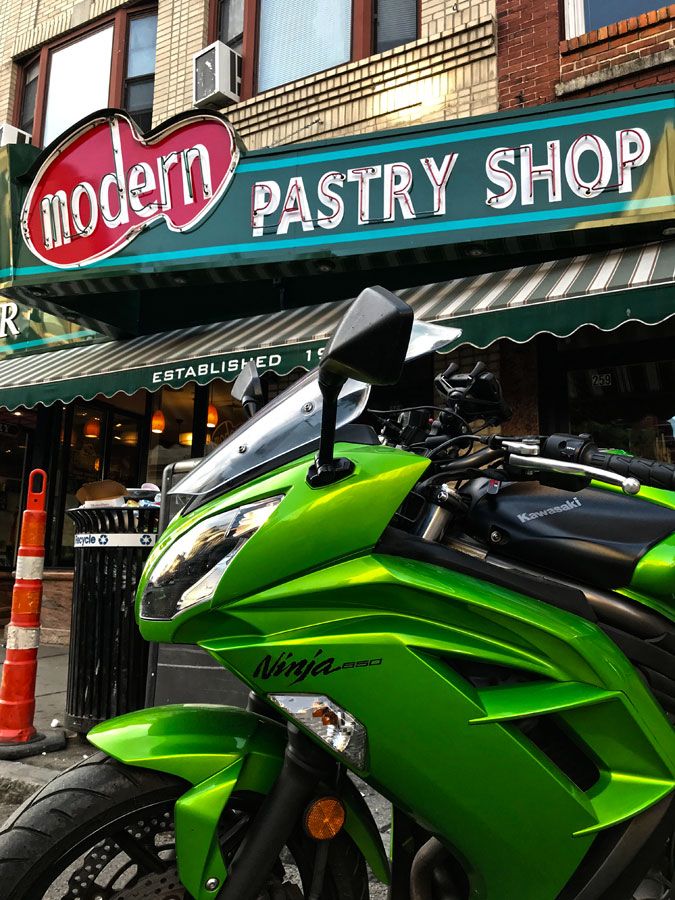 A personal favorite of mine, Modern Pastry in the North End. *The North End is essentially Boston's little Italy, it is crammed with Italian restaurants, some little hole in the wall shops to large fancy sit down restaurants. *If you want a great cannoli you want to visit Modern Pastry and be prepared to wait in line. *Most of the tourists go to Mike's but don't follow the herd, try Modern Pastry. *Seriously good pastries and a hard working staff, just be ready to make your selection because they hustle behind the counter.
We're still in the North End, maybe a quarter-mile north of Modern Pastry on the same road you will find this statue of Paul Revere which is located near the Old North Church. *Both are favorite tourist destinations and nice stops after eating some of the great Italian food served in the North End.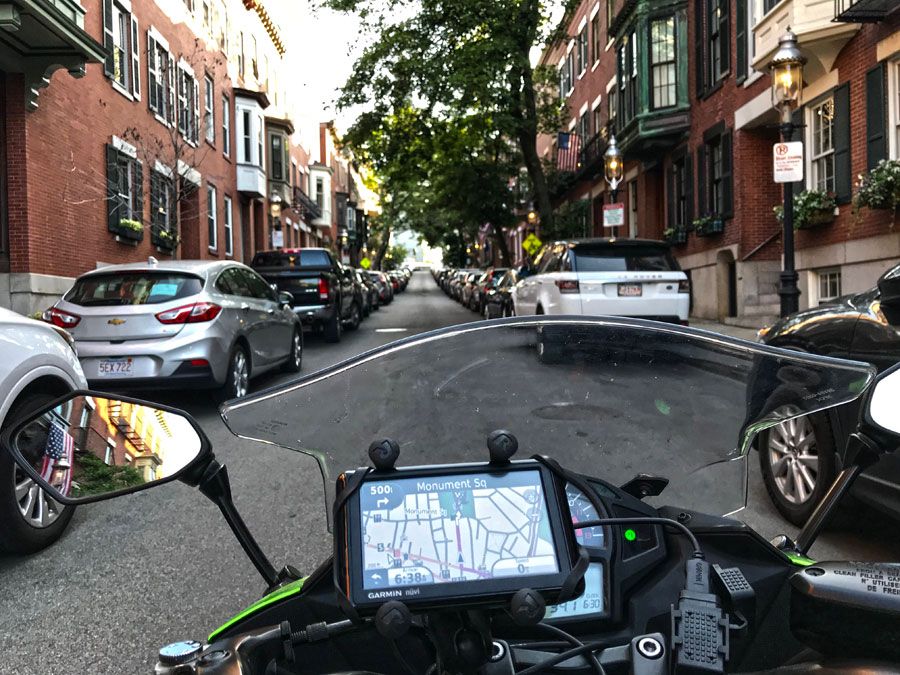 Technically we are in Charlestown now which is just north of Boston past the Charles River. *This street is very typical of the older areas of Boston, most people in the city have to park on the street as garages are rare even outside the city. *Lots of narrow twisting roads filled with parked cars on either side of the street. *I saw an ad when I was house shopping and somebody was selling a parking space, on the street for $35k.
We end the day at Bunker Hill. *Had a real nice park worker take my photo with the bike but it didn't turn out very well, instead you just get another picture of the Ninja. *Interestingly the Battle of Bunker Hill was fought at nearby Breed's Hill, it is called the Battle of Bunker Hill because Bunker Hill was the goal for both the British and Colonial soldiers.
Hope you enjoyed a brief ride around Boston. *There is so much more to see and do in the city but I recommend you take the train and just walk if it's later in the day.