Discussion Starter
•
#1
•
Day 1
After all the fun we've had the last two years, Hammy and I just couldn't wait to start this year's "Big Trip". So, we scheduled it almost two months earlier than normal and hit the road aiming for the San Juan Islands.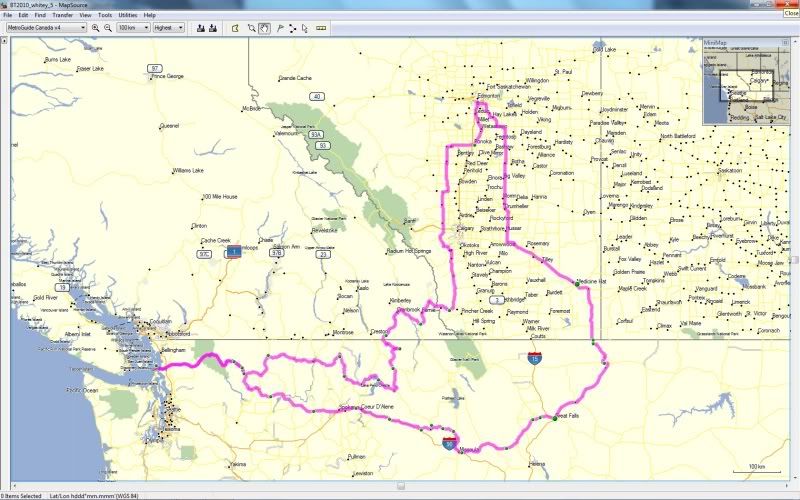 For the last two years, Hammy always made a solo run from his home in Saskatoon to my place in Edmonton, where we would start the trip together. It never really seemed fair that he essentially had to take two days more than me to do these trips (a day to get to Edmonton then another at the end getting back to Saskatoon). So this year we decided to meet in the middle…kind of.
We had been graciously offered a backyard to camp in from a fellow Alberta Adventure rider (Spokes81) who lives in Medicine Hat. We took him up on his offer and each set our sights on meeting up in "The Hat" for the night of Day1.
Like a kid before Christmas, I didn't sleep very late. I think I was up before 6. I farted around the house a little bit, before kissing my wife goodbye and hitting the road. Most of my first day was pretty good. It was overcast, but no real rain. Just a great ride down hiway 21. I had the time, and it seemed like a pleasant alternative to the 6-lane nightmare that is the QE2. I was also on a mission and had a slight detour to make.
Another fellow Edmonton Strommer (Skinnifatkid) had introduced me to some incredible beef jerky from a place in Wainwright. It was so good we all started calling it crack-jerky. I bought a whole KG from him a week and a half before departure. I told him I was going to split it up into smaller portions and bring it on the trip. He kinda smiled and said "I bet you won't have a scrap left by the end of next week". "Naaaahhhh" I said. "This is a friggin kilo of jerky man. There's no way I'll eat it all before I leave". It did take me a little more than a week, but he called it. It was sooooooo good, I had eaten it all by departure day. ANYWAY….feeling guilty for eating all our beef jerky before we had even left, I heard that the same meat packing company that makes the crack-jerky, also has a facility in Mirror Alberta. It was kind of on my way, so I resolved to check it out.
I stopped at the general store to ask directions to the meat packers. The guy didn't speak English very well, but seemed to understand and pointed me to the north end of town. I found A meat packing place, but it was closed. As I was getting ready to roll out, the owner and his son rolled into the yard and explained they were closed on Fridays, and it wasn't the right place anyway. They didn't do any retail sales, just custom cutting jobs for the local ranchers/hunters.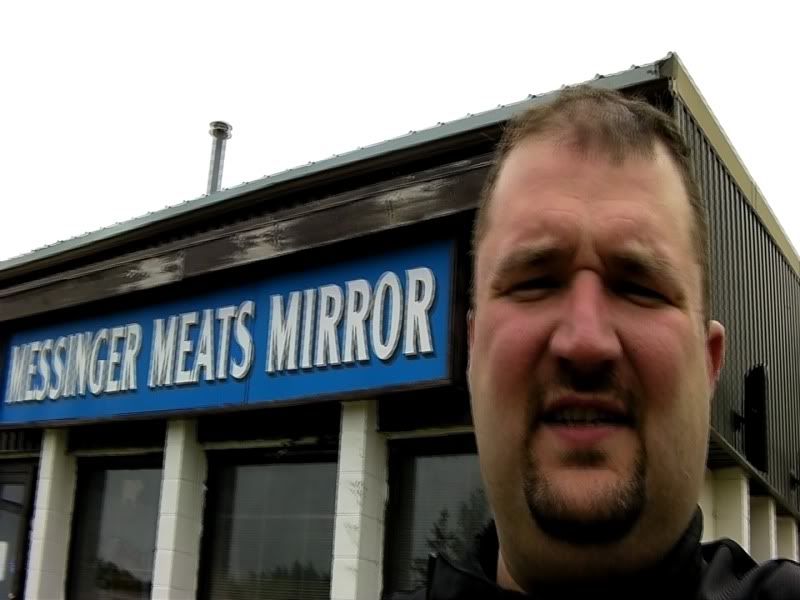 The only thing left on the agenda for the day was to meet Hammy in Medicine Hat, so that's what I set out to do. I stopped for gas in Drumheller and received a text from Hammy.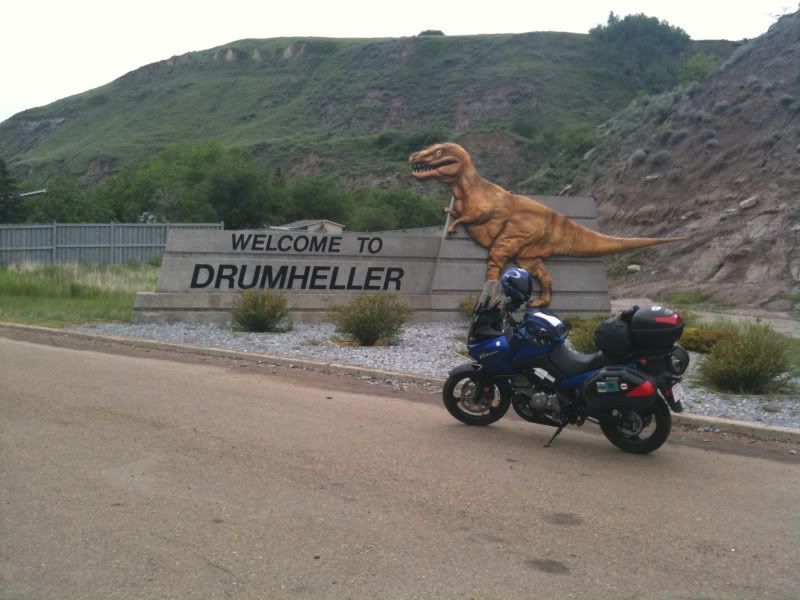 He was going to be late as the TransCanada highway had been washed away just over the Saskatchewan border. He had been detoured about 30 mins out of his way, but was back on track. This would prove to be a bit of an indication of things to come. The area we were coming into can best be described as almost-desert. They had gotten record amounts of rain over the last several days and land just couldn't handle it. My phone buzzed again and it was a message from my brother. He was letting us know several flood advisories were in effect for the region we were in and warned us not to camp anywhere near the rivers.
I pushed on to Medicine Hat never seeing anymore than a light sprinkle, but it was obvious the area had recently seen some serious rain. Hammy arrived at our rendezvous Timmys about 30 mins after me, and we sat down for a coffee.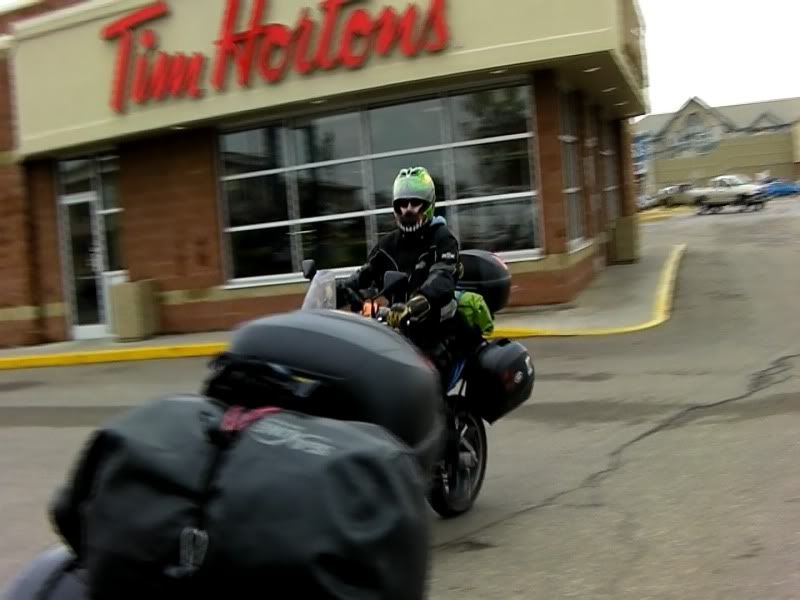 We made our way over to Spokes81's place where we setup camp in his backyard. He and his beautiful wife treated us to a delicious supper of BBQ burgers and beer, and introduced us to his lovely neighbor, who offered us use of her firepit that evening. After supper the neighbor and Mrs. Spokes went off to the bar, while Spokes81, Hammy and I sat around the fire drinking rum and talking about bikes. Good stuff.
The evening wore on, and Spokes got a call that the ladies were on their way home from the bar. He looked at us and said…"alright boys. Decision time". He explained that if we were all up and around the fire when the girls got home, who knows what would happen, so if we wanted sleep, we should make ourselves scarce. I think all three of us decided we would skin out before they got back, but for whatever reason we were all still around when the cars started pulling up.
It seemed they had made some friends at the bar and invited them all back. The new friends consisted of about a half dozen British and Scottish soldiers who were on leave from training at Suffield. Immediately Hammy and I began making new friends. These guys were a riot. Well most of them were….one was mostly unconscious. One of our new Scottish buddies, Gordy, had us laughing all night. He couldn't remember my name, so just started calling me Clark (due to the Superman shirt I was wearing).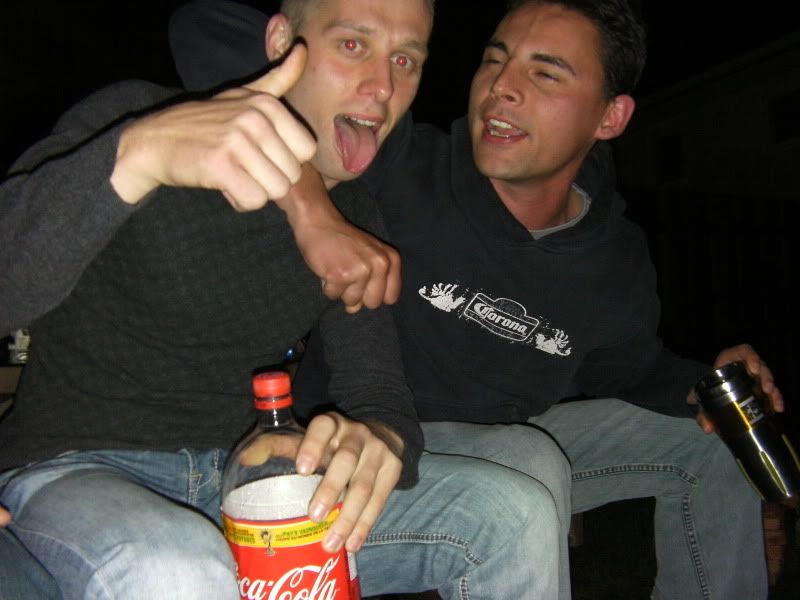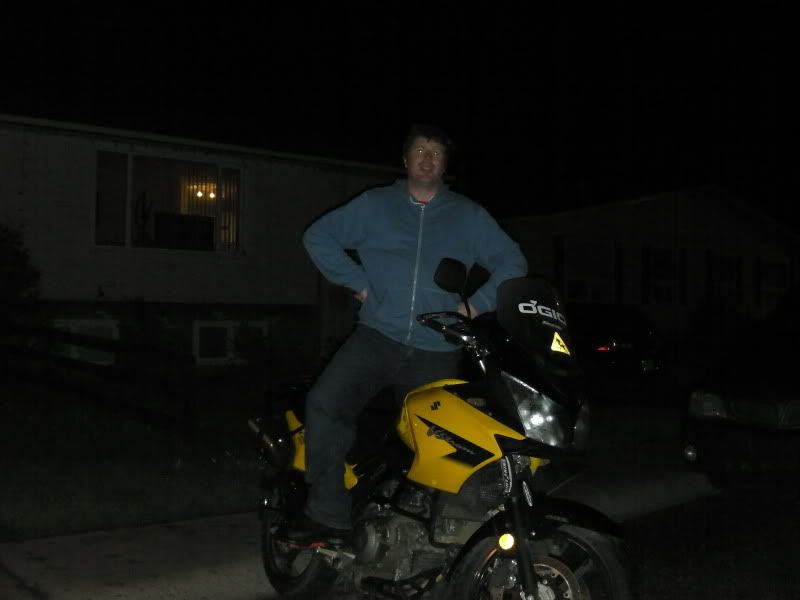 Eventually my age caught up with me, and I just couldn't keep up with these young whippersnappers (except for the unconscious guy), so staggered back to Spokes' backyard and crashed out in my tent. We were only in the next yard, so we could hear the party continue for the next several hours. We even heard the cops come and shut it down at about 5am. Between the party, the cops and Hammys snoring, I got about 2 hours sleep.
Whitey Jr