Discussion Starter
•
#1
•
Not sure if this is the appropriate section, if not spank/chastise away....
A little background on how this road trip got started...literally. About 20 years ago I met someone who quickly became a very good friend and over time has become my best friend. He's someone who's welcomed me into his family and over these past 20 years he, his wife and family have become very dear to me. They've seen me at my best and at my worst and their friendship has never wavered. But enough schmaltz for now, back to the bikes.
I never grew up with motorbikes or dirtbikes and prior to meeting him never really had much of an interest but I saw the passion he had for the sport and it rubbed off. Before long I had purchased my first bike (a Yamaha Seca) and quickly fell in love with two wheels. Street led to dirt which is a whole other bag of fun I'd like to get back into (there's something about the smell of two stroke exhaust that immediately puts a smile on my face). I was pretty serious into riding for a while but circumstances had me exit the sport a while back. But that changed this spring when I re-caught the bug and dove back in with both feet.
I had mentioned to my friend this past April I had bought a new bike and was looking forward to some good rides this summer. That quickly led to a discussion about a short 100 mile section of nice twisty highway that my friend and his wife had wanted to ride. Well, I took that 100 mile stretch of highway and built a six day road trip around it. And that road trip starts this Thursday.
To say I've been looking forward to this is an understatement. I haven't had a a true vacation in five or so years and being 200 miles away from my friends I don't get to see them as often as I like. So this is like a triple whammy of goodness. Get to spend six days with some great friends, get to put some miles on my new bike and all in some of the most beautiful country you could imagine. Here's a snapshot of the ride (the trip runs clockwise starting/ending in Calgary)...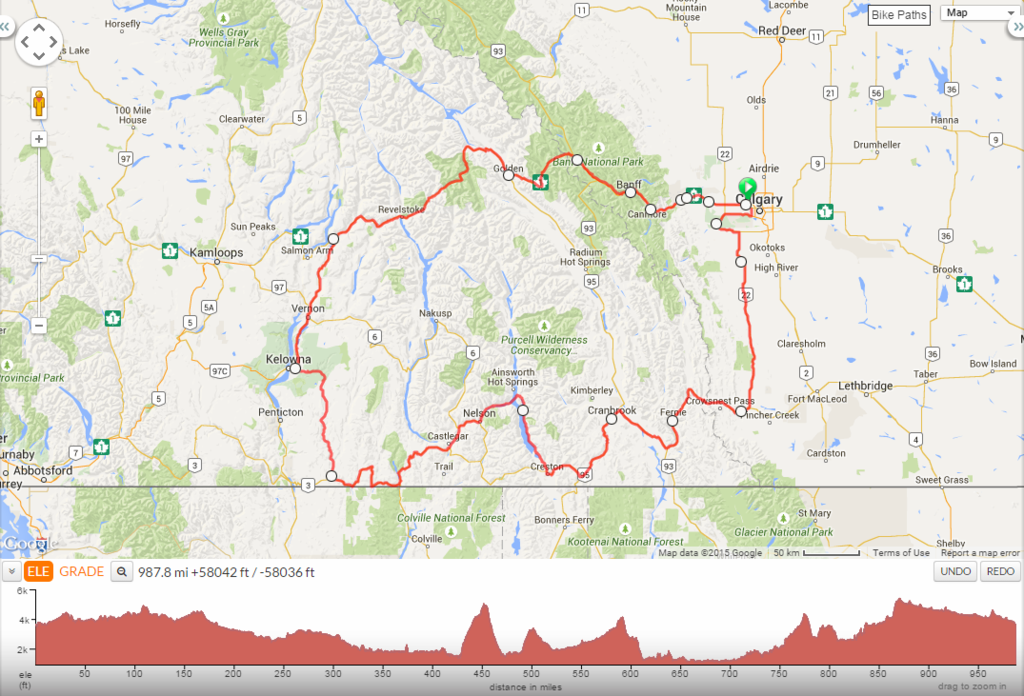 Its a fairly relaxed pace running about 250 miles/day. I've got some stops along the way I'd like to check out having worked there or had family who've lived in the area but other than that its about the kinship of riding with some amazing friends and enjoying the ride more than the destination.
For anyone who's interested I've created a youtube channel that will be pictures & video from the upcoming trip. If you're so inclined to give it a view that would be great.
Thanks for readuing