On Tuesday 4/7 I took possession of a used 2008 versys - with 800 miles on it. $5700 seems like a decent price to me for a bike with so much potential.
My current Ride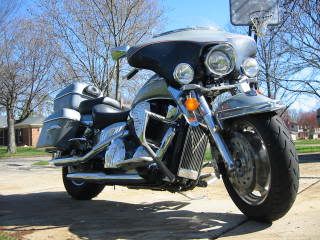 2005 Honda 1300 VTX with Harley fairing, 1970's circa CHP hardbags and a 1970's circa Bate fiberglass trunk. Did all the custom work myself. It is complete with a H/D tach and H/D dynaglide drilled out mufflers. I've put 33,000 miles on it in 3 years.
Purchased the Versys for commuting and for fun. My brother in law is comming over from England this year and we are doing a 2200 mile loop in the Allegheny moutains (Cincy to Ticonderoga NY, to Robbinsville NC and back to Cincy. The dragon will be slayed.
I did not ride from 1984 until 2006. My best friend bought a triumph and needed a riding partner, so he talked me into it. I took the MSF beginners safety course and here I am - buying my second bike.
I have already been purusing the forum for tips and tricks. I hope this bike is as enjoyable as everyone here says it is - and I am sure it will be.