I took a ride today. It was another one of those "This is for all the guys up north, stuck inside" rides. The weather
wasn't as good as I had hoped it would be. It was in the low 60's, but felt cooler. It was cloudy the whole time
and the wind was strong & gusty. It was blowing me all over the place. Still, I managed about 180 miles or so.
Yesterday was a much nicer day & I did take my camera, but the batteries were dead. Oh well, that just meant I
didn't have to stop as much.
I used the wife's camera today. It's has rechargeable batteries. :thumb:
I know I've touted it before, but the Texas hill country is a great place to ride. I enjoy myself every time I go out
that way. The thing is, I'm a terrible photographer with a cheap camera. Hopefully, you'll get a decent idea of the
place anyway...
The trip begins just west of San Antonio on Hwy 16. This is a nice, wide, well maintained road (read: you can go
pretty damned fast, not that I would advocate such behavior).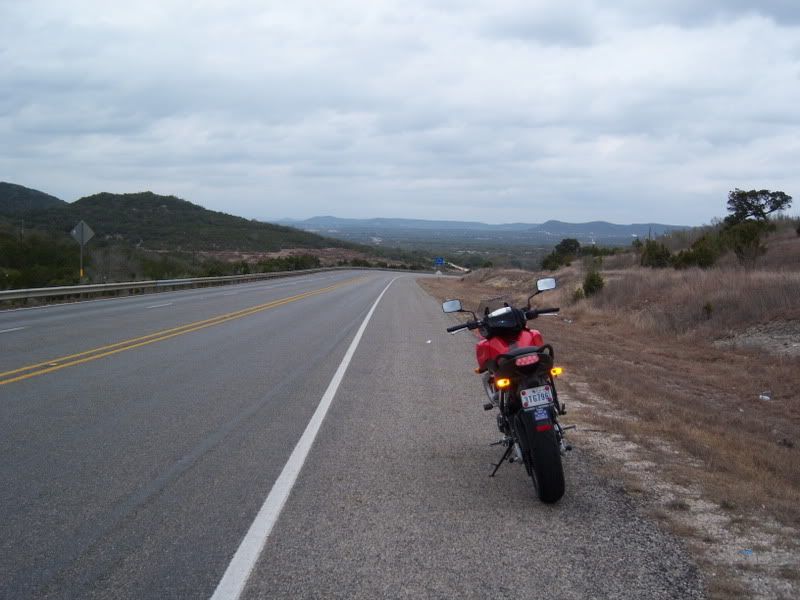 I stopped to get a pic of the 'curvy roads ahead' sign & managed to catch a group of riders enjoying the day...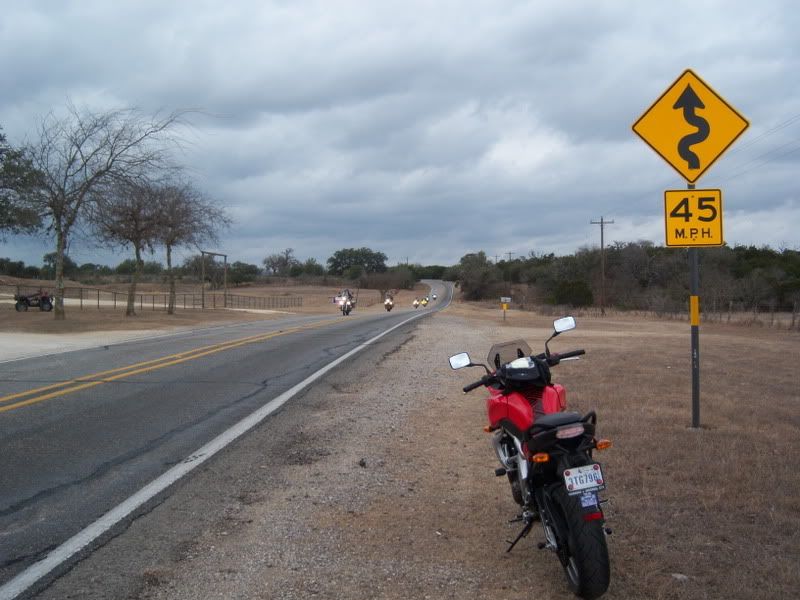 Every time I've ridden through this area, I swore I'd take a picture the next time through. Well I finally got it.
Of course, all the leaves are gone, so it doesn't look as nice. I'll get it again in the spring. The trees create a
nice canopy, almost like riding through a tunnel. Notice the hole in the bottom of the tree to the right...
Looks like the Catholics were here! This is a fairly common thing here in Texas, seeing statues & pictures of
Mother Mary here & there. Although, I admit this is a strange place to put her. It may be a marker, someone
may have had an accident here & passed away. We'll probably never know...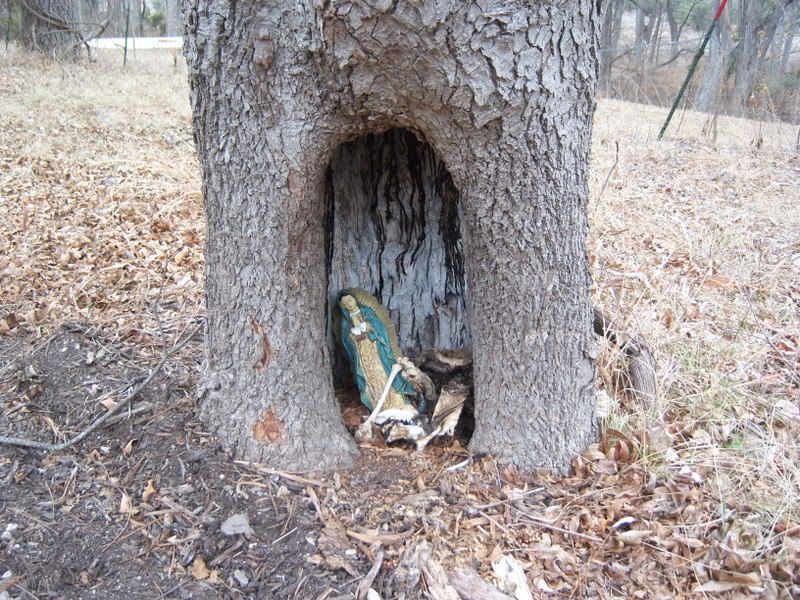 This is RR 337. It is considered by many to be one of the best roads to ride in Texas. My pictures don't do it justice.
There are quite a few curves, but not many places to pull off for pics near them. Beautiful country, though. This is
the view coming...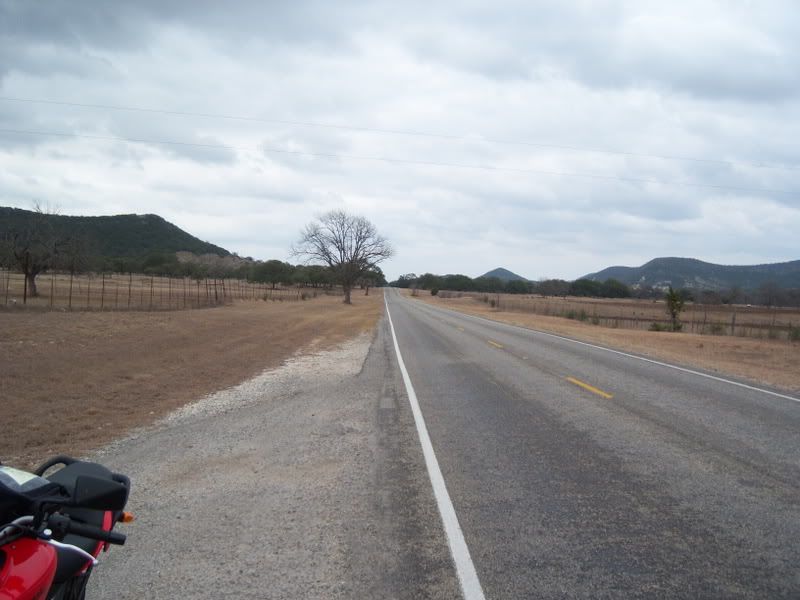 ...and going (or did I get those backwards?)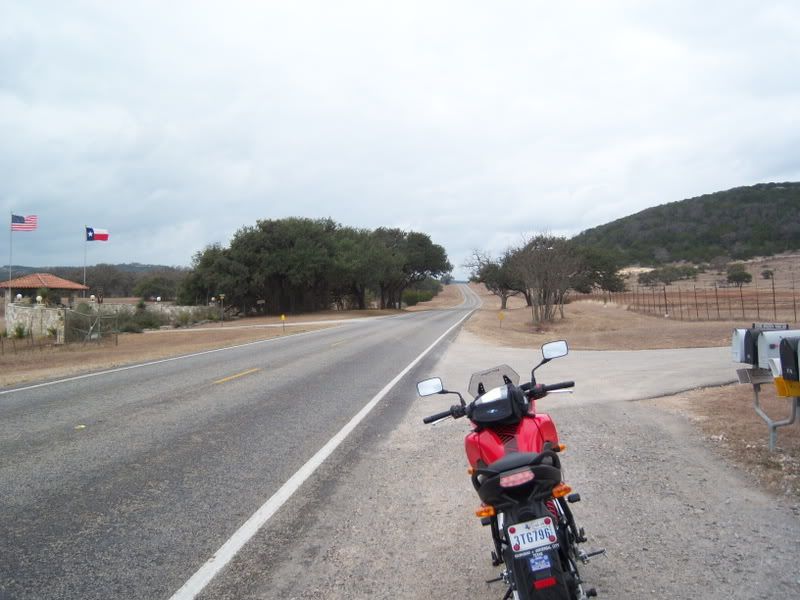 This is a ranch a few miles up the road from the last couple of pics. What an awesome place. It has a really nice
pond & a fairly big dam. You can kind of see it, but I couldn't get a good vantage point for a clear pic. There were
deer down below, but they're not in the pic.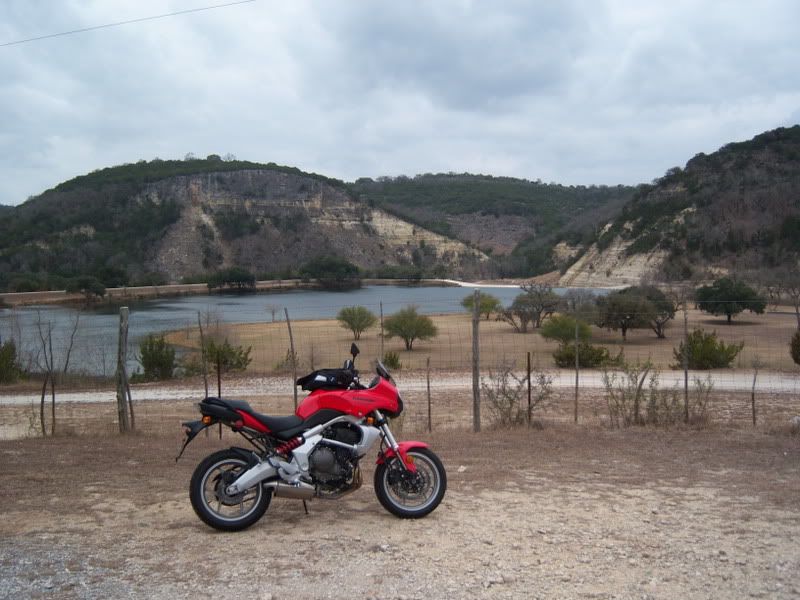 This is the top of one of the many hills. It had a small place to pull over, so I took advantage. Again, its hard
to tell, but that curve is not only sharp, but turns down at a steep grade & leads into a nice series of down hill
'esses'. The way up was just as nice. If a man could get a shot from above... Hmmm... Helicopter...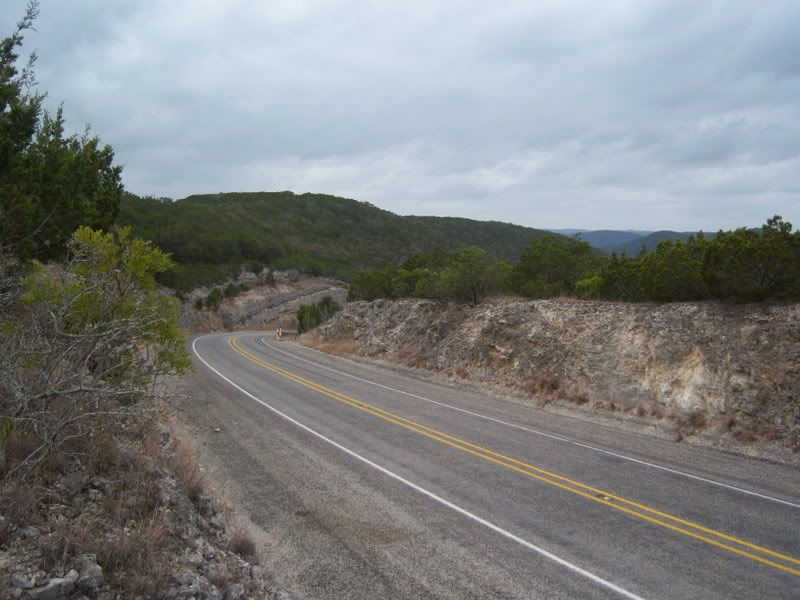 This is one of my favorite shots in this set. I'm still on 337, just west of a town called Vanderpool. On a side note,
Vanderpool is home to a small motorcycle museum. They have a nice collection of bikes & a small cafe for lunch.
Anyway, back to the picture, I'm not sure if you can see it or not, but the road continues all the way up to the top
of the hill to the left, & then some. You have to see this in person, it's impressive to say the least...
This is the view from the top of the hill. You can see for miles and miles and miles and miles...
isn't there a song like that somewhere??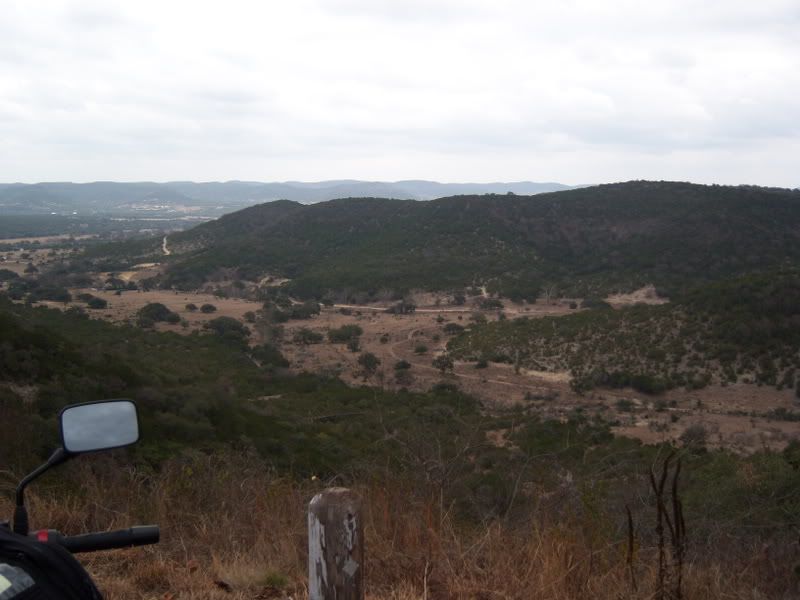 Another angle of the above spot...
And the road before me. More steep, downhill curves. WOOHOO!!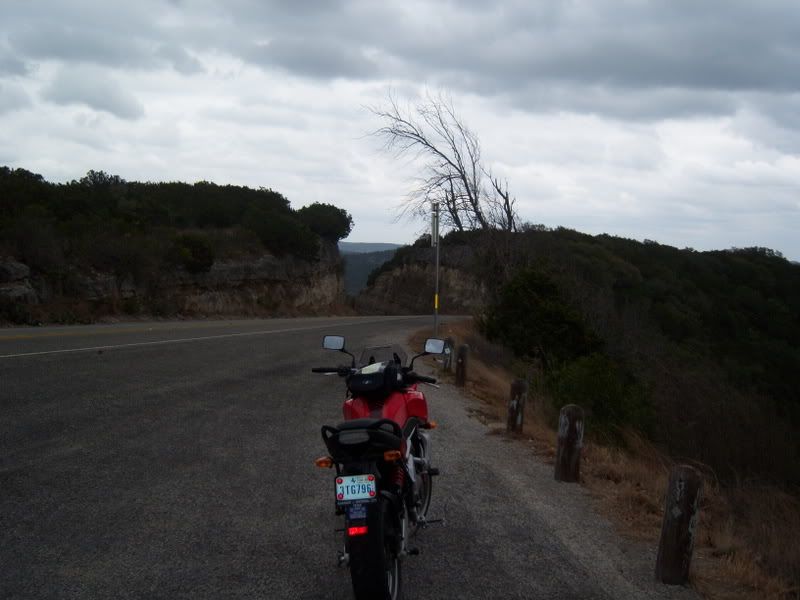 As I was getting back on the bike to leave, I happened to look down. This is what I saw. Looks like a
monument to someone. Another interesting story I know nothing about...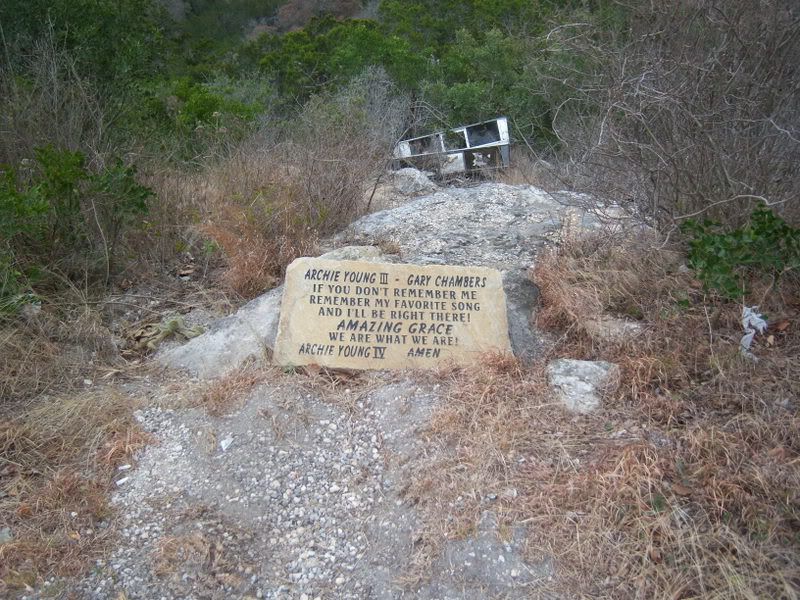 Of course, I had to pan up a little to show how far down you'd go if you fell. (Pay no mind to the trash,
please. I know it's hard to believe, but not every American citizen has respect)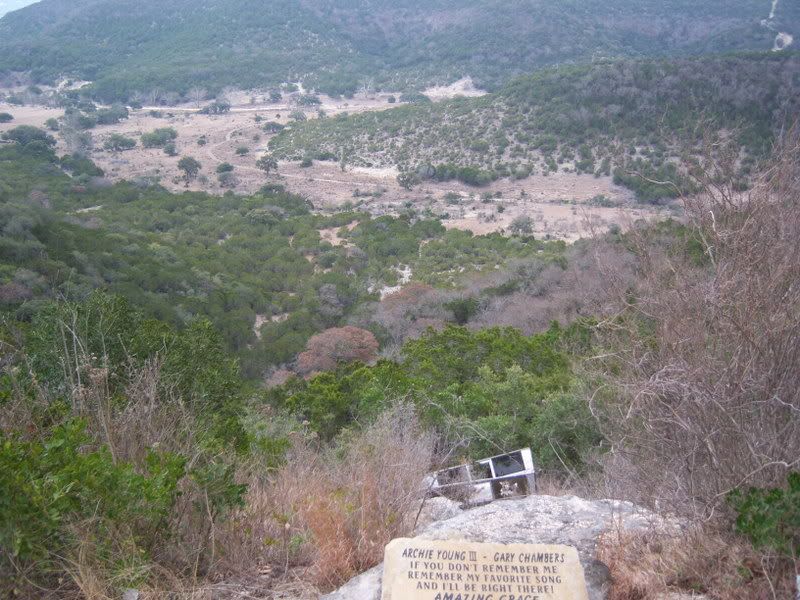 And last, I stopped for lunch on the way home. Guys at work say this place makes a damned good burger.
I have to agree. In case anybody wants to try them out, Babes on Bandera Road, just outside Loop 1604.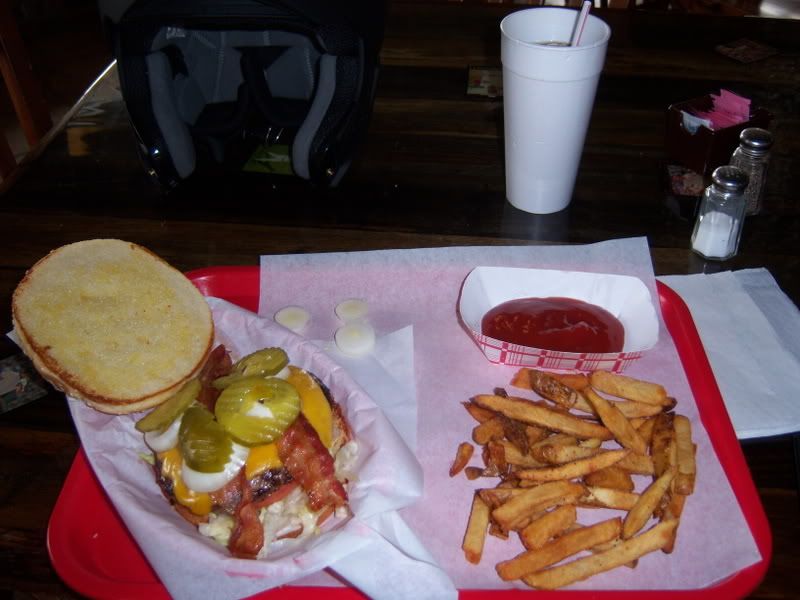 Well there you have it, ladies & gentlemen. Nothing special, no dinosaurs, no cars stuck in the ground in a row,
just nice roads & the Versys.
What else do you need...
:cheers: