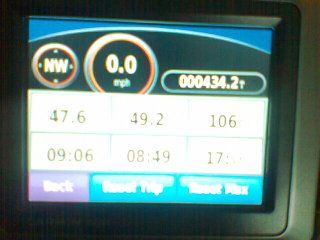 This is what I rode today to back-up my initial impressions of my Seat Concepts seat today. I have
ZERO
complaints. The seat just plain fits. Never broke down the foam one bit. The seat stayed as comfortable during the last 30 minutes of ride time as it did the first 30 minutes. The dimpled cover has plenty of traction and won't allow you to slide forward under heavy braking, though it will allow you to move if you get real aggessive while cornering.
The fit. The slight bucket hugs my posterior almost perfectly. It's about 2" wider than stock so it is more supportive and spreads the contact area. This cuts down of fatigue. The bucket slims up quick enough that it doesn't support you legs. This is a big plus in my book. Both my RDL and my Bill Mayer seats came too far forward with the bucket and made them uncomfortable. For my taste, I like the bucket to stop at the seam line between my arse and where my legs start. This is exactly where the buckets starts to narrow.
Because the seat has a slight bucket, it really holds you in one spot in a good sort of way. It doesn't make it so that you can't move, it just cradles you. The step-up provides some nice lower back support. My back is just fine after 9 hours in the saddle.
Since the seat narrows up like the factory seat, it allows me to stand up on the pegs without feeling funny. I stand a lot of the pegs to break up the monotony when I'm riding is a straight section of road, or encountering a really bumpy RR crossing. When I set back down I'm no wiggling around trying to get situated.
With the slope down to the tank gone it raises me up just enough that the peg lowering kit won't be needed. 9 hours in the saddle and my knees are just fine. I can't remember the last time I rode this long and didn't have some aching knees. I can still flat foot the bike at a stop, but just barely.
I know this seat isn't for everyone, but it is one of the best motorcycle seats I've ever sat. This one is a keeper and by far the best mod I could have made for it. I would like to ride with someone that has one of the Sargent seats just for comparison. It would be fun to ride a while then switch seats and ride a while longer.
Background: Dimpled seat cover with smooth sides. Firmer than standard foam. 290lbs suited up. 6'02" height with 32" inseam so I'm long torsoed and longer than normal reach. The seat to handlebar to peg relationship (ergo's) are the best of any motorcycle I've ever owned. I can't remember the last bike I didn't have to alter the ergo's like crazy to get them to work.