I've been lurking around here for some time, posting only a little, as I first researched the idea of buying a Versys and then decided that was definitely the way I wanted to go. Some time ago, I decided I'd be happier if I never owned another bike over 500 pounds, but I wanted a light sport-tourer I could fit with hard bags and wouldn't break the bank. In the end, the Versys was clearly the best bang for the buck that I could find.
After shopping around, I bought a leftover new 2009 blue Versys for $4900 plus title fee and such, getting out the door, including 6.5% sales tax, for a shade under $5,350. Typically, I buy year-old used bikes to take full advantage of depreciation, but in this case, the deals on new leftovers were so good I couldn't find a used bike that seemed to make sense. My condolences to anyone trying to sell a used bike in the current economy.
I dallied long enough that I had to rush to buy the bike and get it equipped before a long-planned trip from my home in Ohio to Maine, with stops in Massachusetts, New Hampshire and Pennsylvania for a variety of commitments, both business and pleasure. I called sporttour.com first thing Tuesday morning the day after Memorial Day to make sure they had in stock what I needed and in about 27 hours I had my Givi bags and rack. Couldn't ask for better service. A few hours later, I had time to mount the racks and bags.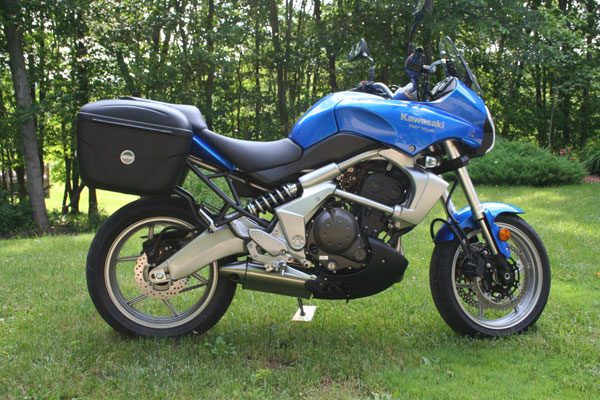 Mounting the rack was simple. What took longer was getting the turn signals relocated. But the end result was what I wanted. I considered the V35 bags, because I really like the looks of them with the color-matched panels, but preferred the narrower width of the E21s and the top-loading feature. I know you've all seen this before (an entire thread devoted to E21s), but here's a rear shot of how they look with the turn signals relocated.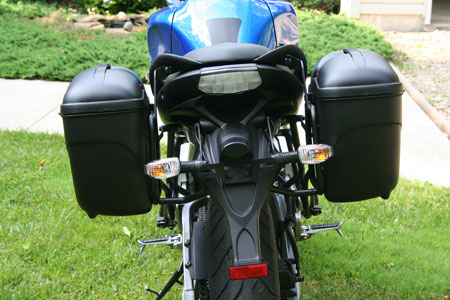 With that, and 521 break-in miles in the first week, so I could do the initial oil and filter change, the Versys was ready for its first trip.