New Project: Grassroots Motorsports $2010 Challenge Car
---
The following is a compiliation of posts from other forums, but I wanted to post this here for everyone to get up to speed on my project. I will also update this as I progress more this summer.
1/6/2009
Just thought I would post up a quick picture of my newest project.
Its a 1975 Porsche 914 that I will be building for the $2009 Challenge. (If you don't know what it is you can read more about it
here
) There is no engine now, and I am still trying to figure out what I will be using.
Basically I need to find something for cheap (5-600 for the engine or preferably a whole parts car for around 7-800). It needs to have the wiring harness and ecu with it and make at least 200hp, but preferably more. It also can't be too heavy. The stock Porsche engine weighed about 265 lbs, but only made 76hp. Also these guys, Kennedy, need to maek an adapter for the engine to the Porsche Transmission.
Two of the possible engines I have come up with are the 3.8L Supercharged V6 from GM (240hp stock 270-280hp with a pulley change, approx. 425 lbs fully dressed, but could remove starter, A/C and power steering), and the Cadillac Northstar V8 (300hp stock, approx 465 lbs fully dressed).
I'd like to use Subaru power, but there just really aren't any cheap alternatives that make enough power.
1/7/2009
I'm leaning back towards a Subaru engine again.
Probably a 2.5L (non-turbo) mated to a FWD subaru 5 speed. This will eliminate the need for an adapter plate (saves me $550). I would then cut and weld the two sets of axles together (Subaru inner to Porsche outer).
To get some more power out of the engine I would use reground cams (from Delta Camshaft), shaved and ported heads, WRX fuel injectors, and a high flow fuel pump. I would run it on E85 to be able to run the higher compression and more timing. It will also help to keep the engine running cooler. The engine is also almost 200lbs lighter than the other options I was considering (and only 4lbs heavier than the stock Porsche engine).
With the money saved I can put more suspension goodies on the car. The event is scored by taking sum of the best autocross and drag times, then scaling it based on the best score.
I figure it should be easier to pick up time in the autocross vs. the drag.
1/12/2009
Got some work done this weekend. It is getting lighter (and better looking) now.
I ended up with this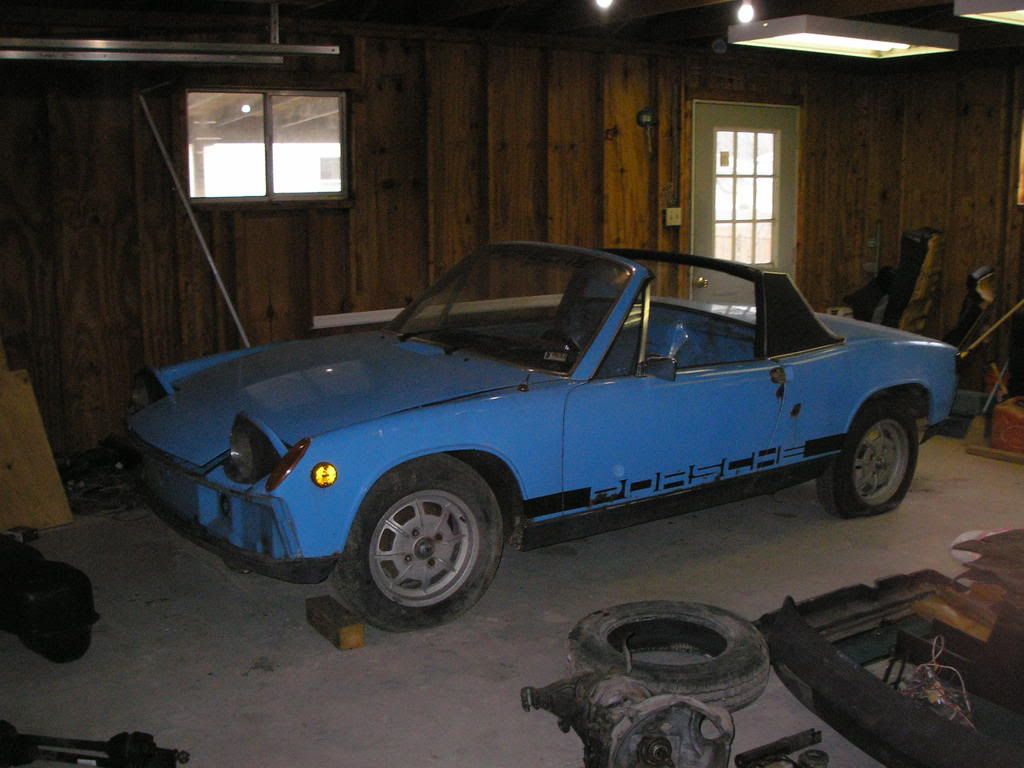 and this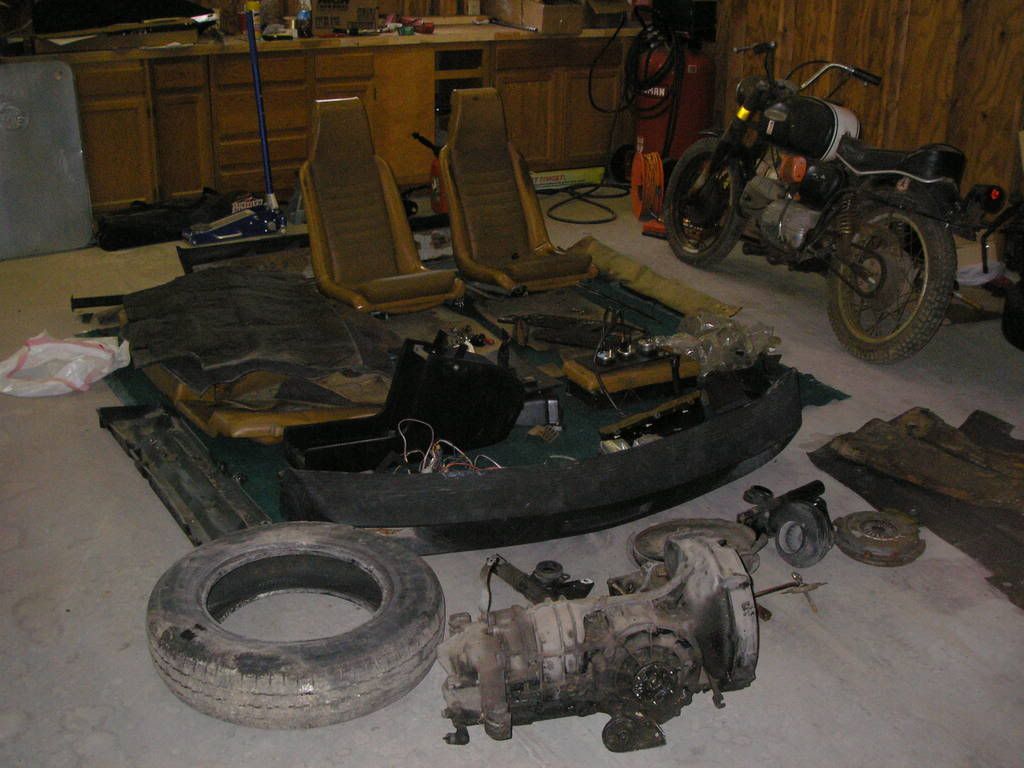 Now to sell some parts to make up my budget
2/22/2009
[Background: Was going to go to Maine to visit a friend, and there happened to be a donor car there for engine/drivetrain]
Ended up not going to Maine this weekend (good thing too cuz of all the snow they had).
I found a car close by that was the same as the one in Maine (so I thought).
I originally was looking for an early 90s legacy 2.2L/FWD, and thought I had a lead on one, but when I went to look at the car it was automatic. Luckily this was at a Subaru Dealer/Junkyard, and the guy had a 1994 Impreza wagon 1.8L/FWD.
Obviously this wasn't ideal because I need the 2.2L heads for my engine. He also wanted too much for the car after he was going to strip parts he wanted. So I worked out a deal in which I would strip the parts for him and bring them back if he threw in a set of 2.2 heads and dropped the price.
Walked away with this beauty for $200
3/26/2009
Well the Impreza is stripped and gone. Made more than we paid for it so we are still good on the budget. Now the real work on the 914 can start.
Impreza on the way to the scrap yard.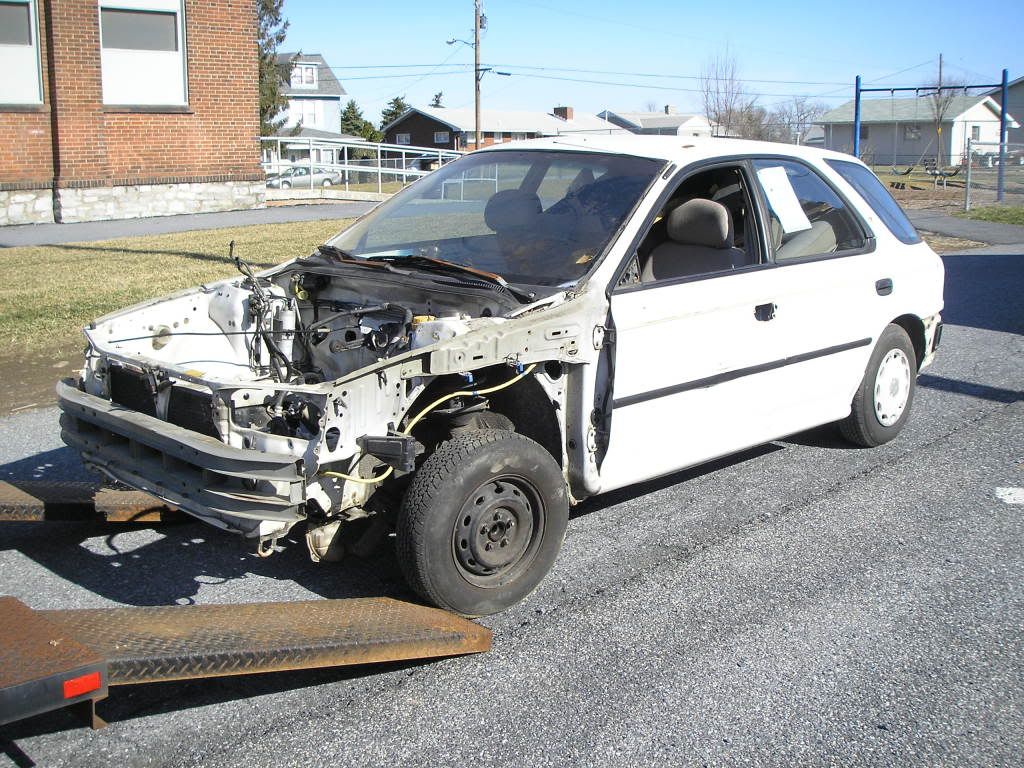 I know there are still more good parts on it, but we don't have time (or space) to keep it around and pick parts off of it.
Mid-engined?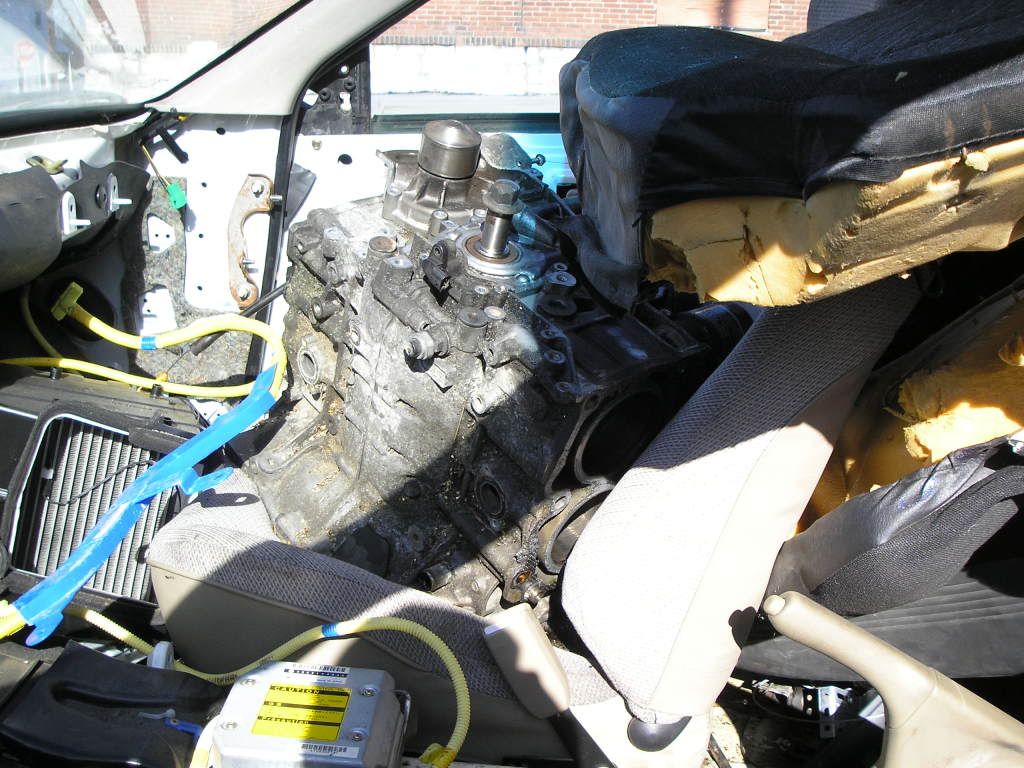 Have to protect yourself.
It was kind of funny the guy at the scrap yard said, "You guys are scrapping a nicer car than the ones I used to run."
6/3/2009
Things have been a bit slow. I had to finish up working on my DD so this got put on hold.
This is how the car sits now.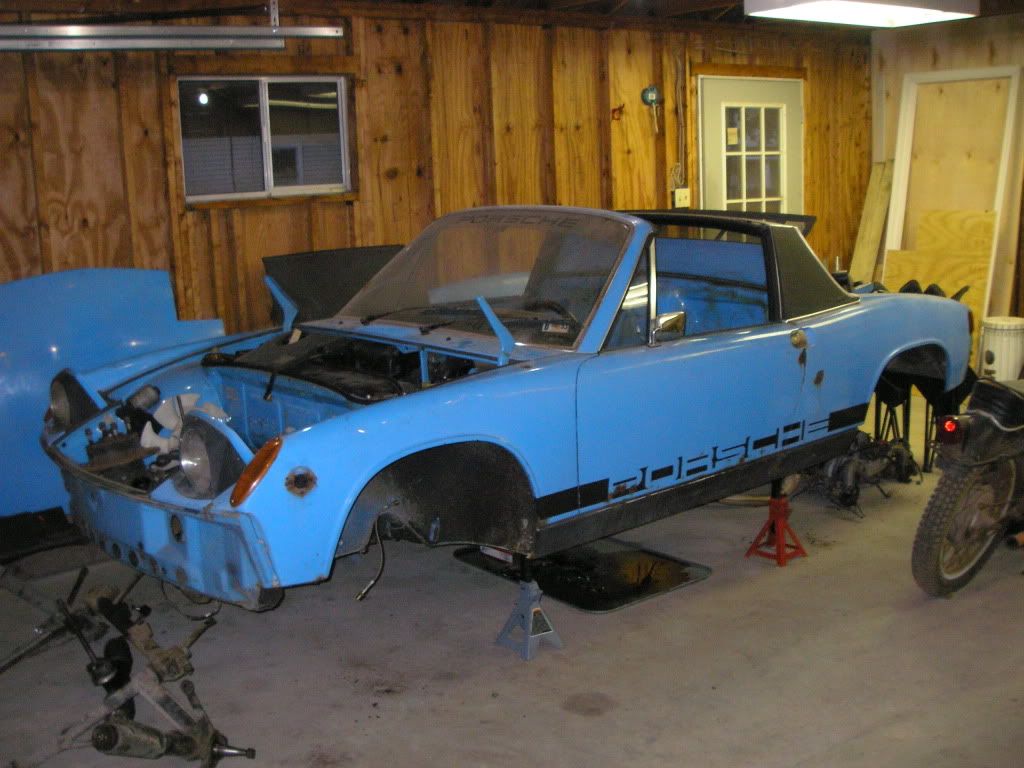 All the suspension and steering is off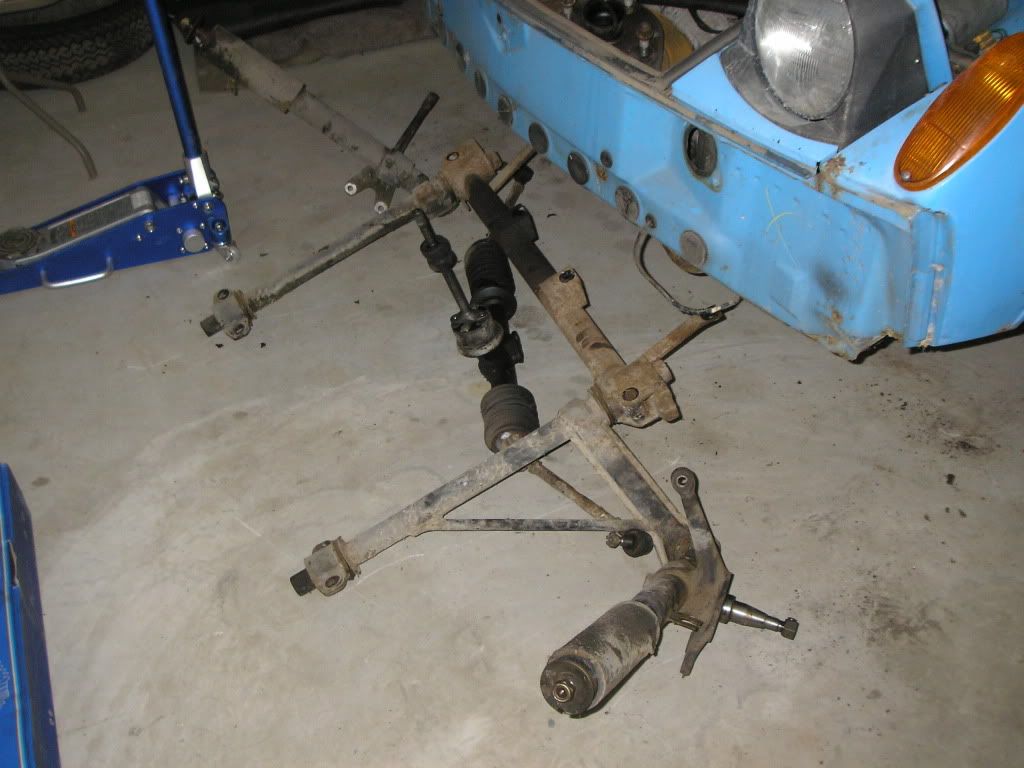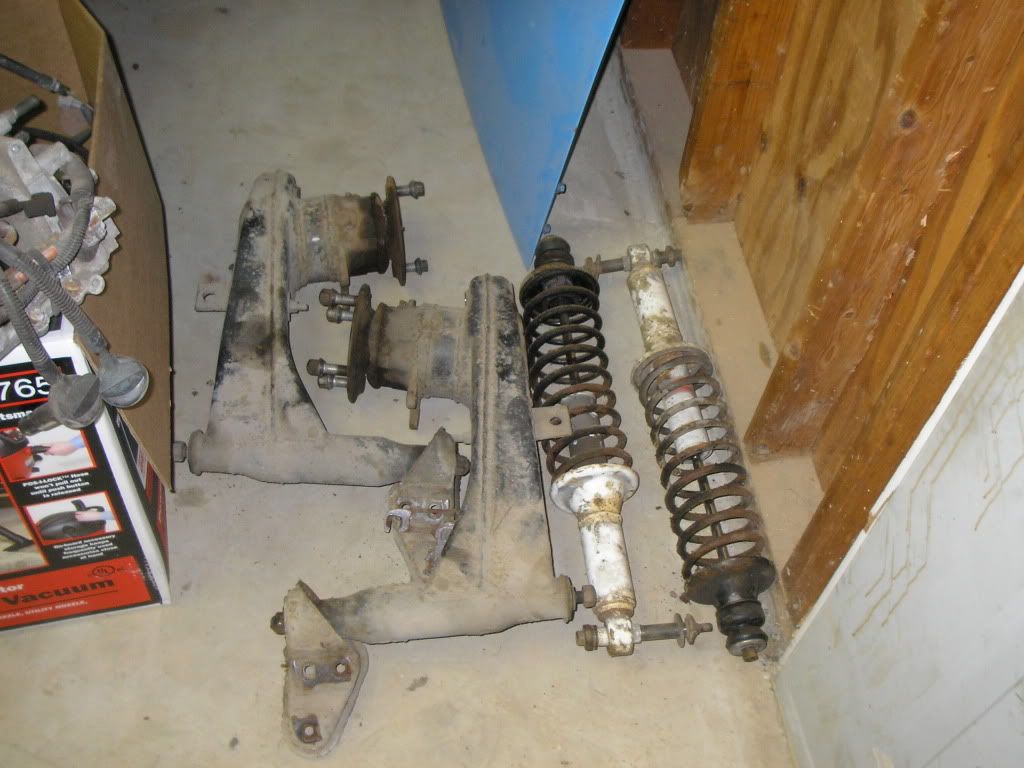 I have sourced a 2.5 engine from a 2001 Forester
Here is all the wiring/intake from the 94 Impreza donor car, and the transmission is in the front trunk.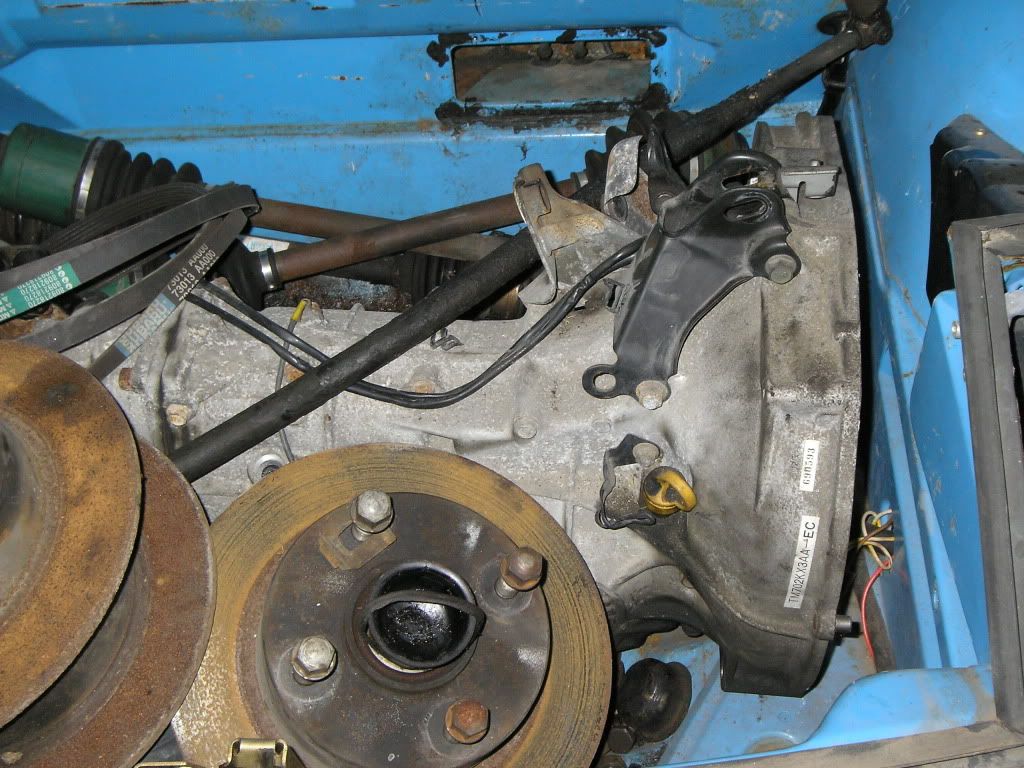 I went to the Hershey Porsche Swap Meet and got a gas pedal for $10, but the best part was when I bought it the guy gave me a cracked fiberglass front bumper for FREE!!! Also picked up a spare wheel for $30 in case I can't straighten the lip on one of the ones that came with the car (this won't count toward the challenge budget unless I use it).
Hopefully rust repair will start this weekend. We are going to get creative with our reuse of some metal we cut out of the car in other areas to use as patch panels. Saves money (and the environment. We are being green
)
9/22/2009
Well the project is being pushed to 2010 and $2010 Challenge. Not because I need the extra dollar but some other things came up and have pushed things back. I might have been able to finish it but it wouldn't be to the quality that I want.
I also got a couple ideas of some unique things to do that I should have more time to do now.
PRESENT
That basically brings us to now. Not much has happened on the car over the winter (really wish my garage was heated). Racing season is just starting, and the the "real" race cars are all set and ready to go so the work can start on the Porscharu again.
I will keep everyone up to date as things go. Next weekend is the Porsche swap meet again, and I've already been bugging people for cheap or slightly damaged parts. The new goal is to be assembled and running by the end of July, do some testing, then tear it down for painting and detailing and have everything back together by the last week in September.
Member
Join Date: Jun 2008
Location: Scottsdale, AZ
Posts: 434
Mentioned: 0 Post(s)
That is such a neat contest that the magazine runs every year. I was a member of NASA (not the space one!) for some years and always enjoyed reading the exploits of those that enter.
GOOD LUCK!
I'll be rooting for you.
---
John in AZ
'08 Versys
'11 Victory Cross Roads

To view links or images in signatures your post count must be 0 or greater. You currently have 0 posts.

Well its been a while but I'm finally back in full swing working on the 914. Over the past week I have gotten some tubing, sheet metal, and have started fixing the rust in the engine compartment (hell hole). I also remembered that I still needed to get the heads that were owed to me and should be picking them up in the coming week (whenever I get down that way again) so I can send the cams out to be reground.
The last weekend of April I went to the Porsche swap meet in Hershey again, and this time walked away with free (with one stipulation) shocks.
The rears were given to another forum member, so he passed them on to me. The fronts were for sale, but I was told if no one bought them by the end of the day I could have them for a beer. I wasnt' going to dinner with the group so I asked what he wanted for them, and he said if I put his
art company's
sticker on the car, and sent him a picture that would be good. So the front's cost me a sticker, and taking a picture.
5/6/2010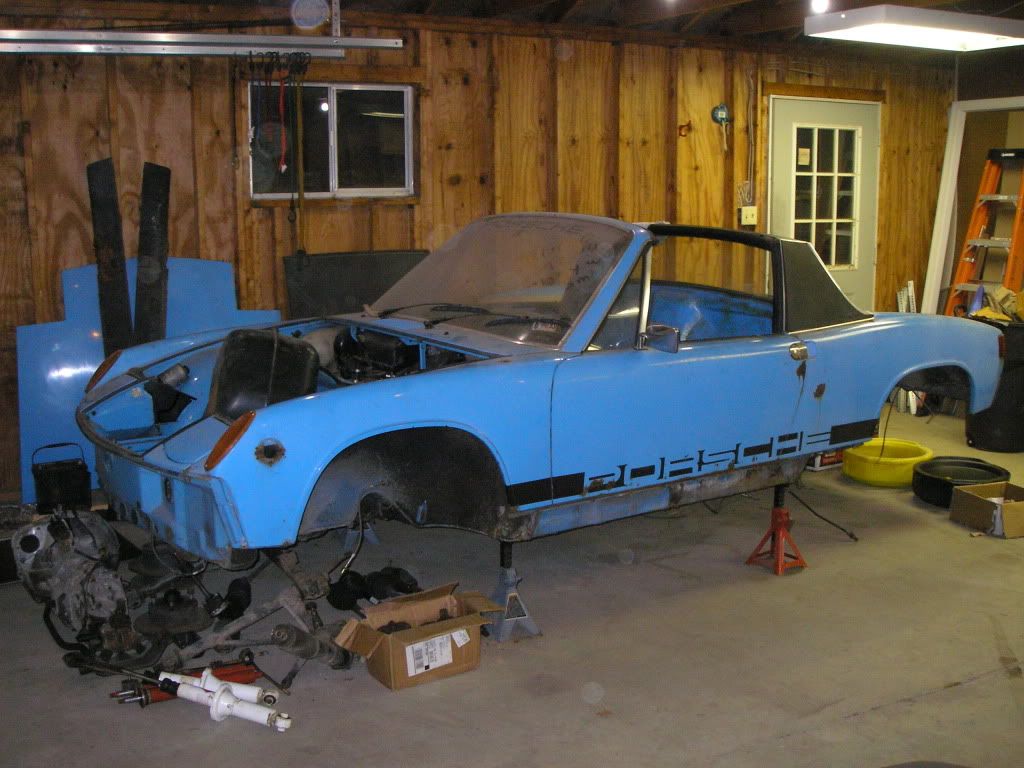 Took the rockers off, and about 2-3 pounds of dirt and rust came out.
The "Hell hole"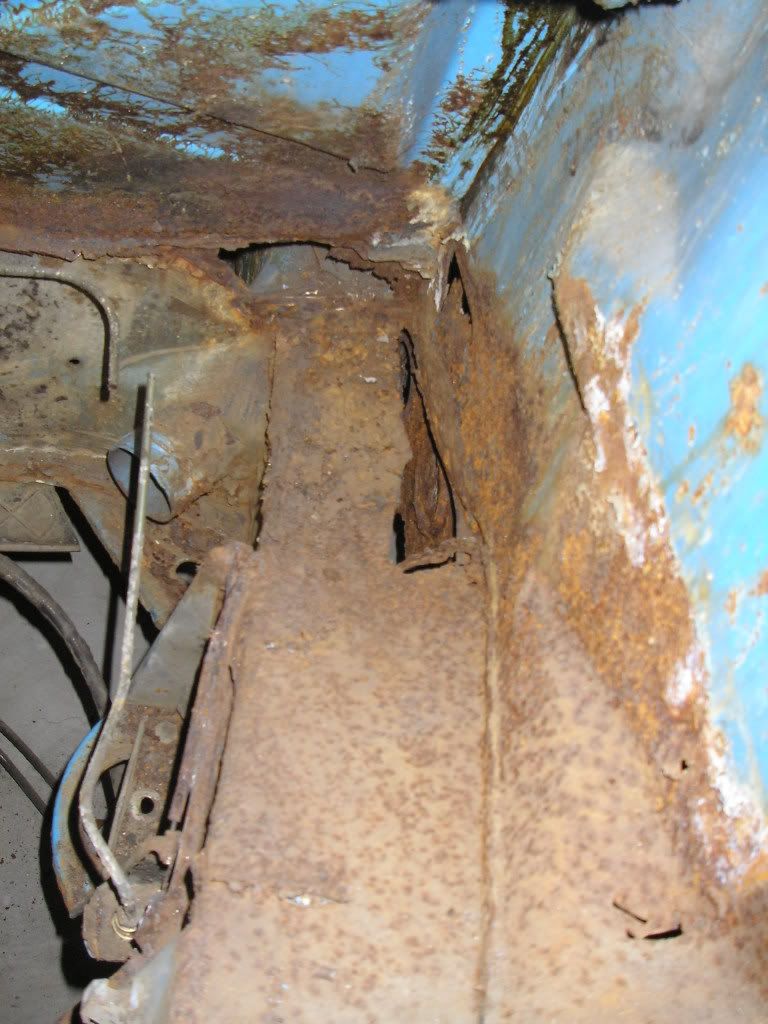 Free Shocks
Tubing for bracing and engine/tranny mounts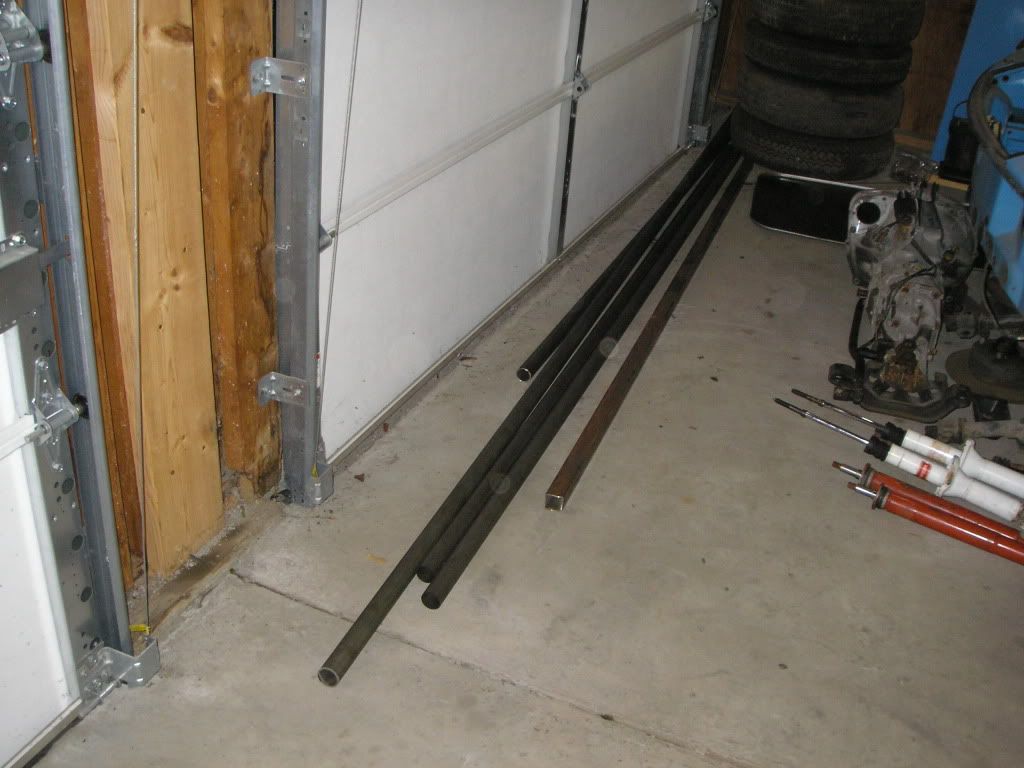 5/8/2010
Rusted through metal has been removed, need to clean up and weld in the patch panels (My welder crapped out. I am trying to find a part, but if I can't the el cheapo, no-name will be going, and replaced with a new Miller or Lincoln.) This isn't going to be a concours correct car, but all the gaps should be filled in.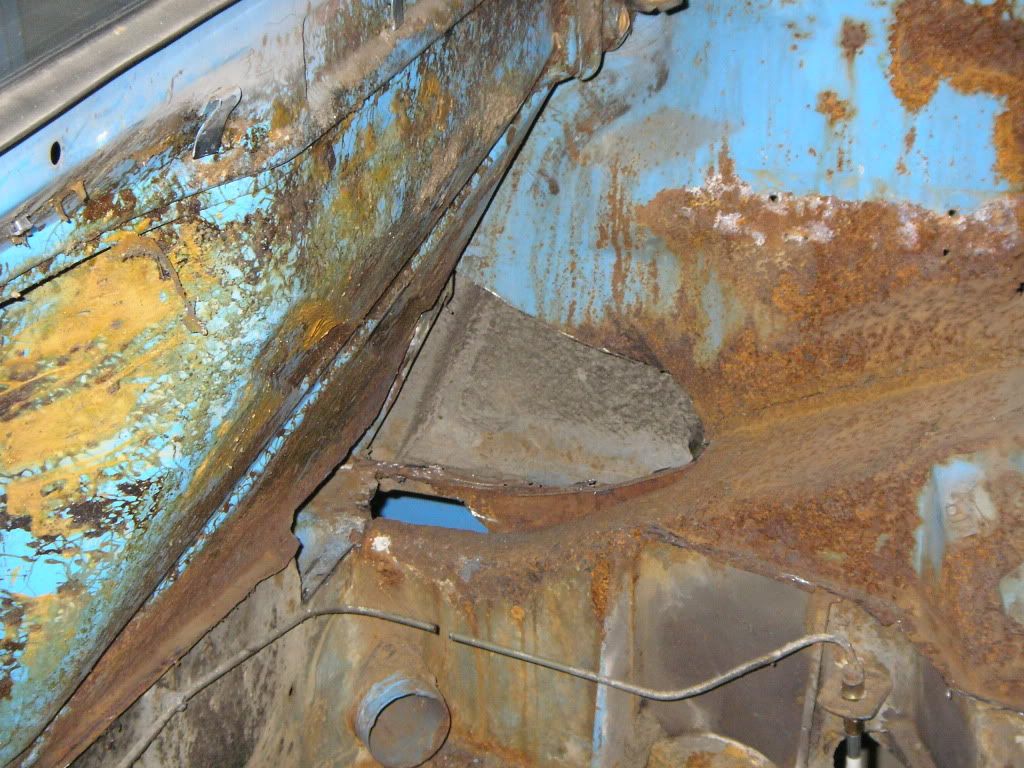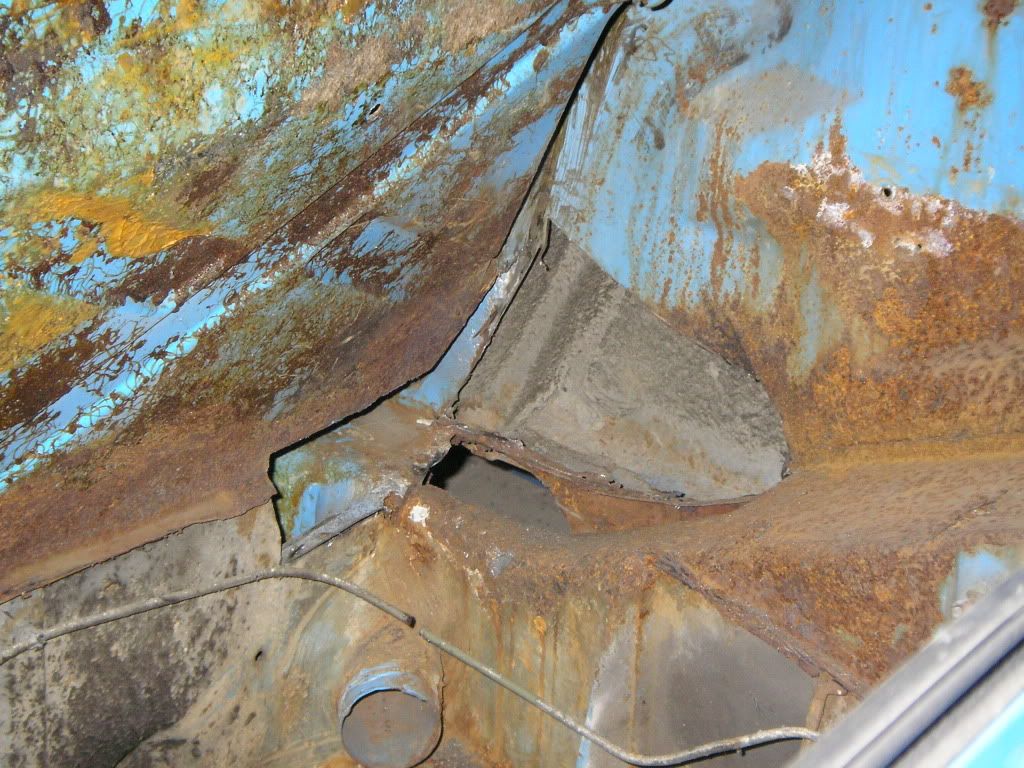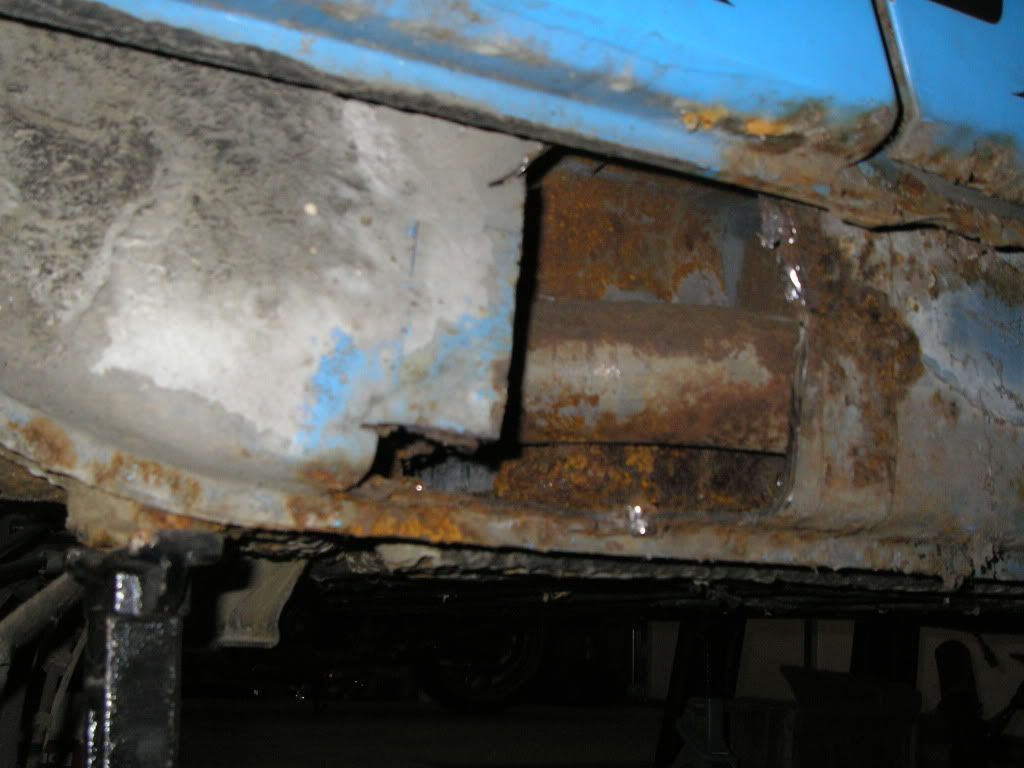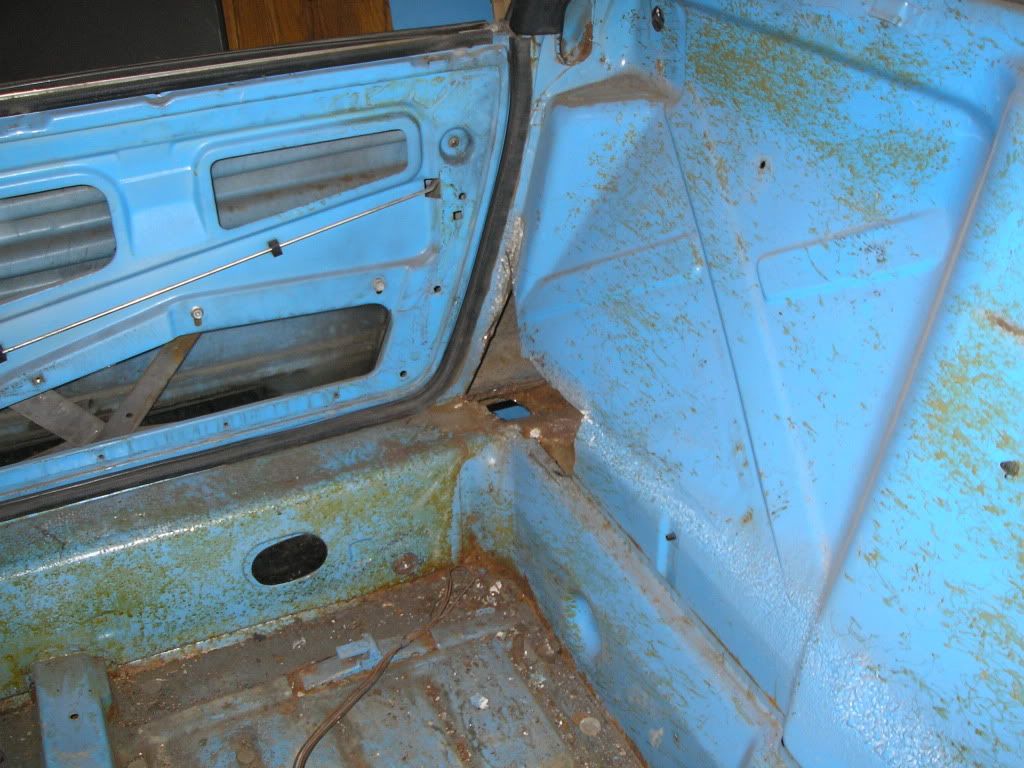 Also started taking the dash apart. Want to get rid of some unneeded electrics (hey, it's all extra weight at this point), and take the dash pad off to remove the cracked vinyl.
Also took out all the HVAC stuff. You would be suprised how much that stuff weighs. Might put just the defrost back in if time/budget allows.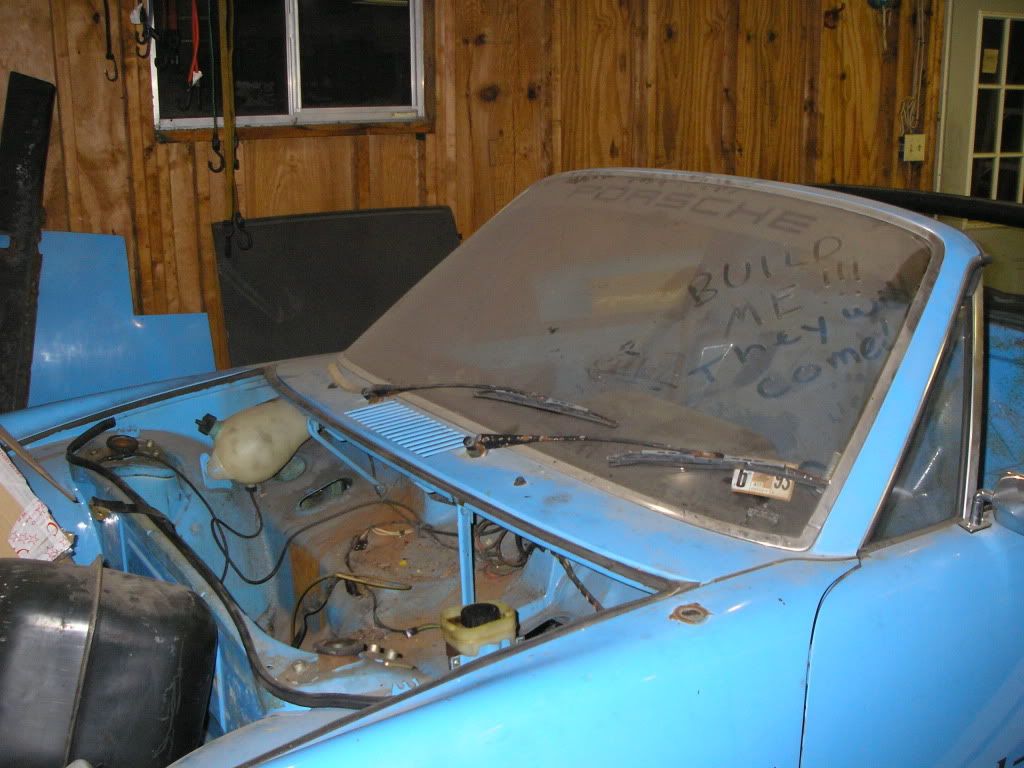 ---
To view links or images in signatures your post count must be 0 or greater. You currently have 0 posts.