Installing OEM sidecases on 2010 V
---
Hi All,

Recently bought a 2010 Versys (with a mere 715 miles on it). I picked up a set of OEM 35L sidecases and the racks.

The racks (Kawasaki Part No. 017BRU-0033) come with two sheets of what are to me unintelligible instructions.

Would anyone who has installed these mind giving a few pointers, such as, where you mount the tail lights after you've removed them? A step-by-step instruction sheet would have been great, but I haven't been able to run down anything like that.

Thanks!
These are the Givi instructions, they make the bracket for Kawasaki. Hopefully they'll get you on you way.
http://static.twisted-throttle.net/m...0.1.plr450.pdf
I'd look to see if they are close to what you have. Take your time and lay everything out will make it easier to find parts.
To bad I had to move I use to live right up the road in Angola.
And Welcome to the board.
---
Or was that look THEN leap?
To view links or images in signatures your post count must be 0 or greater. You currently have 0 posts.


2012 650 Versys
---
Last edited by Time; 04-21-2014 at

05:03 PM

.
Stock Kawasaki Sidecases are based on Givi V35 cases.
From what I understand the side racks are curved and so you don't need to move the rear blinkers. (mine were preinstalled by Kawasaki as a Versys Touring model.)
If the sidecase and rack mounting is flat sided (like in the PDF linked above) then you will have to relocate the blinkers.
Thanks guys. The racks I have are definitely curved, and appear to look just like the photo above, not the pdf from Twisted Throttle. Here is a link to the instructions that came with the racks:
http://kawasaki.com/Site/kawasaki/te...017BRU0033.pdf
Gigitt, if you have a couple more photos from different angles, that'd be awesome.
---
Last edited by Rand; 04-22-2014 at

08:09 AM

.
I can get some more pics tomorrow - it's 11pm now.
The PDF you posted above is what I have as side racks.
I can see where you are confused on 2nd page where they say remove and the picture is of the underside of the rear fender and there is a y bracket and indicators. My indicators are definitely not removed... maybe you have to remove the Y Bracket from under the fender as you ADD a rear Brace across the back.
So basic instructions are:
Undo rear side handles from bike
Take apart the rear handle plastic covers and pu them onto the side rack handles using the original screws.
(take the Y bracket out from under the rear fender, remove indicators) ???
Bolt the side frame and rear brace to bike using bolts at top near handles, rear foot rest and rear brace.
Ok... here is link to Australian Part:
http://www.kawasaki.com.au/accessori...section=models
it says and in Bold is what I am confused about :
----
Rigid, seamless drawn precision tubular steel with black powder-coating.
Replacement elements for rear indicators
. Bracket incorporates passenger hand grips. (TOPCASE AND PANNIERS CAN NOT BE COMBINED).
Part Number: 017BRU0033
-----
so does that mean you should be supplied with replacement indicators to suit the frame? I dunno.
My indicators look stock. the lens are the same as what is on the front of the bike.
---
Last edited by Gigitt; 04-22-2014 at

08:18 AM

.
...yes, a bit confusing. There are two black plastic grommets for plugging the holes where the signals are currently mounted. Maybe these are the "elements" referenced in the Australian parts link. Thanks for any photos you can post when it's a decent hour for you!
Member
Join Date: Aug 2013
Posts: 237
Mentioned: 0 Post(s)
I got confused too with why they wanted me to remove the blinkers. I left them where they were as I felt they took up some of the emptiness on the inner sides of the cases. Plus is looks like the curve was designed for that. I guess your supposed to mount them high for better visibility, but I liked them were they were. The directions on that y bracket confused me as well. I left it were it was and just mounted the cross bracket right through the tail tidy and into the base of the y bracket.
---
Last edited by ZX6RTraded; 04-22-2014 at

09:02 AM

.
Ok... here are some more pictures:
Side Close up: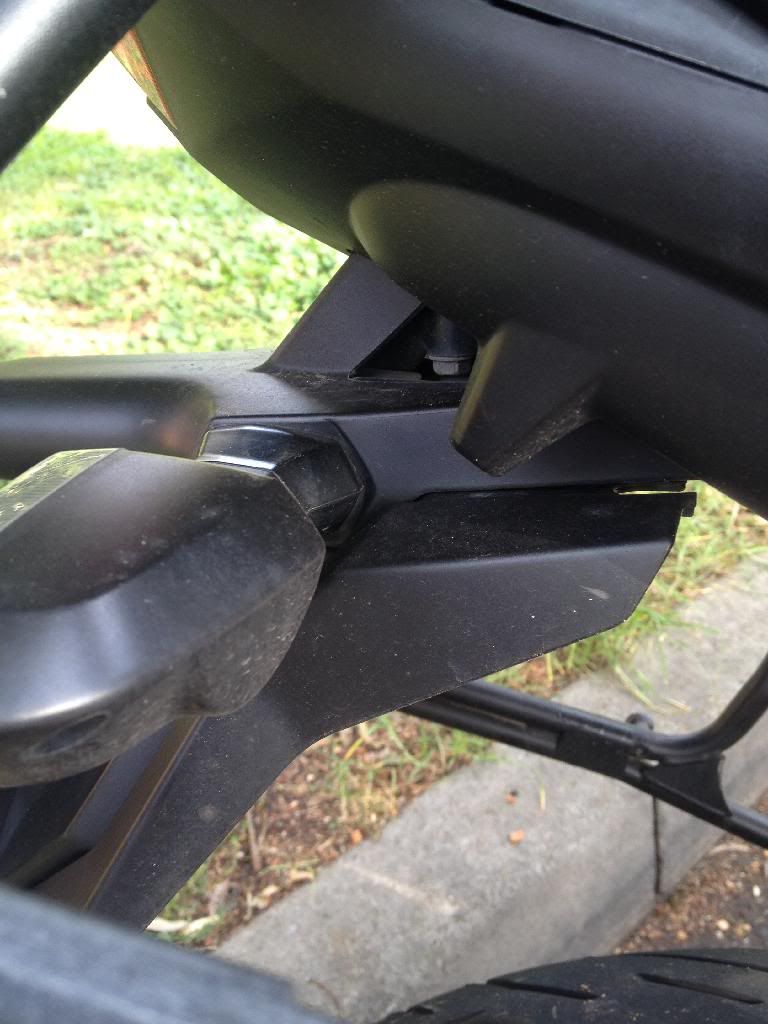 Up underneath:
Up Underneath close up: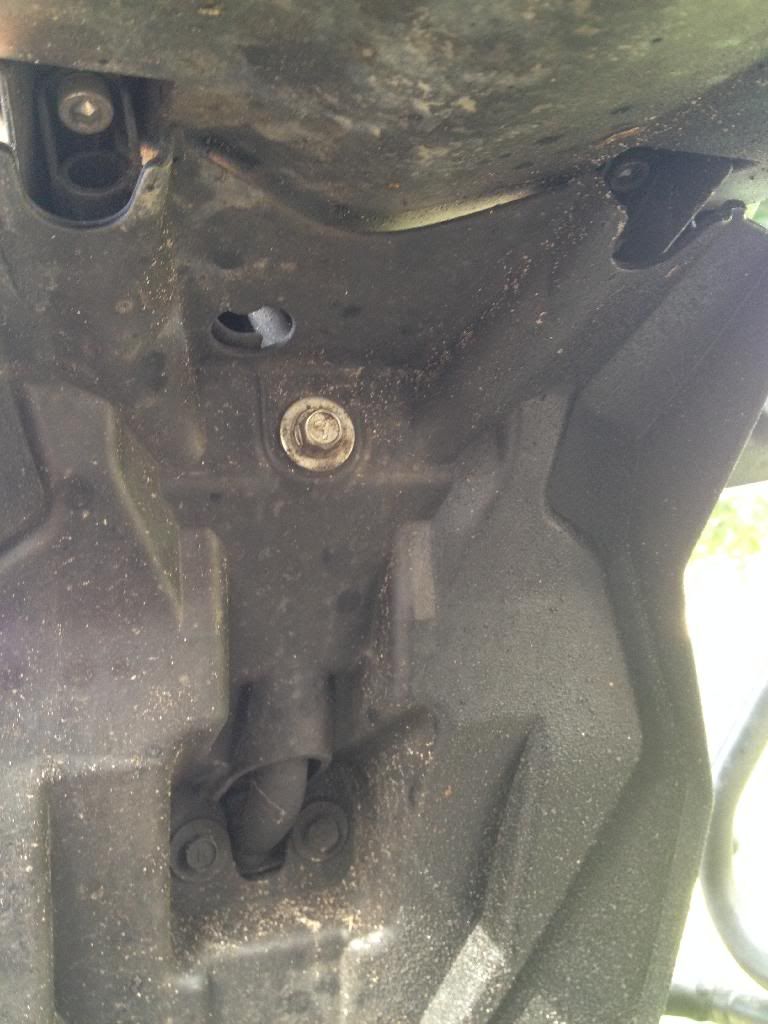 Now it looks like the rear fender is only held on by the number plate bolts attached to the panier frame rear cross bar and the single bolt up high.
Thanks a ton. I'll let you know how it turns out. This weekend is booked, so I won't be able to get to this project until May.
By the looks of things the OEM Kawasaki racks don't need indicator relocation, but if you buy a Givi V35 rack set you do... they mount differently, use the stock hand rails, have different rear bar, and include indicator relocation kit.

You win some you loose some.
OEM you get a nice neat solution with built in Handle Bars - but you cannot ever install a top box!
Go Givi and you get to relocate your indicators and keep your hand rails and have options to install a top box.