Join Date: Sep 2009
Posts: 2
Mentioned: 0 Post(s)
New Versys in central PA
---
I have been lurking for a few weeks, learning about the Versys. Picked up a blue '09 a week ago, and have put almost 300 miles on it since then. Added a GPS and am working on some bags. There is a problem with the Givi racks, some of the pieces aren't bent! The new turn signal brackets are perfectly flat, not bent like in the pictures. Working with Givi to get some new ones...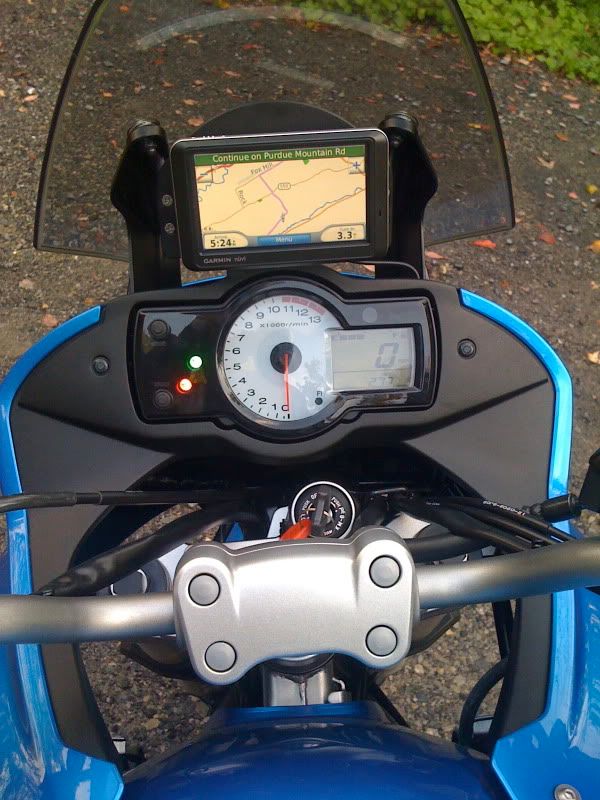 Did my first oil change today too. Earlier than recommended, but the color in the little window was looking a little dark for my taste.
Congrats! What GPS and mount do you have?
---
Matt
2012 Versys, Vario ws, Barkbuster Storms, lowering blocks, flatfoot, Zumo GPS, Givi soft side bags, Axio tail bag, Wolfman Express tank bag
Where are you located? I'm in Bellwood, bought my Versys at Kissell in State College.
Greetings, that road looks like A great place to ride.
Join Date: Sep 2009
Posts: 2
Mentioned: 0 Post(s)
brokenhat - GPS is a Garmin 780. It is the only one I have had, so it is hard to give a review. Seems pretty nice, but has some quirks. The mount is Speedy's, with velcro. Mini USB charger wired into the switch.

Bear - Thanks!

Spackler - I am in State College. Got mine at Kissell as well. I was there to look at a used BMW, and ended up with the Versys.

glowcat13 - Thanks! I wanted to go on a longer ride today, but it just would not stop raining. One of the nice things about central PA is there are great roads right near my house.
Welcome cjemmott! Bike looks great. Good luck with the racks. I'm in NEPA. If it works out, I'd like to get a PA ride together before the really nasty weather gets here. If not, early next spring. Enjoy!
Hopefully next spring I will have mine as well
Congrats on the new bike.
Welcome and congrats on the new V! I have some family around State College, I need to get up there sometime and visit. Hmmmm, sounds like a road trip!