Hello from S.E. Tennessee
---
I've been lurking here off & on for about a year. Ever since I saw Mountainrider's Versys and heard him proclaim it's the best bike he ever owned, I've been wanting one. When they came out with the Green this year, I could no longer resist. I bought a new one off ebay from J & J motors in Ohio. I had purchased a FJR from them in 2007 so I knew they were a reputable dealer. I am vertically challenged (5' 0"), so I ordered Speedy's lowering kit and it was here before I even picked the bike up! I've cut most all the foam out of the seat and hope to get a gel seat in the near future. I've had the bike a week and only have 200+ miles on it, and like it so far. I have to get used to the lightness of it compared to my other 2 bikes, a ZRX 1000 and a Honda Valkyrie. I am impressed by the power of the Versys since it is only a 650. The only thing that worries me is that it handles so good that it might take the curves faster than my mind can work.
I did a couple of track days on my ZRX and am thinking I may need to do the same with the Versys to learn to trust it.
Here's a pic Mountainrider took up on the skyway: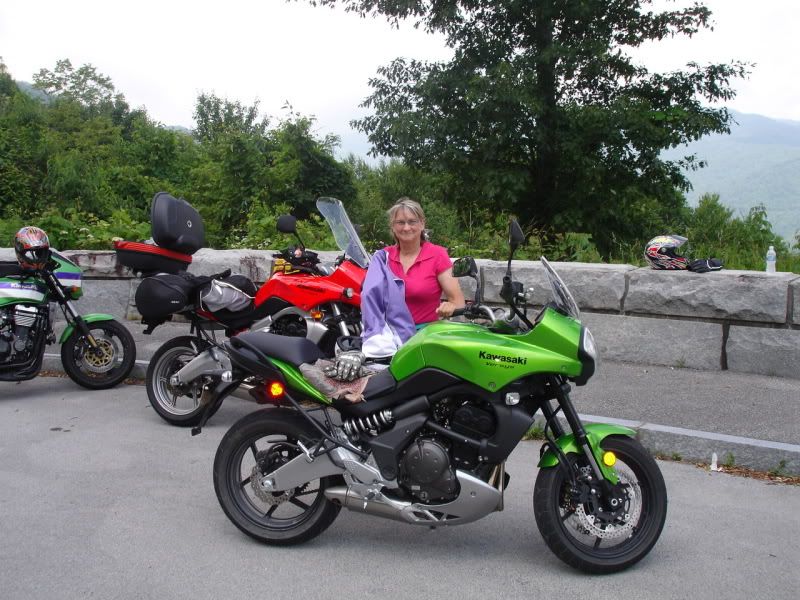 Welcome to the forum! Nice ride!!




Welcome TNT.

I live up in Maryville and also have a ZRX. The Versys is a blast thru the Gap!

Let me know if you're coming up this way and we'll hook up for a ride sometime.

Dan