The Versys has finally landed
---
After much deliberation I came to a conclusion. I did not like my current bike (07 yamaha fz-1). Amazing bike. Great power, brakes, handling, and looks but i just never "connected" with it. Sold it.
Before I sold it I knew what I wanted. I quickly found a clean low mile example and took a trip to pick it up. Cash in hand and a smile on my face, I was off to Charlotte, NC from Virginia beach, va area to pick up my new (to me) bike. On the way there I realized that I'm going to need some time to get "connected" with her so I decided to run up the mountains in North Carolina before heading across Virginia to get home.
Without further adieu here she is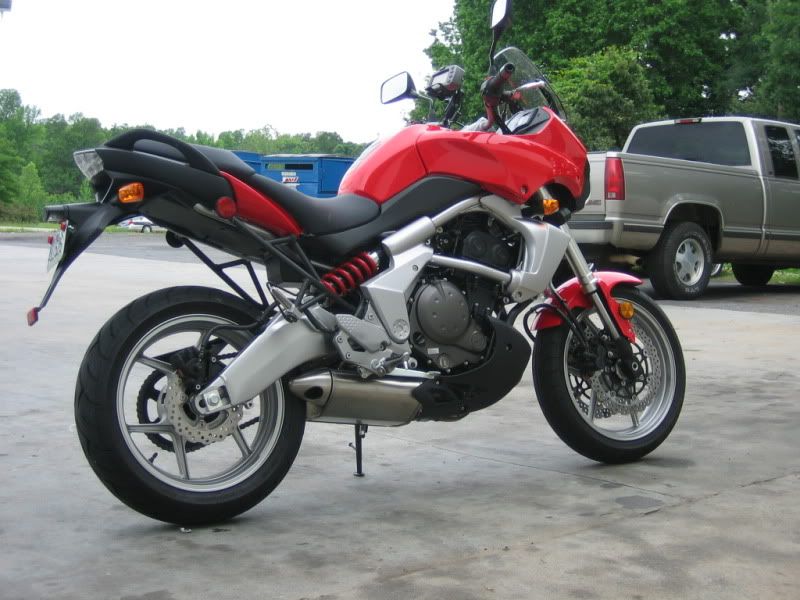 This thing just makes me want to have fun. From powerslides in gravel to jumping side walk curbs this thing has a mind of its own!
Here's a couple of pics from my lengthened ride home.
Don't you just hate it when the lines are all squiggly like that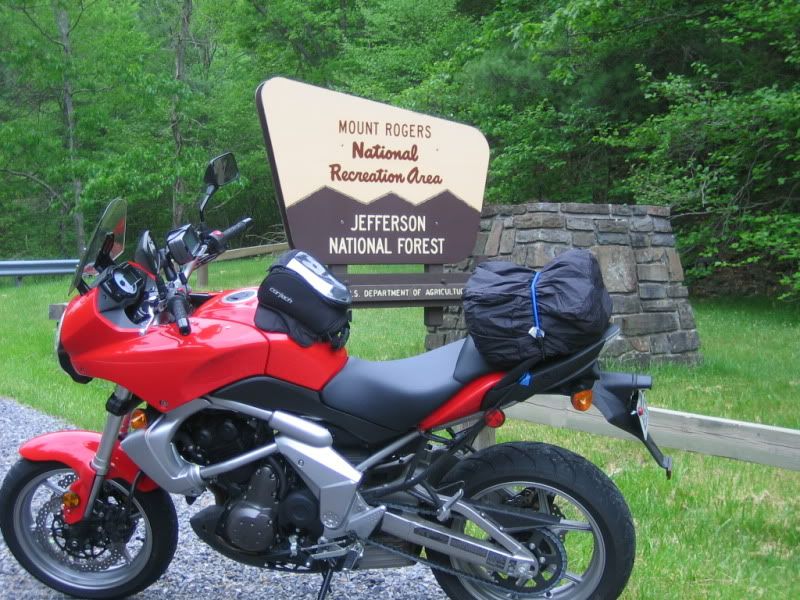 Last one
After 700 miles in a day in a half I can safely conclude that this bike will be around for a while. the grin factor far exceeds the fz-1 and its mighty 130ish horsepower. For a "little" 650 twin the torque and power delivery is impressive and unexpected. Certainly well received!
Only negatives I have is the vibration through the foot pegs and bars. My feet were tingling every gas stop (normal?).I think I'll start by loosening the engine mount bolts and tightening to spec. Any ideas on the foot peg buzz?
Anyhow, I'm pumped with the bike and looking forward to spending some time on this great forum. Please don't post any info on luggage or a powercommander because I may just have to immediately buy them
Member
Join Date: Dec 2008
Location: Bukit Mertajam,Penang,Malaysia
Posts: 3,187
Mentioned: 0 Post(s)
Congrats on your new ride!
Nice scenery
Keep cool
and
When I made the change to full synthetic oil alot of the vibration lessened and the shifting was quite a bit smoother. the best deal on oil that I have found is using, dare I say it, Suzuki Racing Oil. At $8.00 a qt it's alot less than Motul or its peers. And it meets all the motorcycle specs.
---
Japanese scientists have created a camera with such a fast shutter speed they now can photograph a woman with her mouth shut.
What! suzuki!? Ahhh..!
Actually I have been using, dare I say it, shell rotella products.
Just as a two day update: I just ordered givi side racks and some little e21's. Really wanted the plx cases but i think the e21 will suffice. I just need to get out of soft luggage. they really become an inconvenience quickly.
I also have the powercommander up on a screen just about ready to go. Just a little hesitation about if these have any long term effects on motor (assuming it's mapped correctly). I hope not because I'm on my last shred of reservation here!
You beat me to it. I was looking at buying this bike but it took me a bit longer than anticipated to sell my Kawi ZX6R, which I finally sold today. So I too will be looking for a Versys now. Looks like you got a great deal. Very clean bike. The first thing I'll do to my Versys when I get it is to also add some Givi racks and E21's. The seem like the perfect size; not too big and not too small. Post some pics up when you get them mounted.
Member
Join Date: May 2008
Location: Nashville, NC
Posts: 64
Mentioned: 0 Post(s)
Nice bike! Where did you get the gps mount? I'm looking for one for my V.