Lake District ride 17th July 2010
---
went for a ride with the Versys.co.uk mob. weather wasn't good for photos, wasn't as bad as Washington/Oregon/NorCal in May/June, but thats another story
basic plan was to meet up at Devils Bridge, Kirkby Longsdale and head clockwise round the Lake District
http://maps.google.co.uk/maps?f=d&so....348083&num=10
6 of us made it to Charnock Richard services on the M6. before blasting through the moors in the Trough of Bowland
Clunky's (black), Stev1der (orange), Mine (orange), Dazzle's White Tiger, Neilo's ZZR and Jool's (orange) Versys's
got to Devils brdige to find the North East Versys massive had arrived already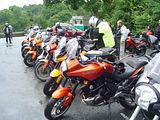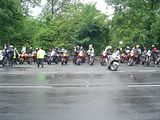 14 of the 15 Versys's lined up at DB
line up at Boot (terminus of Eskdale/Ravenglass light railway)
series of shots at the other terminus of the Railway at Ravengalss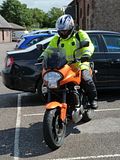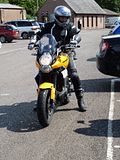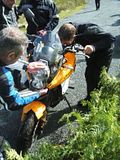 sadly one of the 2010 Yellow Versys's had an off coming down from Honister pass
some video's taken by Steve1der
CORNEY FELL
DINNER STOP, NOT!
met up with Dilbert at Kewsick on his 2009 stealth black.. so stealthy you cant see it in these pictures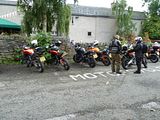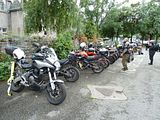 about 320 miles all told, 120 in the lake district and another 200 miles or so transit
was great to see so many Versys's all at once, and in such a range of colours
---
Last edited by healdem; 07-20-2010 at

04:15 PM

.
Super Moderator
I suppose every colour there thinks they are as fast as the orange ones.
Quote:
I suppose every colour there thinks they are as fast as the orange ones.
some people carry their delusions to the grave
Super Moderator
Apart from the colour joke it must of been great to have so many V's in one spot. I have done 12,000km on mine and not run into one apart from the owner of my local bike shop who takes the green 09 demo everywhere.
yeah the previous best turnout was IIRC 12 or 13 at the North Yorks ride last year, we've had quite a few around 6..9 or so.

great to meet up with a diverse bunch of people who seemingly had just the Versys in common. interesting day out, interesting group, and aside from the 'off' coming down from Honister pass a great day out.
Super Moderator
Was the yellow ABS, the 2010 yellow over here is ABS and the black non ABS
ABS is an option on both 2010 colourways in the EU
IIRC Andy's bike didn't have ABS.
Super Moderator
Its a extra $1000 NZ for ABS
Member
Join Date: Nov 2009
Location: Rothbury, UK
Posts: 20
Mentioned: 0 Post(s)
As Healdem has already said, a great day out and so good to meet like minded guys....shame about Andy`s off, but he was ok (apart from damaged pride) and he did manage to ride home.....it could have been so much worse.
Looking forward to the next one !
---
09 V in Black.
07 Duc Hypermotard `S`.... Leo V exhaust, modded air box & Ducati Perf Race ECU

"The older I get, the faster I was!"
Member
Join Date: Jun 2008
Location: Hillsburrito
Posts: 1,018
Mentioned: 0 Post(s)
Nice pics, healdem. Unfortunately, not all of them seem to come up,
What's with the Oregon weather you had on those section Steve filmed? I thought you had left that behind here?
Gustavo
---
To view links or images in signatures your post count must be 0 or greater. You currently have 0 posts.
Posting Rules

You may not post new threads

You may not post replies

You may not post attachments

You may not edit your posts

---

HTML code is Off

---