BigTrip2010-A Soggy Story from Saskatoon to the San Juans
---
Day 1
After all the fun we've had the last two years, Hammy and I just couldn't wait to start this year's "Big Trip". So, we scheduled it almost two months earlier than normal and hit the road aiming for the San Juan Islands.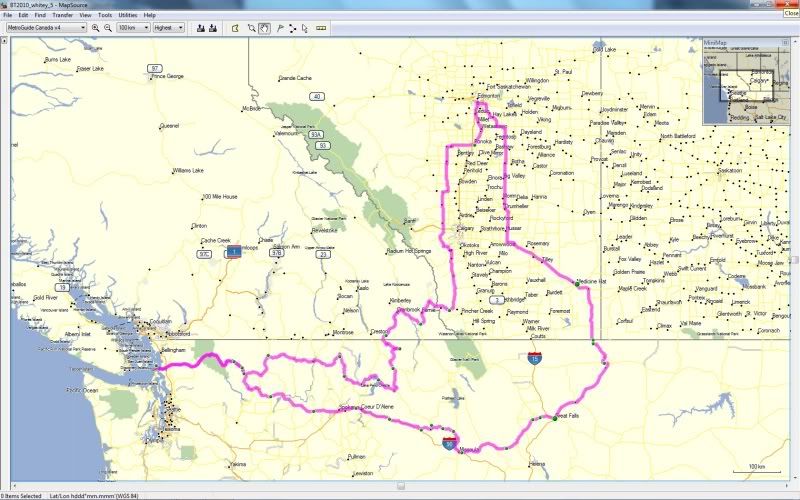 For the last two years, Hammy always made a solo run from his home in Saskatoon to my place in Edmonton, where we would start the trip together. It never really seemed fair that he essentially had to take two days more than me to do these trips (a day to get to Edmonton then another at the end getting back to Saskatoon). So this year we decided to meet in the middle…kind of.
We had been graciously offered a backyard to camp in from a fellow Alberta Adventure rider (Spokes81) who lives in Medicine Hat. We took him up on his offer and each set our sights on meeting up in "The Hat" for the night of Day1.
Like a kid before Christmas, I didn't sleep very late. I think I was up before 6. I farted around the house a little bit, before kissing my wife goodbye and hitting the road. Most of my first day was pretty good. It was overcast, but no real rain. Just a great ride down hiway 21. I had the time, and it seemed like a pleasant alternative to the 6-lane nightmare that is the QE2. I was also on a mission and had a slight detour to make.
Another fellow Edmonton Strommer (Skinnifatkid) had introduced me to some incredible beef jerky from a place in Wainwright. It was so good we all started calling it crack-jerky. I bought a whole KG from him a week and a half before departure. I told him I was going to split it up into smaller portions and bring it on the trip. He kinda smiled and said "I bet you won't have a scrap left by the end of next week". "Naaaahhhh" I said. "This is a friggin kilo of jerky man. There's no way I'll eat it all before I leave". It did take me a little more than a week, but he called it. It was sooooooo good, I had eaten it all by departure day. ANYWAY….feeling guilty for eating all our beef jerky before we had even left, I heard that the same meat packing company that makes the crack-jerky, also has a facility in Mirror Alberta. It was kind of on my way, so I resolved to check it out.
I stopped at the general store to ask directions to the meat packers. The guy didn't speak English very well, but seemed to understand and pointed me to the north end of town. I found A meat packing place, but it was closed. As I was getting ready to roll out, the owner and his son rolled into the yard and explained they were closed on Fridays, and it wasn't the right place anyway. They didn't do any retail sales, just custom cutting jobs for the local ranchers/hunters.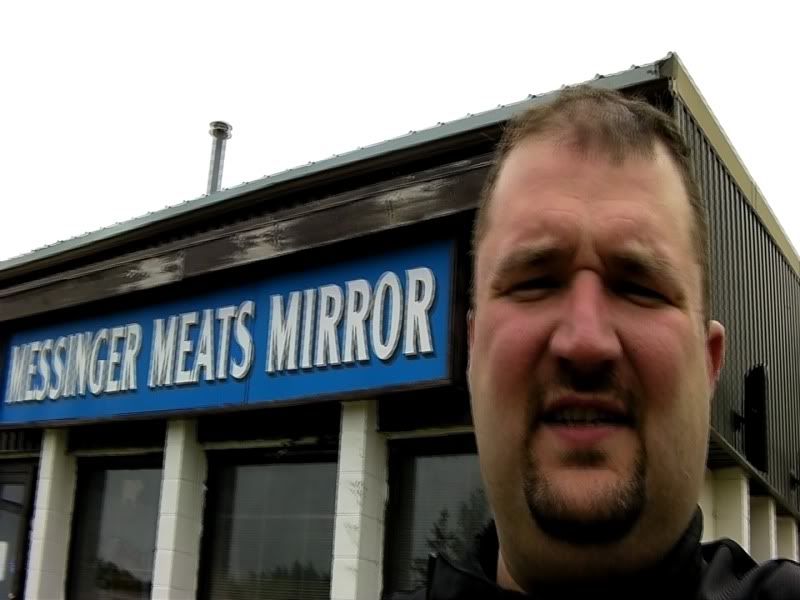 The only thing left on the agenda for the day was to meet Hammy in Medicine Hat, so that's what I set out to do. I stopped for gas in Drumheller and received a text from Hammy.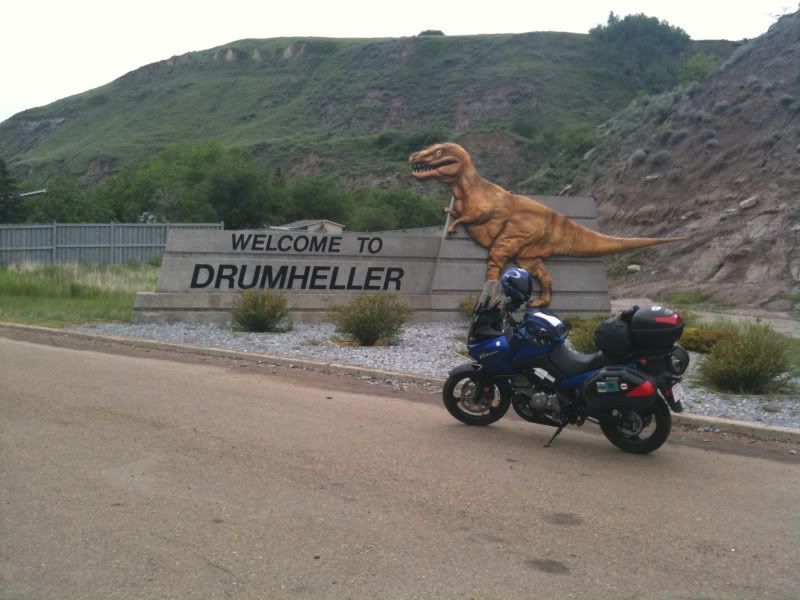 He was going to be late as the TransCanada highway had been washed away just over the Saskatchewan border. He had been detoured about 30 mins out of his way, but was back on track. This would prove to be a bit of an indication of things to come. The area we were coming into can best be described as almost-desert. They had gotten record amounts of rain over the last several days and land just couldn't handle it. My phone buzzed again and it was a message from my brother. He was letting us know several flood advisories were in effect for the region we were in and warned us not to camp anywhere near the rivers.
I pushed on to Medicine Hat never seeing anymore than a light sprinkle, but it was obvious the area had recently seen some serious rain. Hammy arrived at our rendezvous Timmys about 30 mins after me, and we sat down for a coffee.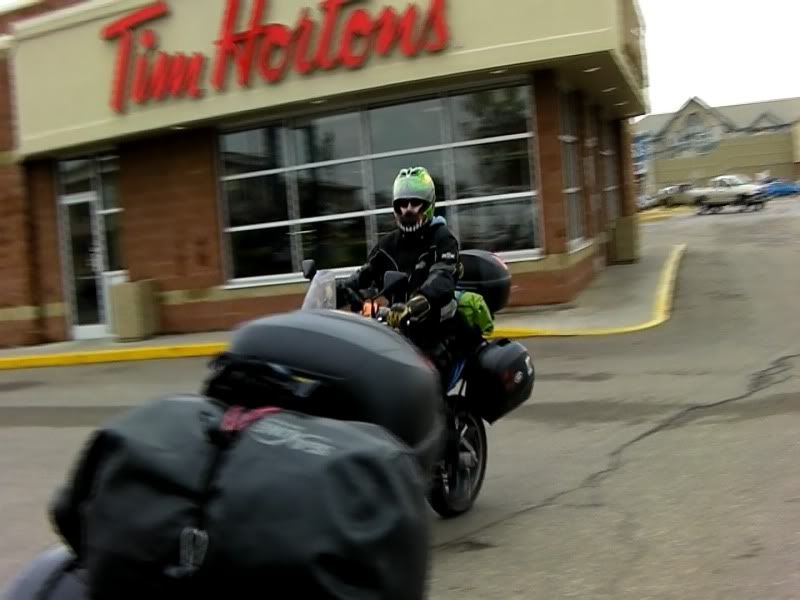 We made our way over to Spokes81's place where we setup camp in his backyard. He and his beautiful wife treated us to a delicious supper of BBQ burgers and beer, and introduced us to his lovely neighbor, who offered us use of her firepit that evening. After supper the neighbor and Mrs. Spokes went off to the bar, while Spokes81, Hammy and I sat around the fire drinking rum and talking about bikes. Good stuff.
The evening wore on, and Spokes got a call that the ladies were on their way home from the bar. He looked at us and said…"alright boys. Decision time". He explained that if we were all up and around the fire when the girls got home, who knows what would happen, so if we wanted sleep, we should make ourselves scarce. I think all three of us decided we would skin out before they got back, but for whatever reason we were all still around when the cars started pulling up.
It seemed they had made some friends at the bar and invited them all back. The new friends consisted of about a half dozen British and Scottish soldiers who were on leave from training at Suffield. Immediately Hammy and I began making new friends. These guys were a riot. Well most of them were….one was mostly unconscious. One of our new Scottish buddies, Gordy, had us laughing all night. He couldn't remember my name, so just started calling me Clark (due to the Superman shirt I was wearing).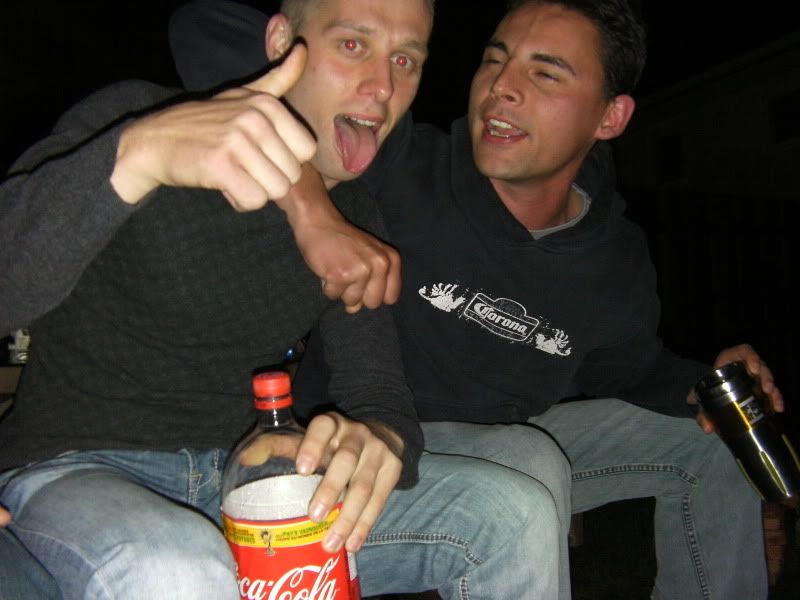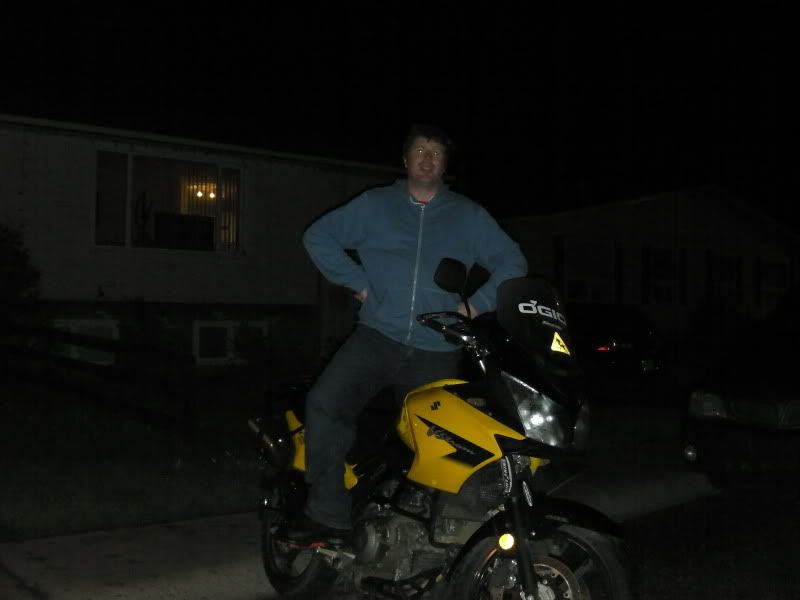 Eventually my age caught up with me, and I just couldn't keep up with these young whippersnappers (except for the unconscious guy), so staggered back to Spokes' backyard and crashed out in my tent. We were only in the next yard, so we could hear the party continue for the next several hours. We even heard the cops come and shut it down at about 5am. Between the party, the cops and Hammys snoring, I got about 2 hours sleep.
Whitey Jr
Member
Join Date: May 2010
Location: Charlotte, NC
Posts: 8
Mentioned: 0 Post(s)
Looking forward to your new edited videos
Looks like fun filled trip. enjoy and safe ride.
Super Moderator
Join Date: Jul 2008
Location: Kelowna, BC - summer; Florence, AZ - winter
Posts: 17,803
Mentioned: 29 Post(s)
I take it that you are the "Whitey Jr" from ADSMC???
---
Ed
To view links or images in signatures your post count must be 0 or greater. You currently have 0 posts.


'08 V AZ, '15 V650LT BC
Ride to D2D 2013, June '13

To view links or images in signatures your post count must be 0 or greater. You currently have 0 posts.


Ride to D2D 2015, June '15

To view links or images in signatures your post count must be 0 or greater. You currently have 0 posts.


Ride to D2D 2016, June '16

To view links or images in signatures your post count must be 0 or greater. You currently have 0 posts.

Quote:
Originally Posted by
fasteddiecopeman
View Post
I take it that you are the "Whitey Jr" from ADSMC???
That's me!!
-Whitey Jr
Day 2
It had rained overnight, so we had wet tents to pack up, but we were at the start of the trip so our spirits were high.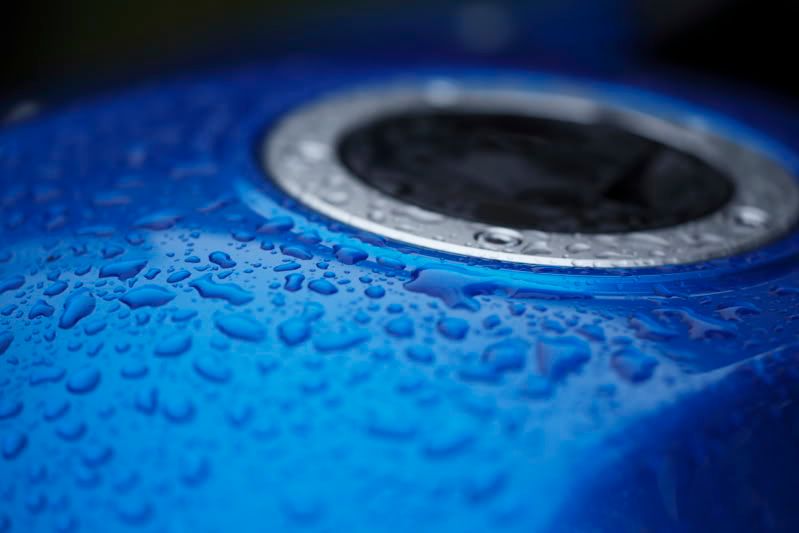 We learned the night before that the road to our planned border crossing at Wild Horse had been washed-out, so we set out for the crossing just to the west at Aiden. About 30kms from the border the road turns to gravel, and this gravel was not meant to hold the amount of rain that had fallen over the last few days. That being said, they were still good Canadian gravel roads and aside from being a bit loose, they were still very rideable. That would soon change.
We rolled up to the border crossing, and let me tell you this is one remote crossing. Aside from the two customs buildings, there's not a structure to be seen for miles. The US Customs lady seemed very surprised to see two bikes out on the roads. So surprised in fact that I think she was a little suspicious.
She grilled us for a good 15 minutes asking things like how we met, and how we're friends despite living in different Provinces. We had nothing to hide so answered ALL of her questions happily and thoroughly. She eventually let us through warning us of the treacherous road conditions ahead. She said the roads were so muddy she had problems staying on the road in her 4X4 on her way into work. We figured they couldn't be any worse than the ones we just came in on, so we dismissed her warnings and pushed on. Boy, were we wrong.
The gravel roads on the southern side of the border were not as well constructed as their Canadian counter-parts. There were large pools of standing water, gnarly ruts, and their consistency was very similar to snot. We didn't get more than 10kms from the border when my front wheel gummed up completely and seized up. I managed to hang on, and kept it on the rubber. But my front wheel would not turn. Not frontwards. Not backwards.
Using sticks, wads of grass, wrenches and our hands we eventually got enough mud/snot out of my front fender to allow it to turn. We had quite an audience while we sat in the mud sweating and swearing.
It was not turning freely however and as soon as I let off the gas, the bike would slow as though the front brake was on. We got to the nearest town and found that the remaining mud/snot/gravel stuck in my fender was rubbing two pretty serious grooves down my front tire (Metzelar Tourance). Not cool. We found the nearest car wash and must have spent $5 washing all the crap out of my fender. We got most of it off or loosened up, and for the next 10-15 kms my bike was throwing off huge dirt-turds. Hammy's Versys with the new Pirelli MT60s didn't miss a beat.
We had lost at least an hour cleaning off my tire both on the road, then again in town so we put the hammer down and pushed through Great Falls hoping to find a place to camp near Helena. We stocked up in town (rum, mix and beef jerky) and decided to hit the first camping place we found on our way out of town. We hit a State Park near the edge of town but it wasn't that kind of State Park. Day use only. So we left Helena heading west into the mountains. We rode for about 50kms without seeing a single campground and were minutes away from just finding a nice little spot off one of the back roads when we came across a bare-bones campground at the summit of the MacDonald Pass. The skies were grey, but it seemed like we had already ridden through most of the rain, so we got to setting up camp. I insisted Hammy camp FAR away from me, as his snoring accounted for at least half of the sleep I lost the night before (too-much rum accounting for the other half). Hammy was probably 30 yards away from me, clearing a spot for his tent when I hear him yell a profanity at the top of his lungs. It turned out that in his enthusiasm to clear the sticks and stones from his spot, his wedding ring came off his finger and had been flung across the camp. In a panic, Hammy goes down on all fours and starts frantically searching the area he thought it landed. I did the same and soon both of us were crawling around our camp on all fours with our headlamps on. We must have speant at least an hour like that before I felt we needed to finish setting up camp in case the rain rolled back in. I finished up camp while Hammy took a scientific approach to ring-finding. He set up a rough grid, and stuck little twigs in the ground of the squares he had already checked.
His incredibly Vulcan mindset won the day and the ring was found and put away somewhere safe. It was pretty late by this time and we hadn't eaten a thing since escaping the snot roads of northern Montana. So we did something never before done on a "Big Trip". We skipped the bottle of rum. I know, I know...... it sounds made-up, but I swear it's true. Hammy was still emotionally drained from his ring panic and I could barely keep my eyes open after my 2-hour beauty sleep the night before. We set up the rest of camp and got down to boiling up supper, transferring files, and trying building a fire.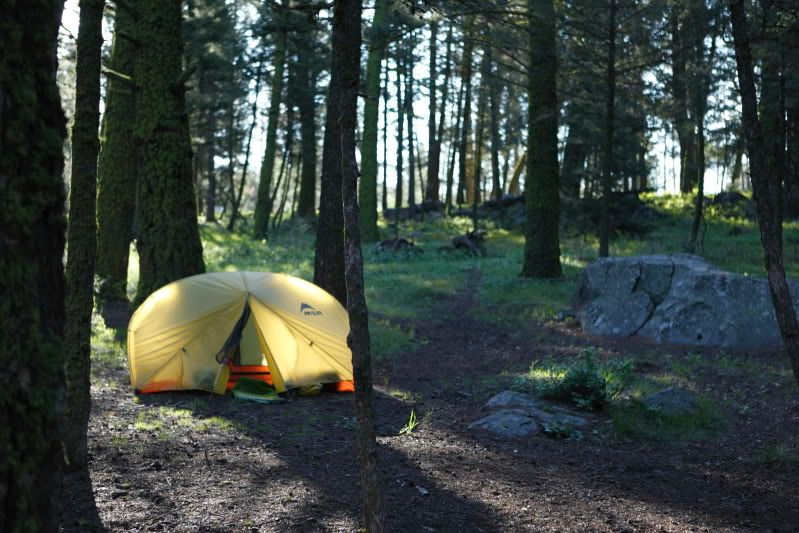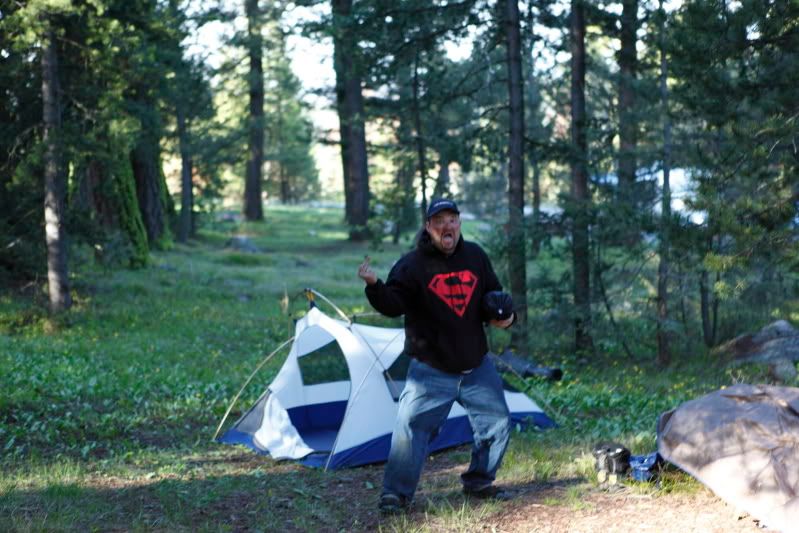 We had a lumberjack neighbor (no, really) named John (Big Bad John) who was real friendly and broke out his mini chain saw to cut us some wood, and even brought a shovel of burning embers from his fire to help us with ours.
He was a great guy, and his friendliness and generosity would come to characterize the rest of our experiences in Montana. We boiled up supper, had some beef jerky (with water), and retired for the night.
Whitey Jr
Day 3
We woke to find that it had rained overnight, (but had since stopped) and we could see blue sky to the west. We broke down camp and headed down the highway. We found a GREAT little roadside diner called the Avon Cafe. This place was great. It's run by locals, pretty small, decorated with art from the local artists and the food is AMAZING!! Predictably I got my old favorite (bacon and eggs), while Hammy decided to take full advantage of the slight cultural differences between our two great lands and ordered Sausage, biscuits and gravy. As I said before the food was AMAZING!!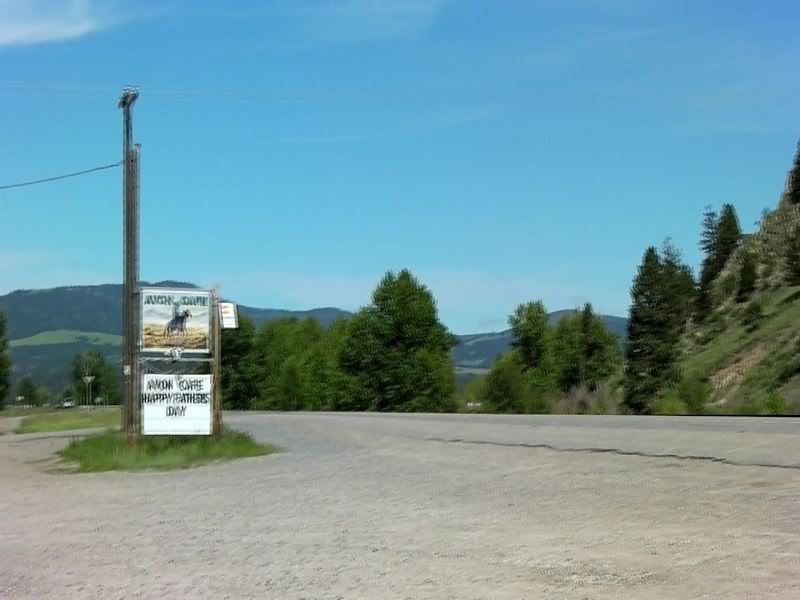 We probably spent more time than we should have eating breakfast, but it was soooooo good we decided it was totally worth it.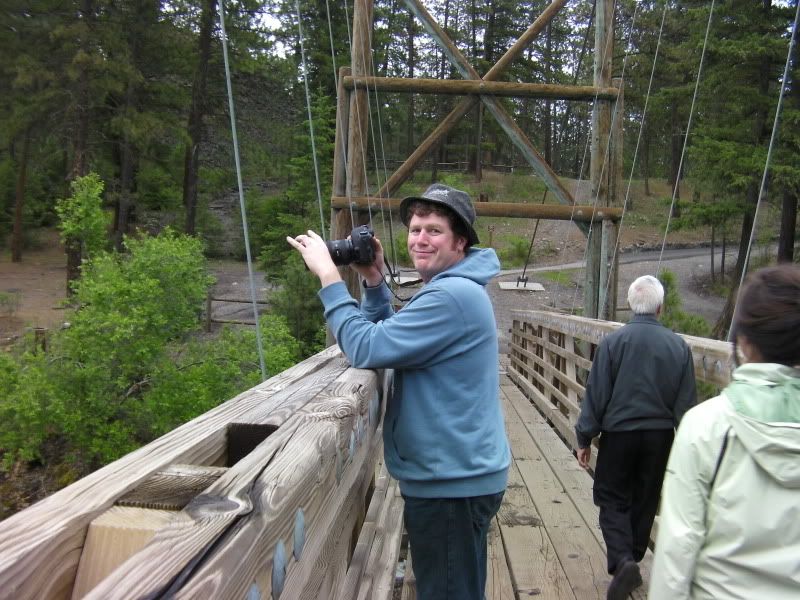 We made it back to camp, started the fire and finished of bottle number one. As we're sitting around the fire transferring files to the hard drive, the State Park camp attendant wanders up to collect our fee. He was a young guy, really nice, and used to ride a KLR. Well that was it. If he used to have a KLR, then he's a friend in our books. We pay him our fees and sit there and talk bikes for about an hour. His name was Joe and he had just moved to Spokane from Wyoming 2 months ago (moved for a girl). We quickly named him Wyoming Joe and told him to stop in again when he was done work. About an hour later, Wyoming Joe shows back up on his mountain bike and we pour him a rum. We're talking bikes, when he spies Hammy's glow-in-the-dark Frisbee. We're all just liquoured enough to think it's a good idea to play Frisbee. Fortunately we were liquored just enough to actually not be too bad at it.
Whitey Jr
Day 4
I woke up at about 3am to a loud crash from the heavens. A tornado had hit Billings on the other side of the state a few hours ago, and we were getting hit by one of the "smaller" storms. It didn't feel small to me. The wind picked up and started to howl, the rain came down in buckets and the thunder and lightning never seemed to stop. Fully in the bike trip groove, I kind of smiled to myself, enjoyed the lightshow through the little windows in my tent for awhile before I rolled over and went back to sleep. I woke again at about 6am to hear Hammy already up and wandering around camp. I could tell the rain was still coming down hard and I was dreading packing up in the rain. Hammy had setup his tent in a bad spot, and had woken up to a small creek running through his tent, so he was already up and mostly packed up. Due to the slightly excessive rum consumption and the vigorous game of frisbee with Wyoming Joe the night before, we hadn't done the best job weatherproofing camp. More than a few items were left out and got soaked. We started the day with wet boots, gloves and helmets. I can't speak for Hammy, but I was having a hard time keeping my positive outlook. I was cold, and wet, and to look at the sky, we weren't going to be warm or dry any time soon. We kept telling ourselves we'd ride out of the storm eventually, but the rain kept getting worse the more we rode. We kept pushing west until we got to Tokio Washington where we stopped for breakfast. It wasn't our intention originally, but we decided if we took our time and had a full sit-down breakky, maybe the storm would blow over. Hammy got the sausage, biscuits and gravy again, while I got french toast, eggs and sausage. Mmmmmm good.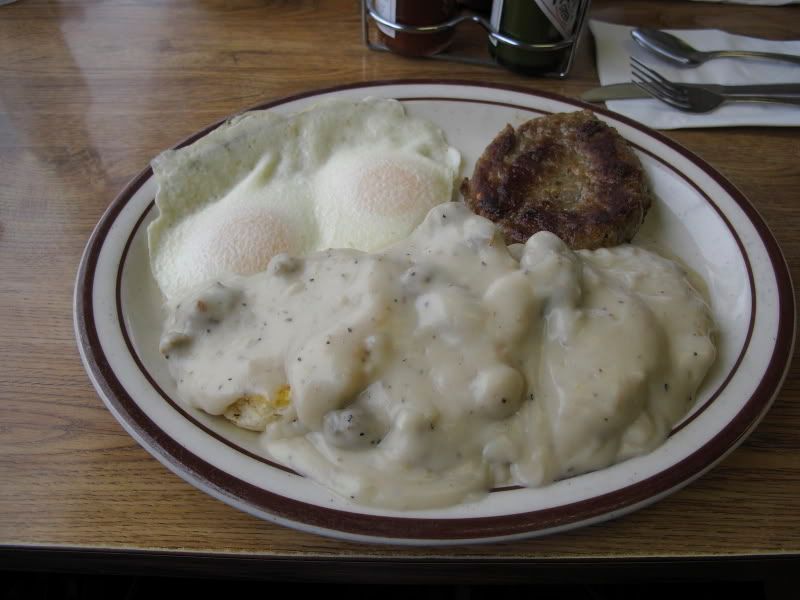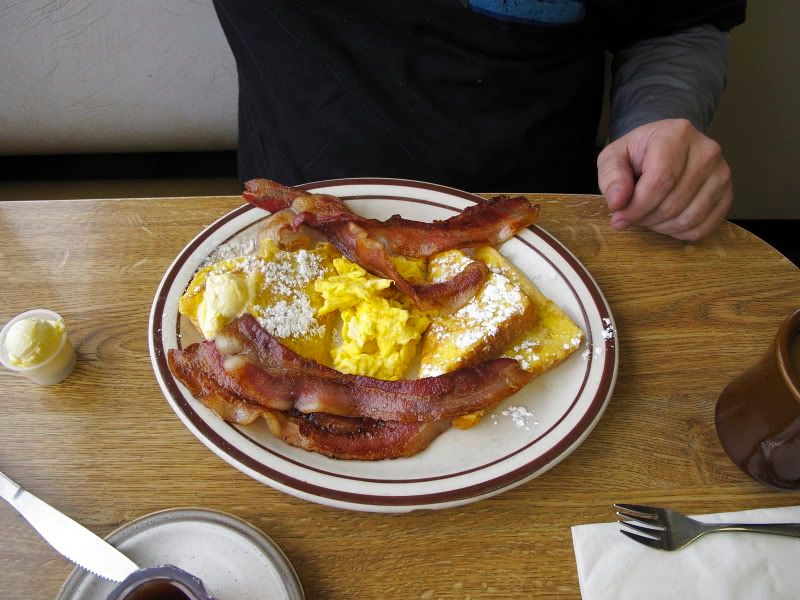 Our optimism was not rewarded and despite pissing away at least an hour in Tokio, it was still pouring when we saddled back up. Our original plan had us splitting off the main highway here and taking some back roads and forestry roads to the NW part of the state. The torrential downpour changed our outlook a bit and we decided all we wanted to do that day was make it to Anacortes to dry out so we put our heads down and stayed on the interstate until just before Seattle. The rain just kept coming down and I was starting to get a little bitchy about it. I mean enough is enough. Finally as we approach the Columbia River, the rain starts to lighten, then stops. By the time we reached the mighty Columbia, we could actually see the sun through the clouds. By the time we crossed the Columbia and stopped for a break the sun was strong enough to cast a shadow. Although it was still really windy.
For the most part the road was what you'd expect from an interstate (a little lower limit than in Montana), but the last little bit going through Snoqualmie Pass was pretty good. Reminded me a little bit of some of the areas in Rogers Pass BC. By this time the weather had improved and we could see a little blue sky. We decided to stop for a couple of coffees at the summit and took a quick breather.
Already our attitudes were starting to improve. The day had started out crappy, but things slowly started looking up and we were starting to feel good about it again. Having learned our lesson in Vancouver last year, we pulled what we have now dubbed the "Vancouver Manuver" and completely bypassed the Metro Seattle area. We hopped off the interstate east of the city and took some great country lanes heading north. Once north of Seattle, we had to get back on the Interstate to make the last little push to Anacortes. This was a real grind. Boring 8-lane highway that is absolutely PACKED with traffic. It wasn't real fun, but at least it wasn't raining.
We eventually rolled into Anacortes and made an important decision. For the first time ever on a "Big Trip", we got a hotel room. All of our camping gear was still pretty wet and neither one of us l;ooked forward to waking up in the rain again tomorrow. Initially we had a little trouble finding a room, but eventually Hammy got us our own "Villa" just a block away from the peir.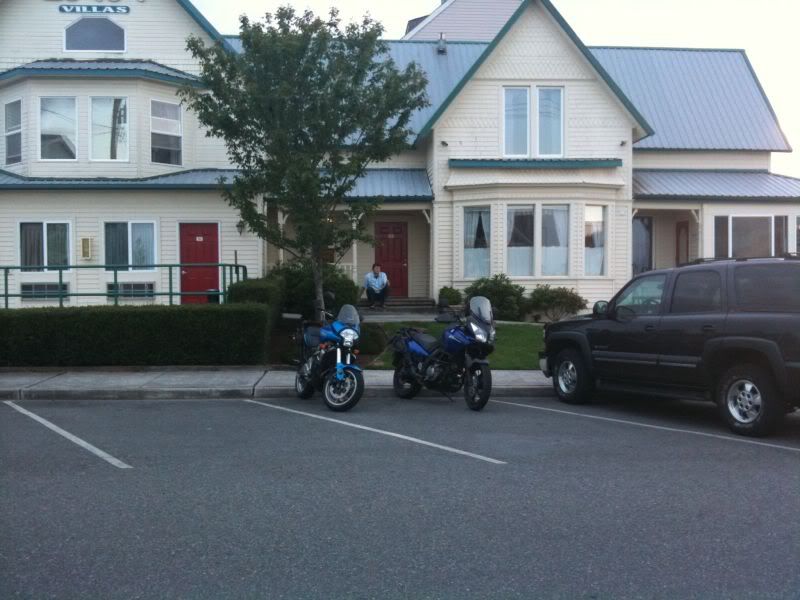 It was really nice and had two separate bedrooms so Hammy's nocturnal battle cry wouldn't be an issue. We plugged in every piece of electronics we had, and set up our tents and gear on the balcony to dry.
Determined to take advantage of the fresh seafood, we headed out and found the Adrift Restuarant. This was a great place. Lots of atmosphere and the staff was brilliant. We sat at the copper-topped bar and watched the kitchen staff work their magic. We both ordered a plate of "steamers" (steamed clams, scallops and mussels). Mine were served in white wine garlic sauce, Hammy got a spicy curry sauce. Those along with a couple of local beers and we were back in high spirits. We took the long way home and snapped a few pictures along the docks.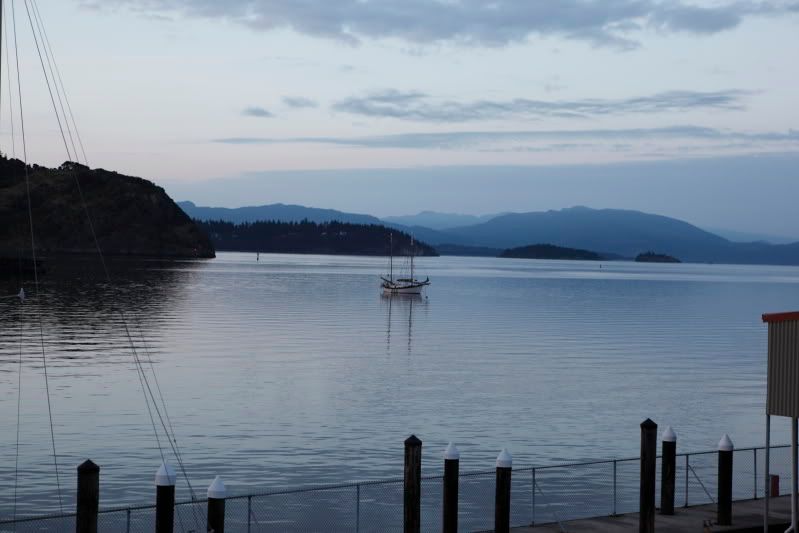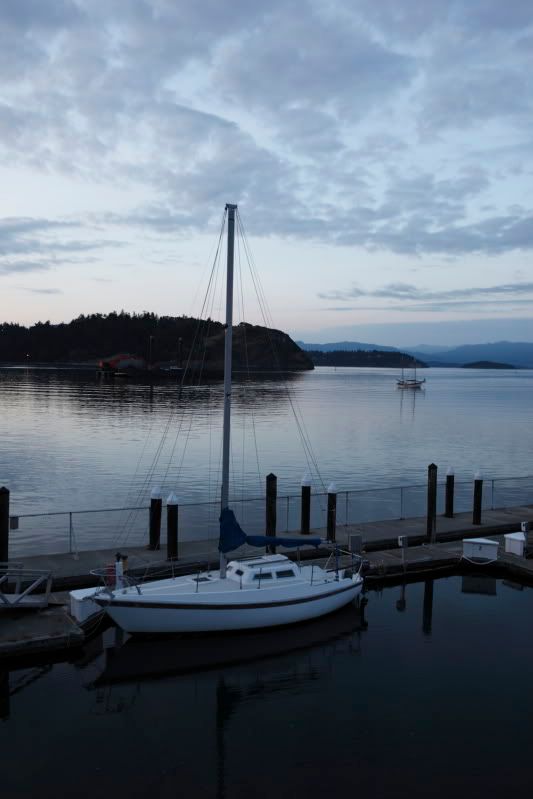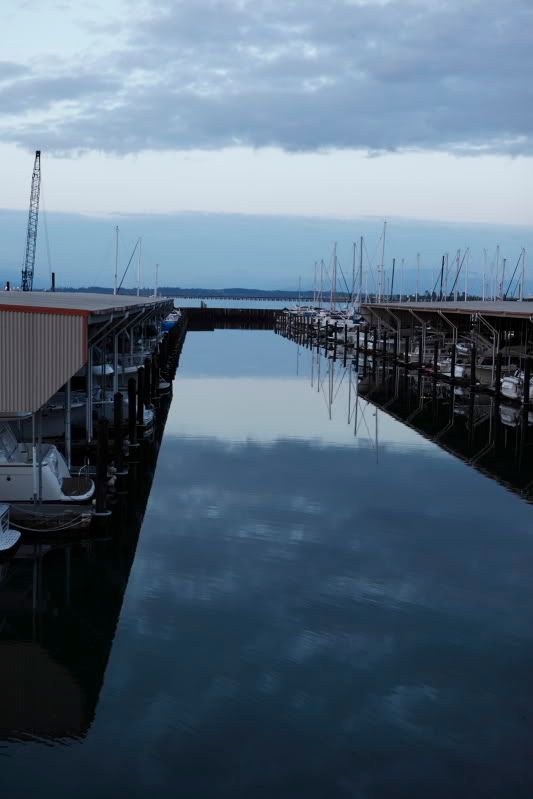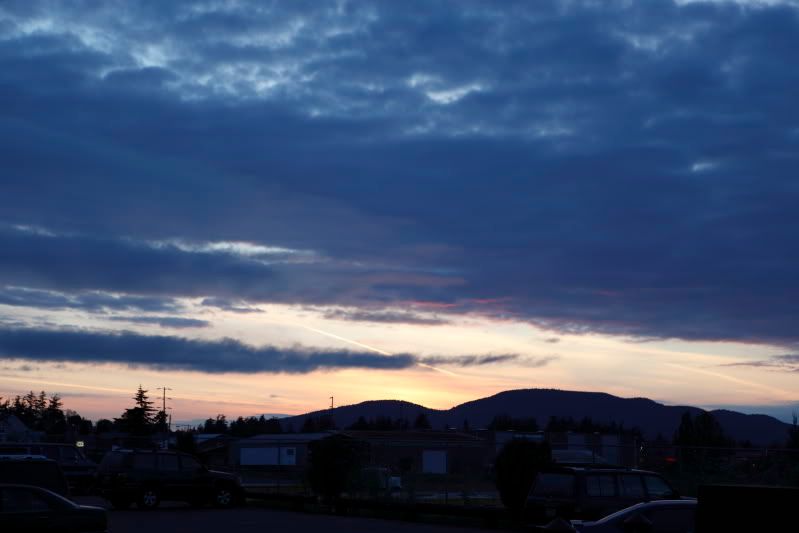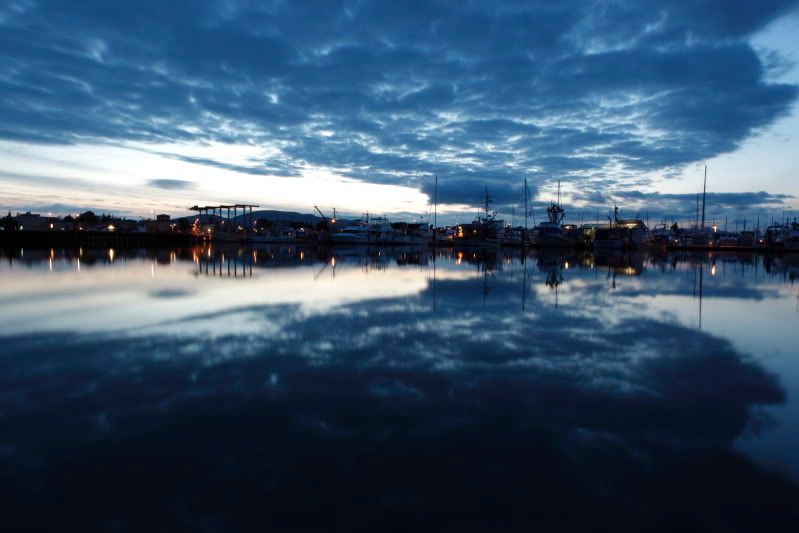 Eventually we made it back to the Villa and, (now that we were back in the groove) polished off another bottle of rum while watching American Chopper. We retired to our warm, dry, comfy rooms and slept like the dead.
Member
Join Date: May 2010
Location: Charlotte, NC
Posts: 8
Mentioned: 0 Post(s)
Keep it coming. The last picture is wonderful
Day 5
Today was to be our island-exploration day. Our schedule at this point allowed us the luxury of not caring where we camped tonight. We didn't have to make it any further west or east from where we were to make it to our next "appointments" (the next day in Twisp WA, then Yaak MT the following day).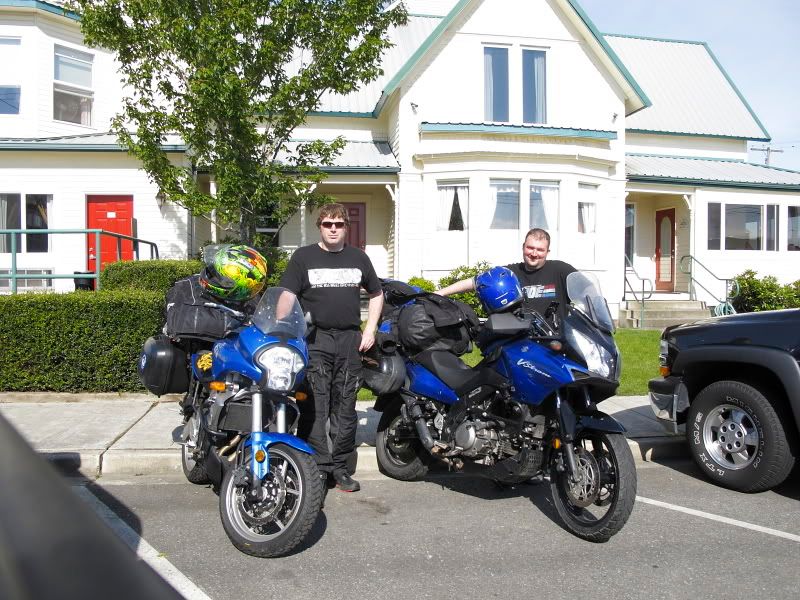 We hit the complimentary breakfast at the Villa then (thanks to my navigation) took the scenic route to the ferry port. They ushered us to the front of the line where we parked and waited the 20 mins till the next boat arrived. We took the opportunity to snap a few pics along the beach.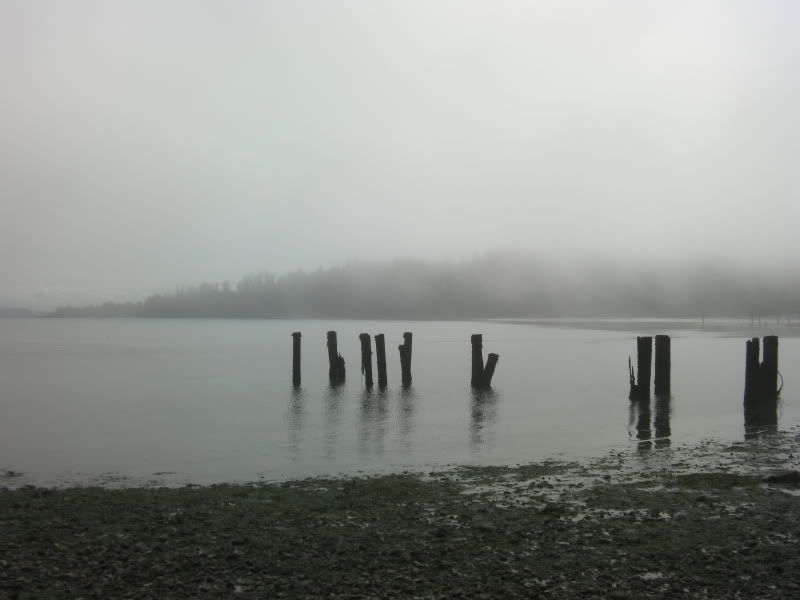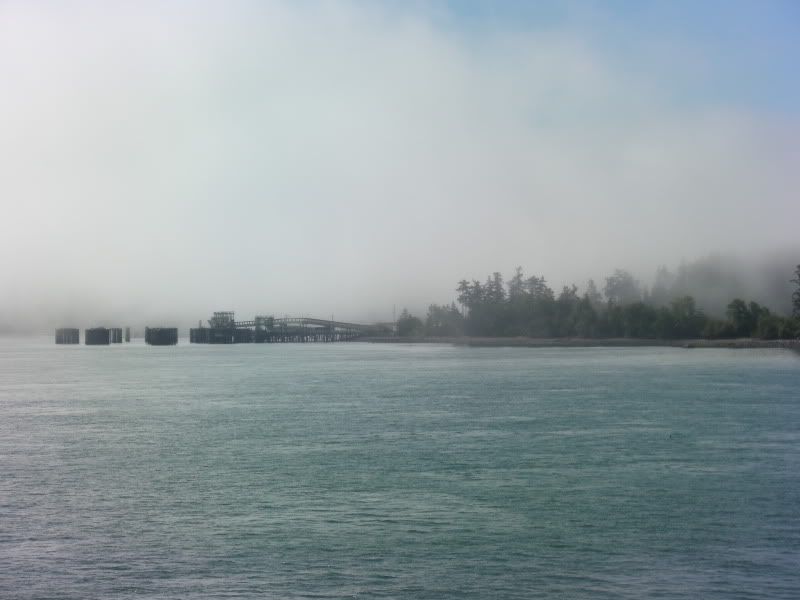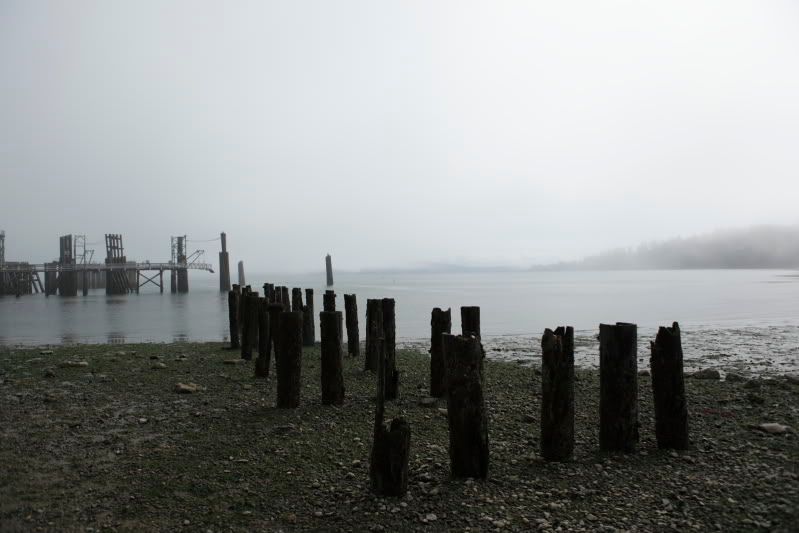 There were two islands in particular we wanted to see. We wanted to see Mount Constitution on Orcas Island and then tour around San Juan Island. Due to the intricacies of the Washington Ferry System (or our ignorance thereof), we weren't exactly sure how to schedule that. The first ferry that arrived was heading to Orcas, so we hopped on that one.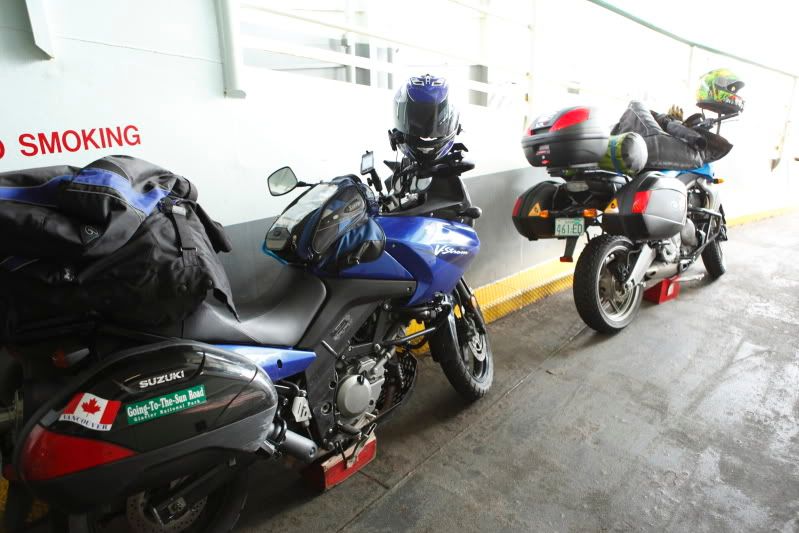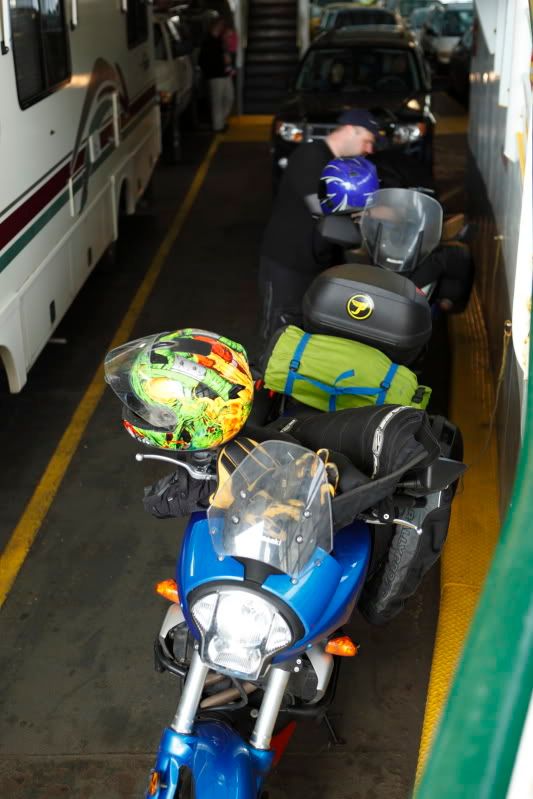 It was still pretty early and soon the ferry was completely socked-in by fog. At one point the fog horn blasts a few good ones and seconds later we see the mast of a small sailboat pass within 20 metres of the window. The fog had burned off by the time we got to Orcas, so we hopped off the boat and started exploring some of the coolest roads I've ever seen.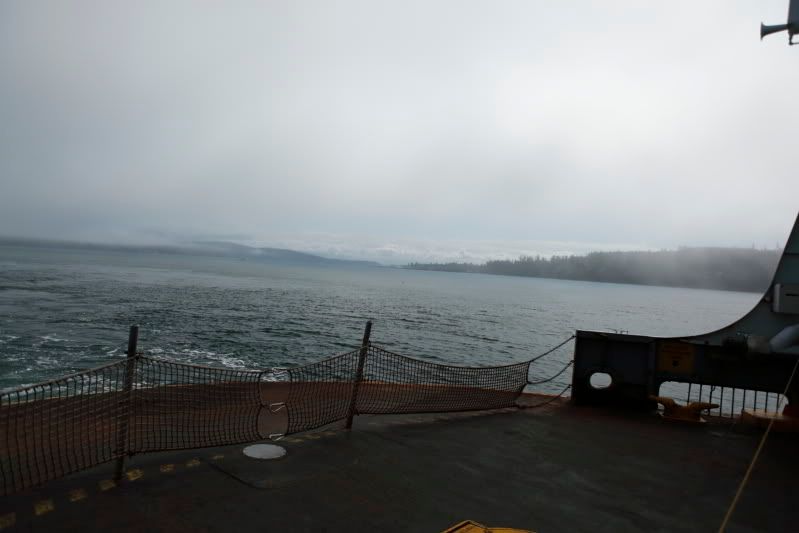 In some parts on the interioir of the island, you could have been riding through any farmland in the world, then you'd turn a corner and there's Puget Sound in all her glory. Islands big and small covered in timber and shrouded by cloud. Our first stop was to be Mount Constitution, the highest point on the Islands. The road to the top was incredible. Some of the most technical pavement I've ever ridden.....mostly because we were probably doing about 3X the limit. The road is non-stop switchbacks on the edge of a mountain. You climb and climb and climb through a Pacific rainforest before emerging at the rocky summit and some incredible views.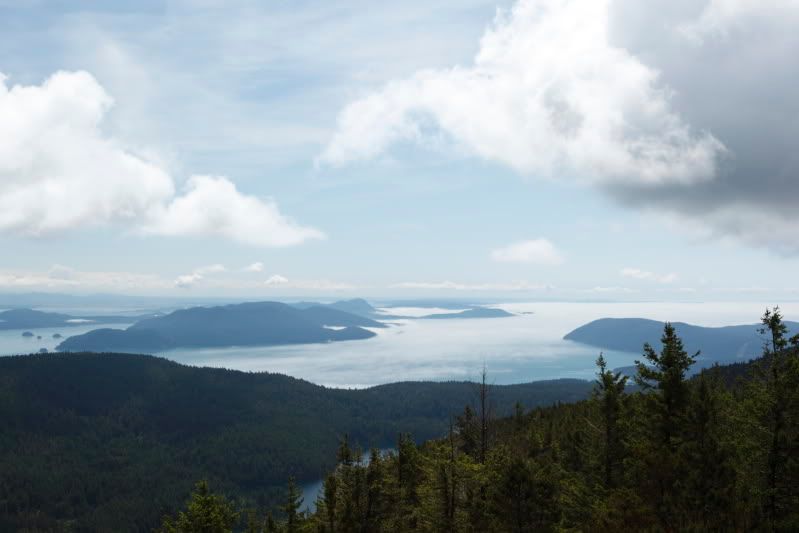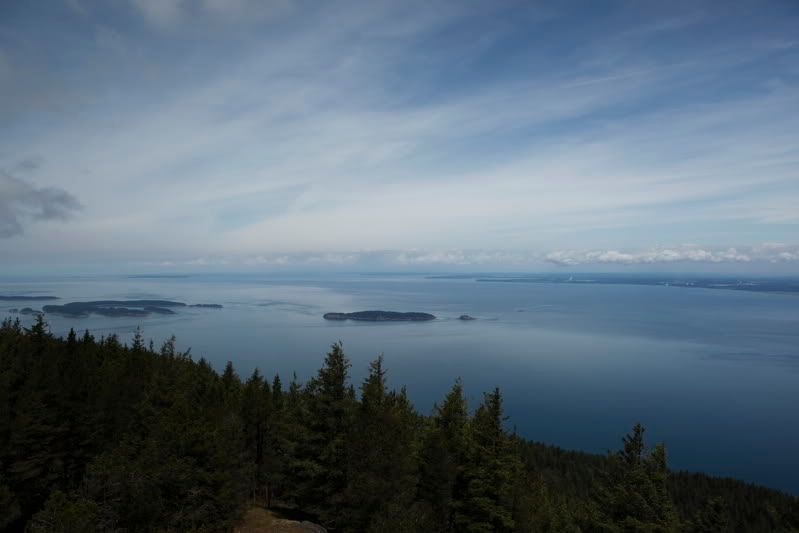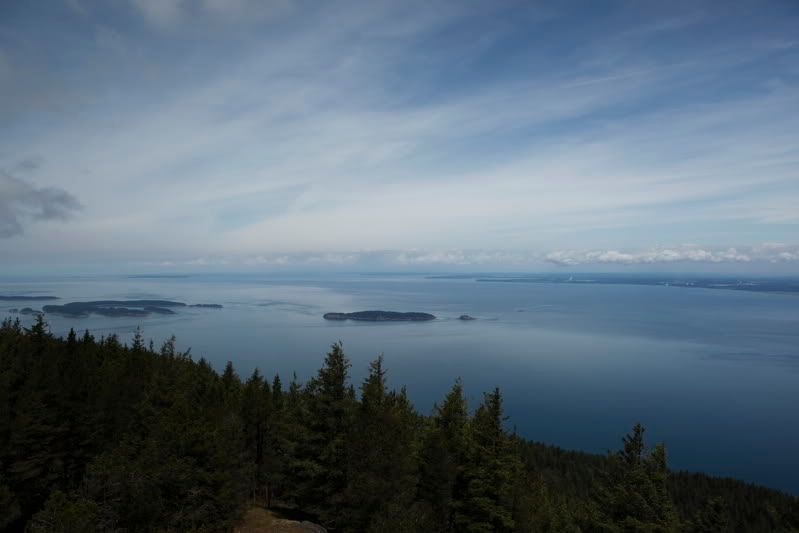 The lookout was pretty cool too. It was built by the Civillian Conservation Corps in 1936 and looked like it could survive just about anything. There were signs at the top that told you what the islands and cities you could see in the distance were. One of the cities that was within sight was Victoria BC. I switched on my phone and sure enough I could pick up a Canadian-based cell signal. A quick check of the email showed that we were still on track to make our appointments in Twisp and Yaak. We climbed back down the lookout, saddled back up and made our way back down the mountain.
I had spied an interesting place on our way through West Cove the first time. A small little restaurant-type placewith a huge commercial-sized smoker out the back and one word printed across the building…"FIRE".
We pulled in and as soon as the aroma coming from that smoker hit my nose, I was drooling. Hammy and I ended up ordering the exact same thing….pulled pork sandwiches with jalapeño cheddar corn bread. Mmmmmmm good. Again spending way too much time eating, we eventually waddled back to the bikes and took the long way back to the ferry terminal. Our plan was to hit up San Juan Island before heading back to Anacortes, but the schedule was kind of goofy and we would have to wait another 4 hours to get there. On the other hand we could head back to Anacortes in 30 mins if we got on the next boat back into port. Not ones to sit idle; we hopped on the next boat and started making friends.
We ran into a guy who was a stage-hand for Cirque du Solei and he was fun to talk to. He told us that if only we had gone a few miles past Mount Constitution, there's a clothing-optional hippy resort open to tenters. Damn!!! If only we had known about it before we got on the ferry. This guy chewed our ears off for most of the trip across the sound. We hopped off in Anacortes and decided we still had plenty of daylight left so we thought we check out a few things on this end of the islands. We headed off to Deception Pass where there's a really cool bridge.
By then we had started to think about camp. I really wanted to get a spot close to the beach, so we could take some nice pics. Hammy remembered seeing a State Park across the bay from Anacortes, so we headed back to the mainland. We found the State Park and managed to find a site completely surrounded by toxic plants (Devils Club and Stinging Nettle). Later on that evening (after a few rums), going to throw a whizz in the woods became a dangerous proposition. We rode to the beach and Hammy did his Ansel Adams thing.
We headed back to camp and spent the evening doing what we do best; transferring files, eating beef jerky and drinking rum. We had spied a Krispy Kreme in town earlier and being good Canadians, we figured we owed it to our good buddy Tim Horton to go check out how the competition for breakfast the next morning. So with clear skies overhead and in the forecast, we called it a night.
Whitey Jr
Posting Rules

You may not post new threads

You may not post replies

You may not post attachments

You may not edit your posts

---

HTML code is Off

---