Great weather, great cars...
---
I LOVE this time of year!!! It's a little chilly in the morning, warms up to a perfect afternoon, then cools down to 'sweater weather' at night. Riding right now is terrific! It's so good, I've taken the next two Fridays off so I can expand my riding weekends.
Today was no exception. 51░ when I left the house around 9 this morning, (now for some of you northerners, this is probably summer weather, but for us Texans, it's time to break out the parkas!), 77░ this afternoon, & it's already cooling off, heading for the sixties tonight. Of course, weather like this brings people out of their houses & on to the roads. The last two weekends, the Hill Country has become a very popular destination. I can't remember ever seeing this many cars & bikes out that way. Don't these people know they're supposed to go somewhere other than the place I'm riding my scoot?!
Well, not all of it's bad. I happened to run upon a group of car enthusiasts. These guys & gals were out for a group drive, stopping here & there, taking pics & what-not. I guess like us bikers do when we group up together & go riding. Another nice thing about this, my Dad is currently putting together a 1947 Ford. There were 2 '47's & a '48 in the group & I was able to get a few pics for him, and a few to share with you good people...
Their website:
http://www.earlyfordv8.org/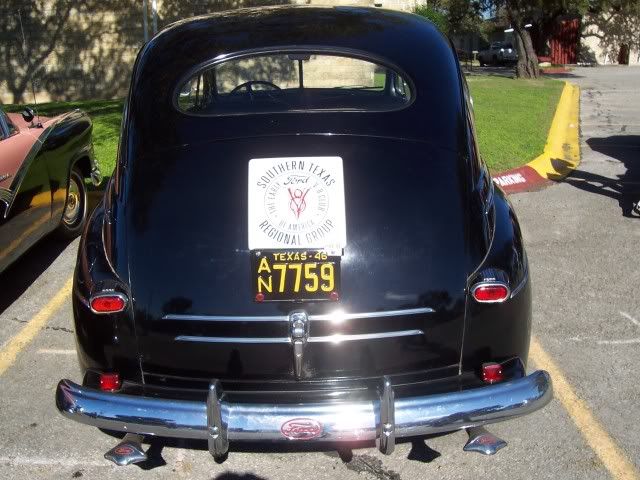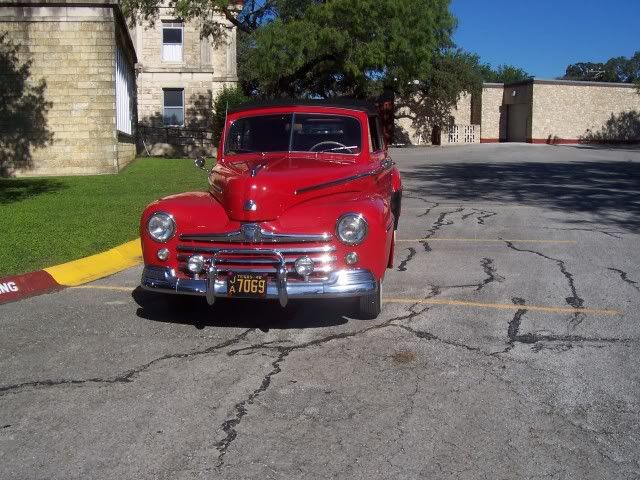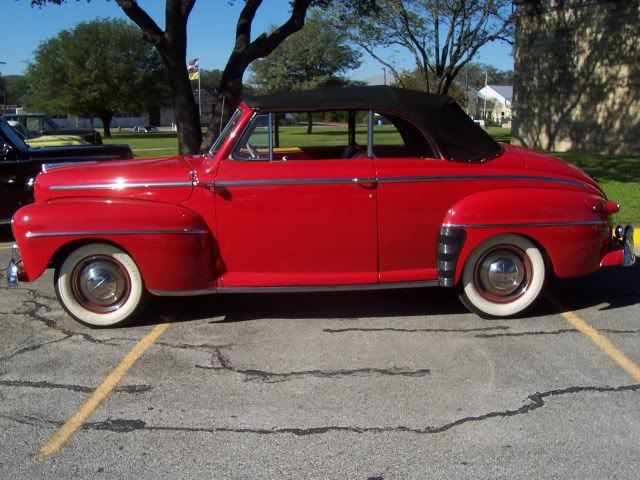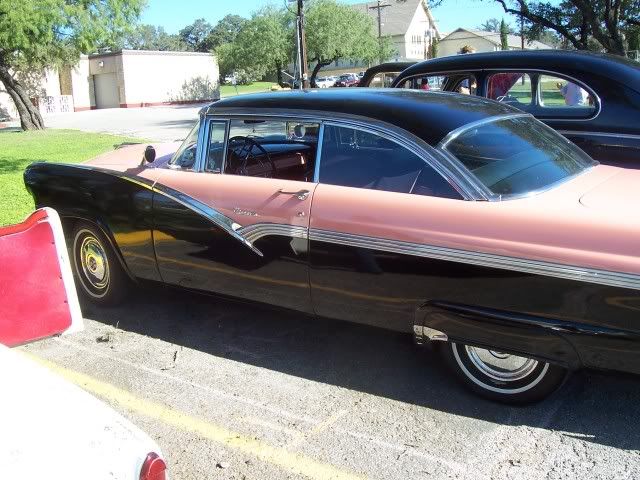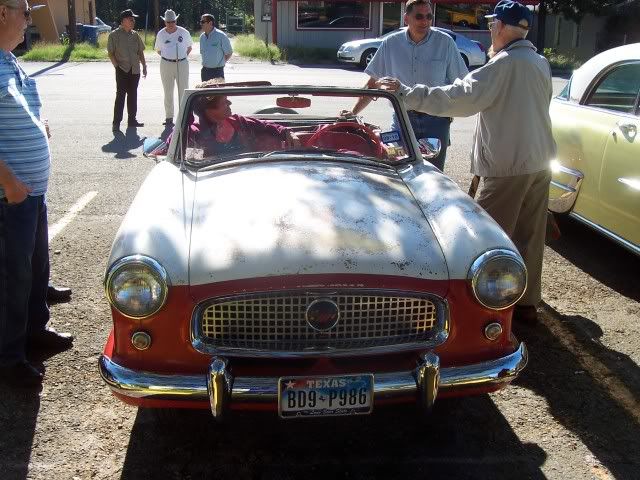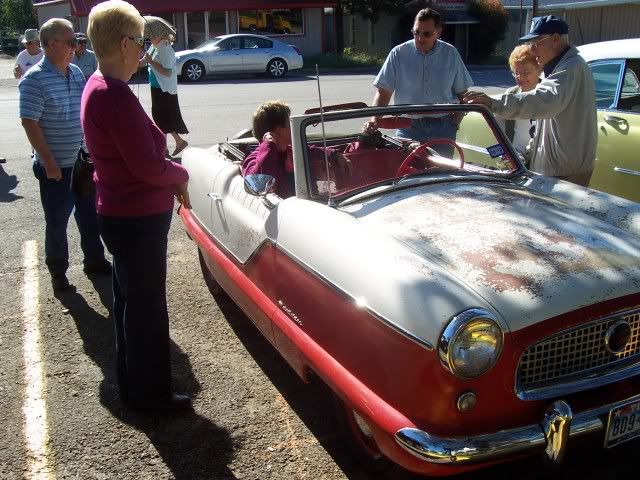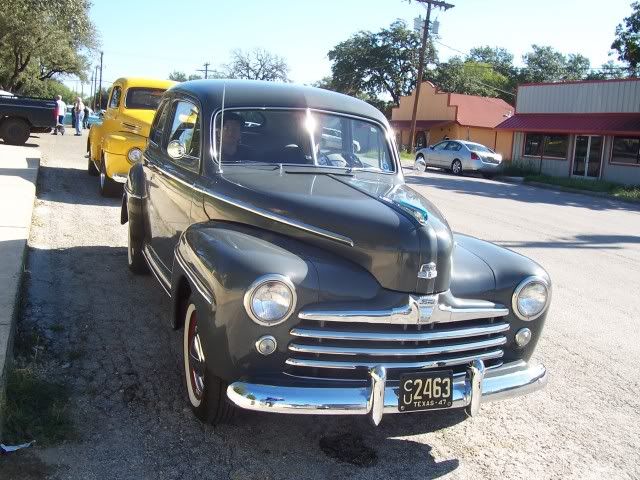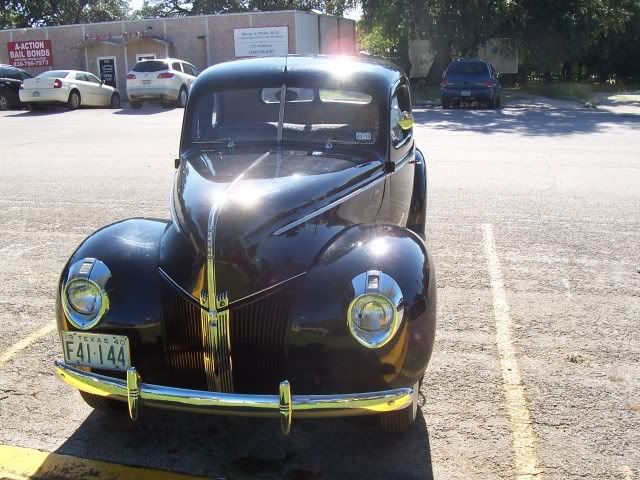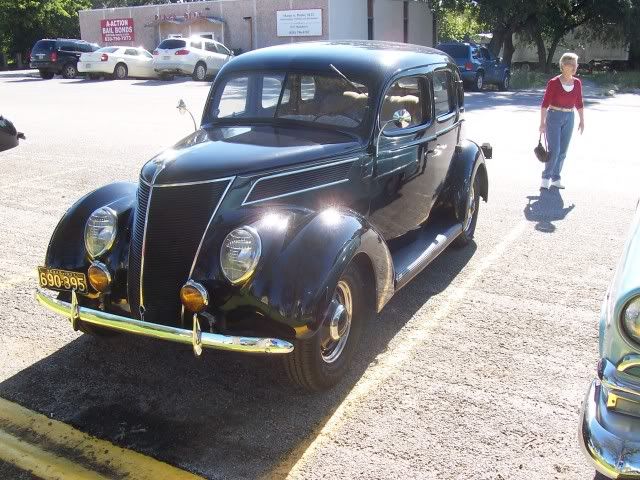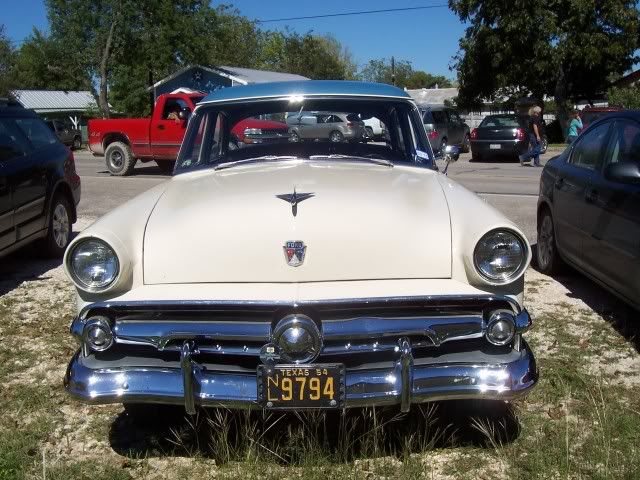 After I left those good people in my blurry rear view mirror, I decided to head toward FM 1340, the road to Stonehenge II & beyond. It looks kinda twisty on the map, so I wanted to check it out for myself. I've only been to the site itself, but never traveled any further up the road.
On the way, traffic kind of pushed me in with two other bikers. Turns out, we had similar riding habits, so we stayed together for quite a few miles. We eventually parted ways, they were going to the
motorcycle museum
& I wasn't. So once again, lone wolf Bear heads off into the great beyond, alone. Did I mention I was by myself again?
I head north on 187, then east on 39, more great roads, twisty & hilly, when I spot a white goldwing ahead of me. I'm closing quick, & slow down waiting for a spot to pass. I see my chance, wave to the rider in front of me & pass him. I pull away, or so I thought. He speeds up, matching me turn for turn. So I speed up, thinking he'll back off. He doesn't. In fact, he speeds up & is still hanging with me. Ok, he wants to play, so I gun it. We are flat out hauling ass now. And still, he keeps coming. Turn for turn, hill for hill, accelerate, brake, turn, repeat. What a blast! We finally approach a bit of civilization & slow down, then stop at a red light. I look over at him & he's giving me a thumbs up. I raise my visor & yell how awesome that was & that I couldn't pull away. He raises his visor & to my surprise, he has to be at least 60-65 years old, maybe older! And he had a passenger! Of course I'm floored. He says "I've ridden a bike or two...", smiles, the light turns green & we pull out. I was hoping he would be stopping soon, I wanted to spend some time talking, but we parted ways. I stopped, he didn't. It was fun while it lasted...

I was getting a little thirsty, so I stopped for a quick drink. There was a herd of hogs hanging out front & of course, I had to park right next to 'em...
1340 was a nice ride, with pretty scenery, but not really as twisty as it looked on the map. Oh well, on to Kerrville & lunch!
Mmmm.... Bacon....
After lunch, I set out for home, riding hwy 16 all the way back to San Antonio. Hwy 16 runs through the small town of Medina. Looks like they were having a fall festival...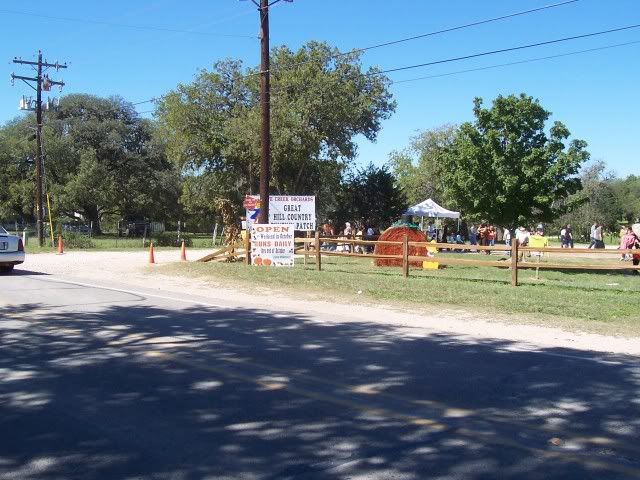 Lots of people! Must be fun...
All & all, it was a great ride. Good company, lots of fun, & great weather. I hope this trend lasts...
---
Last edited by Bear on a bicycle; 10-18-2009 at

09:44 AM

.
Posting Rules

You may not post new threads

You may not post replies

You may not post attachments

You may not edit your posts

---

HTML code is Off

---