Passed a Busa
---
Went for a ride with some members of the Ulysses club today as they were going for a 4 day ride but i could only only go half way on day one as had to be back home that night.
these guys ride pretty fast and the two lead bikes ZX 14 and a Busa) were at times running 160 kph or 100MPh , just for fun passed both of them once at 180 kph but i think they were just being nice to me.
We left my home town of Timaru in the morn and rode past some of the hydro lakes such as benmore which is a big earth dam and went for a coffee at Omarama.
After this we departed company as they were heading into the hills to Clyde and i was going to head back home but I went back past Twizel, lakes Tekapo and Pukaki and the view was beautiful with the snow covered mountains and the lakes.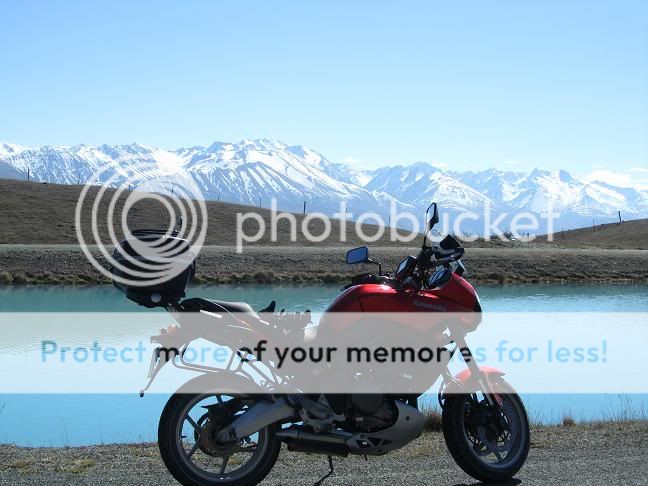 Since we have a rugby world cup came across a big pivot irrigator with flags on top representing the 20 different nations playing and since most of the members here are from the states stop to pay my respects to stars and strips.
Also rode along a canal road that has a salmon farm
Then went down this road under these penstocks but it ends up in gravel and goes for miles so turned back.
All in all a great ride and gave me a chance to test out my new GPS setup.
Nice ride buddy..
Thanks for sharing..
Your right
Quote:
......I think they were just being nice to me.
And the speed limit?
When
I reach a certain personal goal I may be buying myself
.
.
.
.
to replace
.
.
.
---
"Respect the Ride if you don't you Won't"
"A man's got to know his limitations"
---
Last edited by cmoreride; 09-23-2011 at

01:19 AM

.
Super Moderator
Speed limit is 100kph or 60 mph, 40 kph above and its instant loss of license so do not go that speed very often in the lead but like to be a couple of bikes bike on the really fast bikes to see if there brake lights come on suddenly when a cop is spotted
nice pics..
---
great pics kiwi..big lakes,big mountains..thats just awesome!...gettin colder here now...but have a couple more rides planned...
Posting Rules

You may not post new threads

You may not post replies

You may not post attachments

You may not edit your posts

---

HTML code is Off

---