Kiwi parks his bike up for the season
---
It will be officially winter here in two weeks but that is not the main reason i am parking the bike up for 3 months. Parking up because my bike registration expires tomorrow and going on a awesome trip to Malaysia/Singapore next month.
You can ride through the winter here as you can have son great winter days after the frost goes off, today high is 15 Celsius dropping to 6 overnight, beautiful blue sky's but the breeze is very fresh but you just need the right gear on.
Had to go to town to run a couple of errands so took the bike for it final ride.
Just to show you what a great day it is, mountains just have a skiff of snow but we must be due for some big dumps up there.
Last time on road so check mail box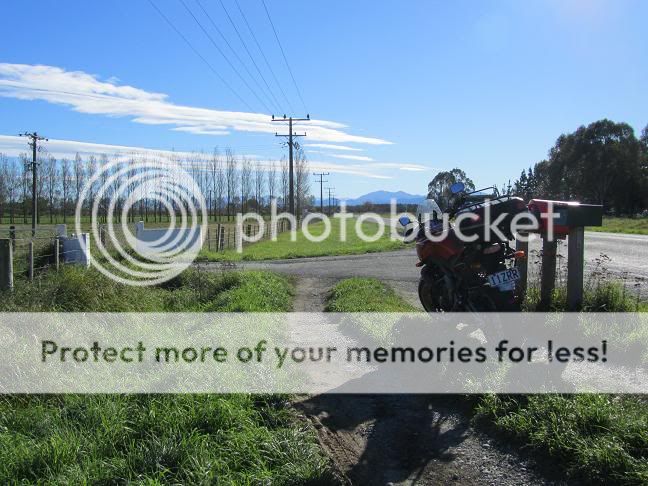 Our driveway, it is 650 metres long to house so will run the bike up and down once a week over the winter and will try not to annoy the other people that share this drive.
To take a bike off road here you have to do it for a minimum of 3 months any less and you pay right through.
Will now have to live through other riders out there and I sure enjoy you guys ride reports.
Member
Join Date: Dec 2010
Location: Aspen, CO
Posts: 212
Mentioned: 0 Post(s)
Beautiful country you have there Kiwi........someday, someday I will visit!

I hope your winter is not as long as mine has been, it hasn't snowed here since this morning!
---
**Sold**2008 Red Versys, Algard, LSL Frame Sliders, EvoTech Radiator guard, Givi screen, Givi V35 panniers, Moto Werks handlebar riser and footpeg lowering blocks, Aprilia Tuono mirrors, Carbon Fiber FendaExtenda, Spools/Sliders front & rear
2000 DRZ440E
2003 KLX440R
2003 TTR125LE
Super Moderator
Snow not a problem on our roads generally, main concern would be cold icy or wet conditions.
Moto on!
---
Ride to live, live to ride.
2009 Kawasaki Versys
2010 Yamaha YZ 250F
2008 Honda CRF 450
2006 Honda CR 250R
I've owned a Maico.
Man, where are those blue skies now? I just crossed the border back to Thailand after a wonder, wonderful time with fastoman and his gang. Wouldn't mind riding in 15 degree C too, it's more like 40 up here -*-
---
Life is short, ride long.


To view links or images in signatures your post count must be 0 or greater. You currently have 0 posts.



To view links or images in signatures your post count must be 0 or greater. You currently have 0 posts.

Looks like a nice day down under!




Posting Rules

You may not post new threads

You may not post replies

You may not post attachments

You may not edit your posts

---

HTML code is Off

---