Day Ride to Horning's Mills
---
My end of August 2 week "holiday" has been somewhat overtaken by overtime shifts, switch shifts, and 4 straight days of house painting. Enough is enough and based on great weather and great need to get out and ride, I made a last minute decision to screw off for the day today. Map book and camera in the side case and I pointed the V North to Horning's Mills some 230 kms from home.
River Rd and others in the area were recommended by Smiley and I was excited to get the chance to have a full day available to get there and check it out.
Having left home at about 8:30 am, I was in the picturesque tiny town of Horning's Mills just before noon. It was a beautiful Summer day!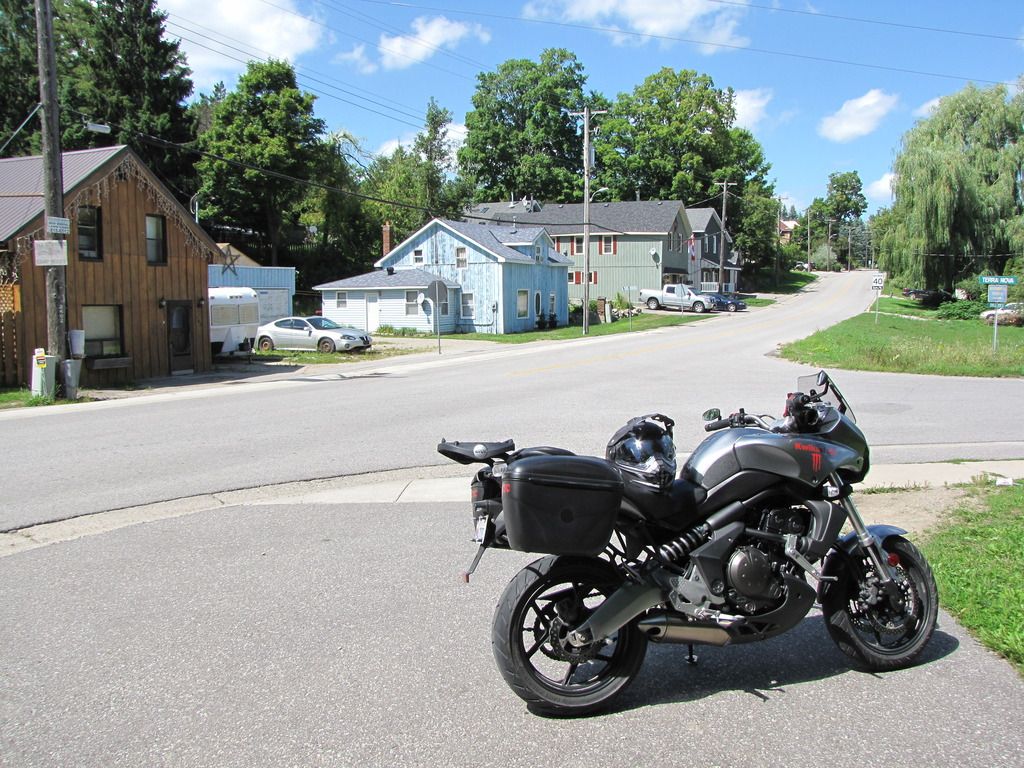 Eastbound down River Road where I saw some promising signs: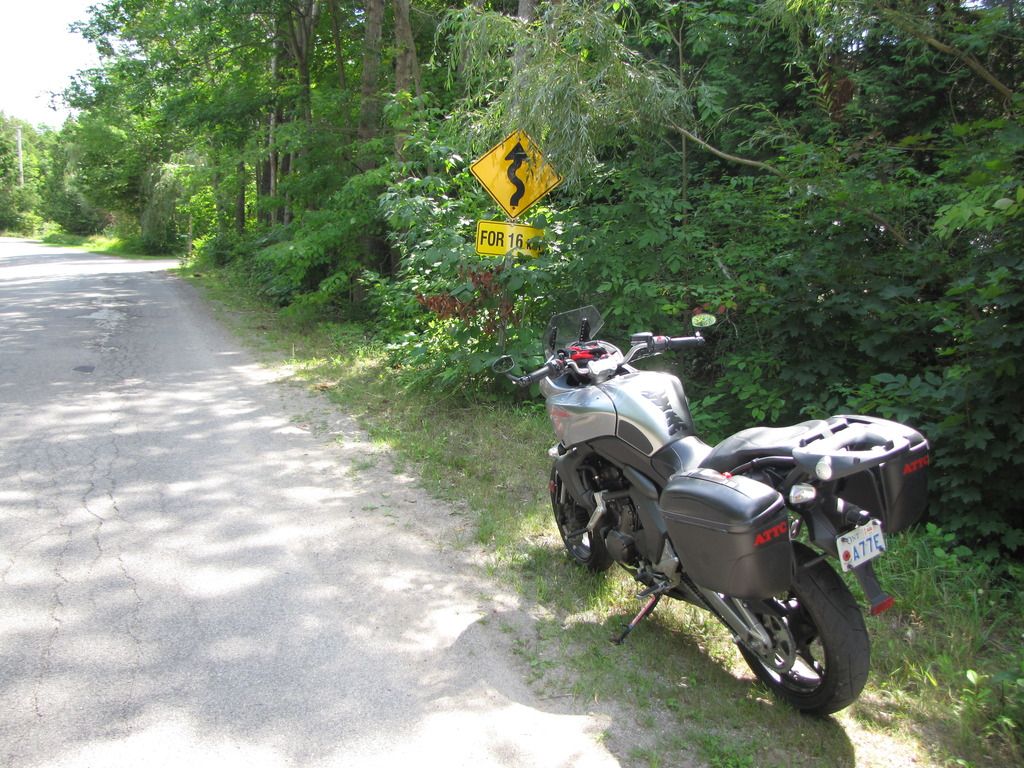 What a hoot. Little to no traffic causing any obstructions on a gorgeous Friday afternoon. I traveled along River Rd to 20 Sideroad. I was happy to find great smooth pavement that seemed pretty new. I crossed County Rd 18 and, since I was alone and free to go where I want, I caught the gravel extension of 20 Sideroad and explored the tree canopy for awhile. It's nice to ride in the shade on a hot Summer day.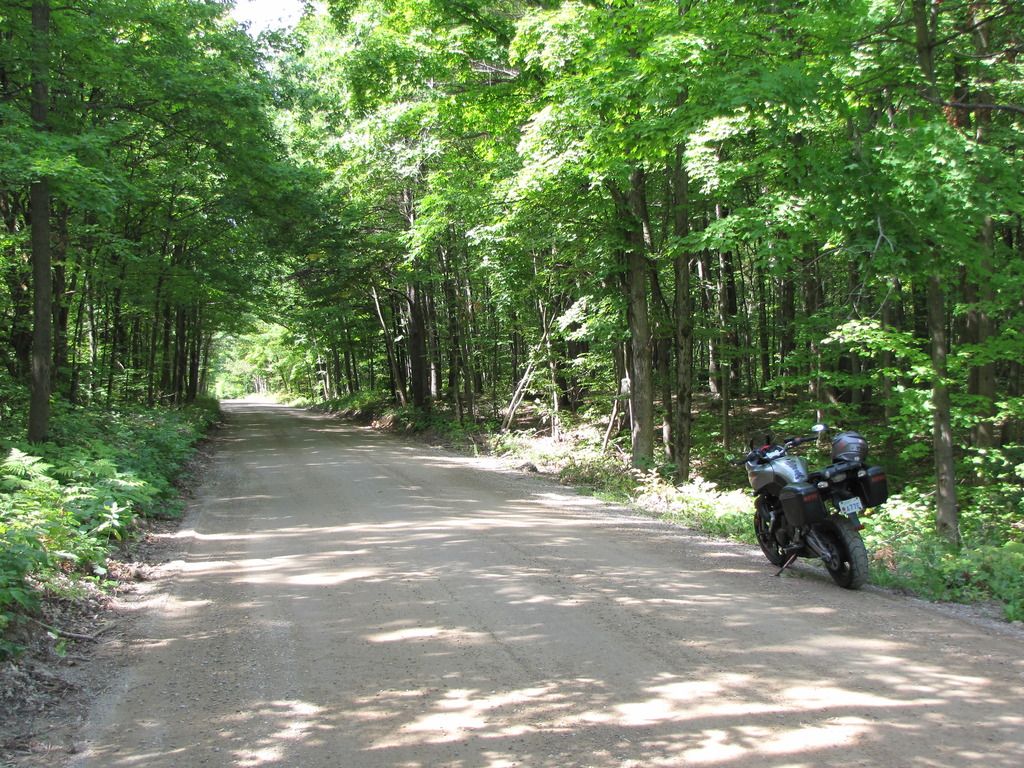 I gravel bombed a few roads then went back West bound on County Rd 21. This was also a nicely paved winding road that followed up and down some great hills offering perfect views of the rural area.
Back at Horning's Mills, I started a second run down River Rd, and this time took the opportunity to explore some of the curvy sideroads, both paved and gravel, and made my way back and forth between River Rd and 21.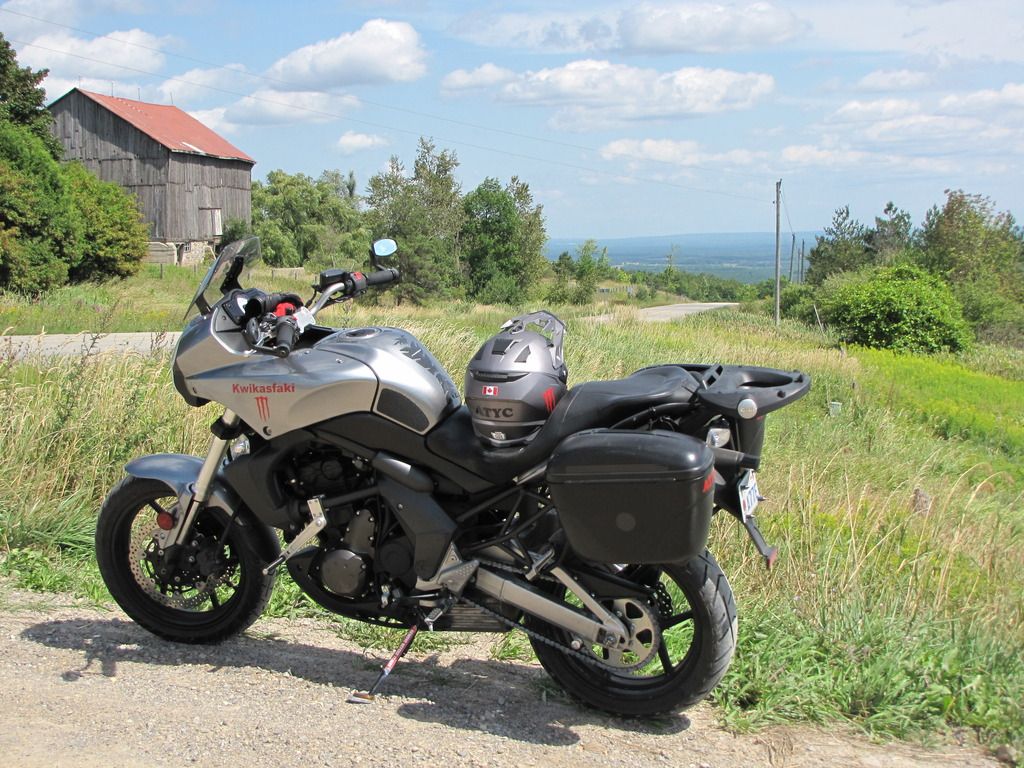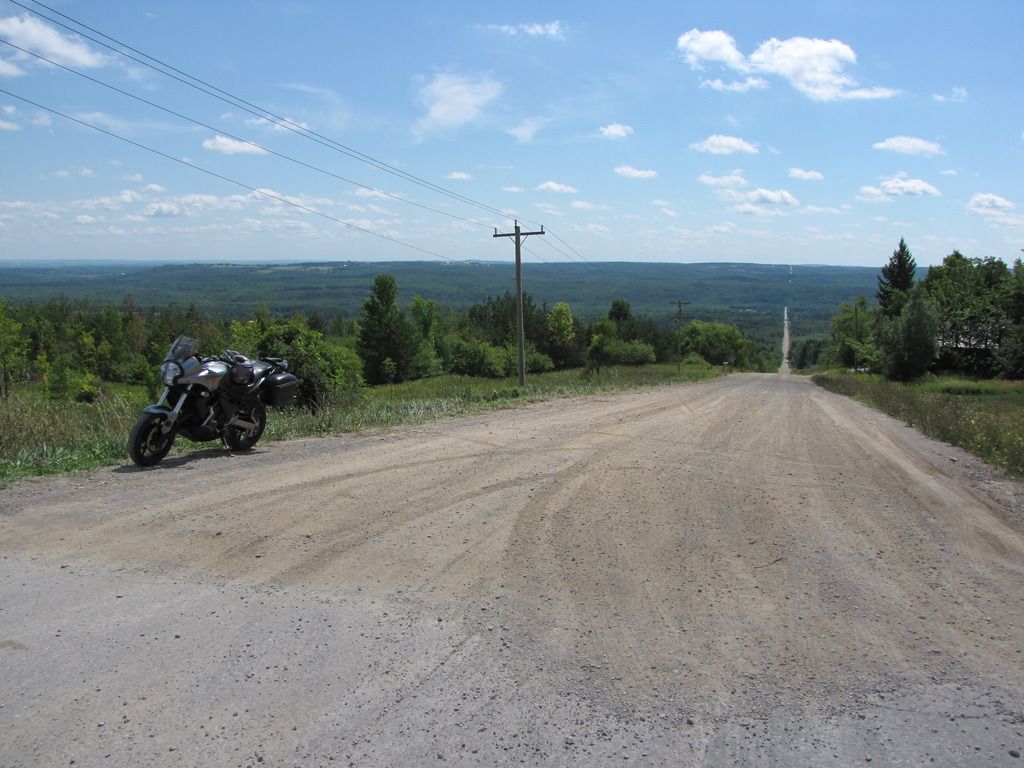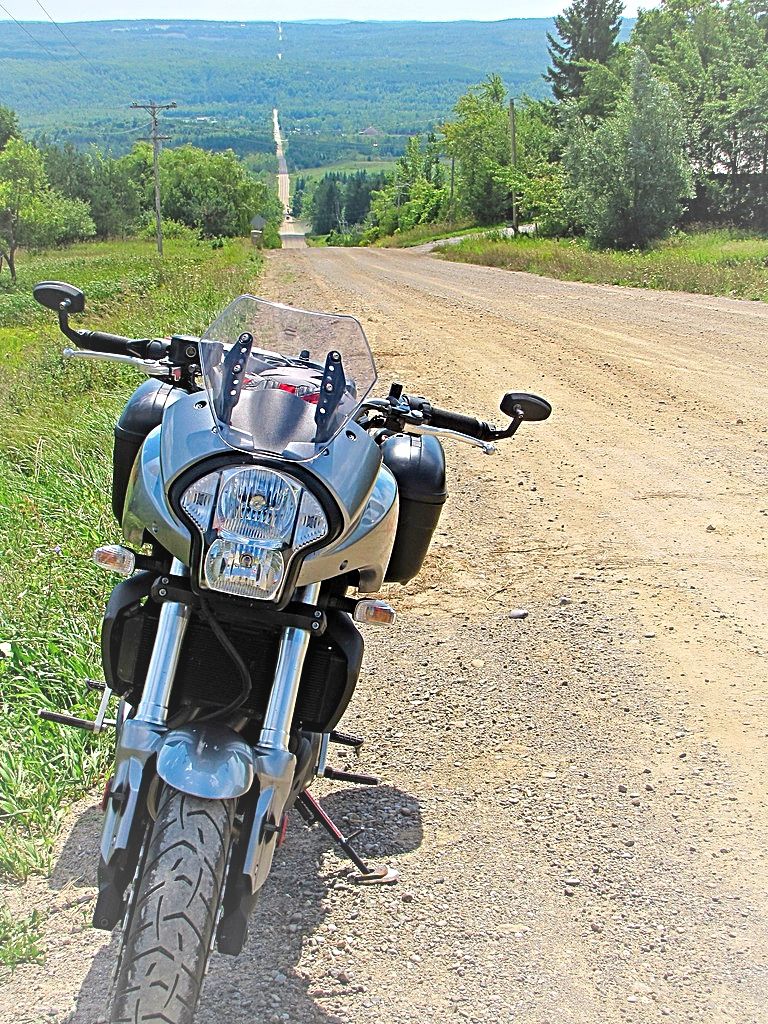 The picture here doesn't do it justice. This was a long, tall climb up the gravel road that required a bit of gearing down to make the grade. Great view at the top though!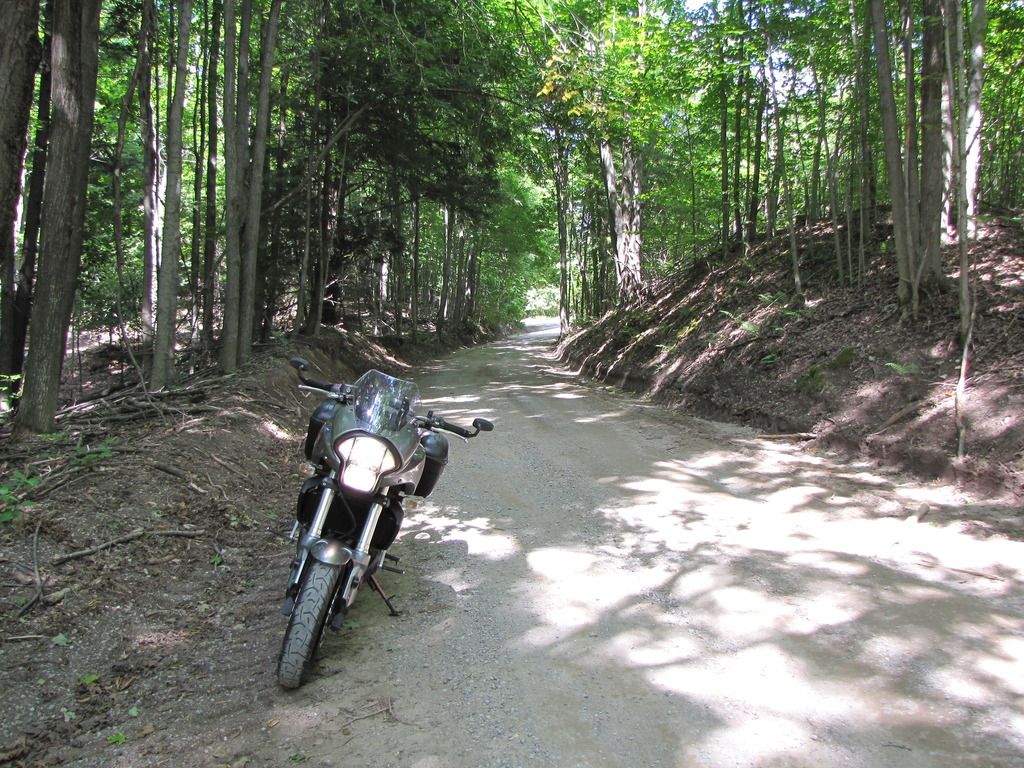 And some interesting local wildlife in the woods...WTF?
Considering my distance from home, I was only able to stay on station for about 2 hours. So a little after 2pm I had to leave the playground and start my way home. I made a quick stop South of Shelbourne at the Nifty Nook restaurant for an excellent home made Banquet Burger. Then I went South to Orangeville then West on County Rd 109 to Arthur. Along the way I had the pleasant opportunity to pass the York Soaring Association. This is the glider school where I did my first pilot training as an Air Cadet, 29 years ago!
Surprised to see it was still in operation, I noted the signs all said "Visitors Welcome" so I pulled in to have a look. Still operating. Still training Air Cadets in the Summer. AND still operating some of the SAME Schweizer SGS 2-33 gliders I have in my log book from 1987! This was so cool...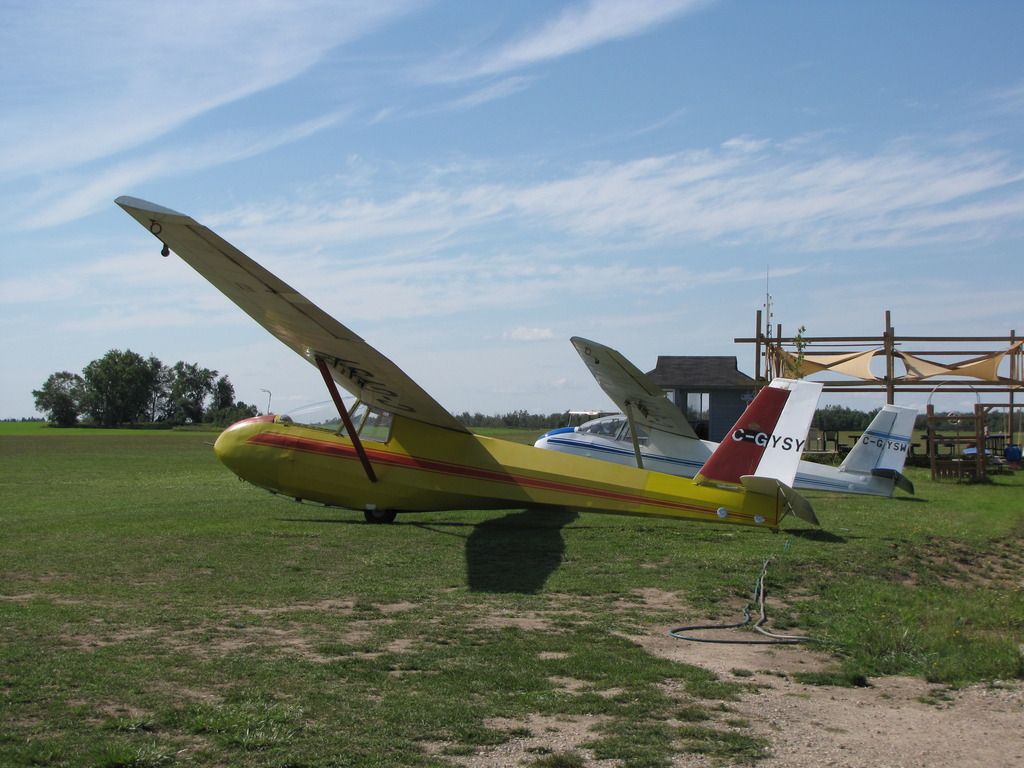 10 hours + 600 kms = 1 great day!
---
Always trust your cape.
---
Last edited by ATYC; 08-30-2016 at

12:44 PM

.
Member
Join Date: May 2016
Location: Southern Ozarks
Posts: 80
Mentioned: 0 Post(s)
Nice report. It's hard to beat a long day in the saddle of a motorcycle.
Mike
---
To view links or images in signatures your post count must be 0 or greater. You currently have 0 posts.
Member
Join Date: Jul 2008
Location: Eros, Louisiana
Posts: 286
Mentioned: 1 Post(s)
Excellent ride post! Looked like one awesome day
---
My new escape, 16' Gen3 Versys 650ABS
Super Moderator
Join Date: Nov 2008
Location: Kitchener Ontario
Posts: 7,522
Mentioned: 32 Post(s)
Terra Nova / Creemore / Glen Huron
---
Nice write up and beautiful pictures, one of my favorite areas!
Next time you are looking for a adventure, let me know, I can add another 150 KM to what you did.
---
Last edited by onewizard; 08-28-2016 at

10:50 AM

.
Posting Rules

You may not post new threads

You may not post replies

You may not post attachments

You may not edit your posts

---

HTML code is Off

---