Sponsored Editorial Content
Join Date: Jan 2014
Posts: 85
Mentioned: 0 Post(s)
Five Ways to Keep Your Motorcycle from Being Stolen
---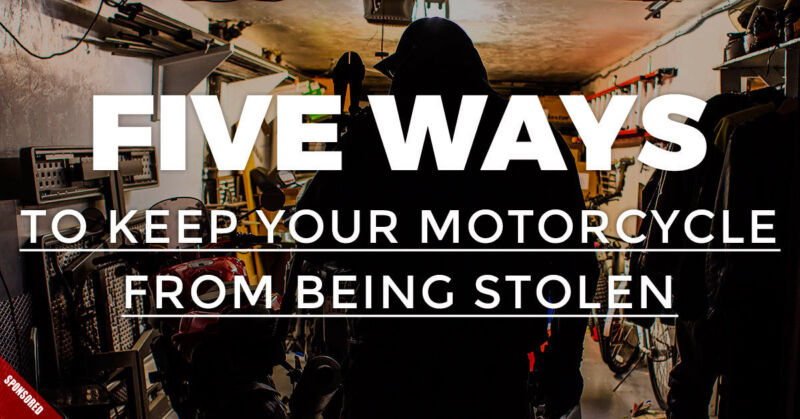 Quote:
If you own a motorcycle, you are a target for motorcycle theft—and it doesn't matter how fancy or filthy it is. Obviously, big-buck cruisers like Harley-Davidsons and tricked-out $15,000 sportbikes are tasty treats for thieves, but vehicle theft is sometimes a crime of opportunity, so here's five ways to keep your bike safe, no matter what it is.

Motorcycle thieves, although usually not great at career planning, are very clever, practiced and good at what they do. That means they can work incredibly fast, defeating multiple security systems and locks in minutes or even seconds. Their strongest weapon is speed, so your best defense is to make it as complicated as possible to get your bike, so they'll look for an easier target.
Read more about the
Five Ways to Keep Your Motorcycle from Being Stolen
.
Member
Join Date: Jul 2016
Location: Georgia, United States
Posts: 147
Mentioned: 2 Post(s)
Their five ways of anti-theft are nonsense! Considering most bikes can be stolen in seconds with 2-4 people...

Once taken, all anti theft devices can be removed elsewhere undisclosed with ease.

Locking the forks comes standard and will deter any amature. Everything else is pretty much a waste!
Member
Join Date: Jul 2009
Location: Ottawa, ON
Posts: 3,365
Mentioned: 4 Post(s)
I don't wash or polish my bike frequently. Makes it less attractive and provides more time for riding
There are a number of reasons motorcycle theft is not common IMO:
1) You can't do much with a stolen bike. About all you can do is disassemble it and part it out on Ebay. You can't ever license it, sell it, or drive it on the street due to the need to provide proof of ownership and the fact computer records are easily checkable. This means you need to be more intelligent than the average thief is.
2) Then there is the fact you need a helmet, at least here, to ride a bike, so as a thief you need to bring one with you. This rules out impulse thefts. Riding without a helmet in a mandatory helmet environment would be like riding with a neon flasher on your head for any passing cops and make you stick out in traffic like a sore thumb.
3) Finally there is a need to ride a motorcycle. Only a small percentage of the driving population know how to do this. For the rest it would be like trying to steal an airplane.
---
Last edited by twowheels; 08-16-2016 at

10:13 PM

.
Member
Join Date: Jul 2016
Location: Dirty Jersey
Posts: 160
Mentioned: 0 Post(s)
That stuff in the video is ok, as long as one understands all we can really do is make it HARDER to steal our bikes. If a thief has to choose between a bike with a disk lock, and one without, he may choose the non-disc locked bike because it's one less thing he's got to defeat to wheel it away. Of course if he's got some dirt-bag buddies and a pick up, the disk lock is mostly moot.
Years ago I read an article in a British M/C magazine where a group of guys, who had all had bikes stolen and were tired of the authorities not giving them the relief they needed, took matters into their own hands. The article claimed that these guys would set a bike out as bait, and when a would be thief came to steal it, they would grab said jerkus, throw him in their van, and drive him around for awhile as they beat the holy crap out of the guy. Then they'd just dump him out somewhere (probably near a hospital) and call it a night. Was probably a made-up story, but I must admit the idea has some (small) appeal.
Yeah I don't know. Sucks we have to even worry about it. I could see it being a problem if you park on the street or a parking lot for long periods of time.
---
Versatile Versys
Posting Rules

You may not post new threads

You may not post replies

You may not post attachments

You may not edit your posts

---

HTML code is Off

---