Givi E22N Side cases
---
Look what showed up, I pick these up off the Revzilla for $199 they were discounted blems so I thought for that price I might as will get them ordered. don't ask what the blem is I can't figure it out. I went with the E22's mostly for price and size I did want anything to big it's not like I'll be taking any long trips anytime soon, maybe an occasional overnight and with the uppercase that came with the bike I should have plenty of room for that.

I read a lot of reviews on the E22 before hand and the major complaints were flimsy lids but I don't see that they seem very solid and durable to me, good latch seals well I can't wait to get them on the bike and try them out now I just need to order the mounts before spring.
Member
Join Date: Sep 2010
Location: London, ON, Canada
Posts: 1,346
Mentioned: 0 Post(s)
I've been using the E21s for years now. Daily commutes, day rides, and some tours (though I have bigger boxes for touring purposes now) They have been great and I don't think you can beat 'em for the price. The E22s are all that and they look better.
---
Always trust your cape.
I have also been using the E21s for more than five years and 56,000 miles, including many one-up trips of a week or longer, and I suspect the E22s will hold up even better. I occasionally think about
getting the Trekkers
, but I love the simple top opening of the 21s and even the smaller 33L Trekkers would add four inches of total width. I've decided it's better just to stick to my packing light discipline. When I'm camping, the camping gear goes on the passenger seat in a dry bag. Of course if I were doing longer trips two-up, it would be different, but for one-up day rides and solo tours, plus everyday errands and transportation, the E21s have been perfect for me. I suspect you'll be happy with the E22s unless you're the type who likes to take everything with you.
If you've already sorted out the rear turn signals (and there's plenty of info on other threads) skip this part. A tip I picked up from someone here was to buy a set of rear turn signals for a late-model KLR650. I didn't like the way the Givi relocation brackets looked. The KLR650 signals bolt right on, require no modifications to the wiring and don't interfere with the bags. Photos below show bags with Givi relocation bracket and then with KLR signals.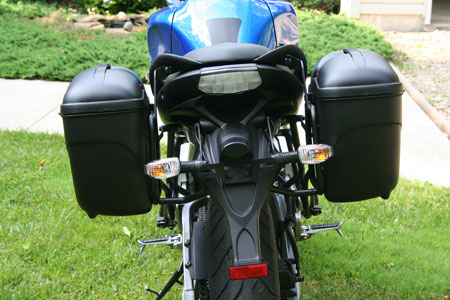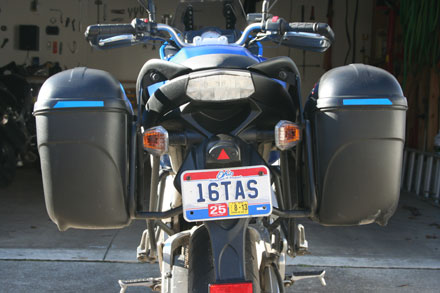 ---
Whitehorse Press is going out of business so it's time for a final sale. Signed copies of my book are now $10 with free shipping in the U.S. while they last.
To view links or images in signatures your post count must be 0 or greater. You currently have 0 posts.
.
---
Last edited by motociclista; 01-10-2016 at

01:32 PM

.
The 'blems' were probably just returns, so nothing was wrong with them; good score!
---
To view links or images in signatures your post count must be 0 or greater. You currently have 0 posts.