Member
Join Date: Jul 2009
Location: North Florida
Posts: 41
Mentioned: 0 Post(s)
My New Seat is Finished
---
My stock Versys seat is now stuffed & recovered after the crash. It's very comfortable just sitting on it, but I'll see about long runs after I'm riding again. It's very well done to me too. I had it stuffed with memory foam and covered with a high grade marine vinyl. The shop owner said the stock stuff is cheap-o stuff and what I've on there now is much better. There's some cushioning 'round the corners too. I think I'll like it. Here's some shots: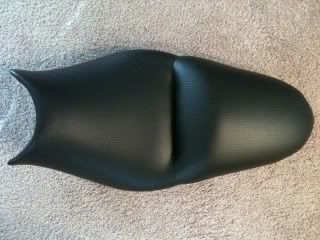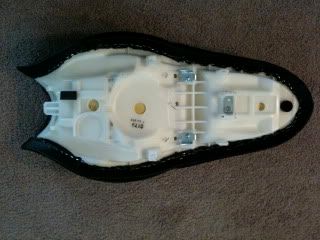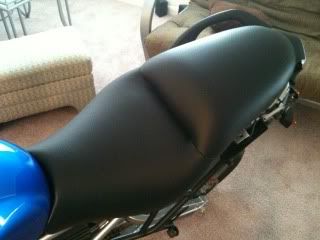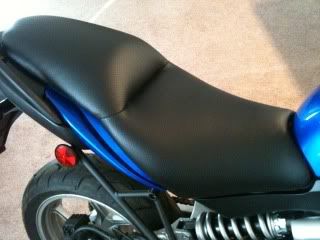 I have nothing to do with the upholsterer other than being a satisfied customer, but if you don't have one in your area I can surely recommend this shop.
Member
Join Date: Sep 2009
Location: Grand Junction, CO
Posts: 56
Mentioned: 0 Post(s)
How much does it cost to have a local upholsterer do it?
Member
Join Date: Jul 2009
Location: North Florida
Posts: 41
Mentioned: 0 Post(s)
He ordered the foam, formed it, and covered the seat for $150
Member
Join Date: Sep 2009
Location: Duanesburg, New York
Posts: 23
Mentioned: 0 Post(s)
memory foam...a god send!
---
You cannot beat memory foam. It is used for people in wheel chairs.
I have had several seats redone with it....wonderful!!
---
Mr. Pete----->
aging hippie
Looks comfy ..........like a mini - sofa , when you have one too many guests over for the superbowl you can use it as emergency seating .
---
** This space for rent **
Posting Rules

You may not post new threads

You may not post replies

You may not post attachments

You may not edit your posts

---

HTML code is Off

---