Old
03-17-2014, 03:01 AM
Thread Starter
Member
Join Date: Feb 2009
Location: Coffs Harbour, NSW, Australia
Posts: 2,039
Mentioned: 0 Post(s)
Electrical upgrades
---
I wanted to reinstall my
Wolo
Bad Boy air horn (mounting bracket broke), run the wires for my
AME heated grips
, add
LED daylight running lights
, install an Narva 81134L accessory
USB outlet
and install my
FuzeBlock
.
I took the fuel tank off and all the plastics from the seat forward so I could run the wires without them being seen. I ended up also removing the instrument panel and headlight unit.
I removed the tool kit so I could mount the FuzeBlock close to the battery after checking to see it (tool kit) would fit in front of the tail light. I placed a piece of rubber to protect the FuzeBlock and strapped it down with the rubber strap which normally holds the tool kit. Ran the Battery wire to the Battery positive terminal, the earth I Posi-Tapped into one of the earth wires next to the spare fuses and the switched power I picked up using another
Posi-Tap
to the tail light.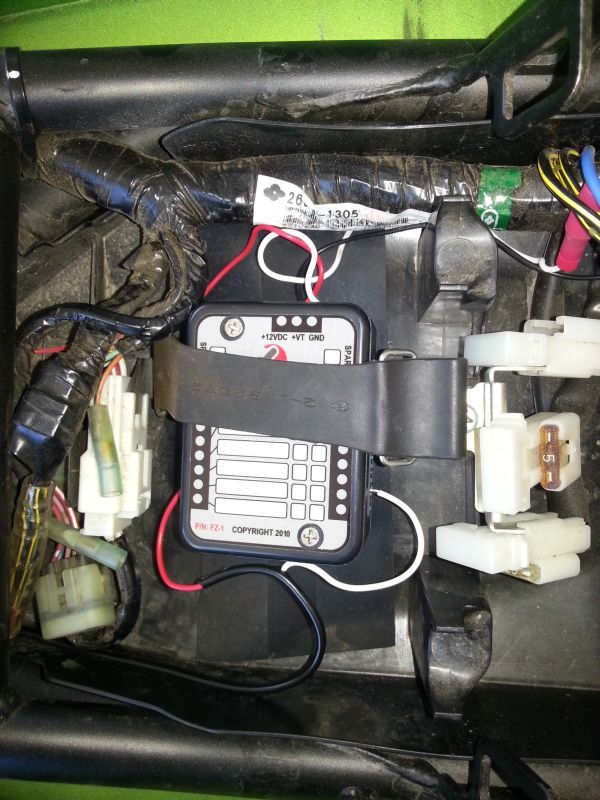 The heated grips wires joined the air horn wires attached to the battery, I suspect the current draw would be too much for the FuzeBlock and both have their own fuse.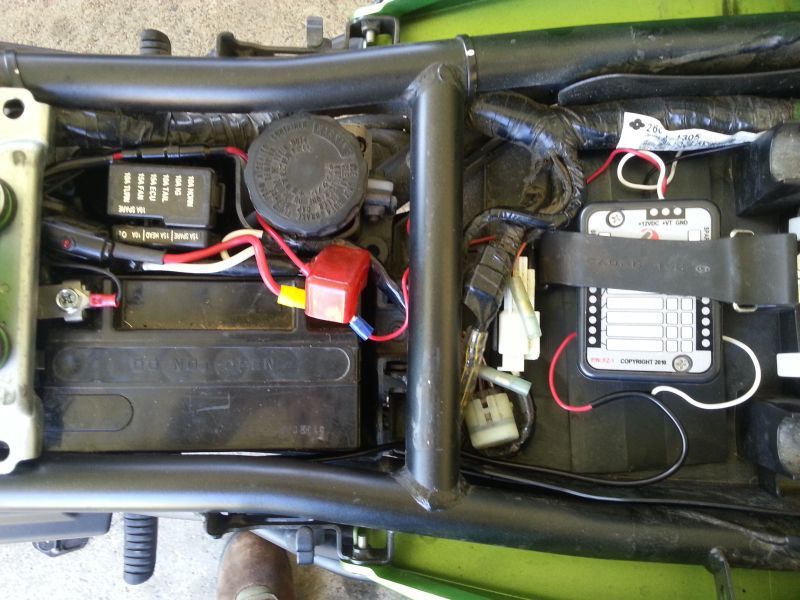 Heated grip plugs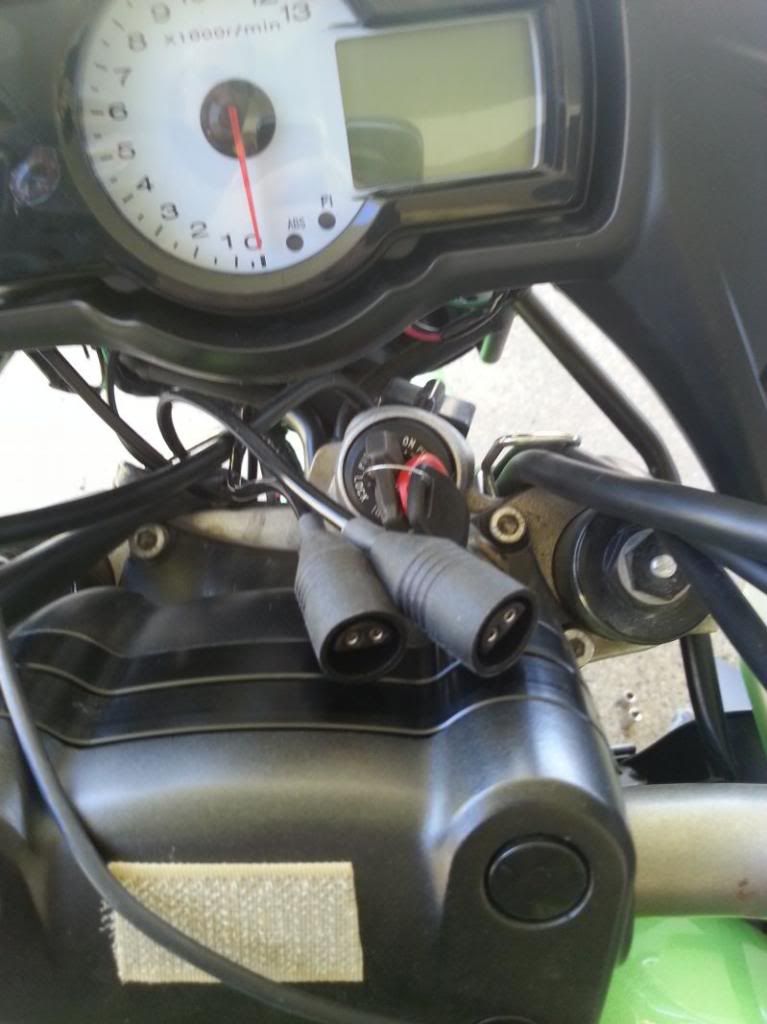 The LED lights draw 300 milliamps so I ran them direct off the low beam feed again using a Posi-Tap and earthed them on a nearby bolt.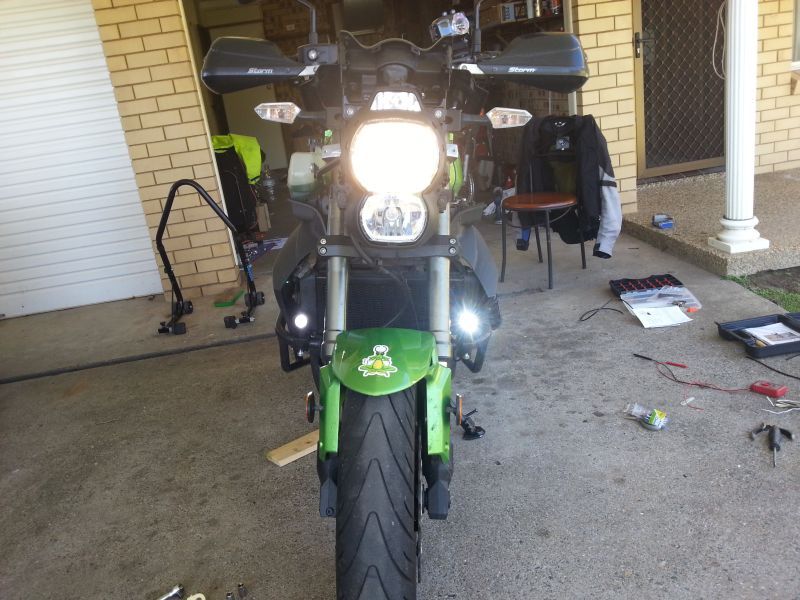 The USB outlet runs through the FuzeBlock using a 5 amp fuse and switches off and on with the key. Good thing about the FuzeBlock is if I decide I want it on all the time I just move the fuse to the constant on position takes a minute to do.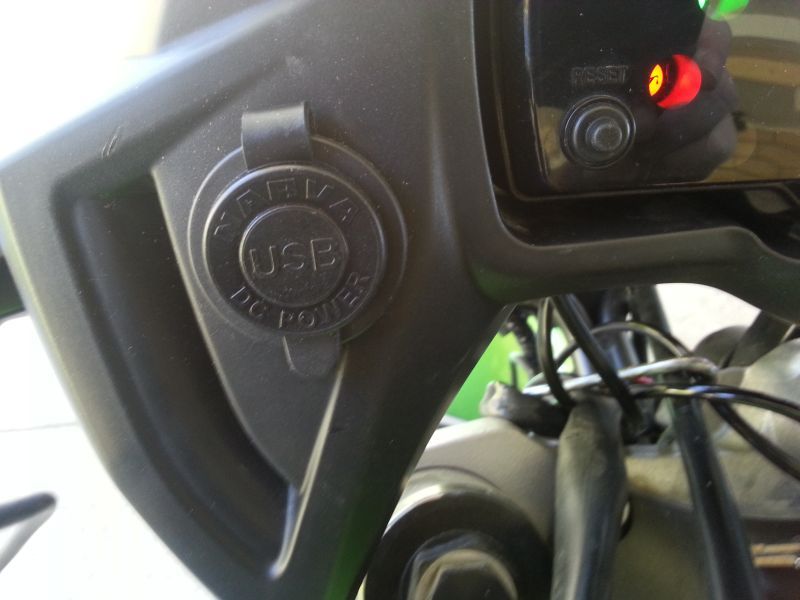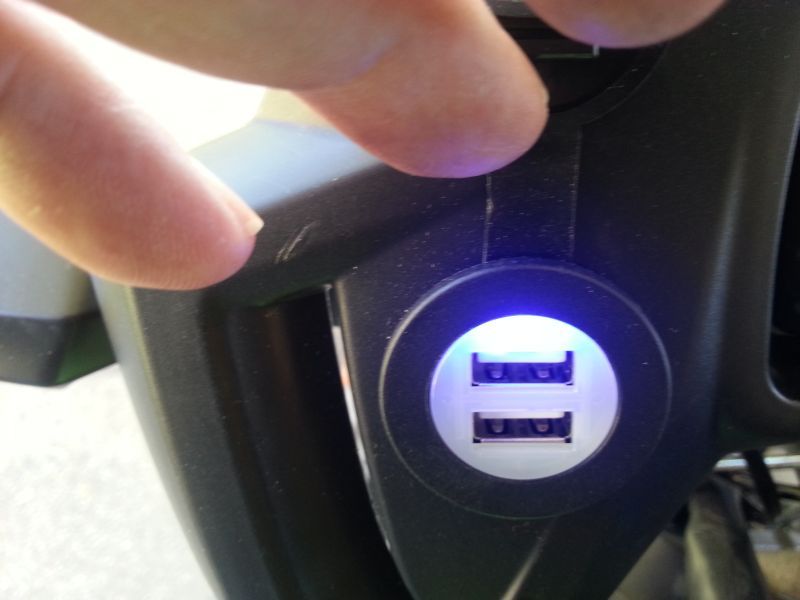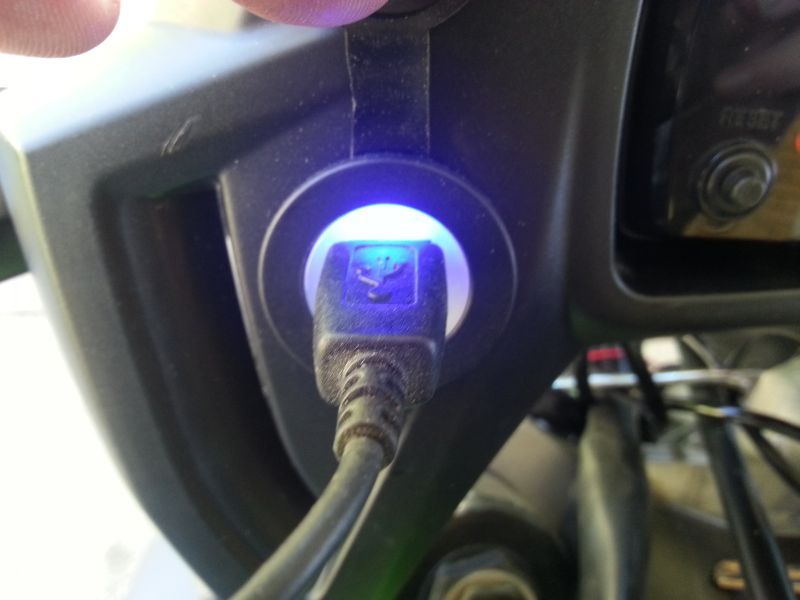 That was my weekend how was yours?
Super Moderator
Join Date: Dec 2013
Location: Sydney Australia
Posts: 1,458
Mentioned: 4 Post(s)
You wired up the Positive OK to the battery, so Why did you Positatp the Earth? This is wrong.

You need to have as good an earth as the positive. You also need to make sure that the earth wire is capable of MAX current amperage - and you have just added to an existing earth wire system.

Behind the tool bag area and on top of the ECU is the seat locking mechanism frame and here you should find a nice earth bolt already in use. I would suggest you use this instead.
Old
03-18-2014, 12:21 AM
Thread Starter
Member
Join Date: Feb 2009
Location: Coffs Harbour, NSW, Australia
Posts: 2,039
Mentioned: 0 Post(s)
Thanks for the input and I agree however just now I only have the USB socket attached to the FuzeBlock so I'll leave it as it is. If I add more devices I'll fix the earth as you suggested.
Posting Rules

You may not post new threads

You may not post replies

You may not post attachments

You may not edit your posts

---

HTML code is Off

---