Member
Join Date: May 2009
Posts: 8
Mentioned: 0 Post(s)
that is not a bad idea, i will have to keep that in mind going to be riding to s. california late next week (From portland oregon) and i may need something to help me along the way.
48.00 on ebay. Took me a month to catch one that cheap. Now that I know it works. I would have paid 200.00 easy. 1100 or 1150 BMW rt comfort gel Seat. I now have put 6000 miles on this seat. Rode last sunday 8 hours. Never thought about my butt being sore. Between the bmw seat, the Buell pegs and the rubber mounted roxy rizers on the handle bars. This bike sits very different. Its more comfort than sport. Which fits my riding style. Cant say enough good things about this bike.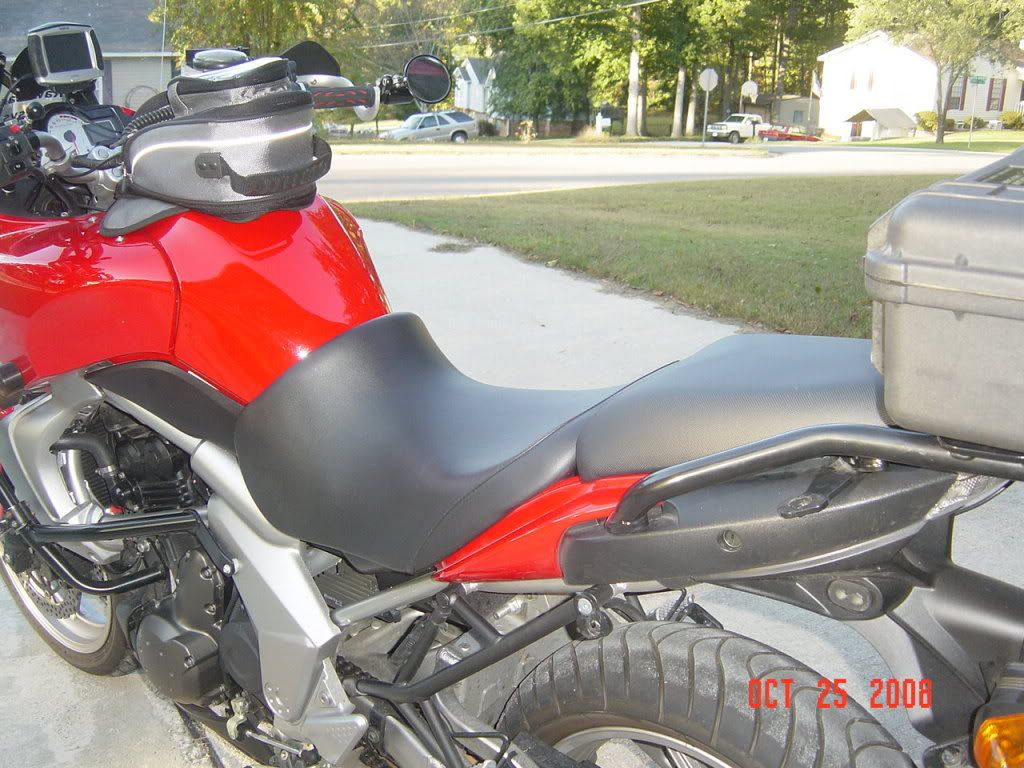 Member
Join Date: Sep 2008
Location: Quebec
Posts: 173
Mentioned: 0 Post(s)
I recently had a 16hr saddle day ,and my derriere was just fine; can't say the same about knees though... The mods to my seat are rubber underpad stuffed from underneath through the vents, an Alaska sheepskin, and washers at the front of the seat
Member
Join Date: Jul 2008
Location: Eastern PA
Posts: 18
Mentioned: 0 Post(s)
Hey Gulfmuch! Maybe I missed it somewhere else, but can you give some details as to what you did with the seat and mirrors, etc? i am 6'4" and my can gets a little sore after 35 minutes. And the stock mirrors give me a great view of my shoulders. Also, looks like you have an after market screen as well - what is it and how do you like it?
Thanks bro -
I bumped the new seat design. Its under mods cosmetic. I have the CRG mirrors and I run the Califonia Scientfic windshield. Only in the winter. Thru the summer(alabama) I run the stock windshield upside down. I also have the madstad adjustable windshield mount. If I was to buy a new windshield, I would buy one for the V-strom. The holes are wider and it makes the Madstad more stable.
Posting Rules

You may not post new threads

You may not post replies

You may not post attachments

You may not edit your posts

---

HTML code is Off

---