Join Date: Mar 2008
Posts: 114
Mentioned: 0 Post(s)
Highway Pegs
---
I put a set of folding, cruiser-style highway pegs on my Versys's SW Motech engine guards. I had the pegs on hand when I got the Versys - and there are comparable ones out there right now for about $50. Although the Versys is exceptionally comfortable, it's always nice to have some alternative positions during long rides . . .
Here a couple of pics: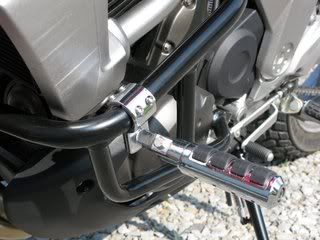 Happy Riding!
Kevin
Join Date: Apr 2008
Posts: 204
Mentioned: 0 Post(s)
I put my feet on the passenger pegs and pretend I'm Rossi.
Join Date: Mar 2008
Posts: 114
Mentioned: 0 Post(s)
If I could put my feet on the passenger pegs and still reach the bars while controlling the bike, then I wouldn't need a Versys! I could sell the farm and buy that Ducati 1098 that whispers to me late at night, when the house is quiet and dark and everybody else is asleep . . .
So, I just put my feet on the highway pegs and pretend I'm Peter Fonda in "Easy Rider."
Kevin
Hello Kevin!

Looks good. I know what you mean about alternate positions, sometimes, ya just gotta move something! Would you mind posting a side view picture with you on the bike & your foot on the new peg? They seem to go great with your crash bars!




Join Date: Mar 2008
Posts: 114
Mentioned: 0 Post(s)
"I'm ready for my close-up, Mr. DeMille"
---
Will do! Sometime this weekend, I'll get Priscillla (who, of course, is the wife of Elllvis!) to take a couple of pics. I'll also have her be prepared to document my demise in the event that I fall off the bike, the bike falls on me and the whole nasty pile slides down the driveway and hill and into the lake!
Photogenically,
Kevin
Join Date: Apr 2008
Posts: 18
Mentioned: 0 Post(s)
Kevin,
Thx for the highway pegs pics. I wasn't thinking of getting any crash guards before, but now I can see I'll get a 2-for-1
.
Do you have make/model for your pegs? Or nudge me in right direction to a web site that carries items like this? I googled, but don't know which pegs would be good fit.
Join Date: Mar 2008
Posts: 114
Mentioned: 0 Post(s)
My Pegs are from JC Whitney . . .
---
Here's a link to the exact set of footpegs that you see in the photos, Jeff:
http://www.jcwhitney.com/Footpegs/GP...4710_10111.jcw
If the link doesn't work, then you can just go to the JC Whitney web site and type the part number in their "search" box: ZX014817B
They are usually $75, but on sale for $44.99. They were also on sale a couple of years ago when I got them to use on a Vulcan 900 LT, but ended up keeping them on my "parts" shelf.
Because the SW Motech engine guard's bars are metric and the footpegs are not, I had to fabricate (from some copper tubing I had on hand) a simple sleeve to fit between the engine guard and mounting ring. It only took about 15 minutes to get it in place - and the pegs snugged up on the guard just fine. This particular set of pegs is nice because you can select the angle/direction you want for them to fold. It's just a simple matter of holding the peg in place while you tighten the mount.
They are also surprisingly well made and finished, especially given the price. They are very solid and the rubber inserts are beefy. I paid a whole lot more, when I owned my Harley, for footpegs that weren't one bit better than these.
I'm sure there are lots of other places that have similar footpegs, too. However, I'm not sure if there's anything cheaper that's as "universal" and easy to mount just the where and how you want them. Maybe somebody else who reads this thread will be able to give you some additional suggestions.
Let us know what you find and how it works out!
Happy Farkling,
Kevin
Join Date: Apr 2008
Posts: 18
Mentioned: 0 Post(s)
Thx Kevin.
Do you remember the diameter? 1", 1-1/8", or 1-1/4" ?
From the engine guard picture, it would seem nice if the pegs would fit on front vertical bar to put them further out and lower. But I imagine it's to small a diameter to fit any peg clamps? Got a
real
thick shim?
.
Join Date: Mar 2008
Posts: 114
Mentioned: 0 Post(s)
You're welcome, Jeff!
The pegs I had on hand were the 1-1/8" diameter. I think the 1" might work better - and would require either a thinner shim or none at all.
Yeah, the smaller pipes on the front/downward tubing on the guards was just too small for me to be able to use it. Maybe a chunk of old garden hose could serve as an appropriately thick AND "vibration damping" shim if you decide to try to use 'em!
Kevin
Join Date: Mar 2008
Posts: 159
Mentioned: 0 Post(s)
That is an awasome idea, are you able to extend out at all with them?
Join Date: Mar 2008
Posts: 114
Mentioned: 0 Post(s)
Pics of Bigfoot with Highway Pegs . . .
---
Denise and I took a ride this afternoon out to the Ohio River access point at Golconda, Illinois, and took a few pictures.
First, one of me standing beside it (6'5" and 210 pounds) and one of Denise standing beside it (5'5" and 117 pounds), just so you have an idea of how you might fit the highway pegs if you're in between those extremes . . .
Denise:
Kevin: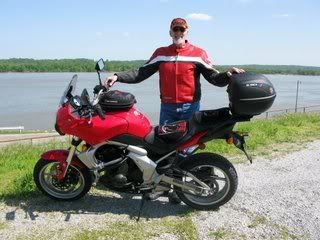 Now, here is a picture of me in a normal seating position, using the Versys's stock pegs: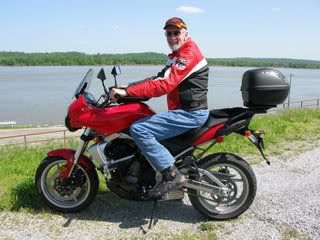 Here's me with my foot on the highway peg - which, given my 35" inseam, doesn't let me stretch out, but does significantly change the way my weight is distributed on the seat and bars. It gives my butt and back a welcome and stable shift on long rides:
And, finally, here's me with my leg extended and the back of my boot resting on the rubber anti-vibration cushions of the highway pegs. I don't usually do this with both feet at one time, but it gives a really nice stretch to each leg if I alternate them in this position for about five minutes every hour or so on a long ride. Hey, stop laughing at how I make even a tall bike look like a Shriner's mini-moto! It's not polite . . .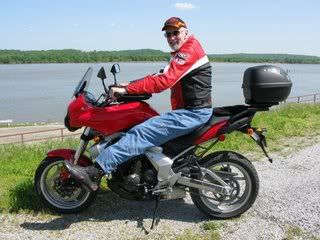 This might be a whole lot more visual information than you wanted, but I hope it helps out those of you who are wondering about how the highway pegs might work for you.
Photogenically,
Kevin
---
Thanks for the pictures! Looks like a nice day for a ride! That is one smart mod. I can definitely see the benefit.
Similar Threads
Thread
Thread Starter
Forum
Replies
Last Post
Kuryakyn Highway Pegs

dallasdon

Modifications - Cosmetic - V-650

25

04-14-2011

04:44 PM

Mk 11 Highway Pegs

Machog

General Discussions - V-650

1

10-24-2008

11:16 PM

Highway pegs?

johnnail

General Discussions - V-650

6

09-19-2008

06:23 PM

Poor Man's Highway Pegs

dallasdon

Modifications - Cosmetic - V-650

5

09-15-2008

04:21 PM

Highway Pegs

Sampson

Modifications - Performance - V-650

9

08-24-2008

08:26 AM
Posting Rules

You may not post new threads

You may not post replies

You may not post attachments

You may not edit your posts

---

HTML code is Off

---