Crazy Givi Windshield Night Light
---
A couple of weeks ago I picked up a Givi windshield for my (new to me) 09 Versys. Functionally, I haven't been thrilled with the performance of the screen- I guess that I was hoping that it would cut down on the wind noise a little more that it does (plus it's sort of ugly IMO). I had a similar opinion of a Givi screen on a BMW F800GS that I had and the addition of a Laminar Lip really sorted it- gonna try that on this one as well (pretty sure).
However that's not the thing that this post is about. Last Friday I rode home at night- this was not a normal night but a night that featured a darkness so overwhelming that it threatened to swallow me and a rain that could only be described as biblical. I was grateful for the lightning as it let me actually see where I was going. Trying to make out where the road went was difficult enough, but there was a light- not one to guide me but one trying to make me blind. I can only assume that the thin lower edge of the Givi (the part that was closest/over the bike's headlight)was picking up the light from the headlight and that light was traveling up the windshield and shooting it into my eyes from it's top edge. Crazy. Of course, dimming the headlight helped but what seemed to work best was standing up out of the effect of the unwanted night light.
I've been riding awhile but this is a new thing- I've never heard of this before. Raising the windshield I'm pretty sure would help as would painting or somehow covering the windshield's top edge. I don't ride a whole lot at night, still- it would be nice to know that your windshield isn't out to kill you.
I wrote a post about this same problem not too long ago.
First thing I did was get rid of the 1"+ spacers that were between the frame and the windshield (PO had those on- not sure if yours are the same- I used smaller nylon bushings to tip just the top part out) which helped get it out of the light, and then I put a piece of rubber molding over the bottom of the Givi windshield which stopped the "fiber optic" effect. It's much better now essentially eliminated the effect.
That is a normal transmission of light through the plastic Givi windshield.
Placing a shield between the top of the headlight and the bottom of the plastic shield will prevent the entrance of light into the plastic of the shield. Or painting the bottom of the shield black with block this light transmission also.
Or go to a different shield. Good luck.
How do/did you like the F800GS? Do you still own it? What did you dislike about the F800?
---
"Don't bother me with DETAILS!"
To view links or images in signatures your post count must be 0 or greater. You currently have 0 posts.

The Givi Shield acted as a light guide although it wasn't intended to be one. Above mentioned methods should cut out the transmitted light all together.
---
Present Ride: Yamaha Super Tenere 2012
Previous Ride:
2011 to 2015 2011 Versys Spark BlackKawasaki Ninja 2010 to 2011 250R 2008 Plasma Blue
My V's Farkle Log:
To view links or images in signatures your post count must be 0 or greater. You currently have 0 posts.

Try this as I have no problem riding at night. No light on the screen..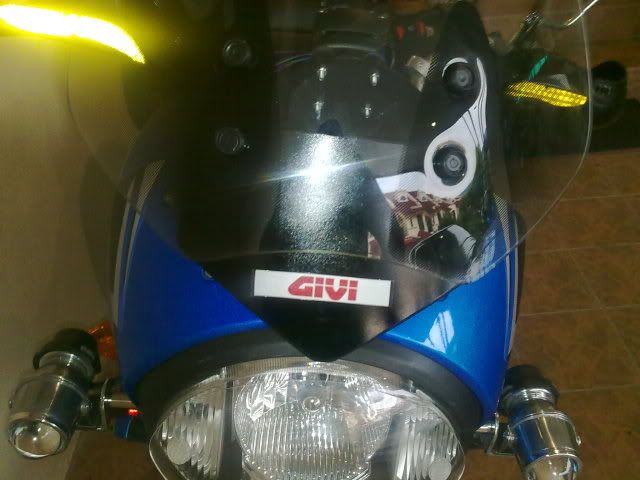 All terrific ideas- thanks.
Sorry I didn't see the earlier post made about this subject- I'm kinda new here and admittedly didn't do a search.

Pismocycleguy- the F800GS is an amazing motorcycle. I got the bug to do some adventure riding a few years ago and bought it for that purpose. I rode it on 2 big rides (James Bay in Quebec and Labrador) and the bike was flawless. It has a great light feel to it and was powerful enough on the highway to keep up with the 1200GS's.
At the time, along with the 800, I had a Yamaha FJR 1300. That same year, I rode that bike to the Barber Museum. What I did was get rid of both those bikes to get a R1200GS- a bike that I thought would fill both roles. I'm really happy with the result- the 1200 is almost as comfortable as the Yam on the highway and still off-road capable. If I rode more dirt- say, 70-30 or 50-50, I might have stuck with the 800, but for me it's such a small percentage that it made sense to move up to the bigger Beemer, IMO.
I found that an LED light negates the problem a little. Plus green is my favorite color.
---

To view links or images in signatures your post count must be 0 or greater. You currently have 0 posts.


To view links or images in signatures your post count must be 0 or greater. You currently have 0 posts.


To view links or images in signatures your post count must be 0 or greater. You currently have 0 posts.

IBA # 49372
Member
Join Date: Aug 2011
Location: Northern New York
Posts: 261
Mentioned: 0 Post(s)
My Calisci windshield does the same thing. I was thinking about covering the top "parking" light on my 11v. OR I could try some electrical tape on the bottom edge of the windshield.

The way it is right now makes night time visibility not as good as it could be. My night vision sucks anyhow. Part of my job is welder.

David
Posting Rules

You may not post new threads

You may not post replies

You may not post attachments

You may not edit your posts

---

HTML code is Off

---