Member
Join Date: Jul 2010
Posts: 81
Mentioned: 0 Post(s)
Russells
---
Calling all Russell-seated V owners: the Day Long or the Sport version and why? the driver's backrest or not?
Member
Join Date: Dec 2010
Location: Arizona
Posts: 170
Mentioned: 0 Post(s)
I chose the the standard DayLong version, mainly because it's the version I was famiar with. (Had one on my 2008 Kawasaki Nomad)
No backrest on the Versys (for me) mainly as a cost-saving measure...but I also thought with the very upright seating position I may not use the backrest that much anyways. You sit considerably different on the Versys than on a V-Twin cruiser, for example...
Russel seat on my Nomad...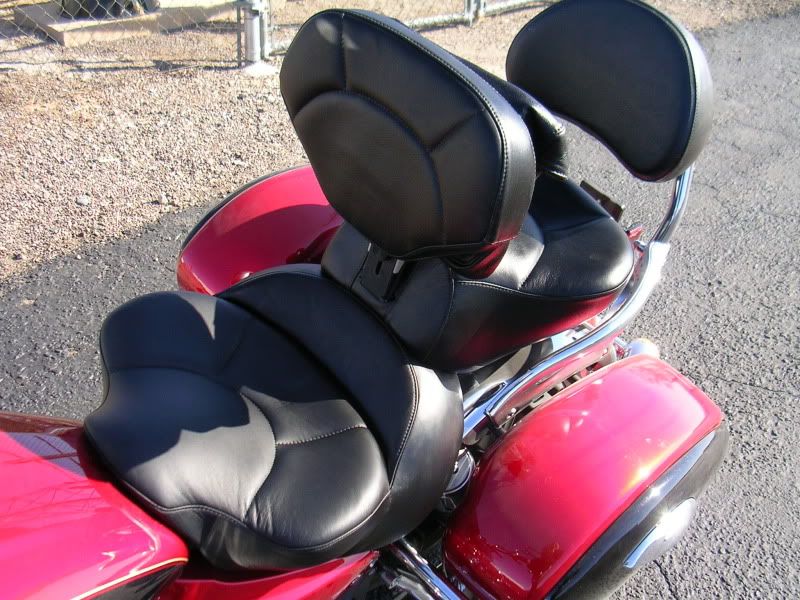 Russel on my Versys...
Seat on the Nomad was leather- I went with vinyl on the Versys to save money...and much more durable than leather.
Member
Join Date: Jul 2010
Posts: 81
Mentioned: 0 Post(s)
Removeable?
---
Is the backrest adjustable and/or removeable? With DallasDon's highway pegs, GoCruise engaged, and some "handlebar reins" to keep things heading in the right direction, getting reclined and comfortable would be greatly aided by being able to set it at just the right angle, then get it out of the way when not needed.
Mine is the Day Long, but I didn't know there was a difference. Great seat.
---
Special bike: 1968 Norton P11A
Previous bike: 2009 Versys in lovely blue
Bike for smiles: 2009 R1200R
Bike for miles: 2009 R1200GS
Member
Join Date: Dec 2010
Location: Arizona
Posts: 170
Mentioned: 0 Post(s)
Yes, the height of the backrest is adjustable, as is the fore/aft positioning, via tilting the backrest ahead or to the rear.

It also folds down flat on the driver's seat to allow a passenger to get off the bike a little easier (if you had a trunk on the back, for example). Backrest is completely removable also, no tools required.
Member
Join Date: Jul 2010
Posts: 81
Mentioned: 0 Post(s)
TY
---