Member
Join Date: Apr 2008
Location: Atlanta, GA
Posts: 78
Mentioned: 0 Post(s)
Seat Foam Mod
---
The seat was suffocating the boys so something had to be done quickly. I removed the cover and using a grinder dished out a depression for both buttocks.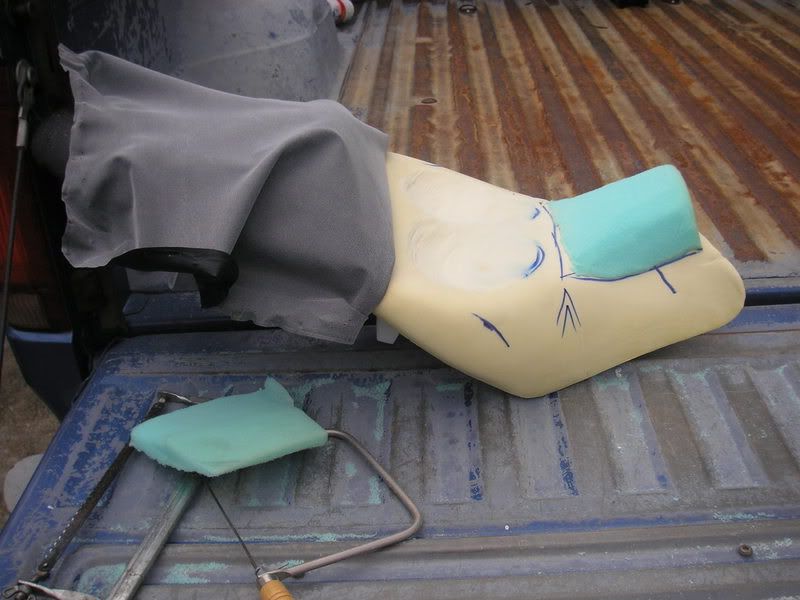 IMG]http://i78.photobucket.com/albums/j97/tallgagent/P7130004.jpg[/IMG]
Well, it wasn't enough so I lowered the seat foam about an inch. That made it much more comfy and no more feeling like I was sliding towards the gas tank.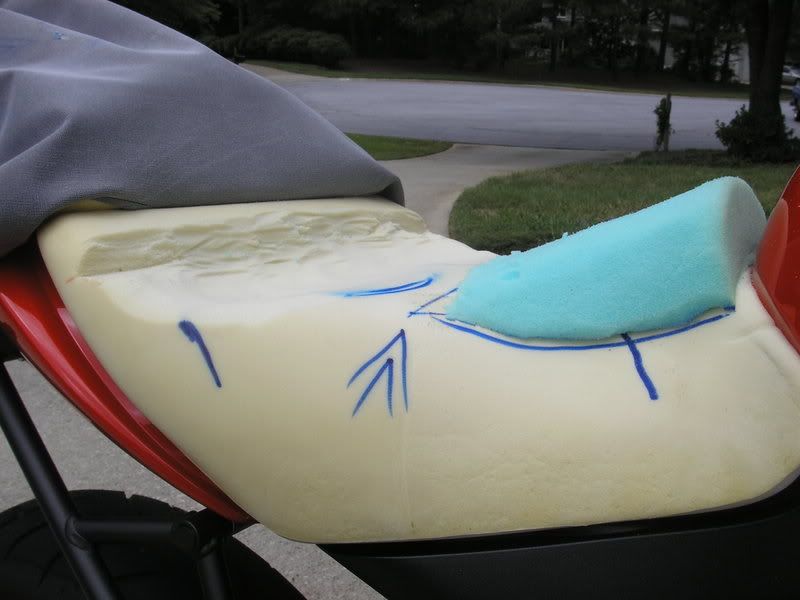 In order to get the boys some air I added a layer of "Nu Foam" premium densified batting that I purchased at Joann's Fabrics.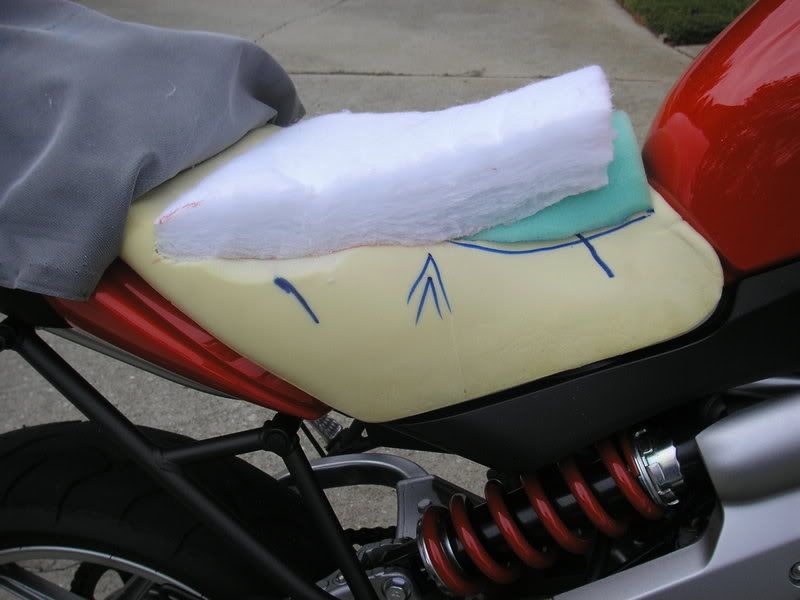 The end result is a much more comfortable seat and ride. Unfortunately, there are some lines in the cover now, but as soon as I find some breathable smoothing foam I'll get rid of those.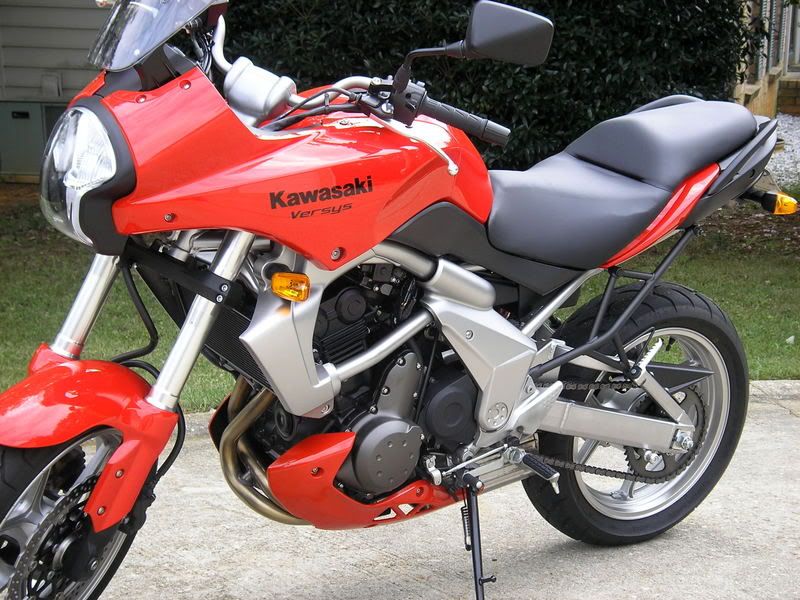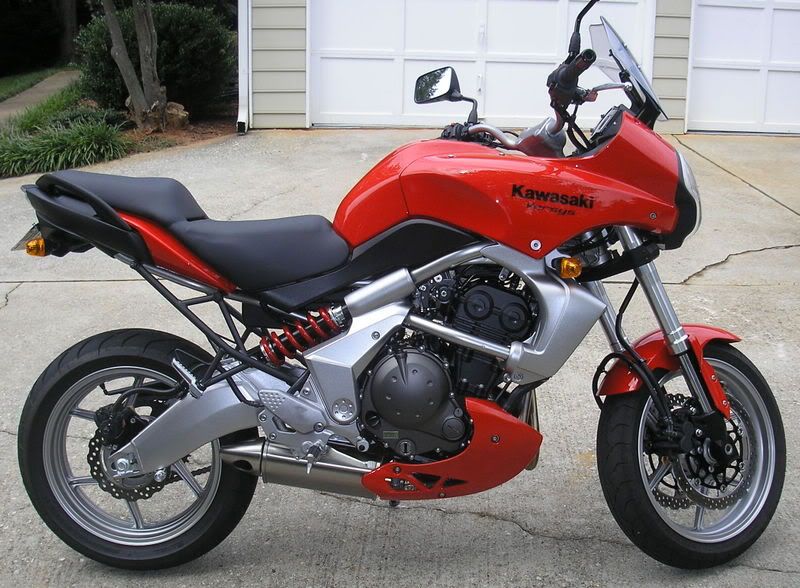 Member
Join Date: May 2008
Location: Asheville, NC
Posts: 149
Mentioned: 0 Post(s)
Me likey your red belly plastic, there!

After 500 miles this weekend...and after raising the seat bracket 5/8", it's time for some more serious surgery. I imagine the next evening I've got some time and had a few beers in me I'm gonna rip into this seat and go at it. Nice looking mod, lanesplitter.

/neil
Member
Join Date: Apr 2008
Location: Atlanta, GA
Posts: 78
Mentioned: 0 Post(s)
Thanks, Neal. I used a grinder to remove most of the foam, but a hack saw blade works great too for removing large pieces. I said I wasn't going to DIY the paint after doing the lower engine pieces, but I'm thinking the pieces below the passenger seat need to be red as well. I've got the paint so...
I was going to place this in the other thread, but this seems more current. I too modified the foam in my seat. Using an electric carving knife (the kind you use at Thansksgiving on the bird!), I carved out the section I wished to replace. I then placed the very dense blue foam (camping/sleeping mat from WalMart-about $5.00), and then the memory foam over that (memory foam pillow cut to size from WalMart-about $20.00). I shaved the memory foam from front to back to allow fuller thickness (about 3") in the front, and less in the back (about 1-1/2"). I am very pleased with the modified seat, and have about 700 miles on it, both commuting and a long Sunday ride of several hours. All complete, I'd say the modification cost me less than $30.00 including tax. Not perfect, but pretty darn comfortable compared to what perfect costs!!! I would like to recover the seat with one of the aftermarket seat skin company's products for a more appealing cover.

After these photos were taken, I also did the seat-raising mod on the hardware beneath the seat. That has added to the comfort a bit, but the foam had more impact.

Thanks for looking.
---
Jeff
---
Last edited by boogdaddy; 09-02-2008 at

12:00 AM

.
Member
Join Date: Aug 2008
Posts: 102
Mentioned: 2 Post(s)
Thanks Troop, I couldn't find it. At any rate, I should probably add that I did the double layer and a little thicker than some may want because I'm probably what you'd call on the large side. I go about 6'-5" and 240 lbs. Those of you who are normal human-sized may want to cut the thickness down a bit or you'll be reaching for the pavement on your toes!

I should also add that I used the 3M adhesive #90 as discussed in another thread.
---
Jeff
Posting Rules

You may not post new threads

You may not post replies

You may not post attachments

You may not edit your posts

---

HTML code is Off

---