Member
Join Date: Aug 2010
Location: South Riding, VA
Posts: 58
Mentioned: 0 Post(s)
Givi Top Rack with OEM V35 Racks????
---
Has anyone managed to mount a Givi top rack with the OEM V35 racks? The OEM racks have the integrated grab rails but I looks like the Givi top rack may work. I thought I saw someone on here make it work but I can't find it again. Thanks.
yes you can fit a Givi top box to a bike fitted with the Givi / K OEM pannier rails.
what you need is the 447FZ top box rails and suitable M5 or M5M adapter plate
http://www.givi.co.uk/My-motorcycle/...sys-650-06--09
the adapter plate is for the monolock or monokey top box base. monolock is for cheapskates, monokey is for the heavier non scooter type box
note there may be differences for the 2010 model...
also its a )*&*(&)(* to fit requiring a bit of brute force an FOBH (FCUK Off Big Hammer)
I just did this.
You need to cut the grab rails off, grind the surface flat, paint it, whistle the anthem and then mount the FZ447 top box rails and mounting plate.
Kawasaki OEM side racks, grab rails cut off, FZ447 mounted, Bestem top box: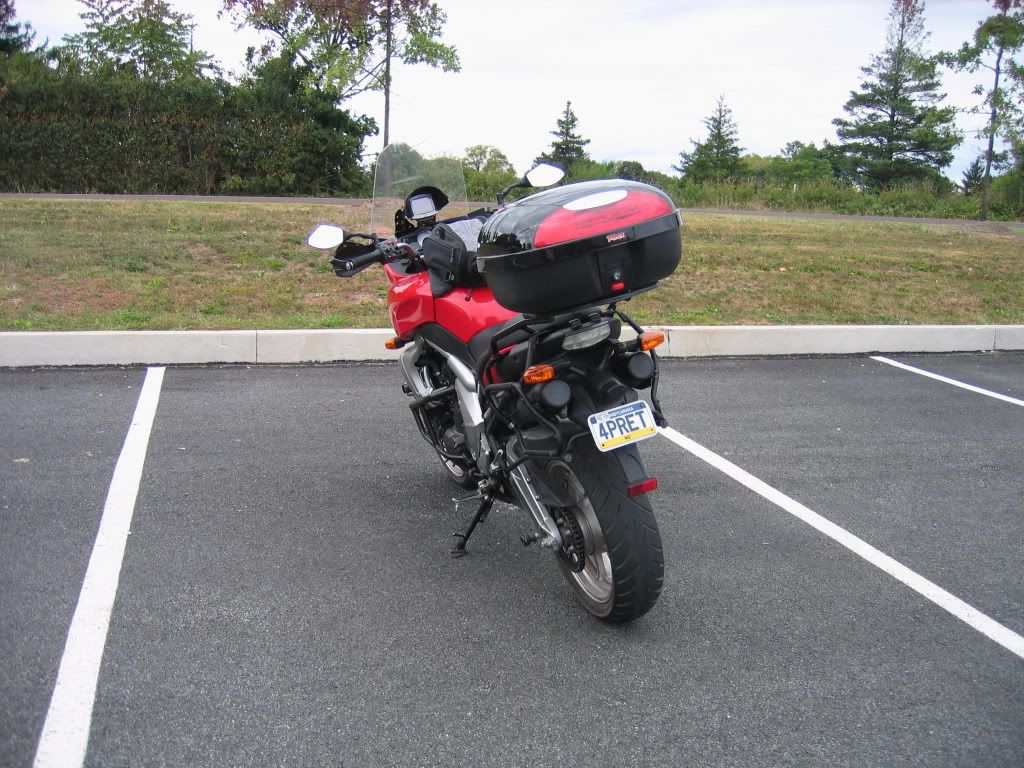 Close-up of FZ447 mounted on top of OEM rack, where grab rails used to be:
She's not as wide in the butt, without side cases
: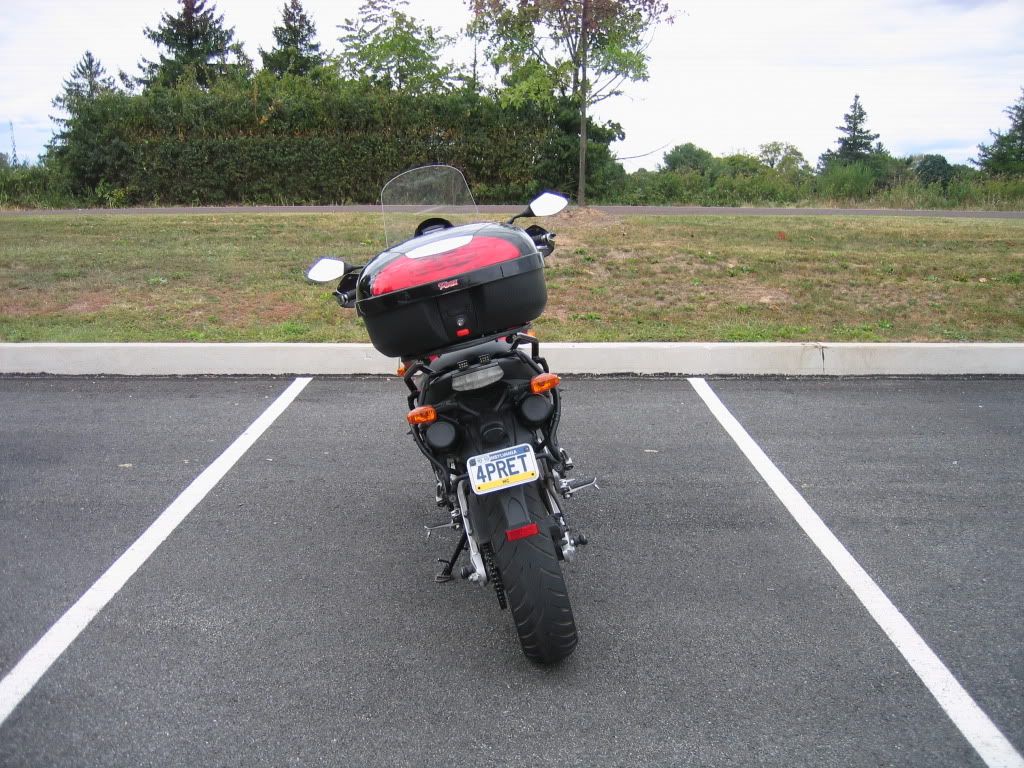 I used the standard socket head screws that were in there, but I did away with the washers to get enough thread engagement which is less due to the added thickness of the FZ447 rails. A better solution is getting 5 mm longer screws.
That looks more like the SW Motech or OEM top rack, not the FZ447. The Givi FZ447 doesn't replace the grab rails.
Here's a picture of the Kappa KZ447 rack (which is the same as the FZ447) with the Monolock plate:
And here it is with the PLX447 side rails (not the OEM racks from Kawasaki)
I added black reflective tape to the rails for the top rack, so they glow a bit.
Dave C
---
Dave C
2008 Versys (Red)
---
Last edited by DaveC; 09-10-2010 at

11:20 PM

.
Pretbek: Why so complicated?On your photo is original Kawa side racks but top rack looks like original Kawa - not FZ447.

DaveC:This is FZ 447.

the borg: It's possible to mount side racks from Kawa with top rack from Givi.You need only little cut from side rack and paint it.
On second photo you can see it.
Member
Join Date: Aug 2010
Location: South Riding, VA
Posts: 58
Mentioned: 0 Post(s)
I knew it. Thanks for all the replies.
Hmmm yep, you guys are correct. I am a dingbat. That is indeed the SW Motech top rack. I forgot that I abandoned my original plan to go with FZ447 and bought the SW instead, because it looked sturdier and comes with a generic top plate. That allowed me to mount the Bestem mounting plate and top box that I had already.
Posting Rules

You may not post new threads

You may not post replies

You may not post attachments

You may not edit your posts

---

HTML code is Off

---