Cheap Mirror
---
Installed cheap mirror form Mashonline.com, suppliers of KLE parts. Had used a 4" steam one and then decide to order a set of 8" steam and below are pictures of the new mirror.
Haven't made a test ride but the test mirror was good and little vibration. Will update once I have my weekend ride.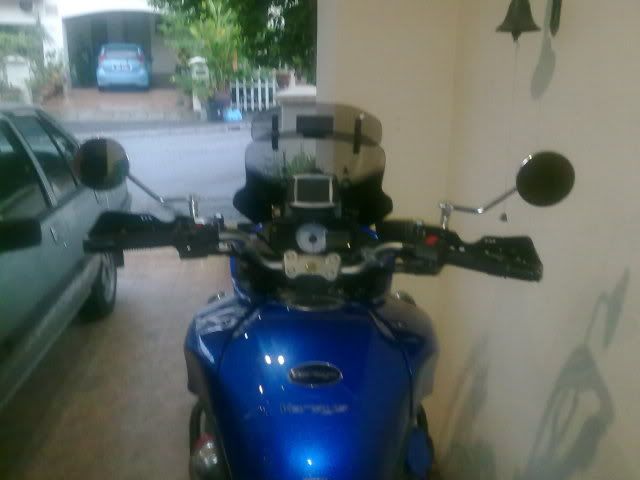 Thats a different look FastO, did you break your old mirrors? I am looking for some cheap fairing mounted mirrors, I ordered some cheap bar end mirrors from jpcycles.com, but they are backordered.
---
-------------------------------------------------

To view links or images in signatures your post count must be 0 or greater. You currently have 0 posts.

Jake Sabre
2009 Kaw Versys
40 years riding, 2 years MX racing
20 bikes owned over time, 3 MC shops worked at
Couldn't live without 2 wheels and a motor
No. I didn't break my stock, they good as new, only problem was vibration, so got this one. I did try a 4' steam first and it was good. Visibility was good and vibration was not that bad. So ordered this 8" steam and bend it to my liking and good view and better than the stock. Mirror per pc is only USD 5-www.mashonline.com
I've order
these
(Ken Sean Superbike replica GPX mirrors) a few days ago on Gustavo's recommendation.
At 12$ a piece I'd say they are pretty cheap. Hopefully they will work.
My stockers started to fall apart simultaneously during a ride. Left got completely loose (yes, I've ground the nut trying to tighten it) and the cone-shaped plastic that holds the mirror body on the right one broke.
Not fun at all.
I think I contributed this by leaving the bike under a cover for a few windy days. Cover was pulled quite tightly over the mirrors and the wind loosened them. They were terribly viby anyhow.
Learn from my mistakes.
Cheers.
Member
Join Date: May 2009
Posts: 3
Mentioned: 0 Post(s)
Want to sell mirrors?
---
Fastoman
Are you interested in selling your original OEM mirrors?
Eric
[email protected]
PM sent.
I did a 105km run and the mirrors are much better than the stock mirrors. Very little or no vibration around the ref range. Mirror clarity is very good and you can tell what is behind you.
For USD 10/pair it is worth the money.
Report on Ken Sean Superbike replica GPX mirrors:
Excellent mirrors!
I'm very pleased. Visibility is just right with mirror extenders and aftermarket handlebars (this combination may be at fault for a slight vibrations around 4-5k Rpm).
Seriously better then stock mirrors and the price difference speaks for it self.
Thank you for the tip one more time Gustavo.
Nice one Ivan.
Meanwhile did a 300km and the mirror was very good without any vibration on all ref range. For USD 5 a piece its worth.
Posting Rules

You may not post new threads

You may not post replies

You may not post attachments

You may not edit your posts

---

HTML code is Off

---